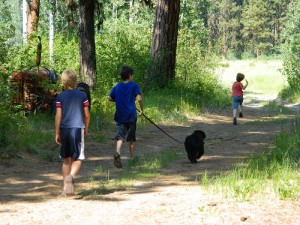 This week we had a rental group at the camp. What is the difference between a Camas Camp and a rental group? For the Camas Camps, Scruffy and his crew take care of absolutely everything required to run the camp. For a rental group, the Camas crew provides the venue, the food, and a helping hand when needed. The church or organization who has rented the camp trains their counselors, plans and runs their program, and takes care of the ins and outs of a fun and fabulous week of camp.
It is amazing to watch different churches and groups to see how they do camp. Scruffy has gotten many a fabulous program idea and several new camp speakers from watching and listening during a well-run rental camp.
This week it warmed me to see the counselors pouring themselves out to love the kids, stepping out of their comfort zones to participate in crafts and games and dress up, and taking the time to concern themselves with not only safety and activities but the children's hearts as well. A beautiful sight indeed.
The photo above? Well, those are my own personal campers exercising our new puppy Princess Leia Freyja. But the campers this week looked like they were having just as much fun as my boys are in this photo.
Camping ministry is multifaceted and providing a beautiful place for various kinds of churches and organizations to accomplish their own ministry with kids is one of the things we love to do.
Boo Boo