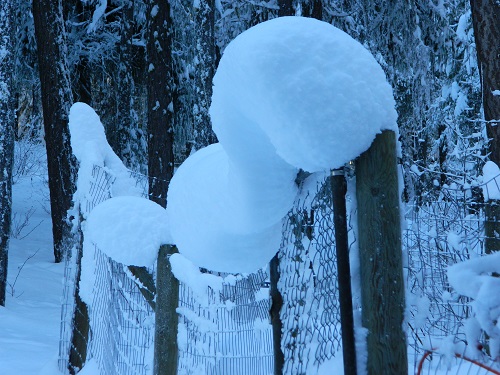 This last weekend was our annual Summer Staff Winter Retreat. A weekend where the camp counselors and other camp staff (both old veterans and new recruits) get to be the campers. It is a camp where they do not bear the weight of caring for the needs of campers, but get to rest and hang out and grow in the Lord in the quiet beauty of His creation. Of course it is not always quiet, but the joyful tumult can be refreshing as well.
We had a beautiful heap of fresh snowfall and lovely weather for tubing and outdoor activities. There were many board games played and quiet moments in the lodge as well. Ian (Faramir) Ross was the speaker and his word for the weekend was "Parched." The woman at the well was one of his examples of our deep and abiding need to be quenched by the ministrations of the Holy Spirit rather than the remedies that we can find in this fallen world. 
I spent my time writing on the camp couch while I observed our three boys zipping around through the counselors in a rowdy pack. Occasionally, counselors would join me. I was able to interview one of them about the weekend, what it meant to her, why she came.
She told me about how busy the winter months are, with school and running start, deadlines and due dates, home issues and the things you have to deal with every day. Things just pile up on top of each other, especially during the Holiday season. But camp was an escape for her, an opportunity to take a pause from the turmoil and strain.
"Camp regenerates you," she said.
I understand what she means. Watching the snow drift down in a steady, silent, cloak across the forest. Listening to the campers laughing as they sat hunched over a board game or their screams of terror on the tube hill as they rushed down the slope clutching a tube for dear life. Hearing them sing in the soft light of the lodge at night, accompanied by acoustic guitar. Raising their hands, closing their eyes, lifting their voices as one before the Lord. It was lovely, peaceful. A time to take in a great gulp and air and pause. A time to notice God and seek Him, ignoring the bustle and push, resting in His power and love.
What about you? Do you take the time to pause, to rest and seek and be restored? It was a pleasure to see God at work, with nothing but a handful of teens and the blinding glory of His creation all around us. As ever, that is enough for God. He doesn't need much to do great things.
Boo Boo