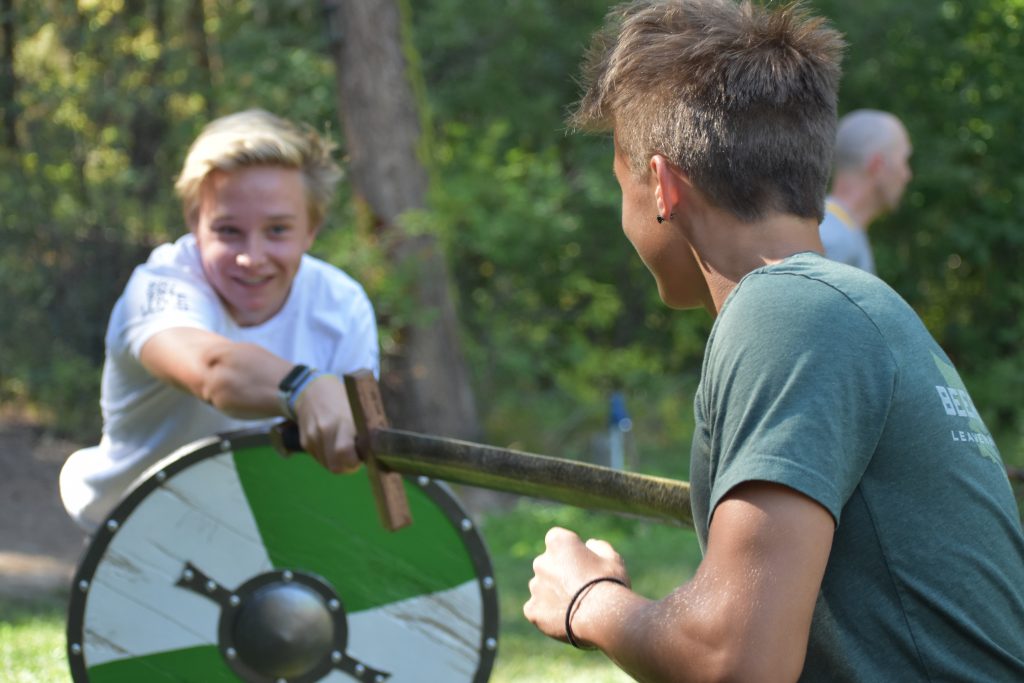 Not the war on drugs, not the war on terror, not the war on furbies … this is the war on you.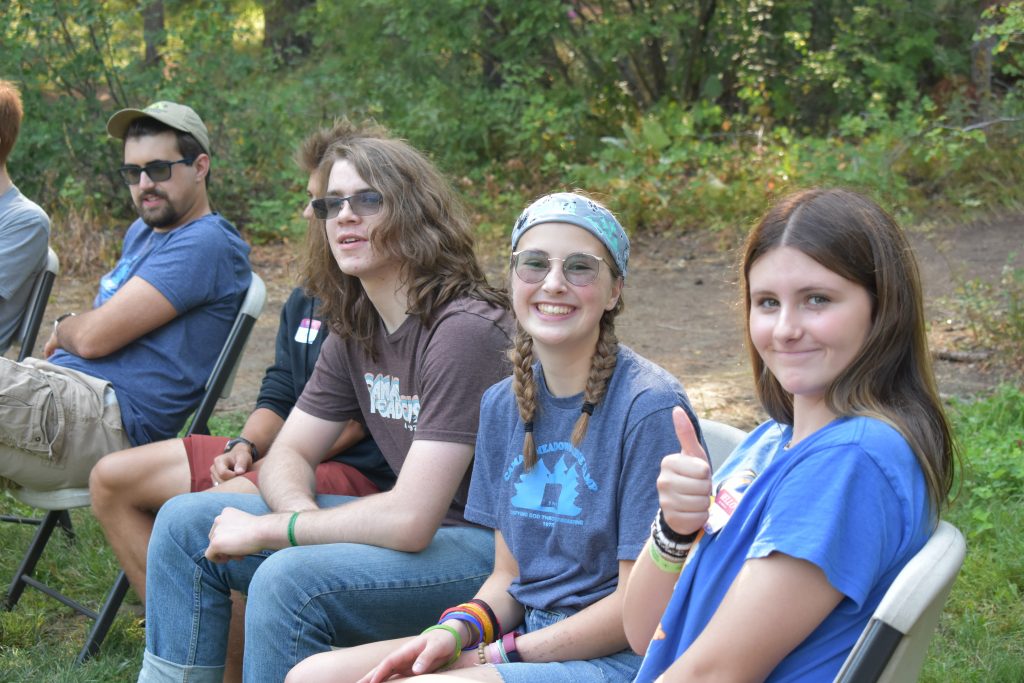 Van Helsing was our speaker for senior high camp and this year's theme was Battleground!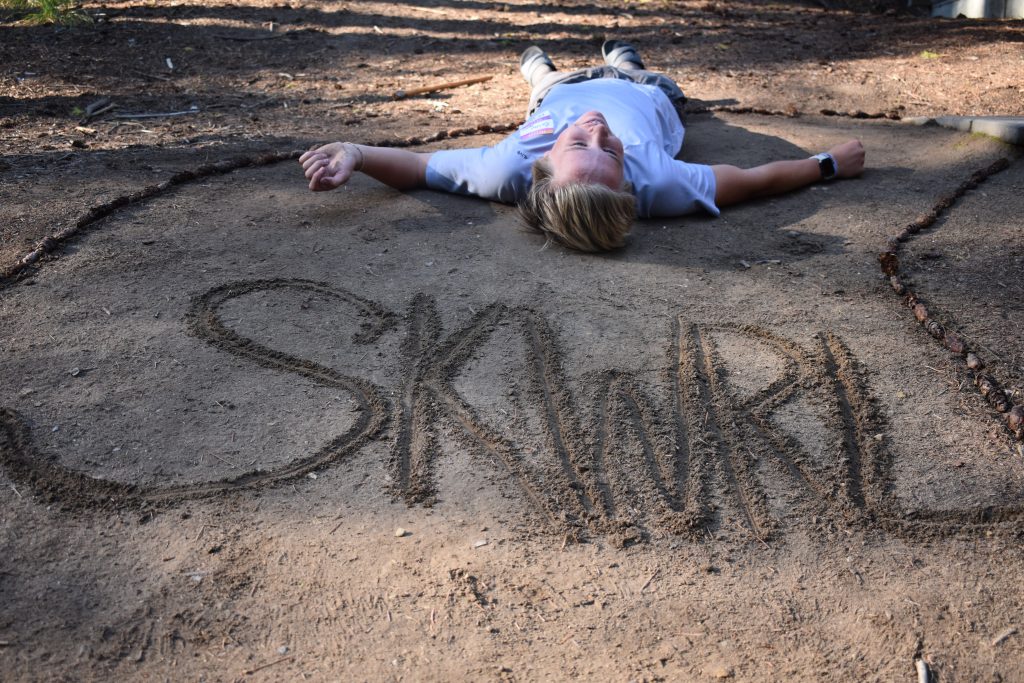 During Monday's chapel, Van Helsing spoke on The Battlefield of Faith.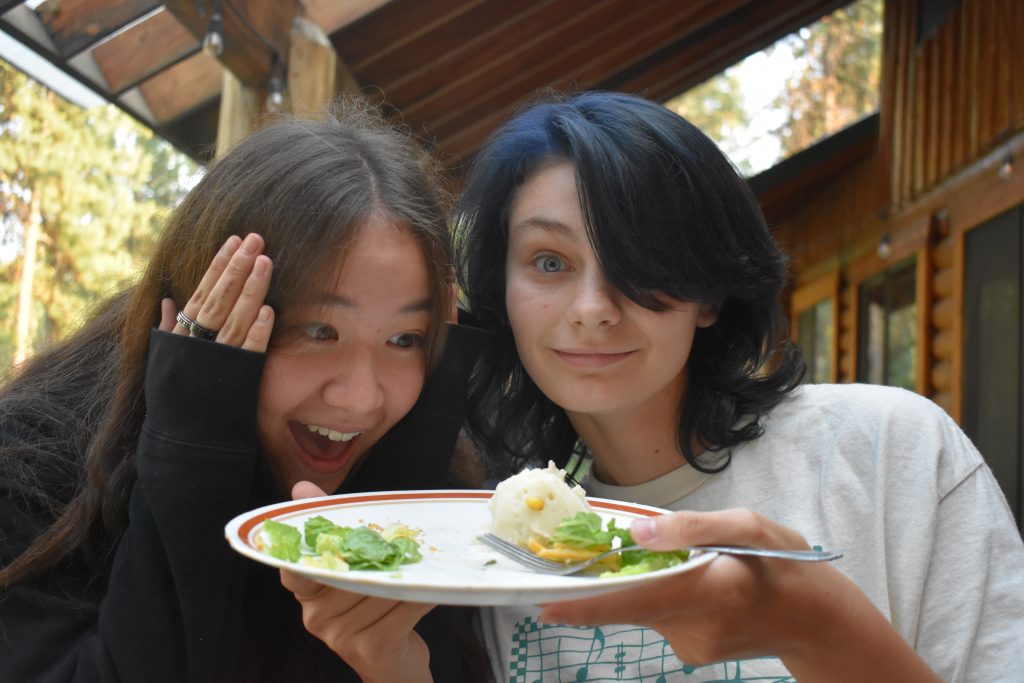 What exactly is faith?
Faith is a belief that leads to doing something.
Monday Night's Tactic: Join Up!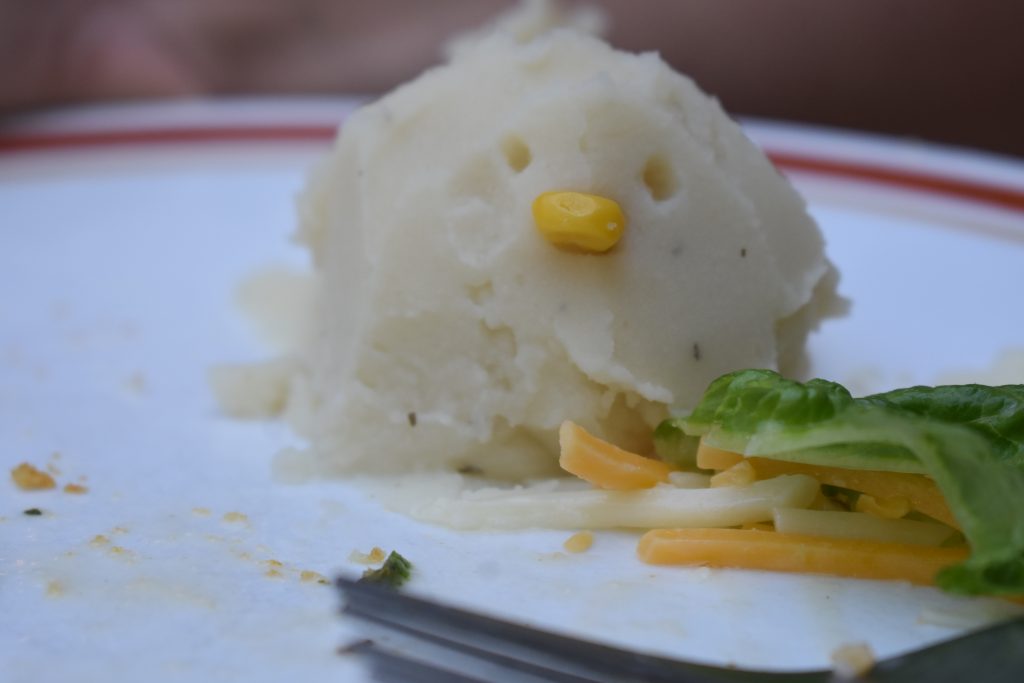 "Fight the good fight of the faith. Take hold of the eternal life to which you were called when you made your good confession in the presence of many witnesses." 1 Timothy 6:12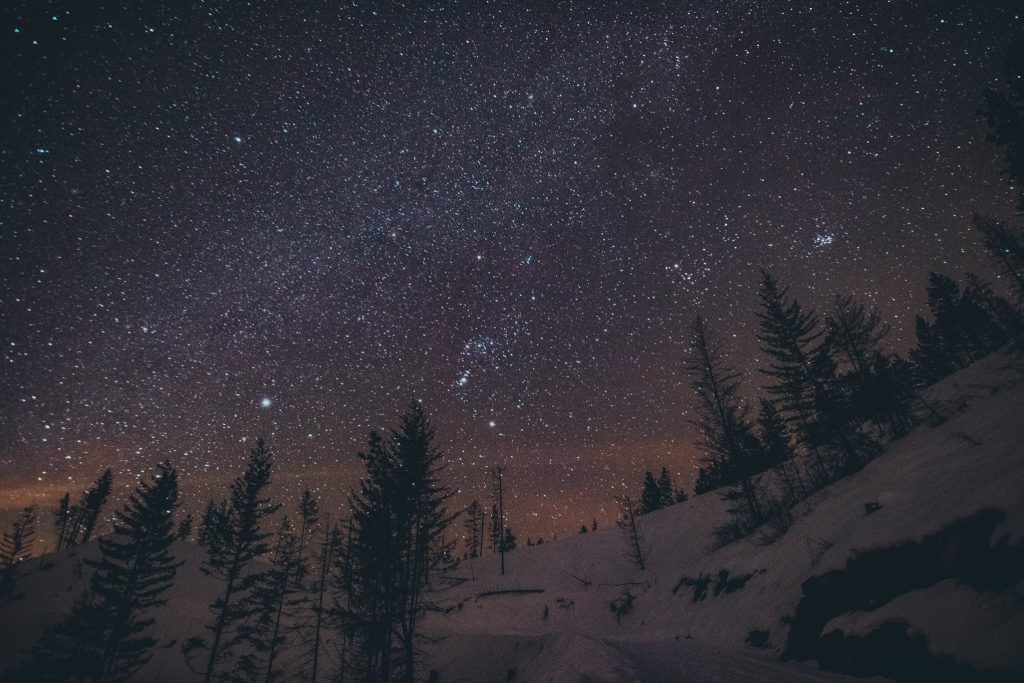 On Monday night, the campers went on a Star Trek to Inspiration Point. Choco brought his guitar and they sang worship sons under the stars. Then Scruffy had them sit in silence for four minutes as they look at God's wonderous creation spread out above them. A youth pastor took this photo near Inspiration Point with his really good camera years ago, but it continues to inspire.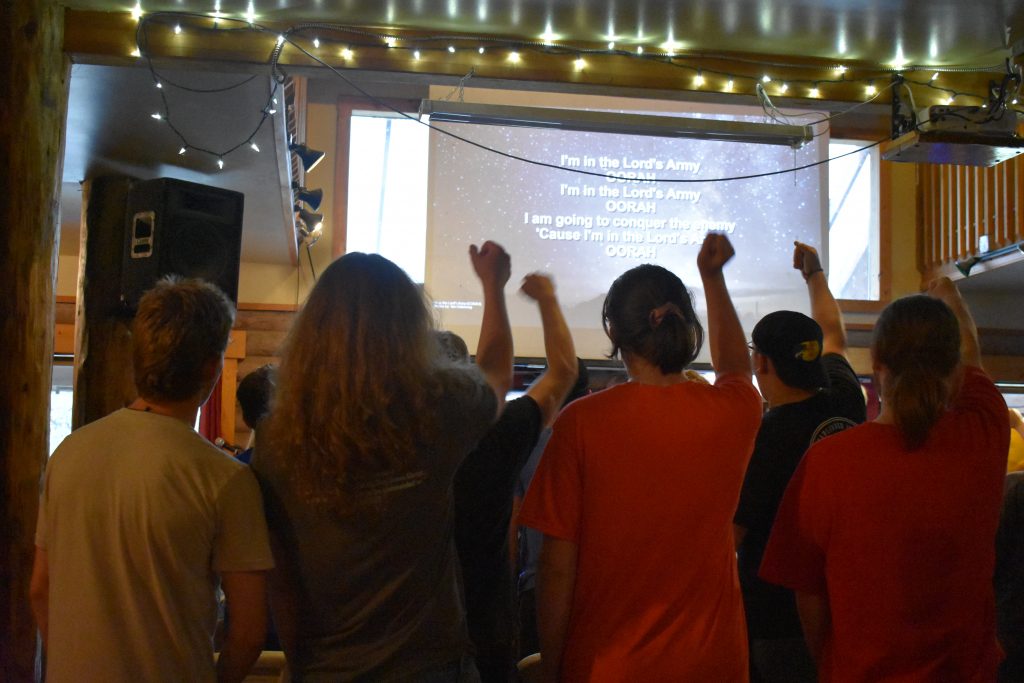 One of the campers shared about her experience at Inspiration Point during the Friday night campfire at the end of the week.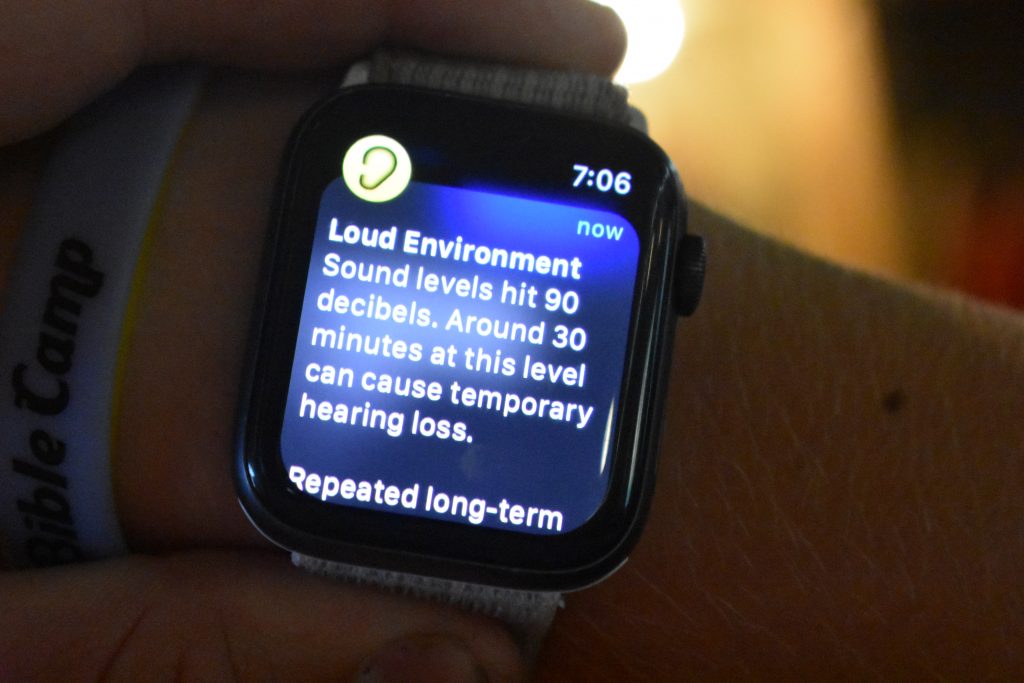 She had come to camp with many worries and concerns weighing her down. Then she and her cabin walked up to Inspiration Point in the dark. She gazed up at that ocean of stars and felt so small. Beneath that giant sky, all her problems felt suddenly small, too. Knowing that the God of all those huge and brilliant things had made her and loved her brought an unexpected peace.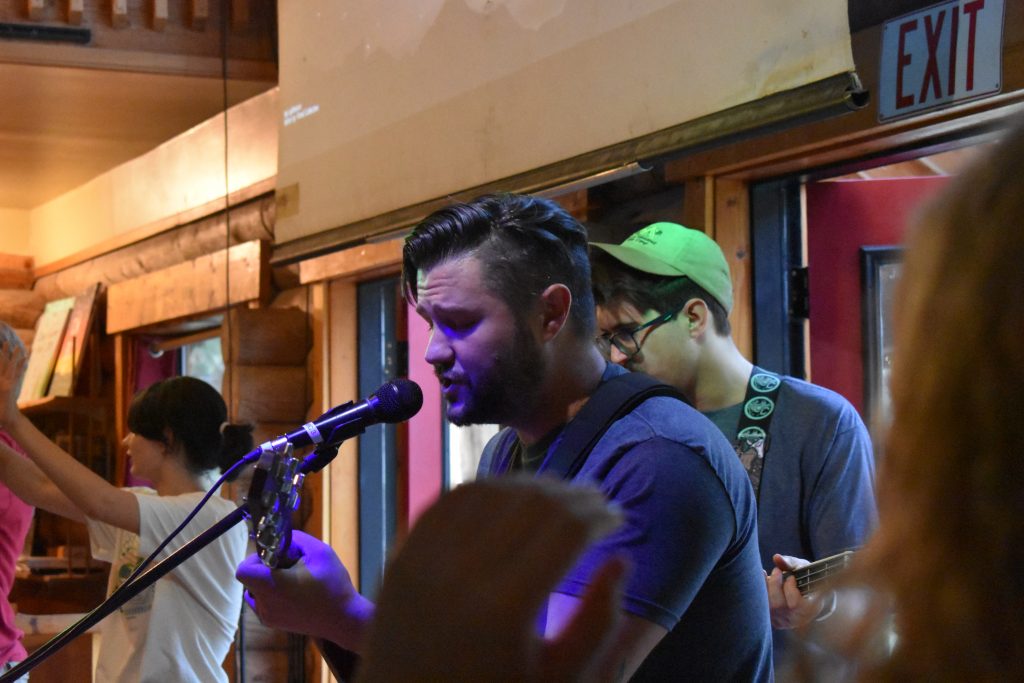 During Tuesday's chapel, Van Helsing spoke on The Battlefield of the Heart.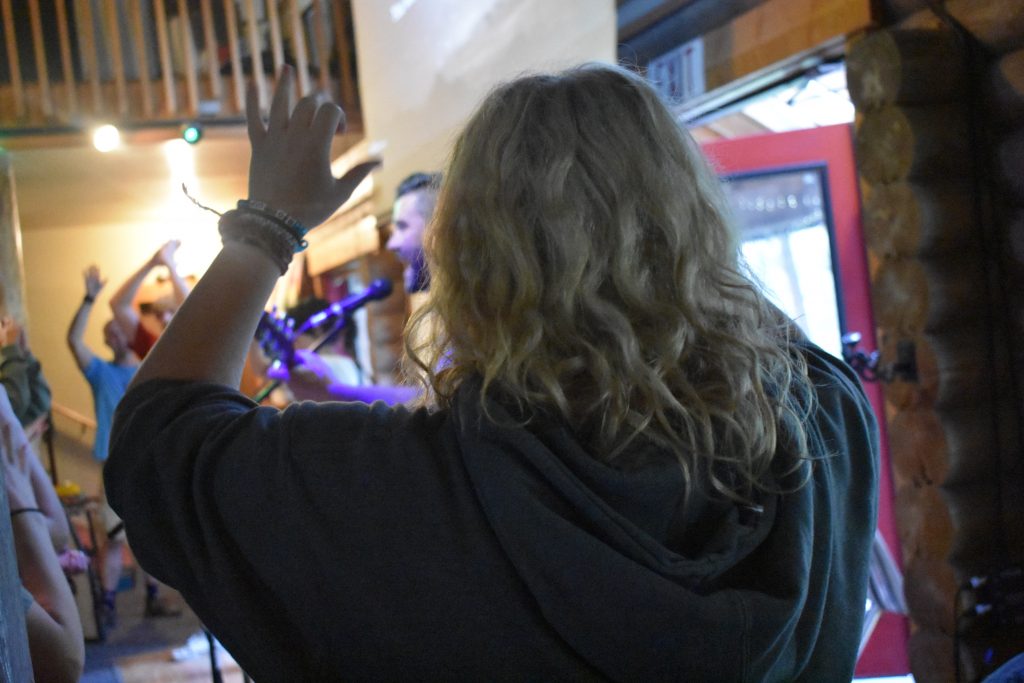 "Though one may be overpowered, two can defend themselves. A cord of three strands is not quickly parted." Ecclesiastes 4:12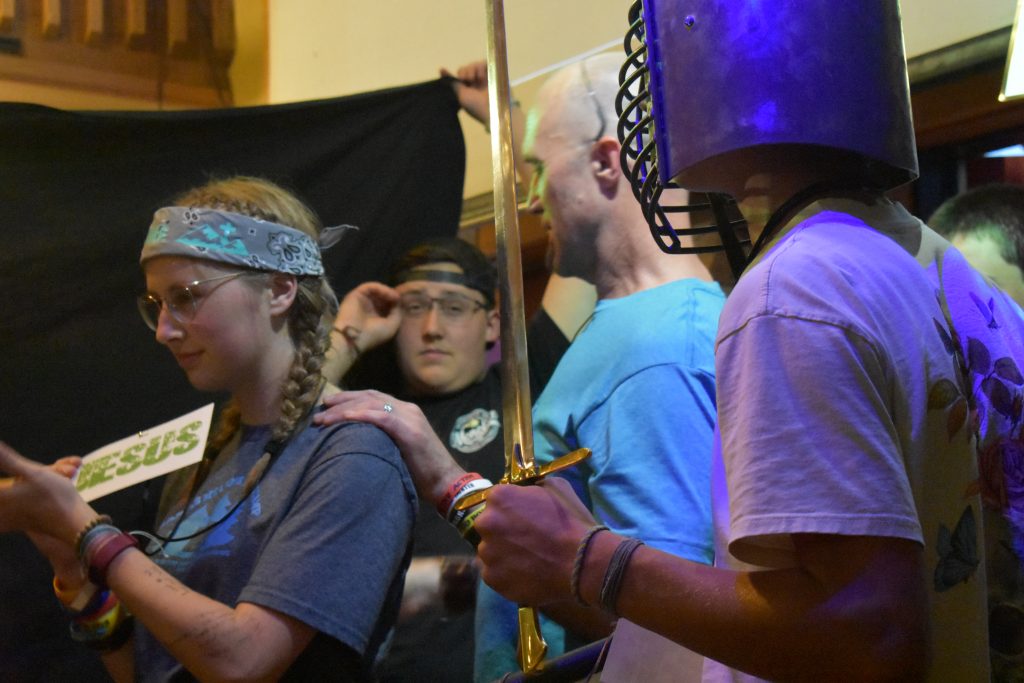 Are emotions good or bad? Why are relationships so hard? What is the secret to a good relationship with your boss, friends, coaches, or romantic interest? What is the secret to a good relationship with God?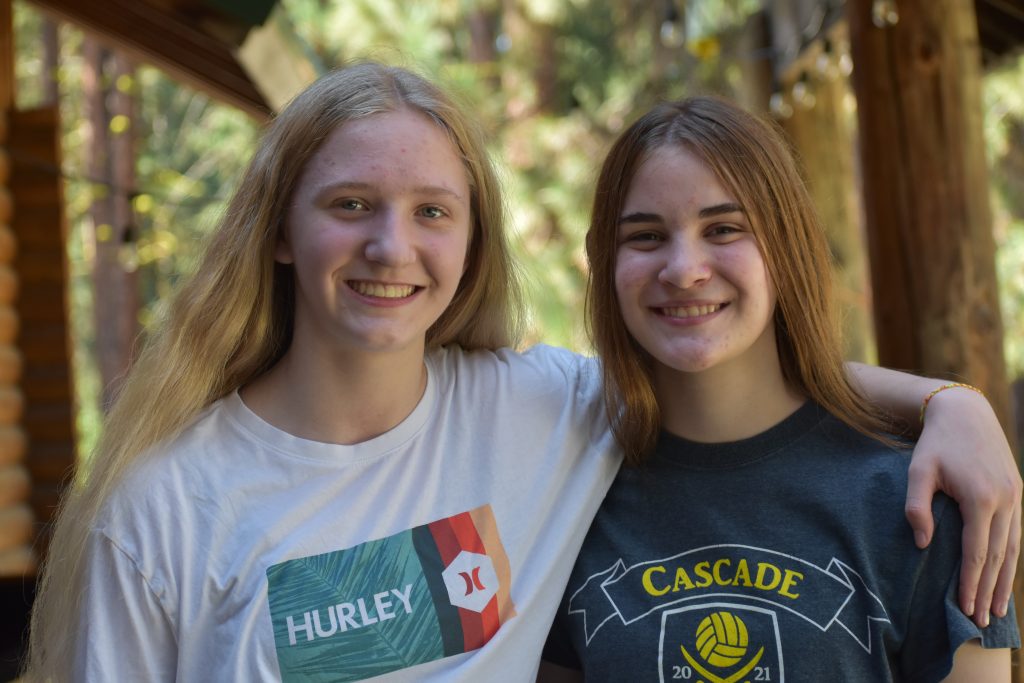 Tuesday Night's Tactic: Battle Buddies!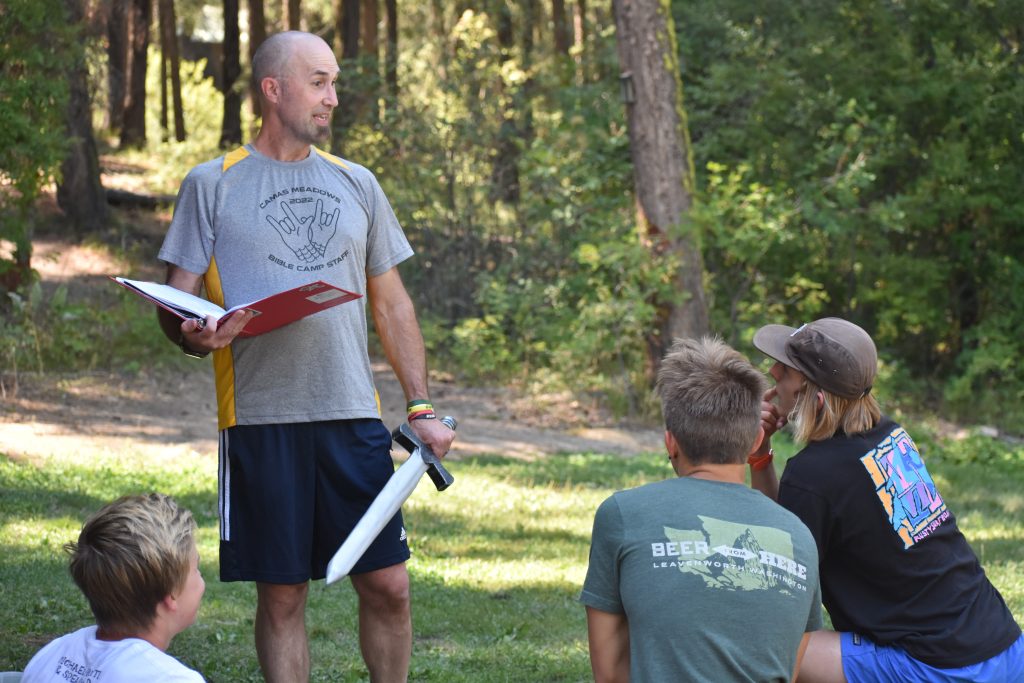 What is a Battle Buddy?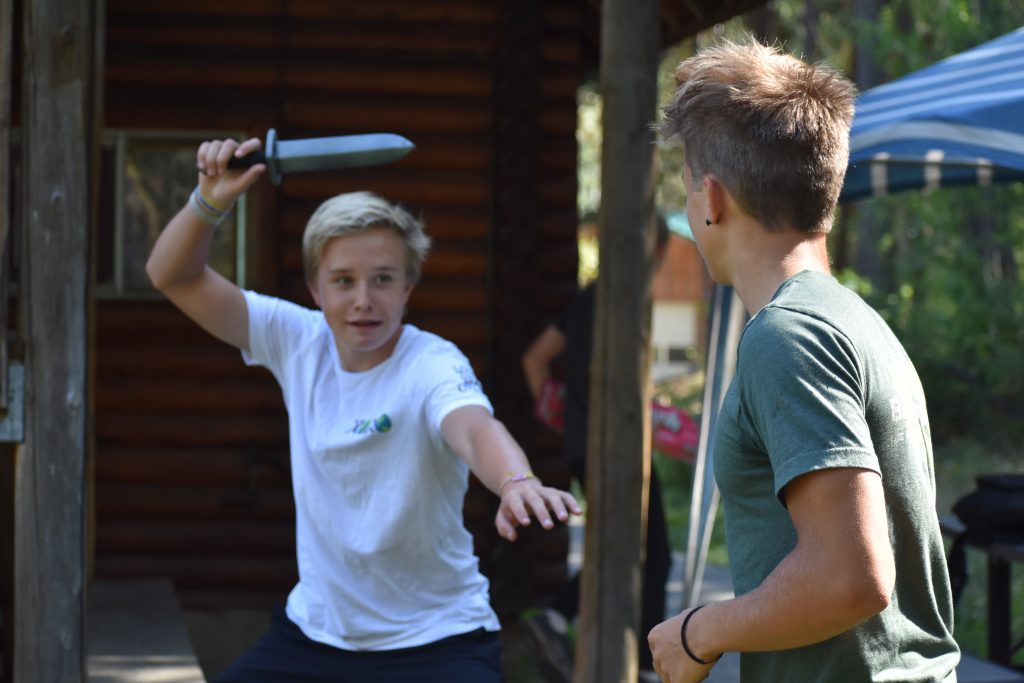 When Boo Boo wanders around trying to get things done but starts to get confused because she is dehydrated, Bomber stops her and asks if she needs a drink of water.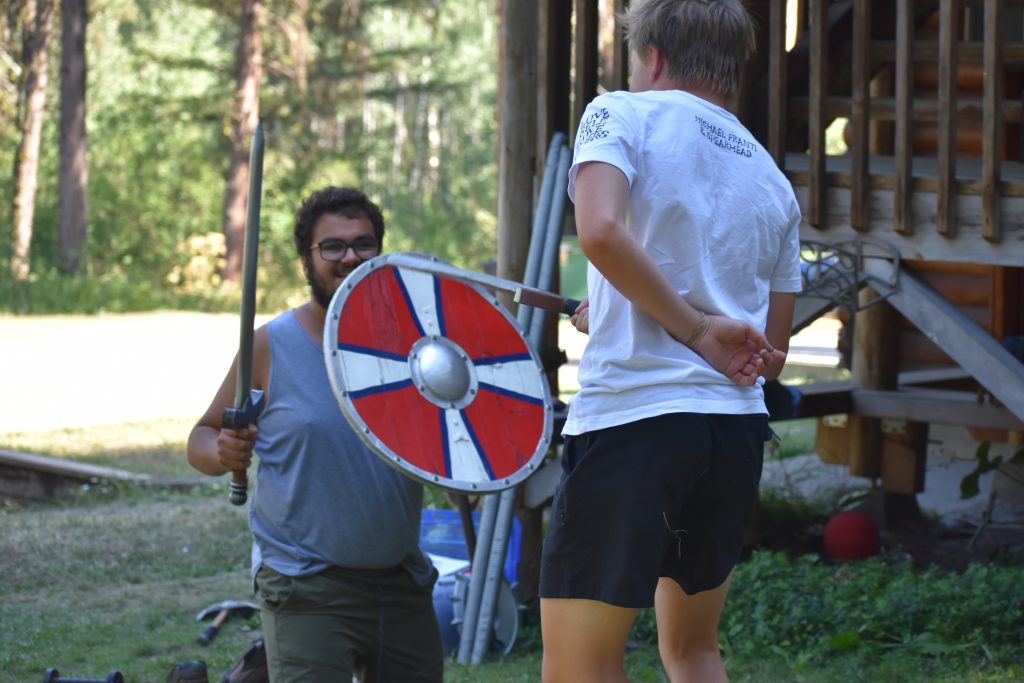 When Boo Boo needs to talk over a sticky problem, she goes to her good friend Daizy who was a camp counselor with her way back when they were young and foolish.
When she needs prayer, to share the burdens of life, or to converse about an interesting piece of Scripture she goes to Scruffy.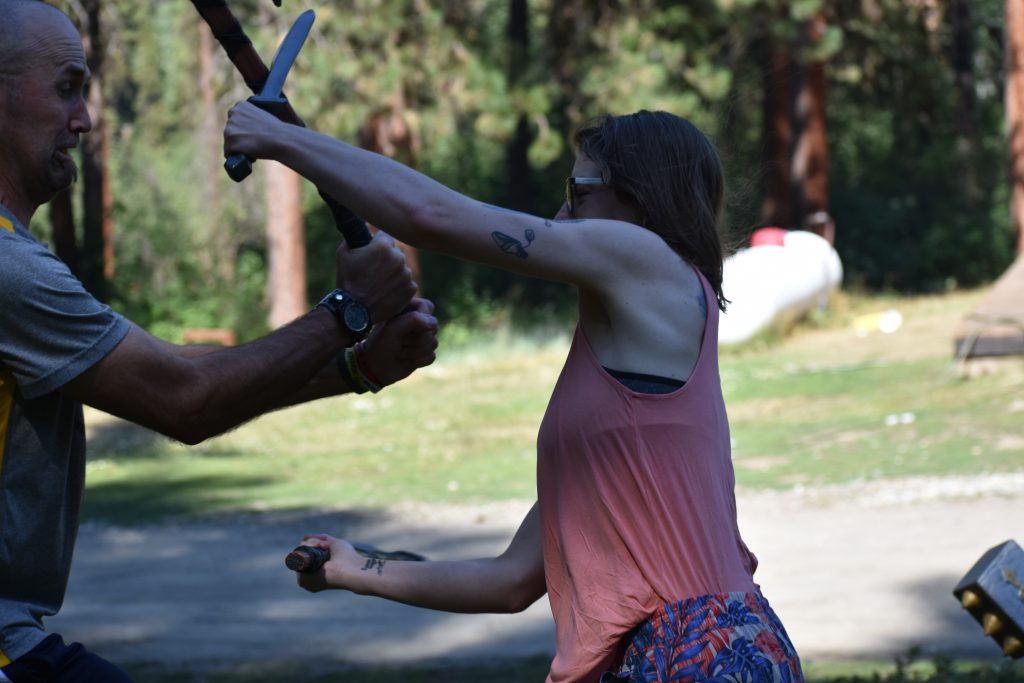 These are her Battle Buddies.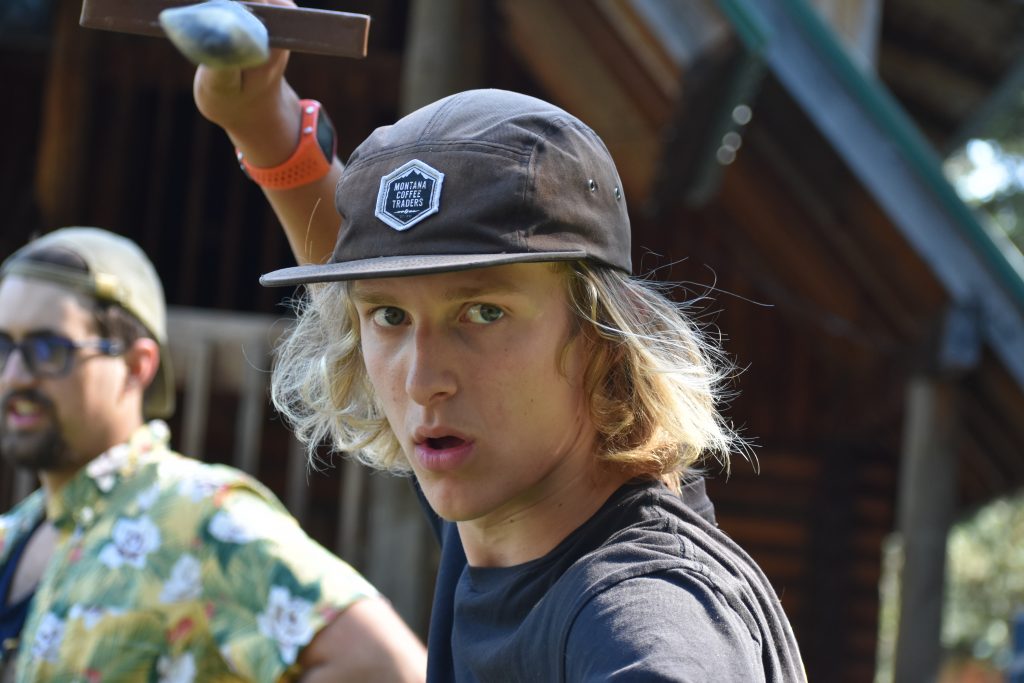 Now sometimes Bomber might pray with her or Grandma Smurf might remind her to get a drink of water, but the point is that she is not fighting the battle alone.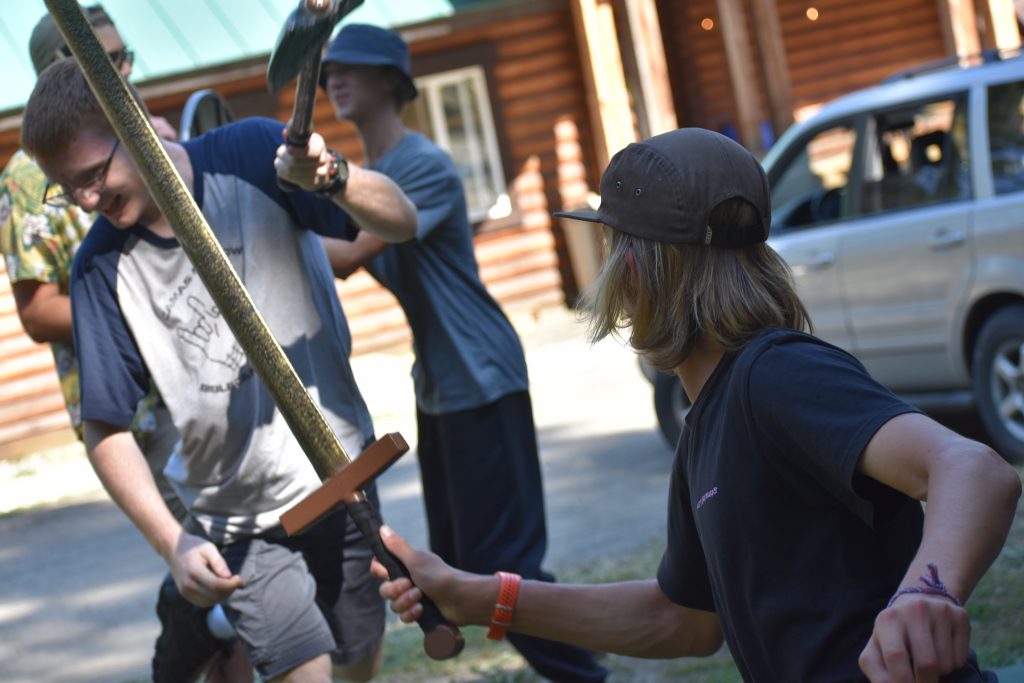 Do you have Battle Buddies? Pray that the Lord will provide encouraging people in your life for the journey and learn how to encourage them, treat them with grace and respect, and work together as you navigate the sometimes rocky path of life.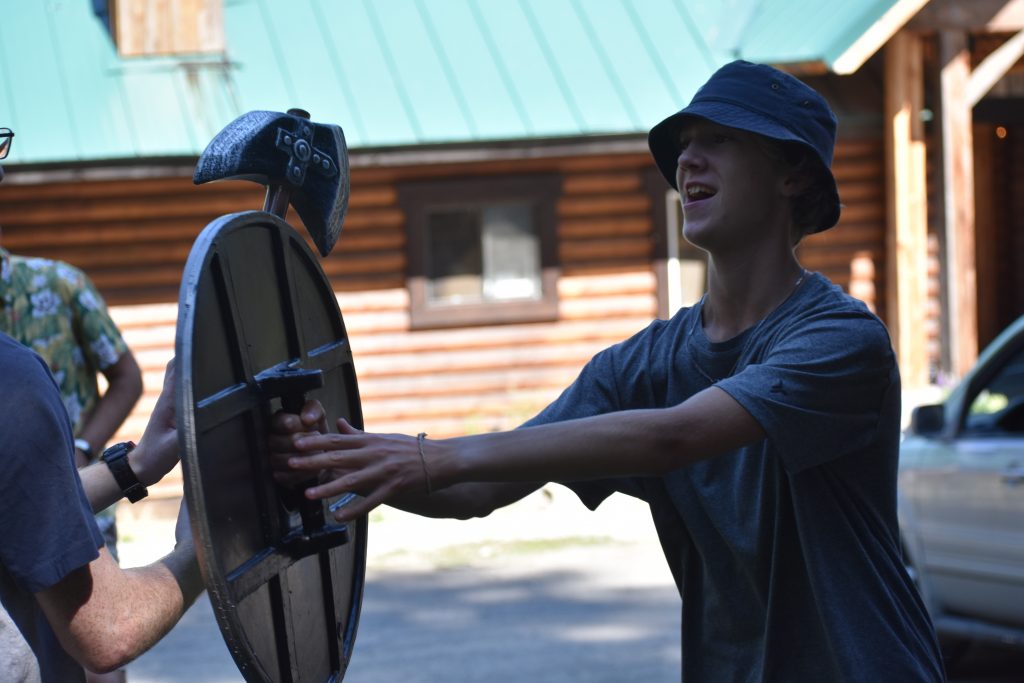 Another fun thing that Van Helsing did this week (with the help of Mina) were the vs. verses. What are vs. verses, you ask?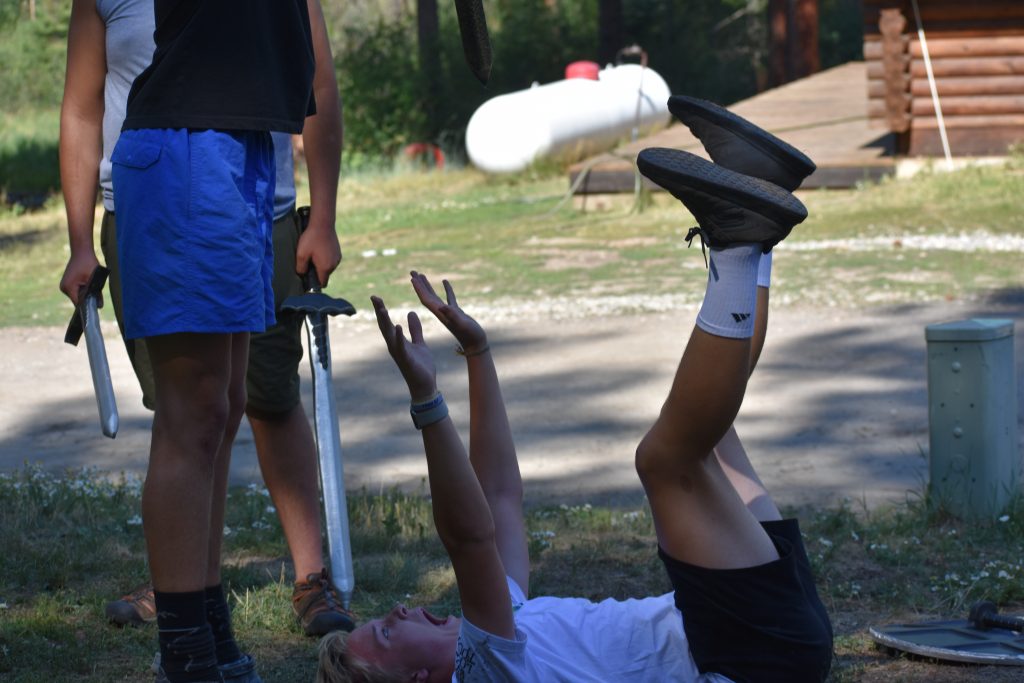 Well, the speaker always has a daily memory verse. In order to encourage the campers to memorize these verses, Mina helped Van Helsing set up a variety of battles that the campers could vote on. However, they could not vote unless they had said the memory verse to Van Helsing!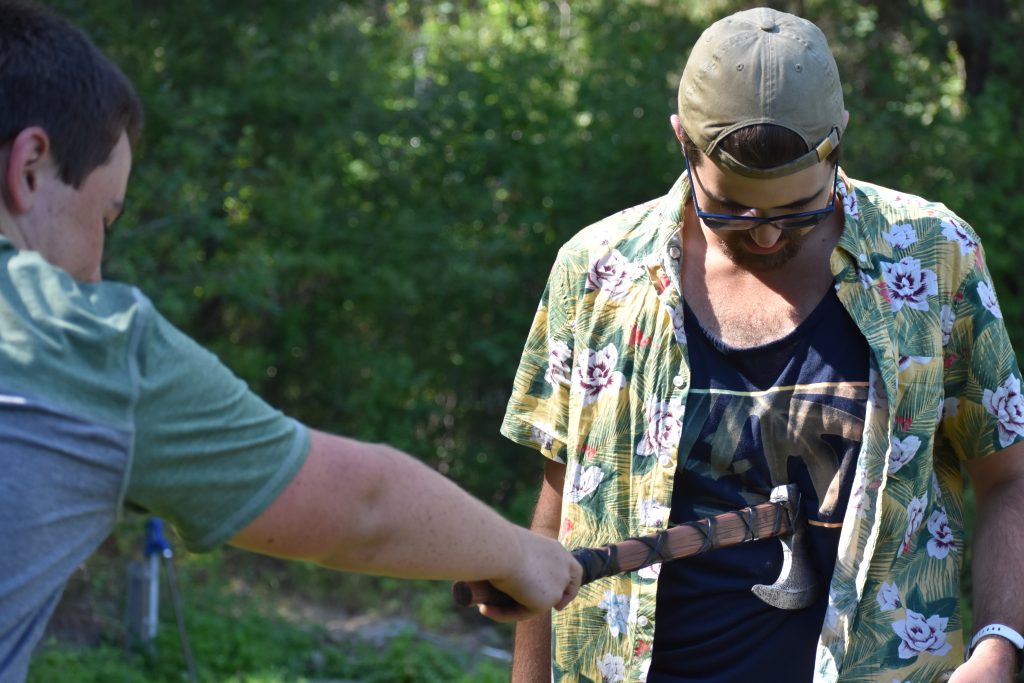 Thor vs. Wonder Woman
Puss in Boots vs. Jack Sparrow
Perry the Platypus vs. James Bond
Miles Morales vs. Tom Holland
Chuck Norris vs. Scruffy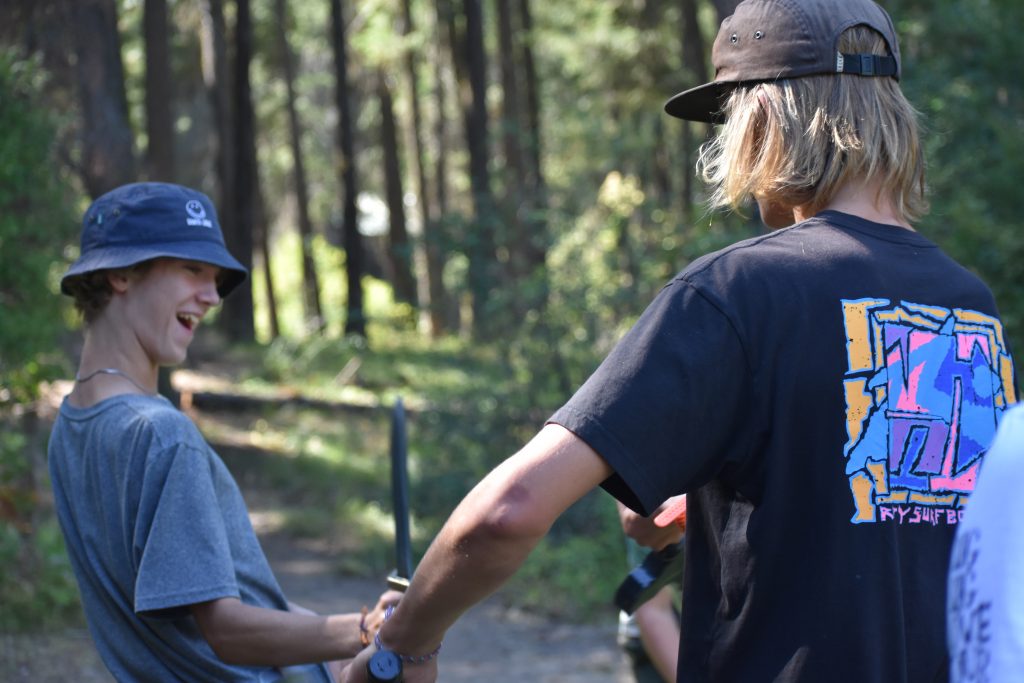 Who won? Well, it all depended on who said their daily memory verse and got to vote!
In case you are curious the winners were: Thor, Puss in Boots, Perry the Platypus, Miles Morales, and Scruffy!
Puss in Boots won the grand championship over everyone else at the very end!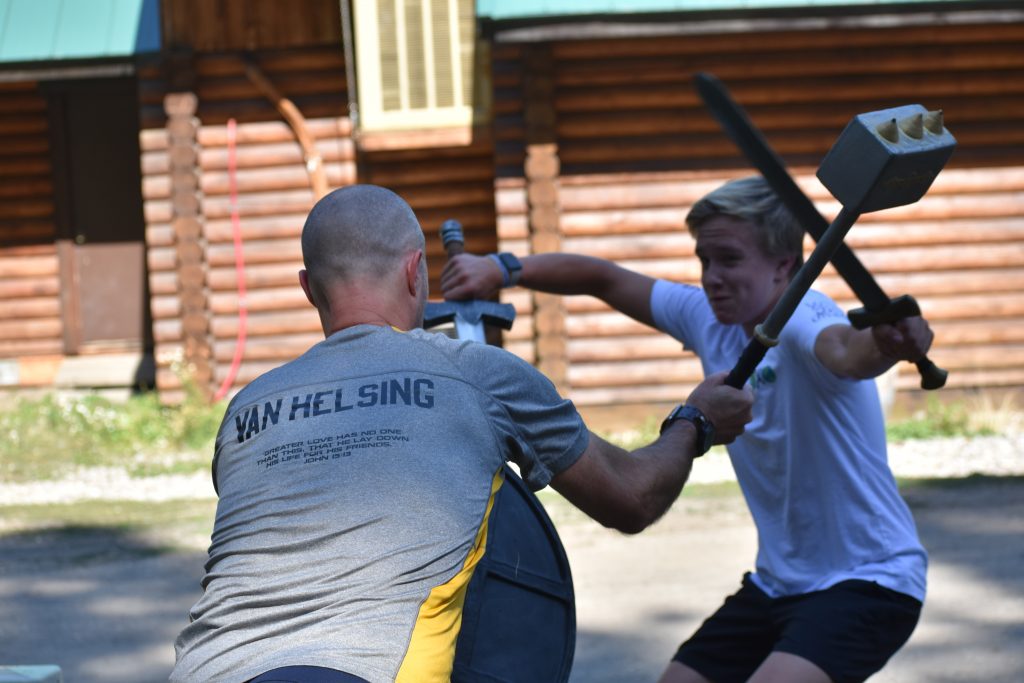 On Wednesday, Van Helsing spoke about The Battlefield of the Flesh.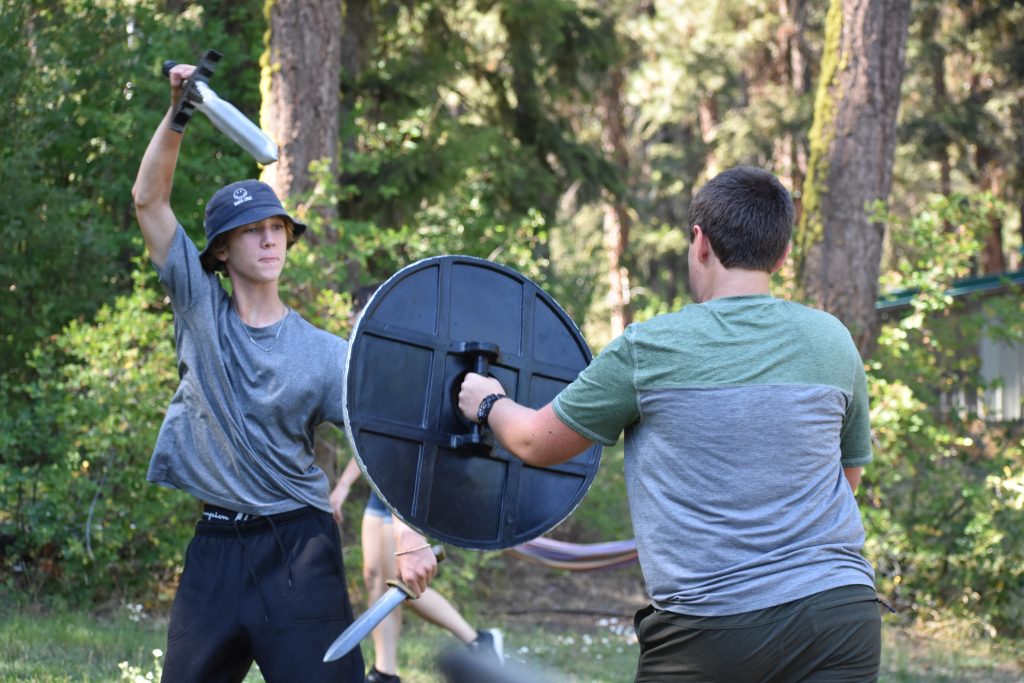 The physical world causes many struggles, weather it is a battle over unchecked desire or the physical struggles of pain and illness, there is much to fight on this front.
Tonight's Tactic: Prepare to Fight!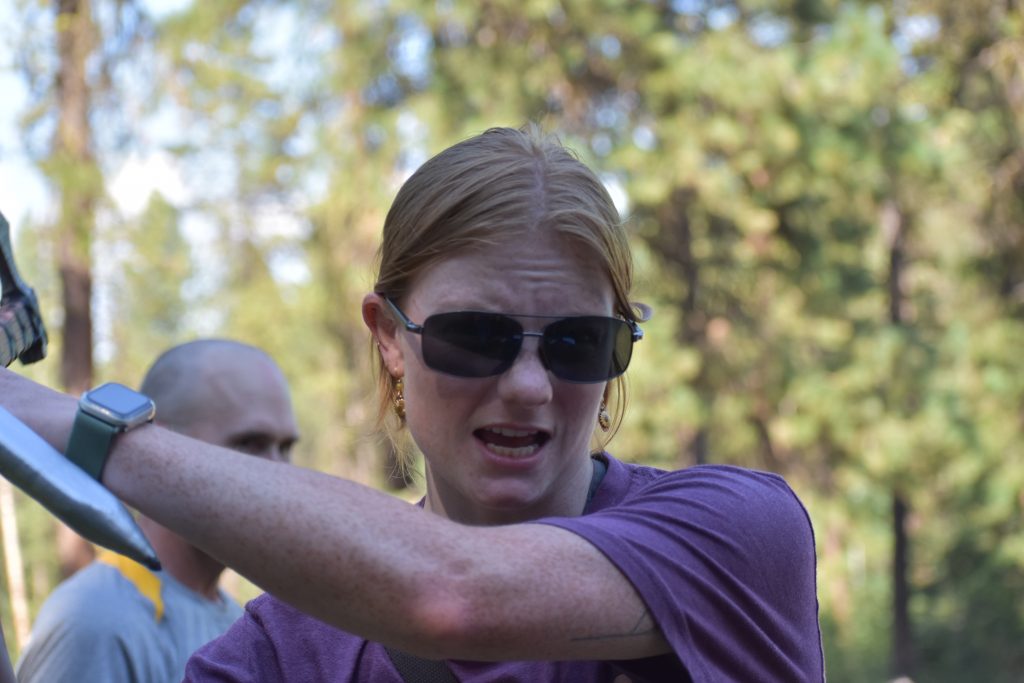 One of our camp counselors, Boromir, faced an unexpected battle of the flesh this week.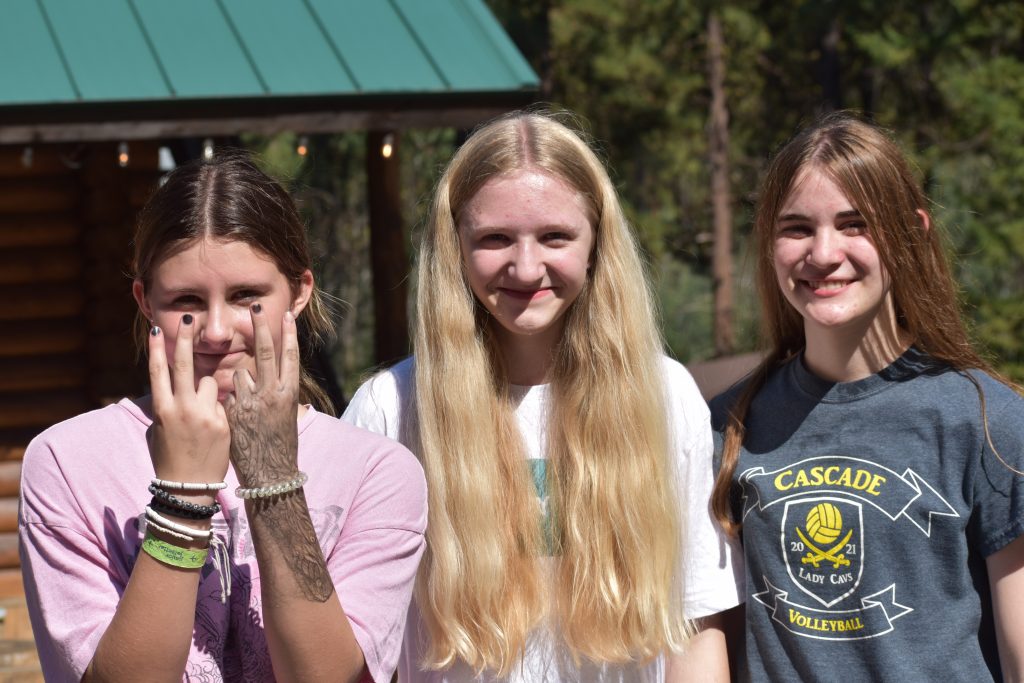 He was walking on the trail from his cabin with his campers and had a seizure. His campers rallied around him. Running to get the nurse, guarding him until the seizure passed, and helping him to Scruff's car.
Scruffy drove him down to the ER and while Chat Noir stepped up to be with them in Boromir's absence the campers waited to hear Scruffy's report on how he was doing. After a day at home recovering, Boromir returned amidst the cheers of the boys in his cabin. It is such a difficult thing to ask for help, but after this tough battle, Boromir said that he came away realizing that he should. Have you faced a battle of the flesh today? I bet you have. There are many battles on this field, but one way to victory.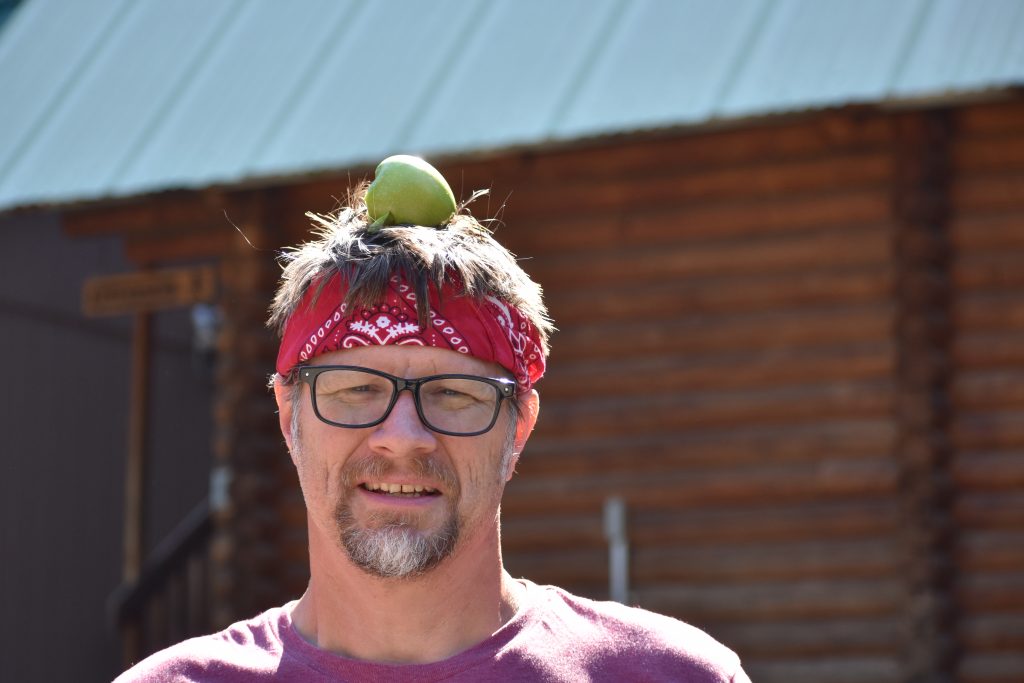 "We do this by keeping our eyes on Jesus, the champion who initiates and perfects our faith. Because of the joy awaiting Him, He endured the cross, disregarding its shame. Now He is seated in the place of honor beside God's throne." Hebrews 12:2
And yes, if you are wondering, Boo Boo did indeed shoot this apple off of Scruffy's head in one shot with an archery tag arrow! Don't worry, they have a big foam tip to prevent skewering.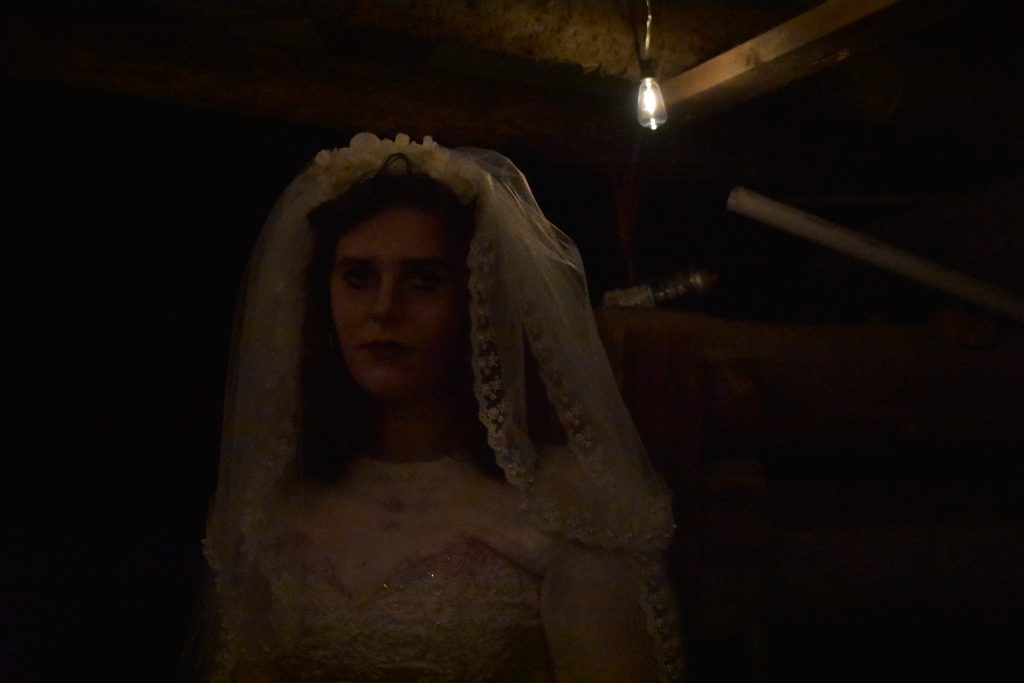 One of the campers' favorite night games is Walkers!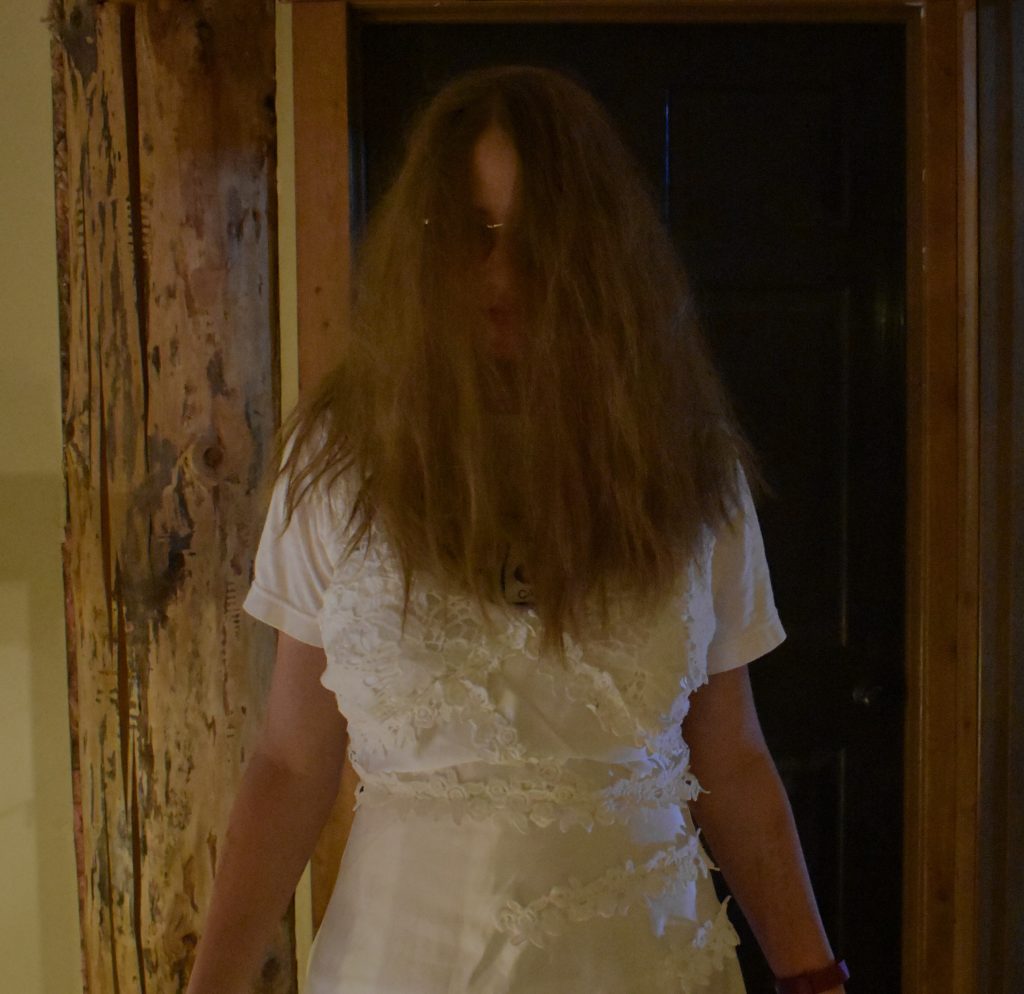 This is a night game we don't play at any other camps and campers look forward to finally being old enough to come to Senior High Camp so that they too can fight zombies in the forest.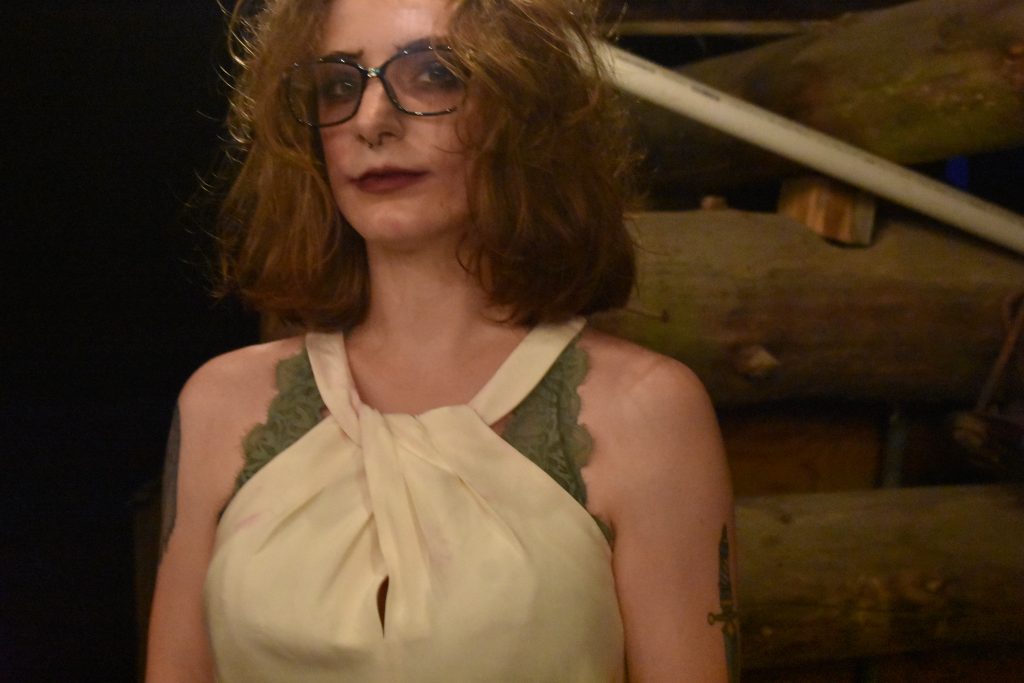 Thankfully, Mina's brother Mini Van works at a thrift store and acquired some amazing wedding dresses that the girls used in their transformation into monsters.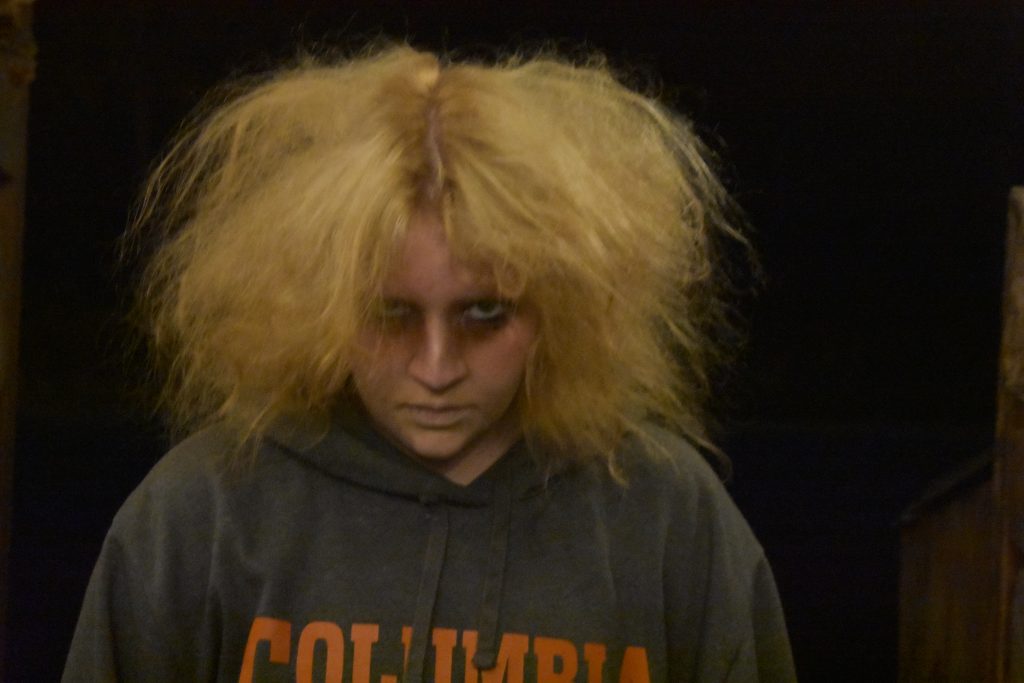 Combined with Lea's amazing make-up talent, Walkers was a memorable time running through the woods battling evil and earning cabin points!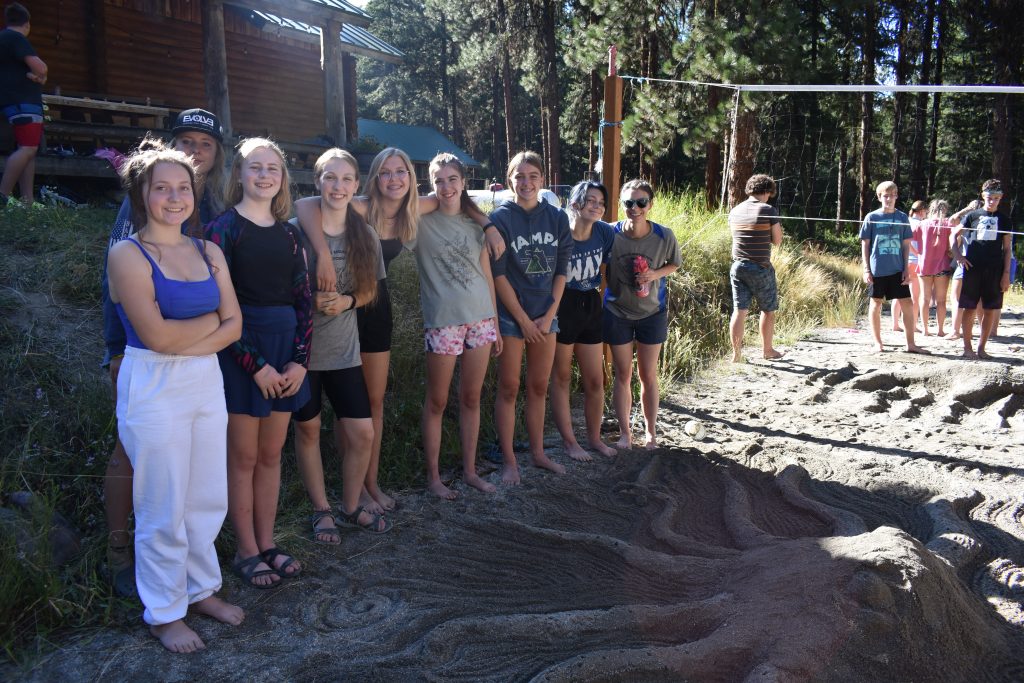 During Thursday's chapel, Van Helsing talked about The Battlefield of the Mind!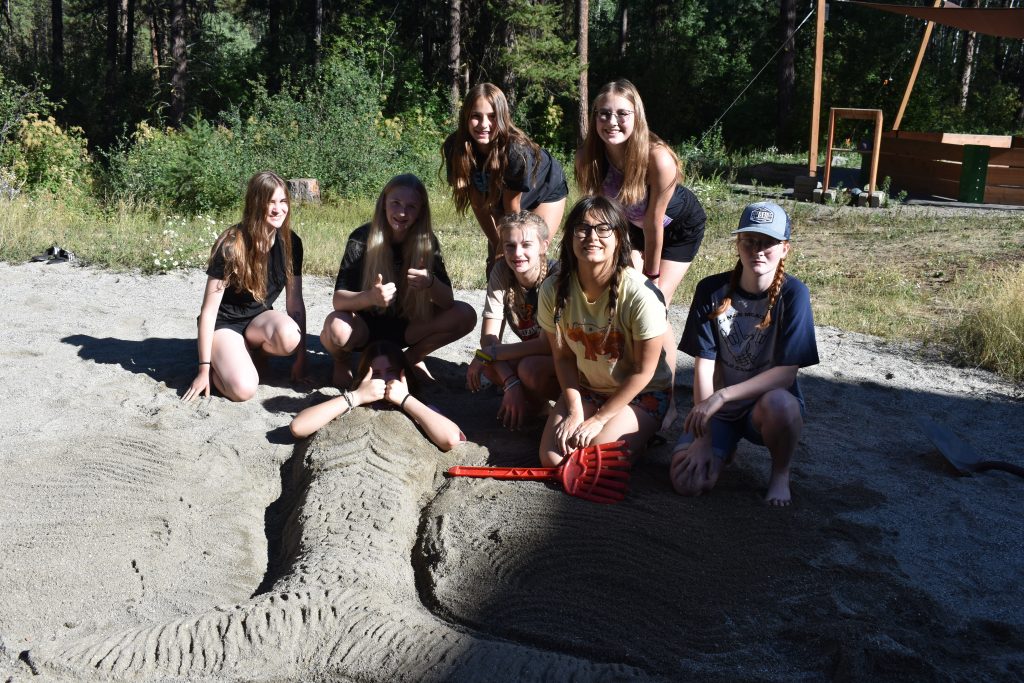 "The deadliest enemy is the one you cannot see. But you can still fight back… with the right weapons."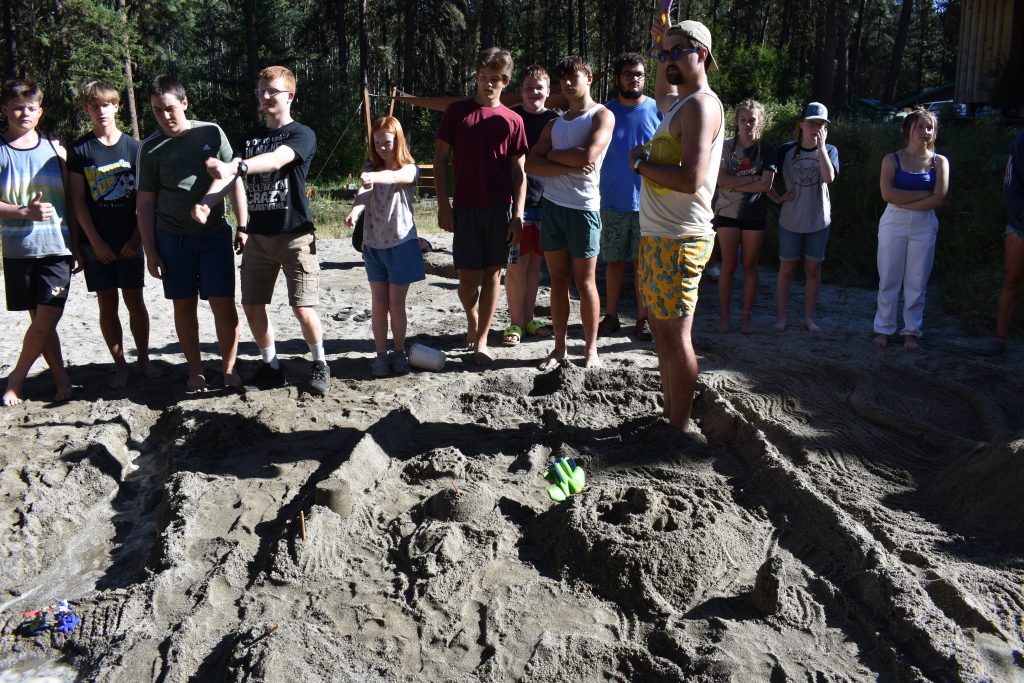 "The weapons we fight with are not the weapons of the world. On the contrary, they have divine power to demolish strongholds." 2 Corinthians 10:4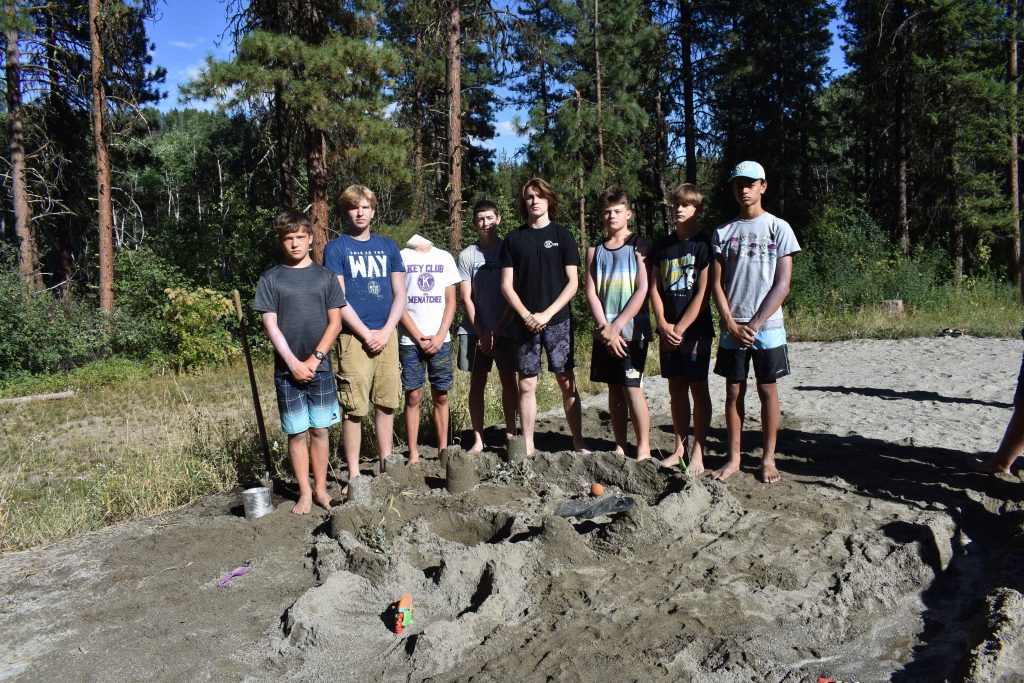 Tonight's Tactic: Weapon Up!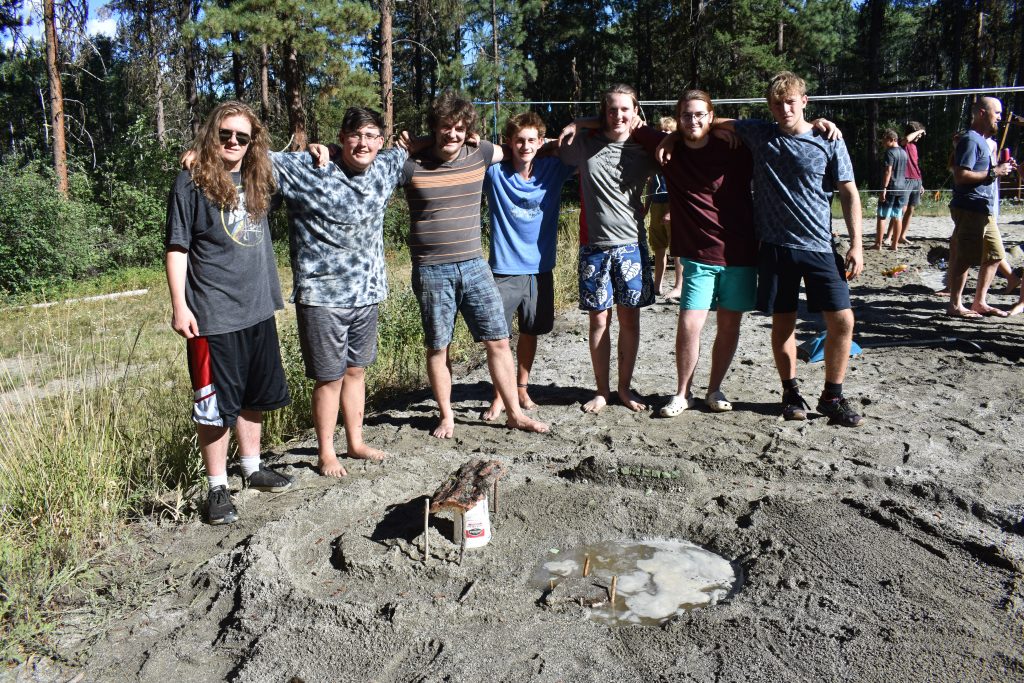 "We demolish arguments and every pretension that sets itself up against the knowledge of God, and we take captive every thought to make it obedient to Christ." 2 Corinthians 10:5
During the Walkers game, Partake was leading a group of girls through the "zombie infested" forest. One of them was concerned. "We can't see anything," she said.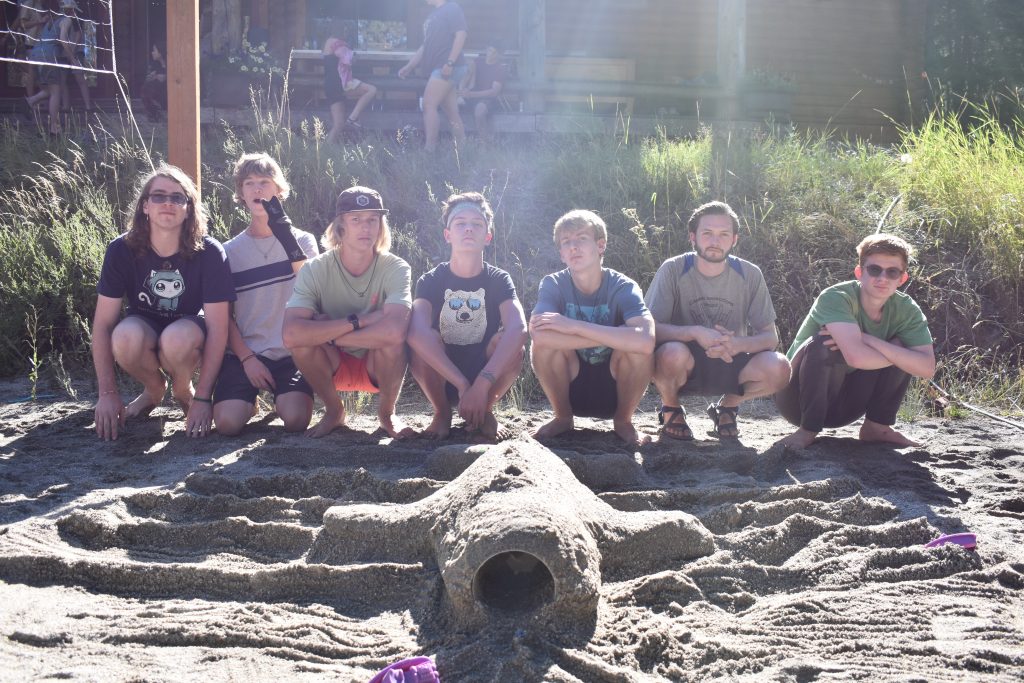 "We'll be fine," Partake said before confidently striding into the dark forest, tripping over a log, and bashing her knees.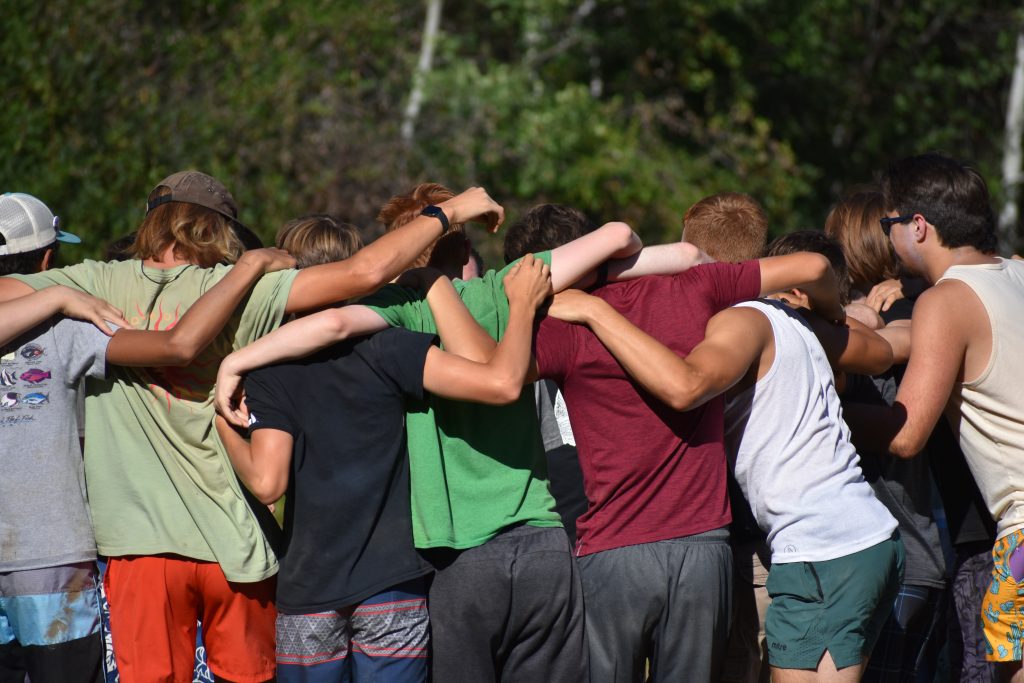 That was a lot like Partake's week of camp, actually.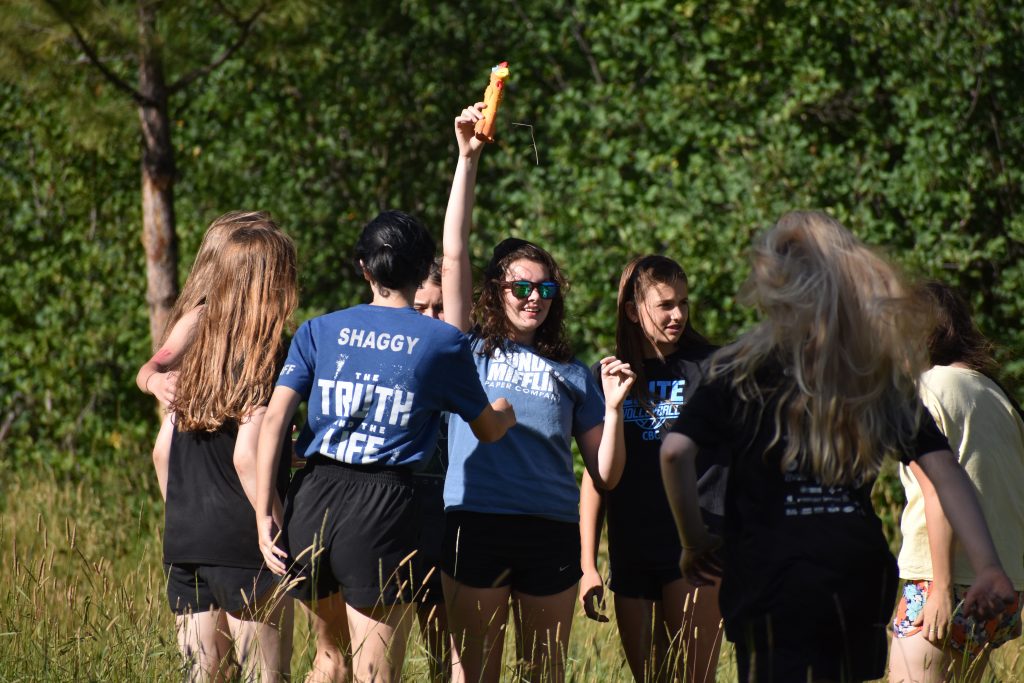 She was our program director this week and is an organized person who enjoys schedules, being on time, and orderly games and activities.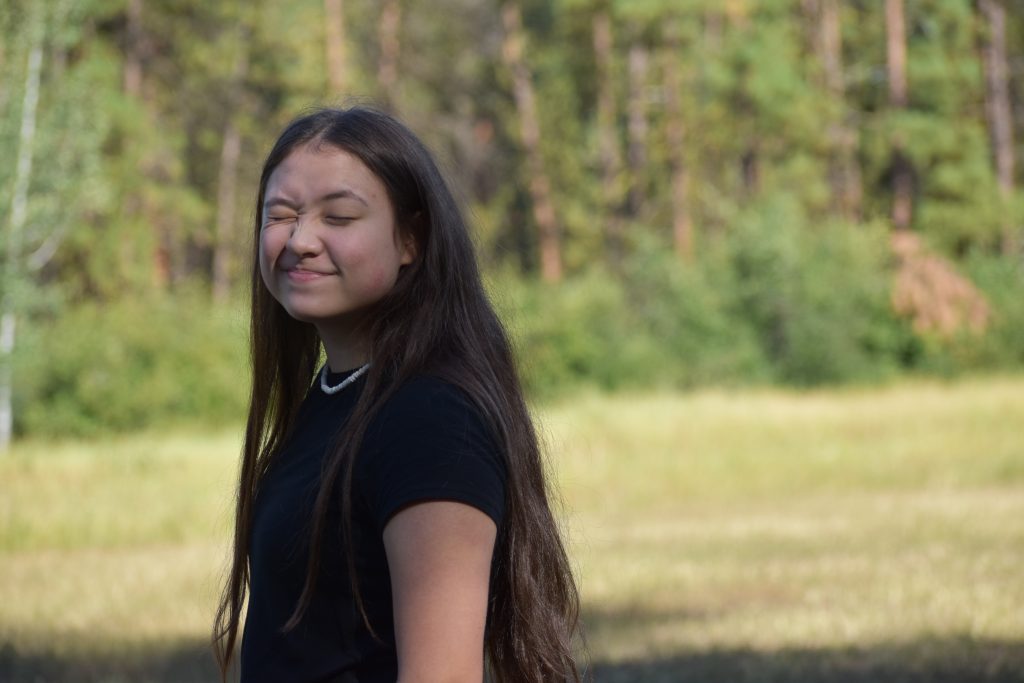 Through events outside of Partakes control, this week was not easy to wrangle!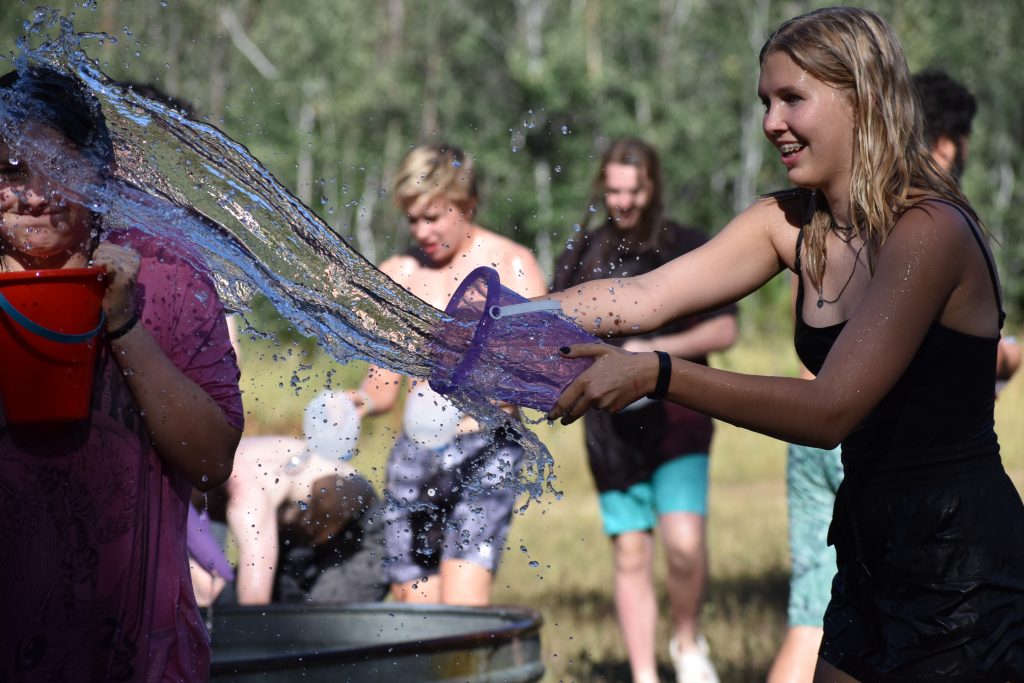 However, in the midst of the unexpected, God was still clearly at work.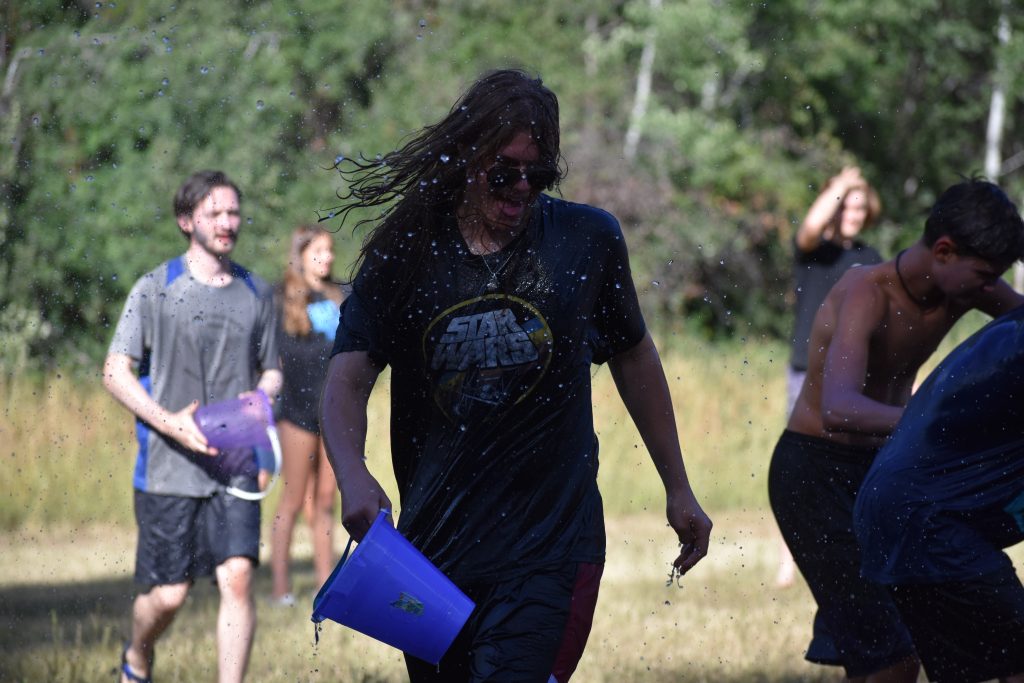 During Friday's chapel, Van Helsing talked about The Battlefield of the Soul.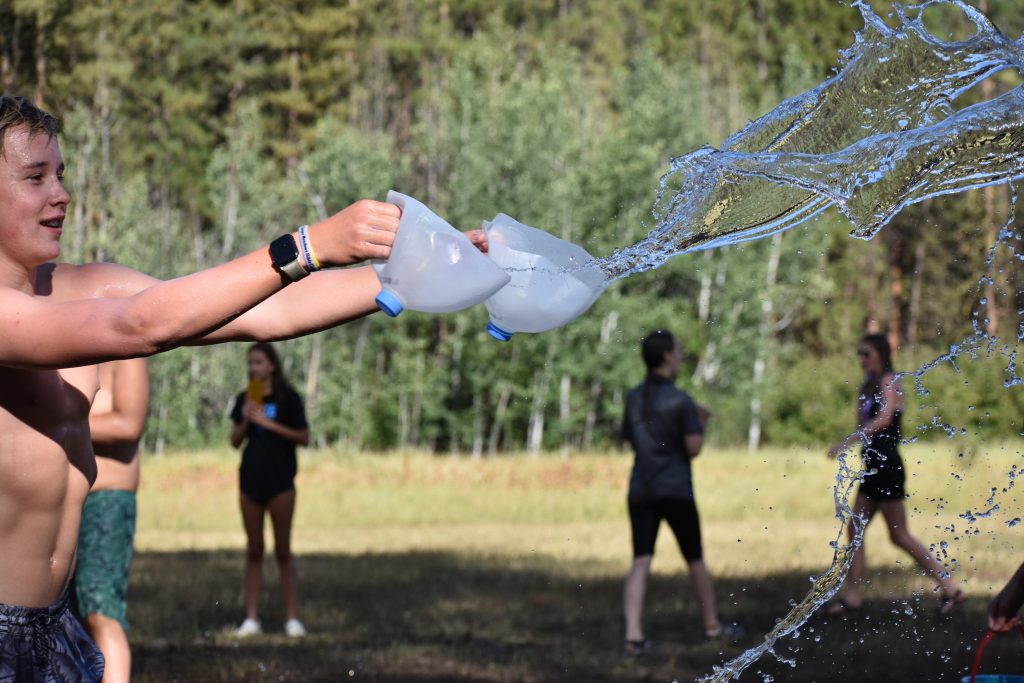 "I have given you power to trample on snakes and scorpions and over all the power of the enemy; nothing will harm you." Luke 10:19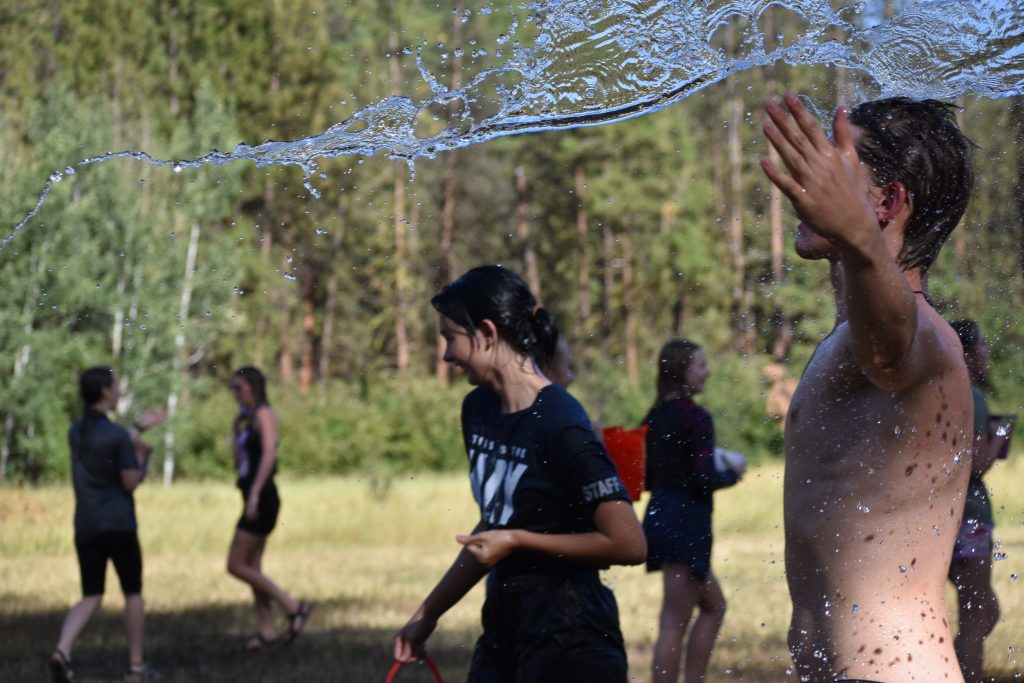 There wasn't just a chapel session titled Battlefield of the Soul, there was also a night game!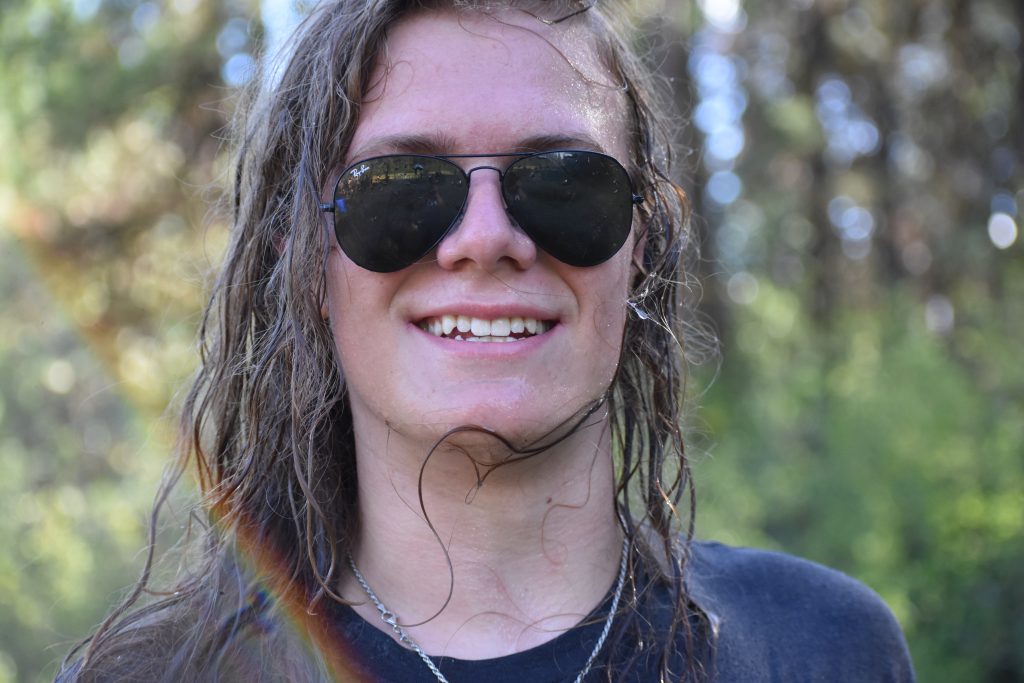 This involved whacking people with sock flails, nylons full of color powder, and of course running through the woods. What was the enemy? Those dangerous influences that are not from God.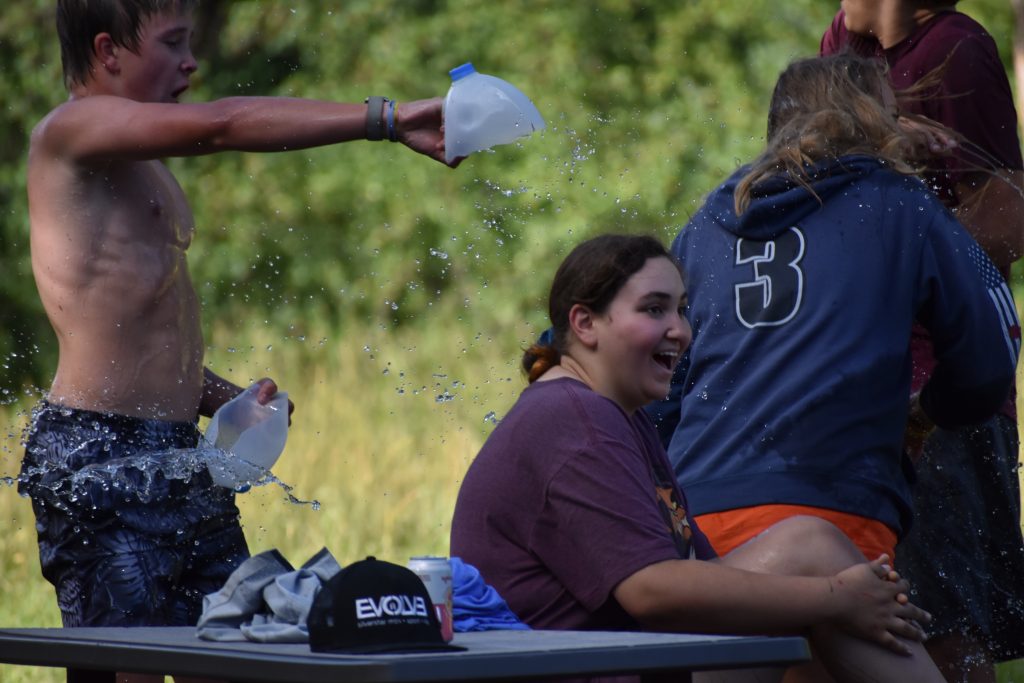 Those sock flails were actually more painful than expected and unfortunately, did dye light blond hair in bright colors.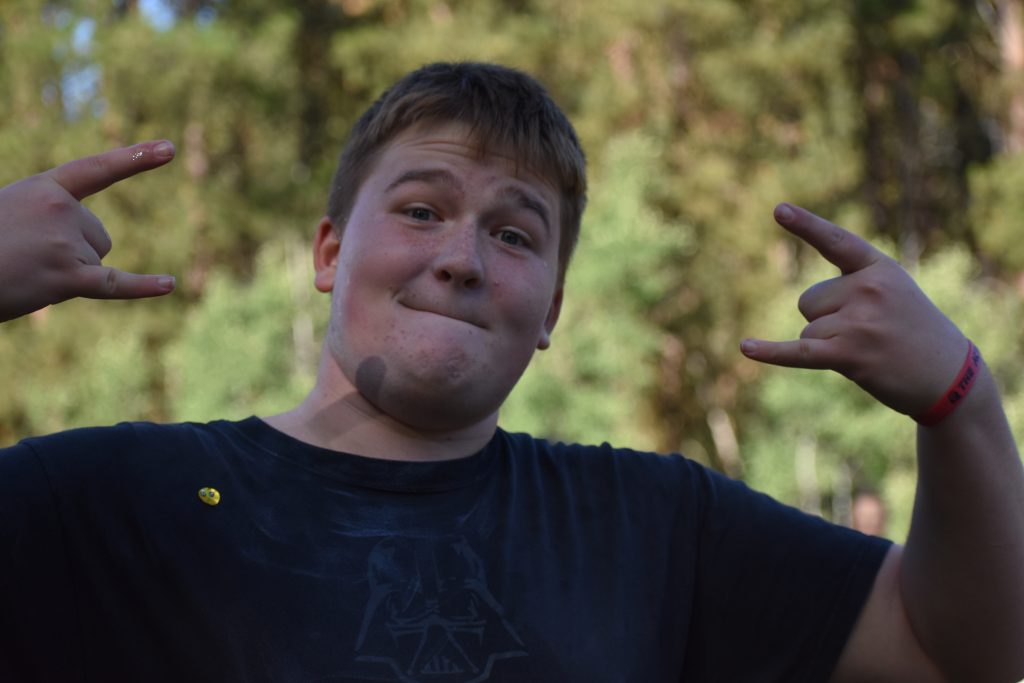 We were short on girl counselors for this week, but we got a surprise addition to our staff at the last minute.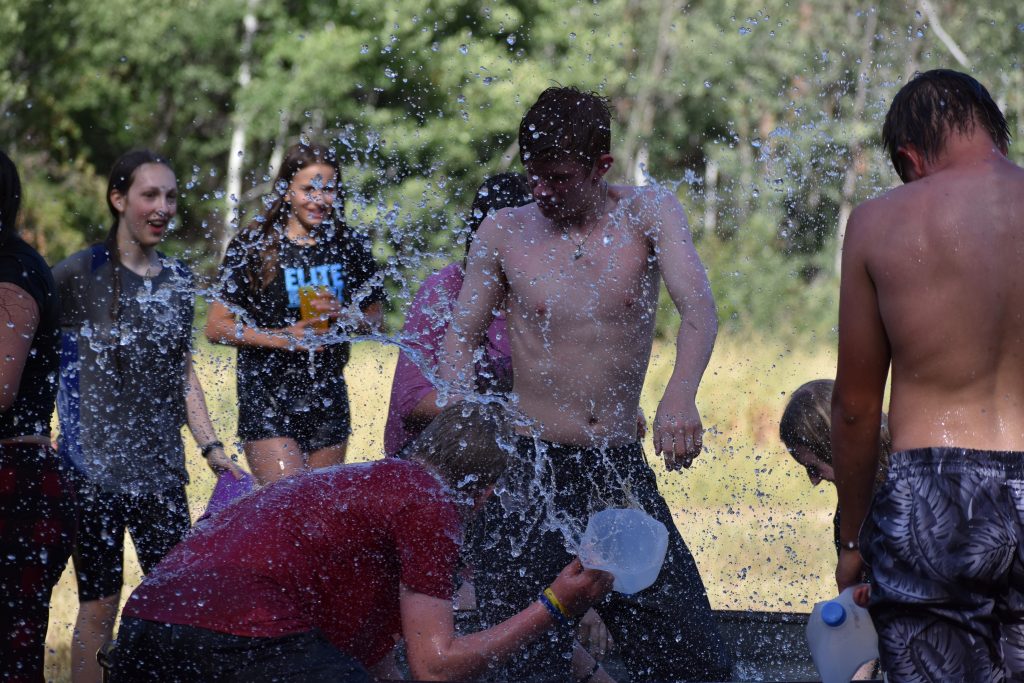 The mom (Chiquita) of one of our young counselors used to be on staff with us nineteen years ago.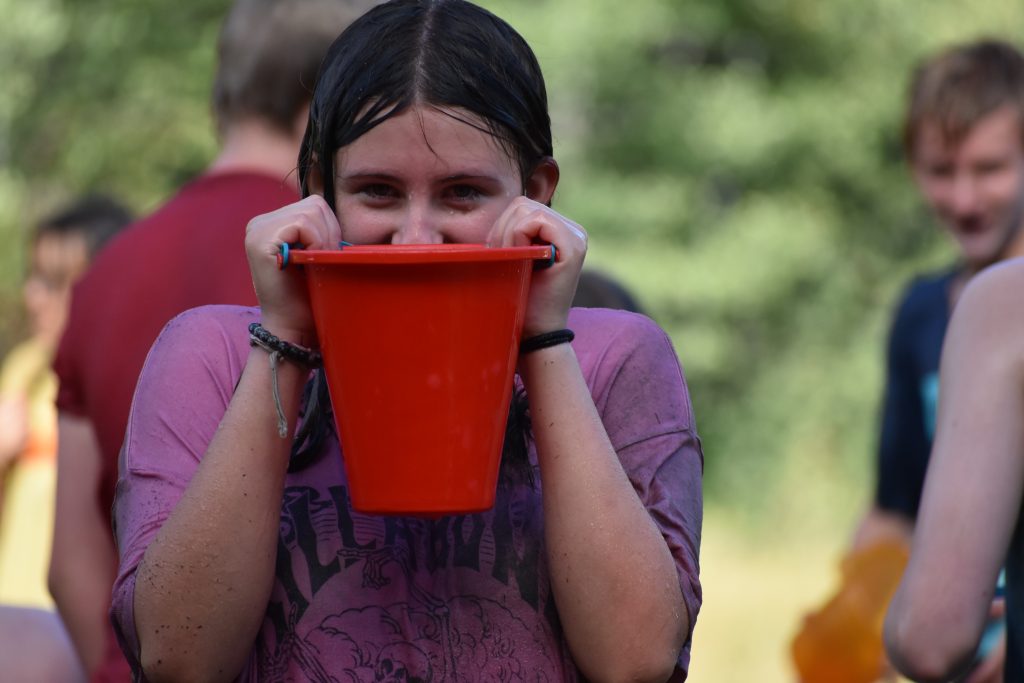 She has been helping out with camp work behind the scenes and doing such an amazing job, but the lack of girl counselors for Senior High Teen camp started to weigh on her.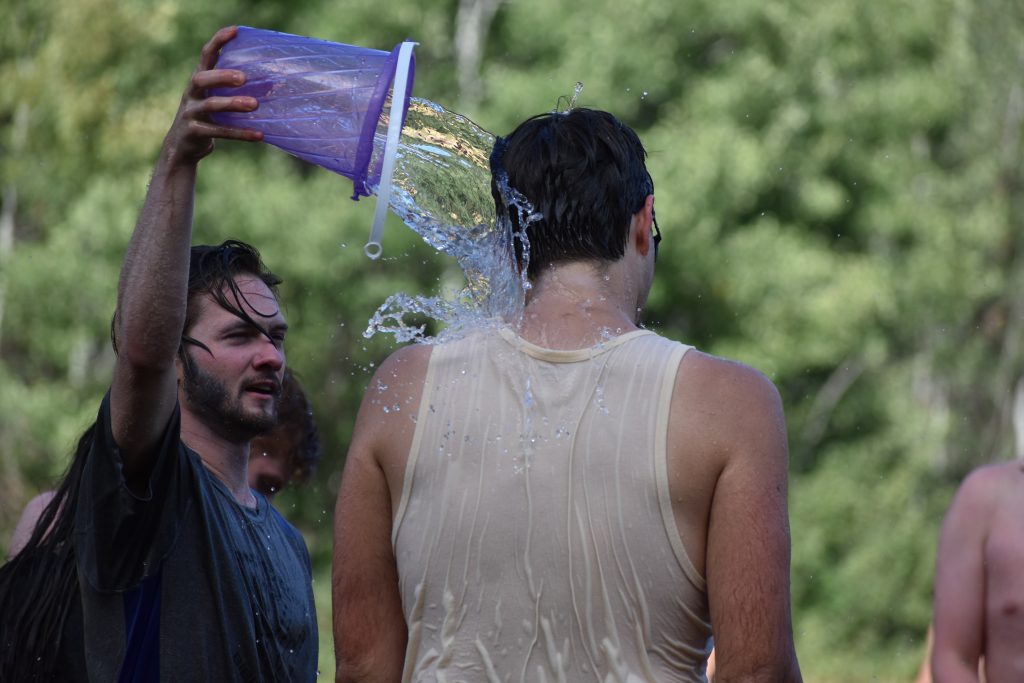 However, she was able to argue against such a drastic measure as coming back to camp as a counselor. She was a mom, what teen girls wanted to hang out with a mom all week? She was solidly in the adult part of her life, she liked sleep, and wasn't fond of running around in the forest at night with people dressed as zombies. A week of camp simply did not sound … comfortable.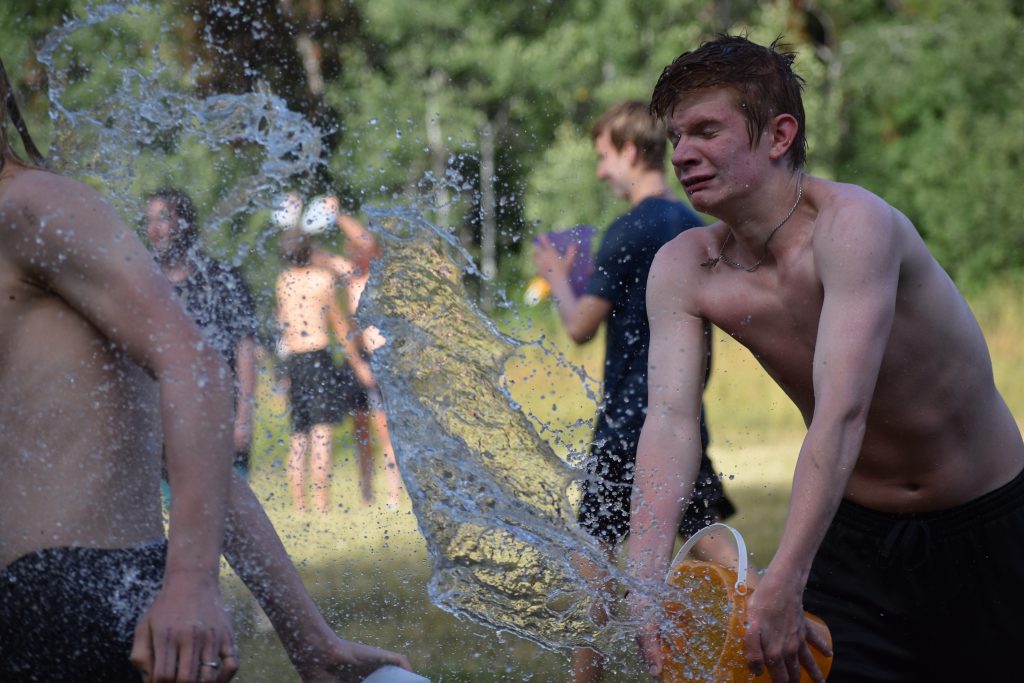 Then she ran across this quote: "The end of comfort is where life begins"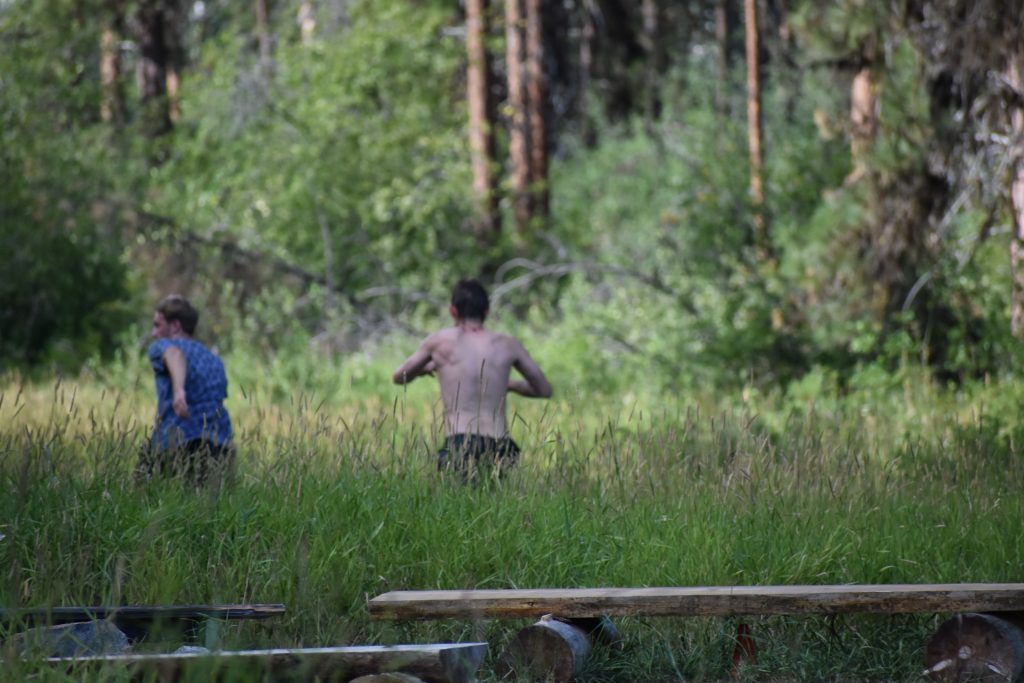 Hmmm … and so after a nineteen-year hiatus, Chiquita joined us on staff as a counselor!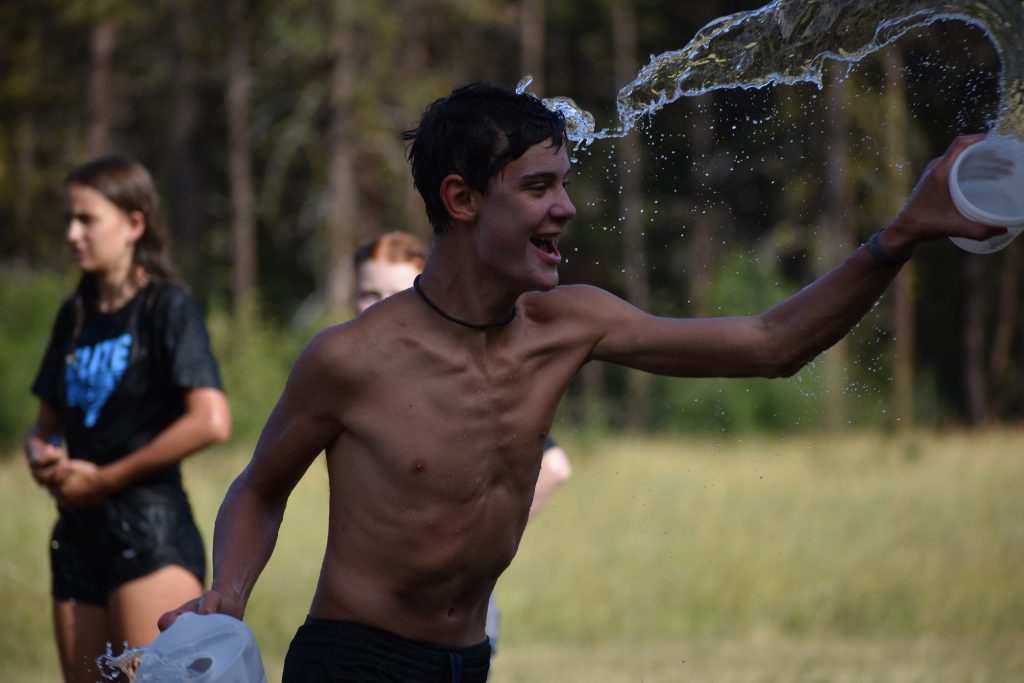 What teenage girls wanted to hang out with a mom all week? As it turns out, her daughter and all of her daughter's friends!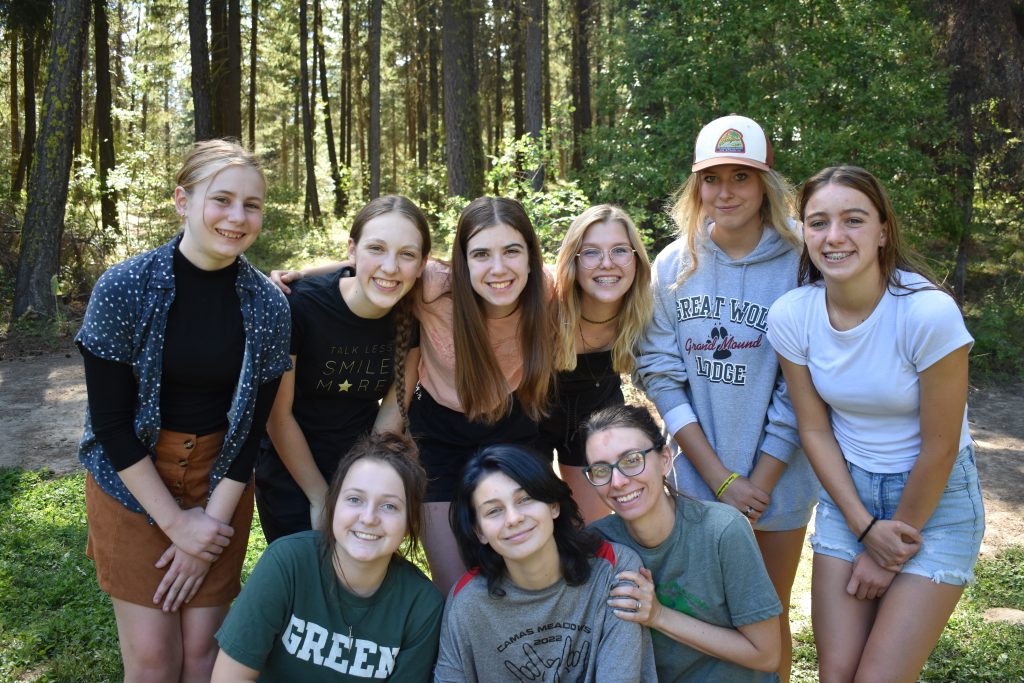 There was some mortal embarrassment when they failed at pranking the boys two times and Chiquita agreed to take the blame for their bad pranking and even got them breakfast in bed when they refused to show their faces ever again … which didn't actually last very long, just long enough to get breakfast in bed. But then her campers gave her one of the greatest compliments ever.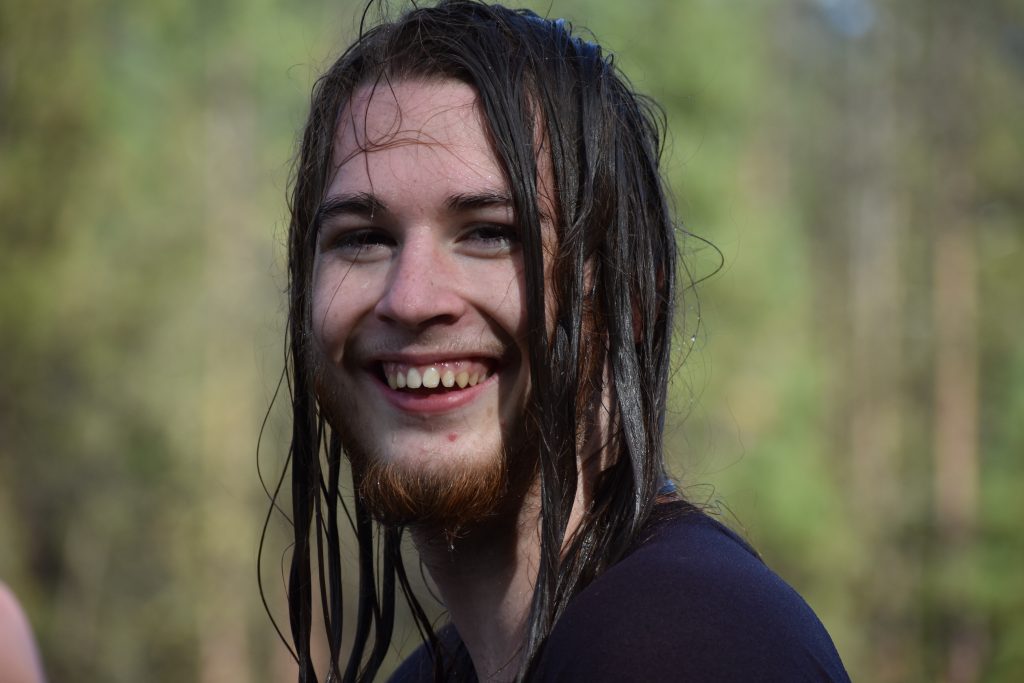 "You have the most fourteen-year-old water bottle I've ever seen!"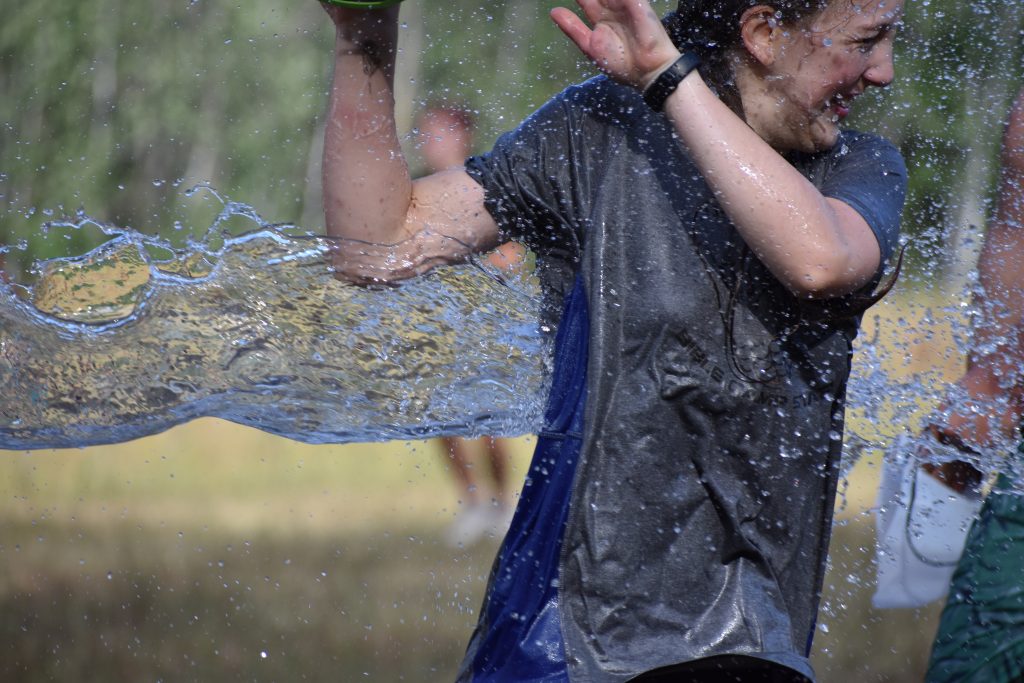 Chiquita summed up her week like this: "It was a gift to be a part of these teens lives. An old person is not who they want. But each time they pulled me aside and shared their hearts with me was a gift."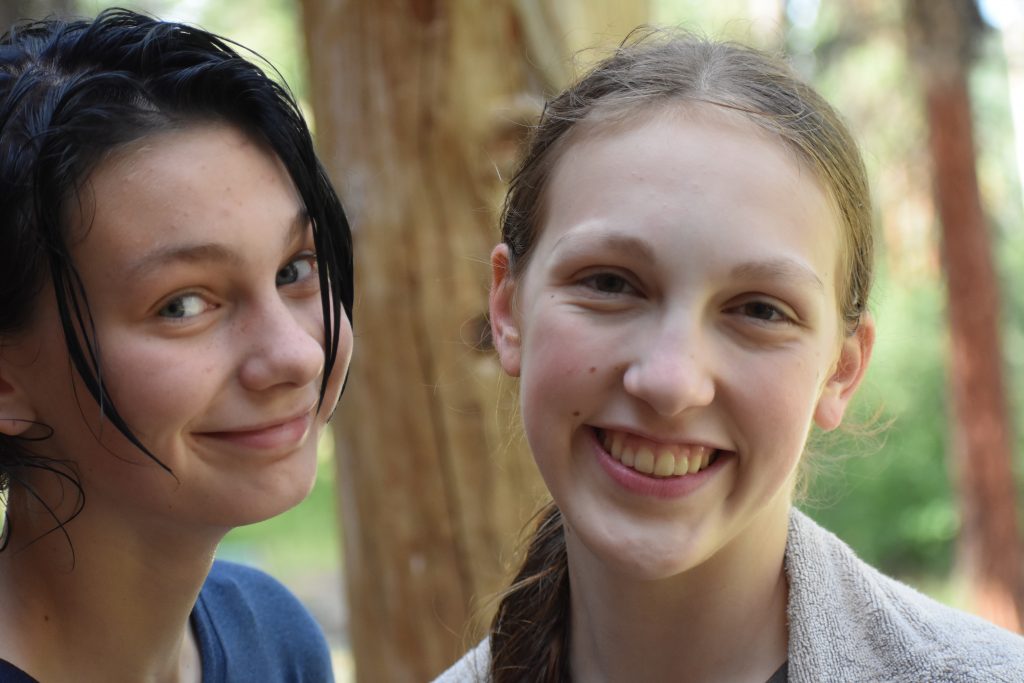 So there you have it, bring a youthful water bottle and you too can be a camp counselor even if you are beyond your teen years.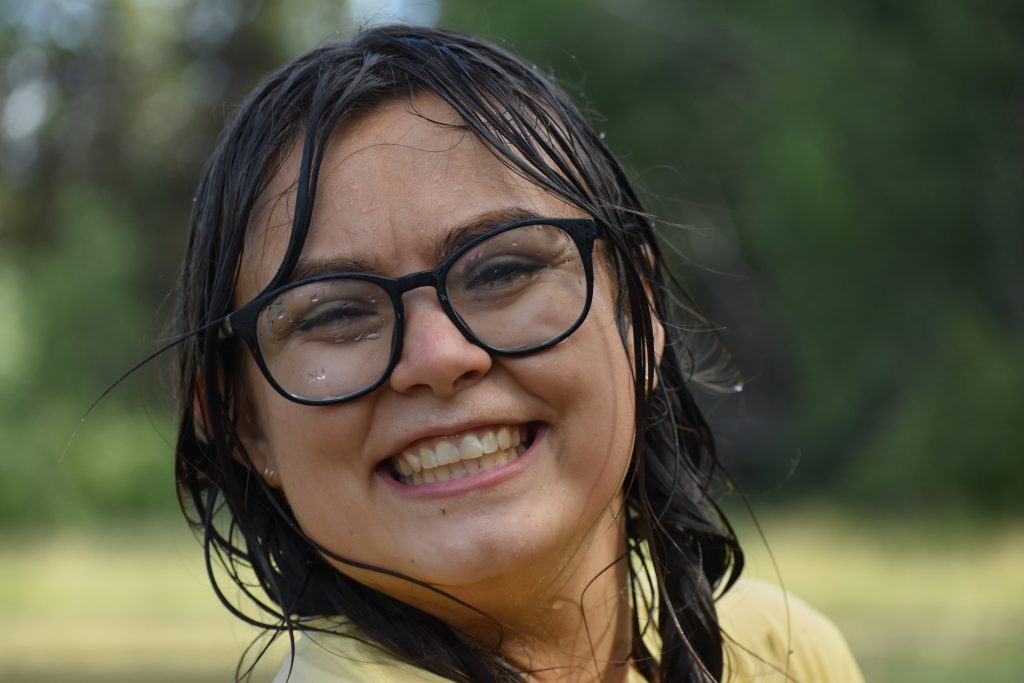 One of our counselors, Katara, described a moment playing Battle for Souls in the meadow that was an image of camp for her.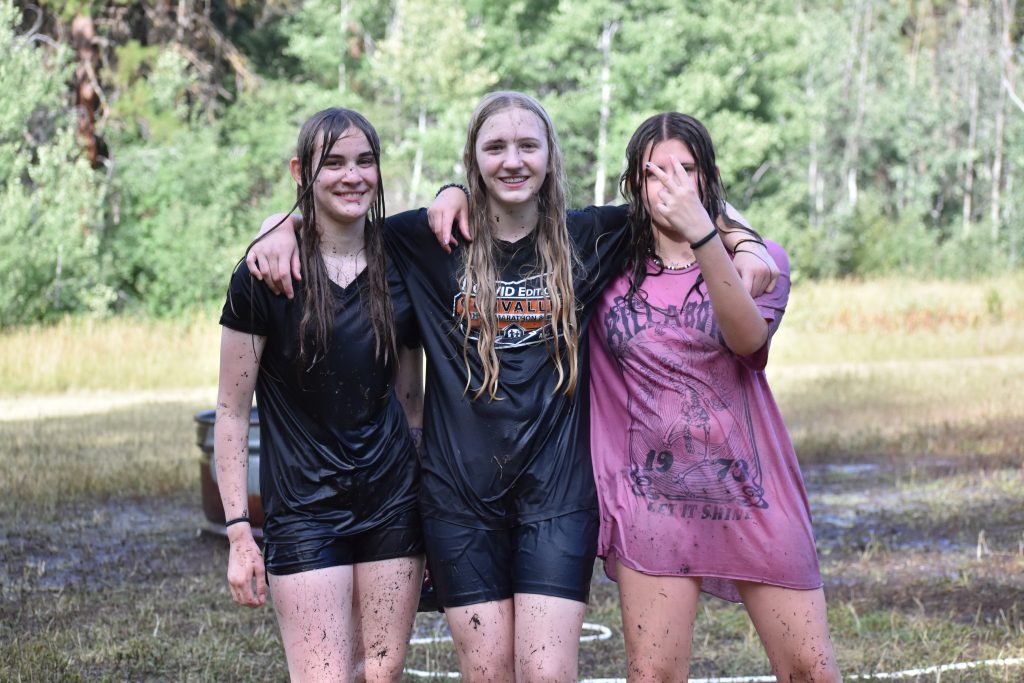 We were in the meadow, battling with sock flails, and in between screeching at groups of campers I got to stare at the stars and have a conversation with Jesus. I prayed and saw tons of shooting stars.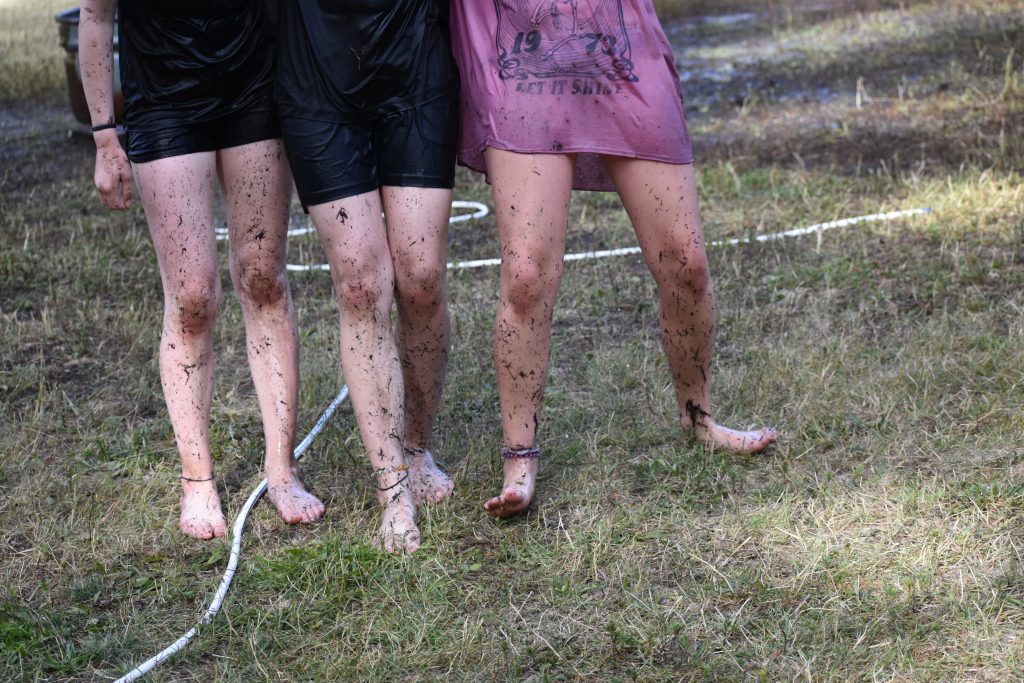 It was a perfect encapsulation of camp. The Lord takes a moment in the breaks and shows himself between all the craziness.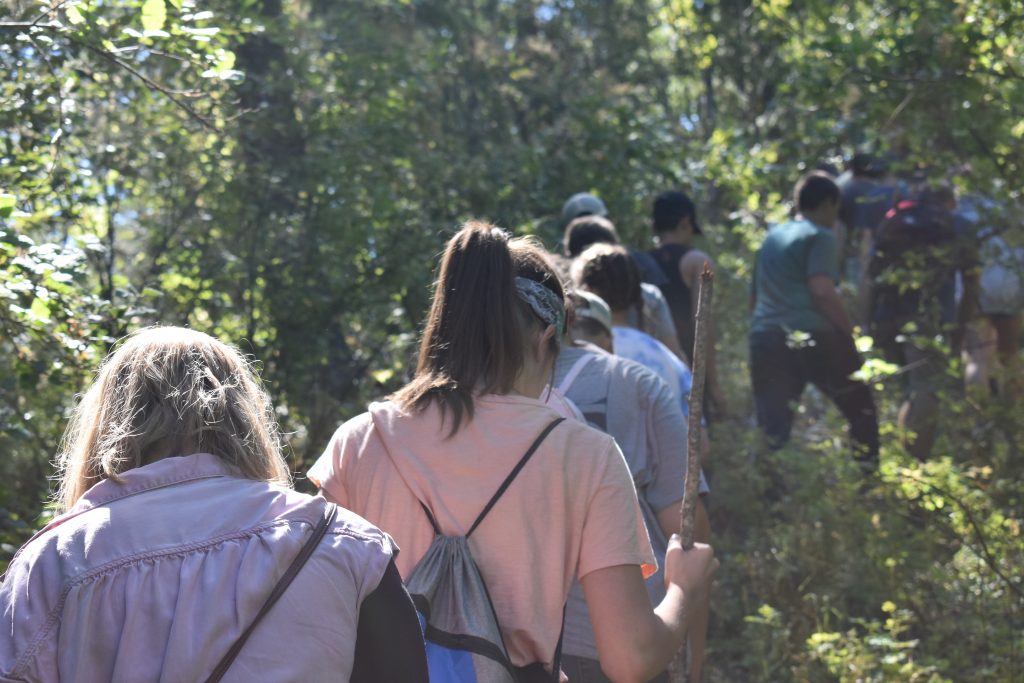 Our camp hike during senior high is to Weathertop.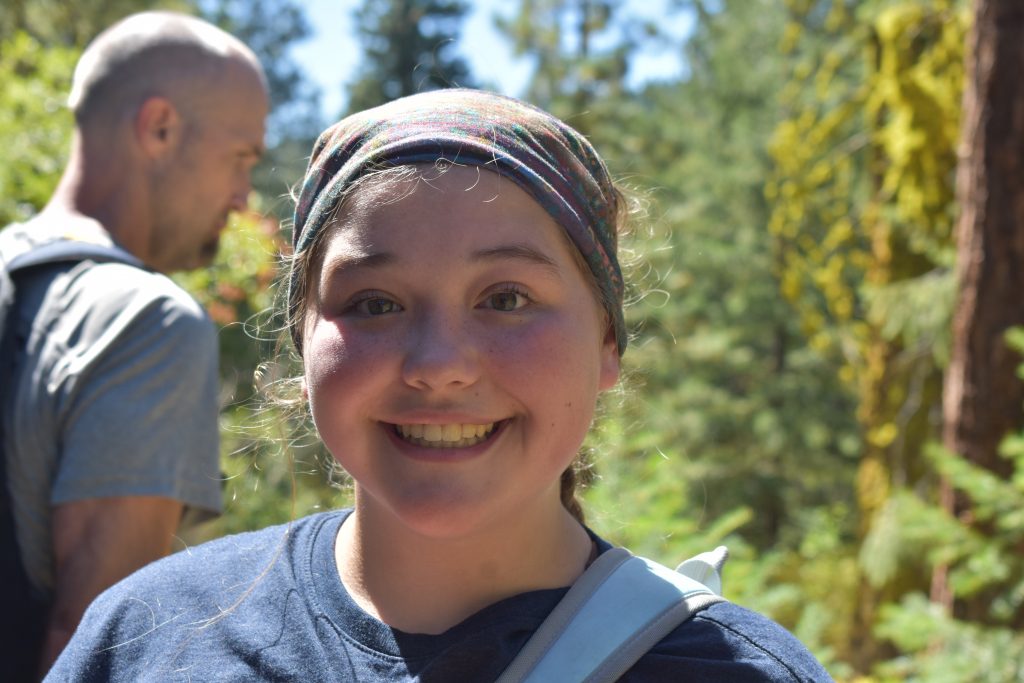 This steep climb takes us to a rocky ridge where you can look down on the meadow from above.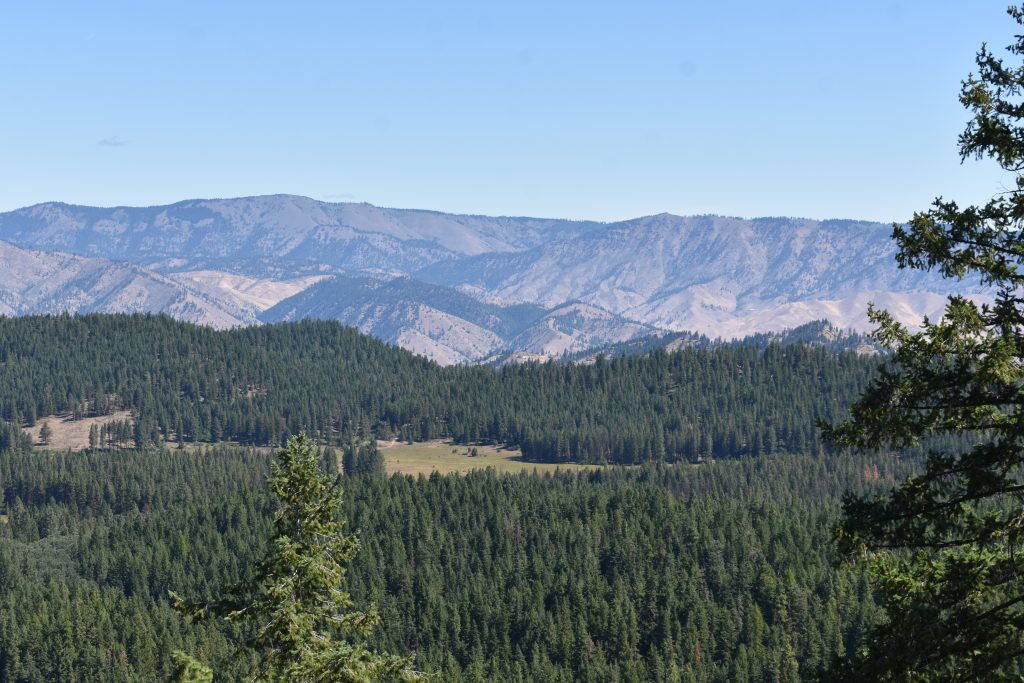 One of Van Helsing's favorite memories from the week was having a deep conversation with a camper standing right on that narrow ridge with people shuffling past as they sought a closer look at the view.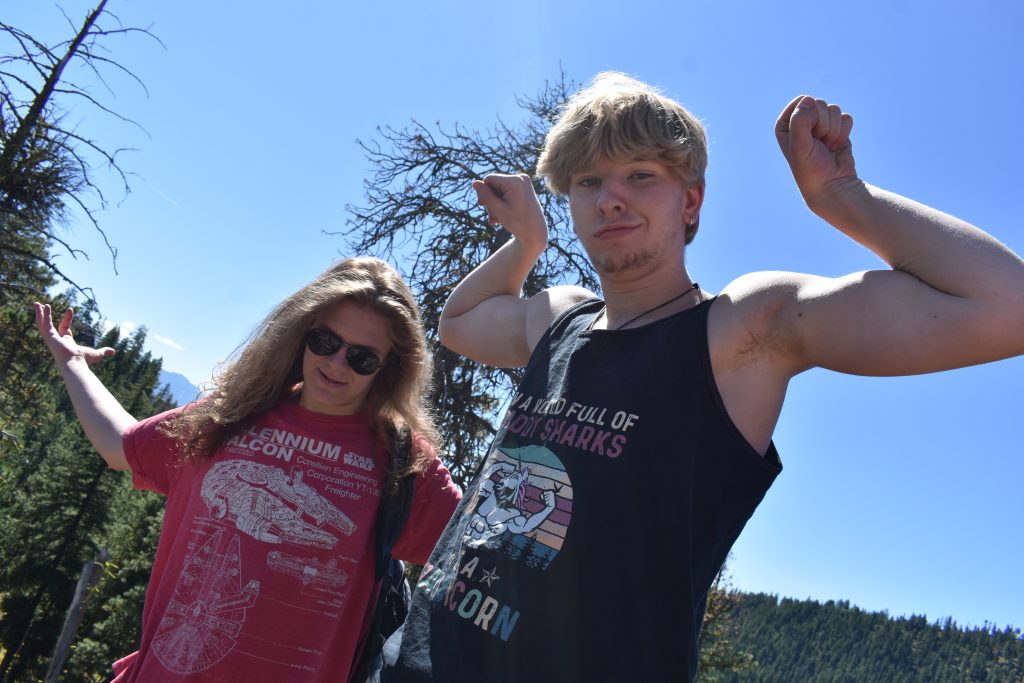 She wasn't self-conscious at all about sharing her story right there with the whole camp milling about on the ridge.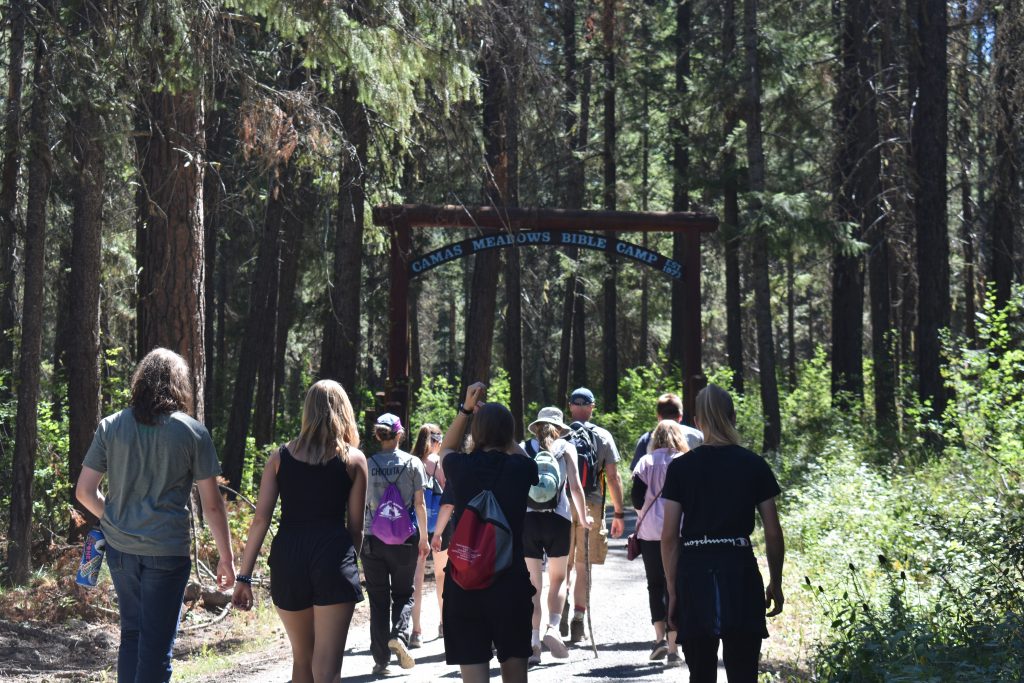 Having a thoughtful talk about the Lord and what He was doing in the middle of all the tough things she had faced was more important.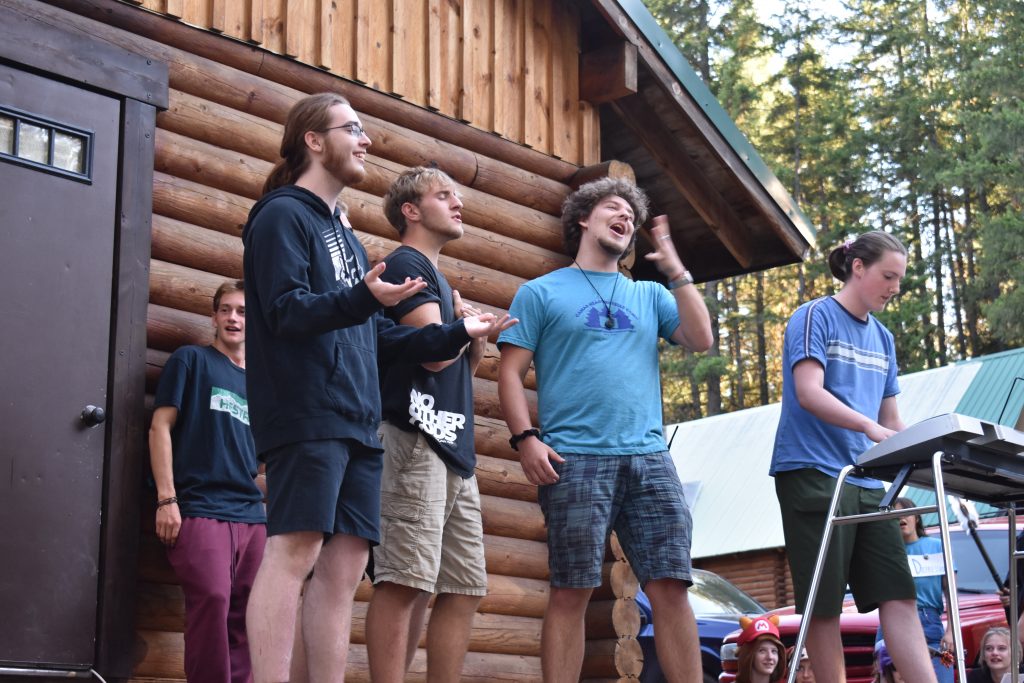 One of Zoboomafoo's favorite moments was definitely "planning" their crazy skit.
"On the final day of skit prep, his camper suggested a unique element. "We should shave my beard during the skit!" Another camper said, "Samson and Delilah!"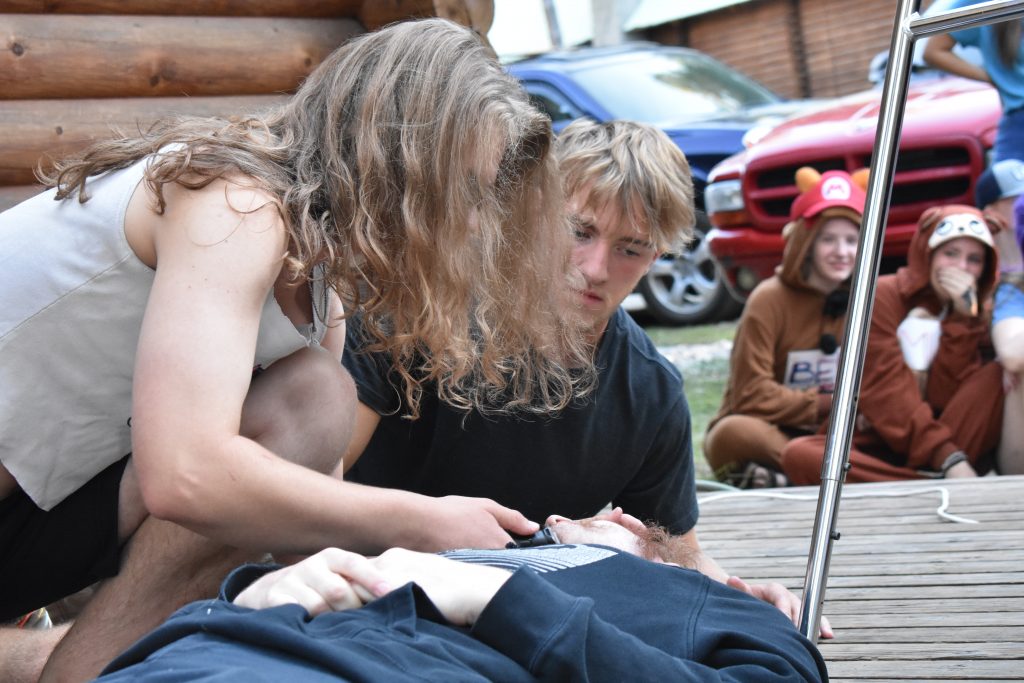 Thus, the Chipmunk cabin's skit was born and Scruffy and Boo Boo had the dubious honor of watching their son play Delilah in front of the whole camp!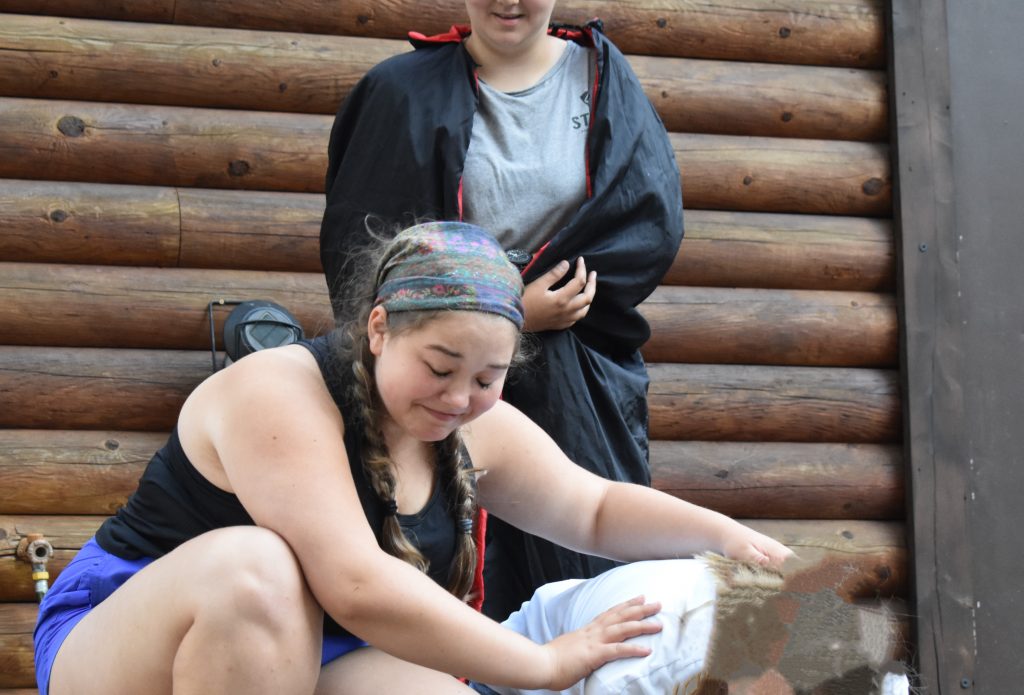 It is amazing how God uses you for His kingdom at camp, in so many ways that you don't expect.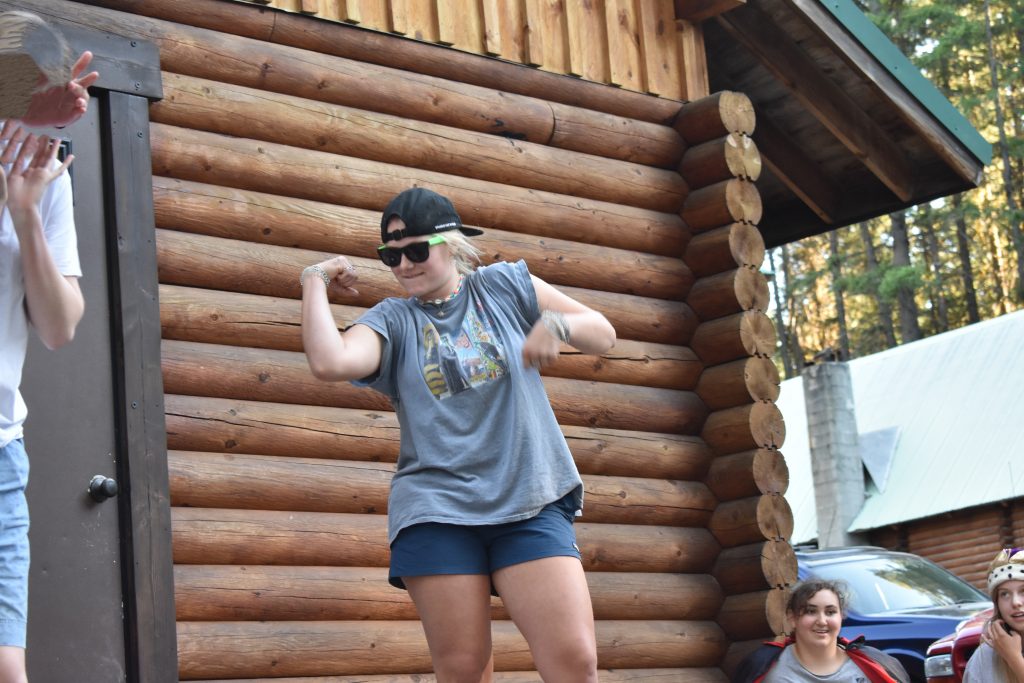 In line getting groceries at Costco, Scruffy had someone flag him down to talk because they knew him from camp.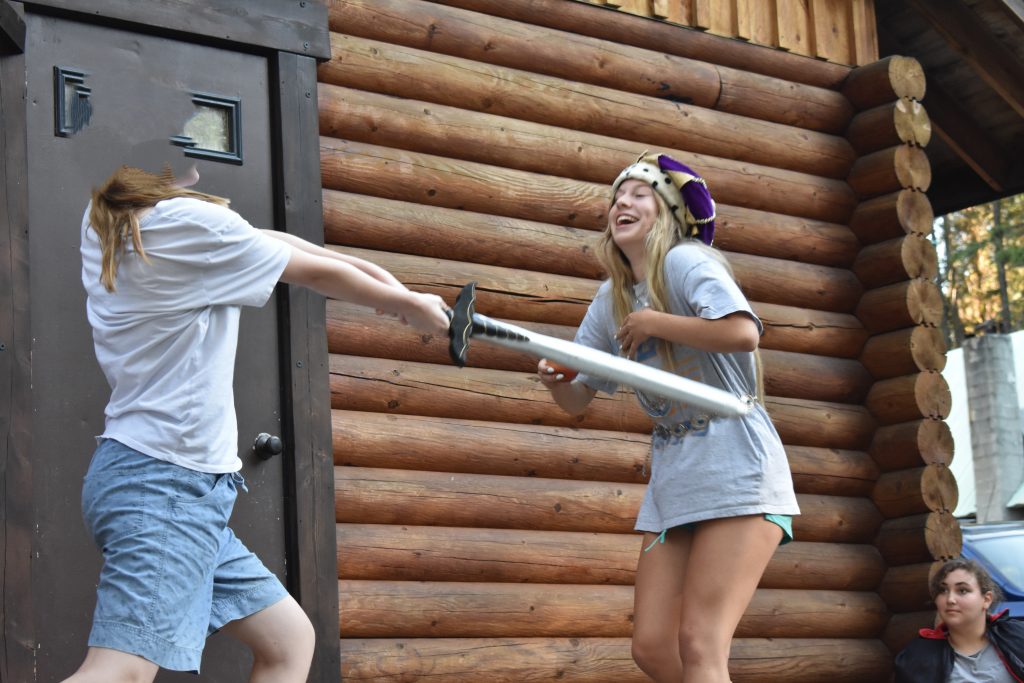 Because he worked at camp, this man pulled him aside to share part of his family's story and Scruff was able to tell him, "God's not done with your child, give her the message that we love her."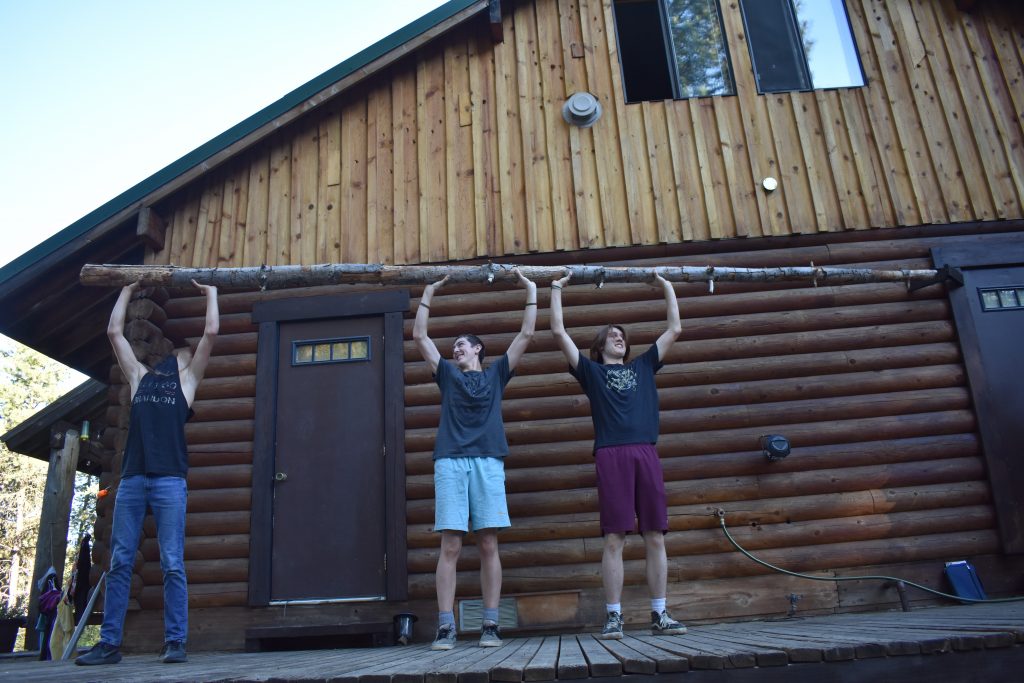 Because of what God does at camp, Scruffy and Boo Boo and Bomber have so many unexpected spiritual conversations in grocery stores and other random locations.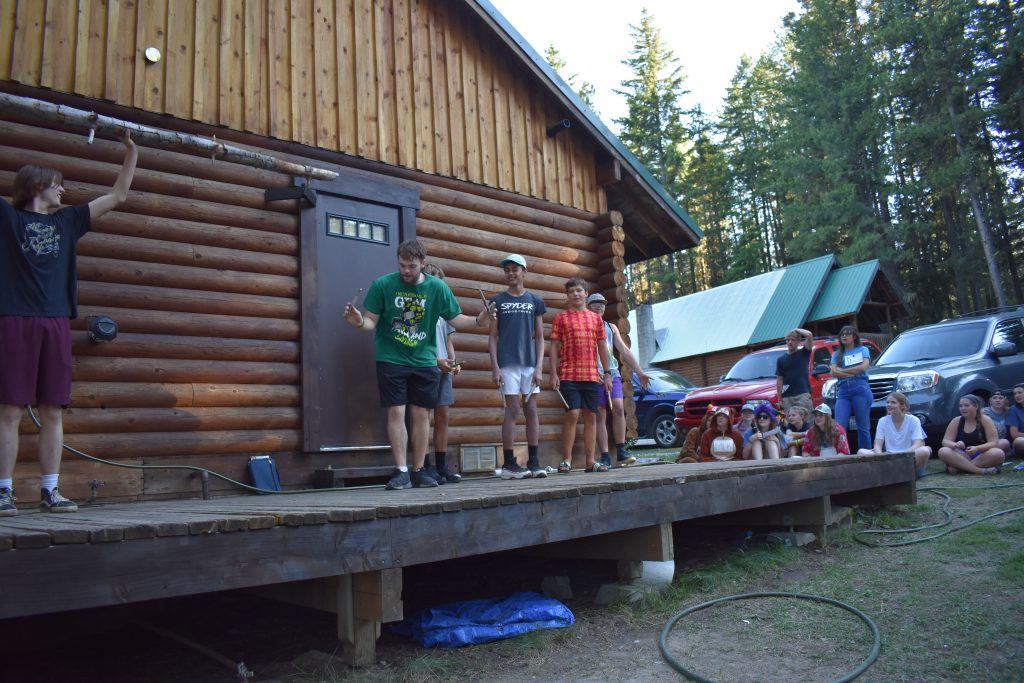 You never know what God will use for his kingdom work.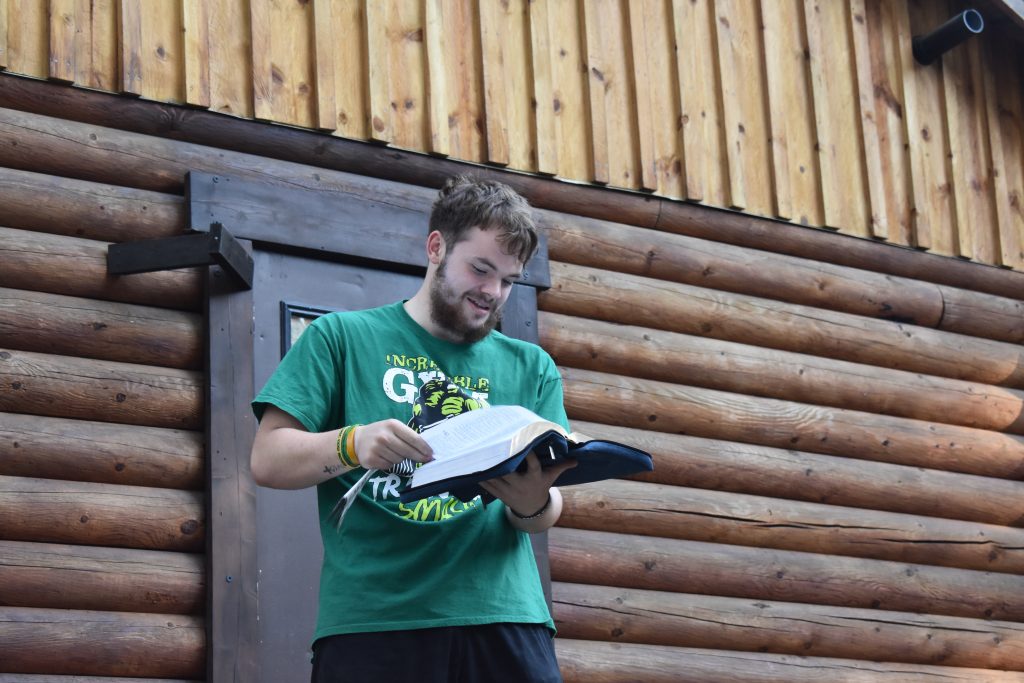 Boo Boo spends most of her time at camp either taking photos or telling the camp counselors what to do or not to do.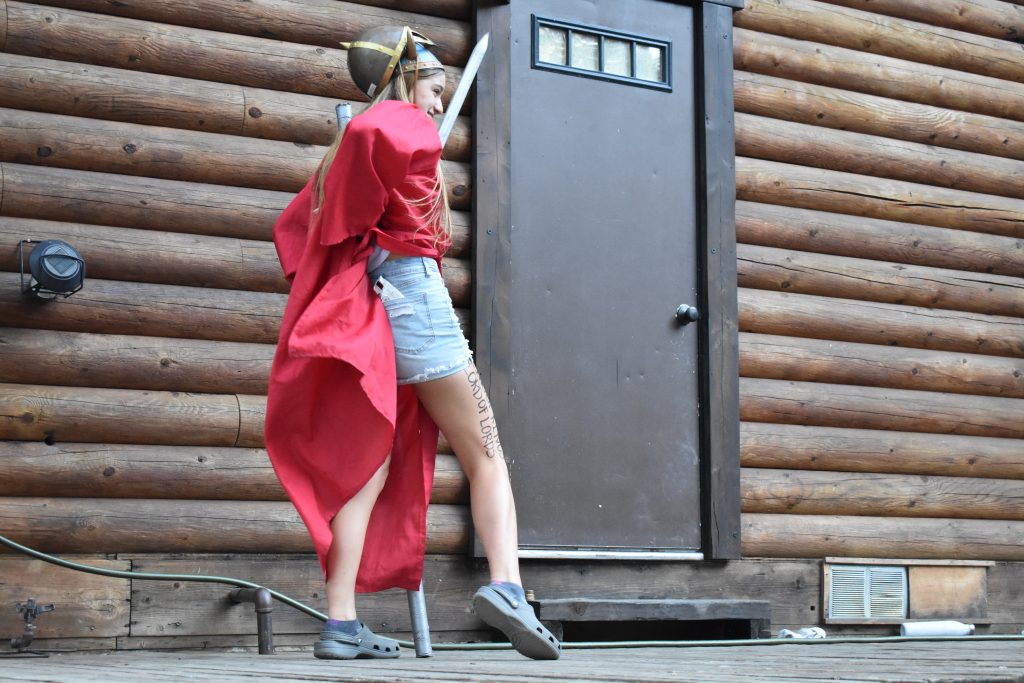 There are many many motherly moments where she must give a stern eyebrow and redirect some kind of craziness.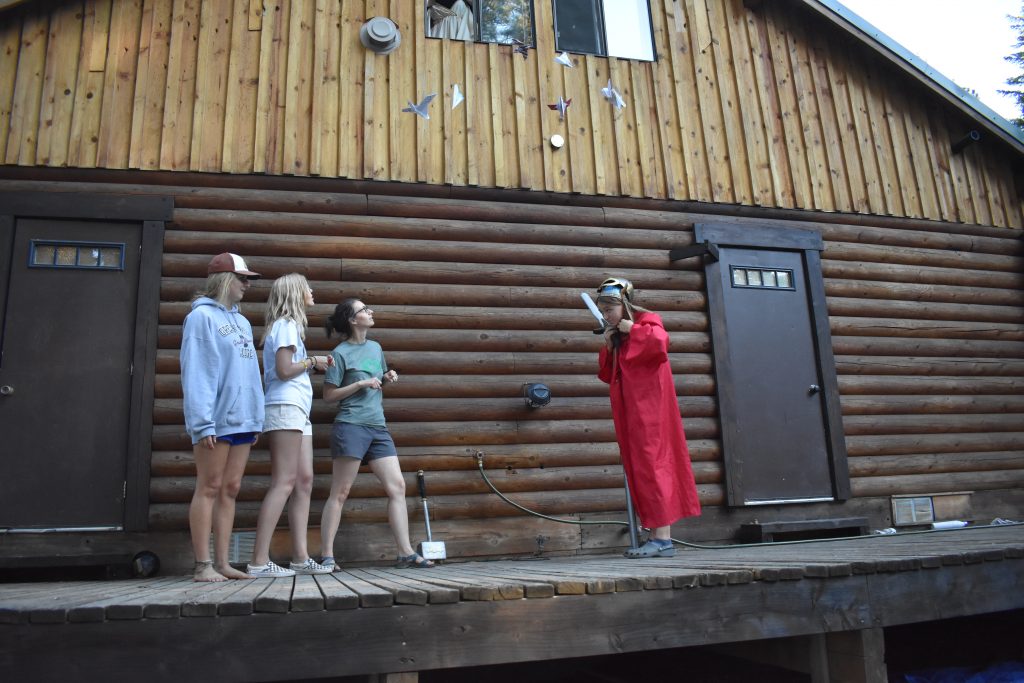 In fact, she is pretty sure that the counselors sigh with a deep weariness when they see her coming.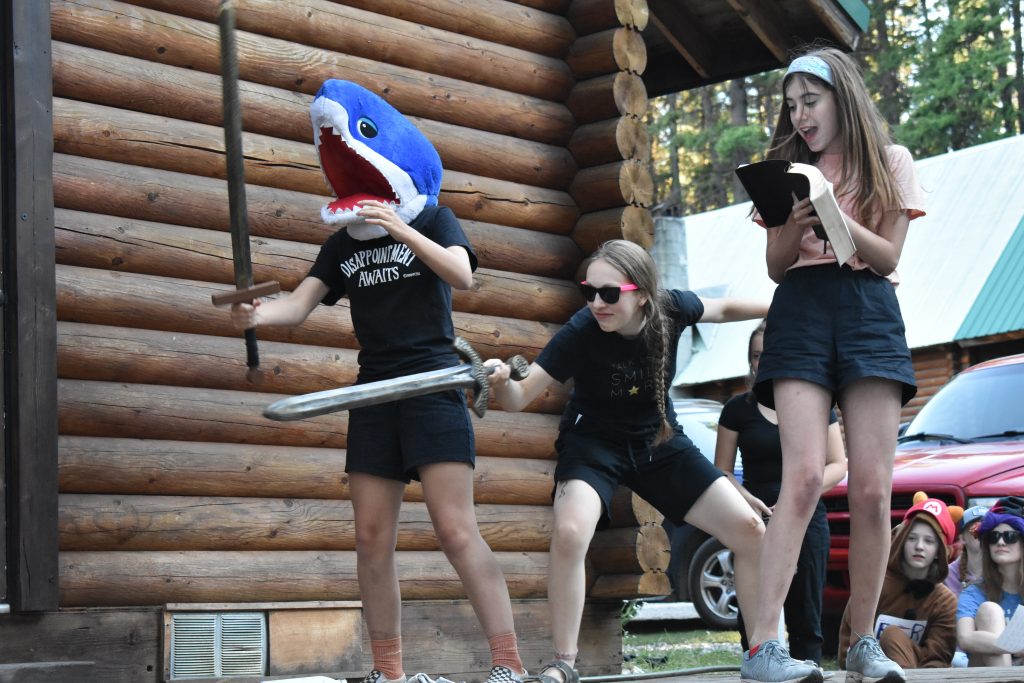 That is why the Friday night campfire was such a surprise.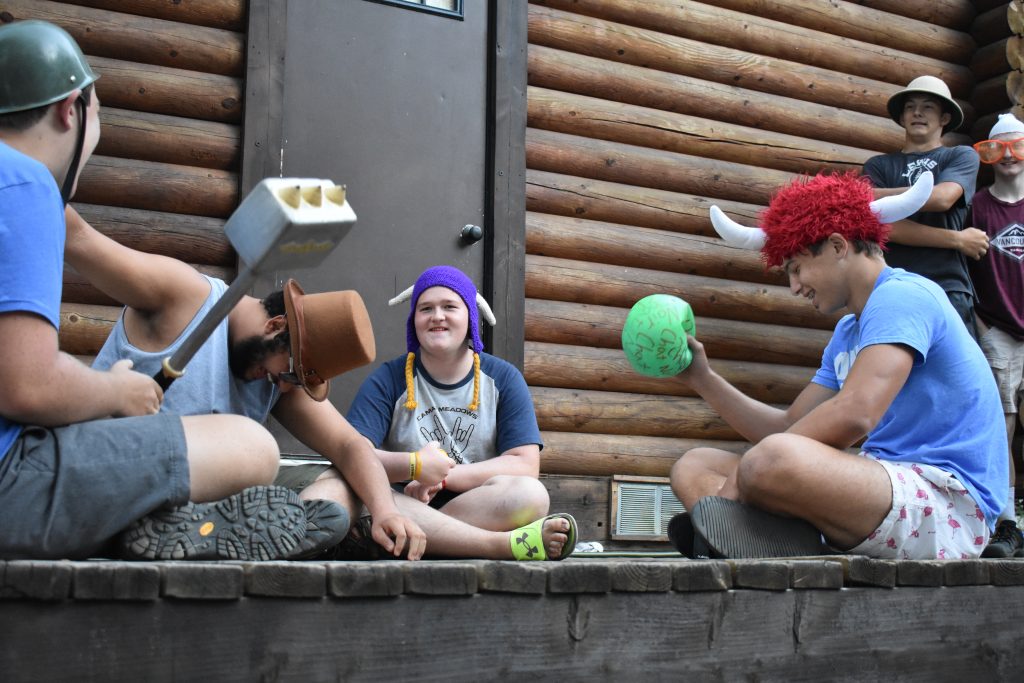 She didn't expect Scruffy to share. He never shares. She didn't expect him to share about how they had lost their sweet Newfoundland, Princess Leia Freyja right before camp. She didn't expect him to talk about that incredible sorrow of trying to face the summer camp season without her constant therapy dog presence to give them encouragement.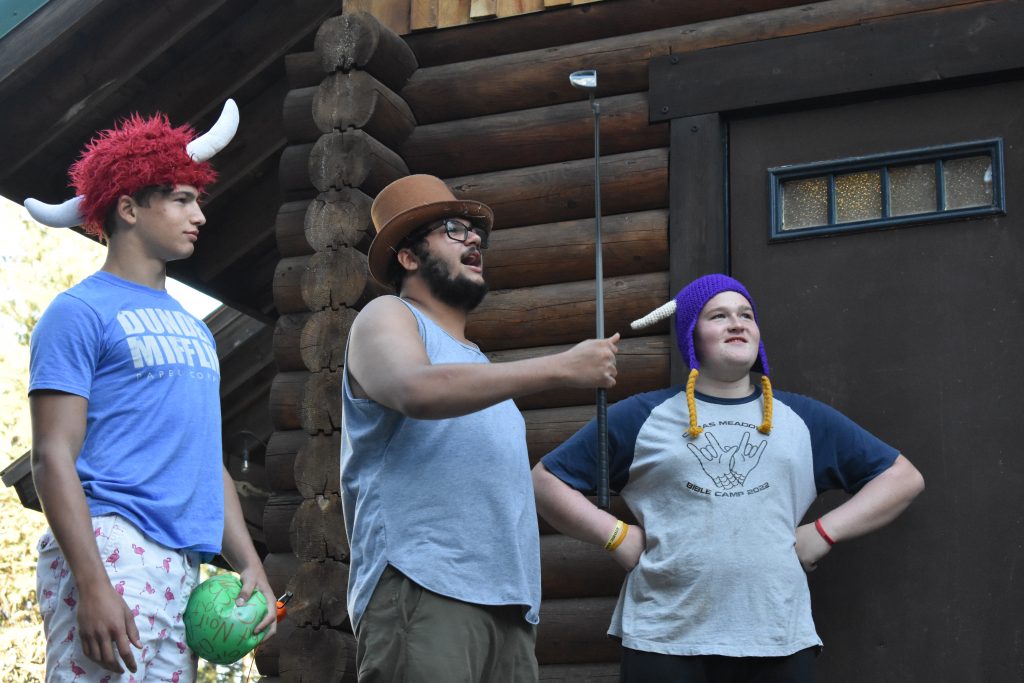 How they didn't think they could survive the exhausting 100-hour work weeks and deep emotional cost of camp without her softly padding up to give kisses and a helping wag.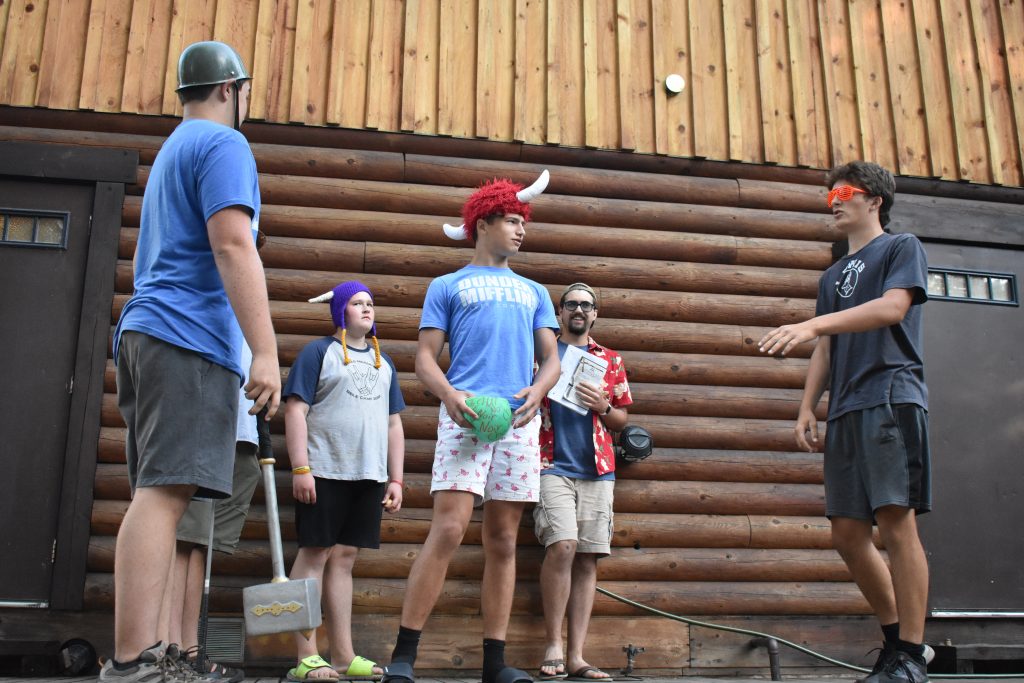 She didn't expect to burst into tears right there, sitting in the grass at the outskirts of the campfire ring.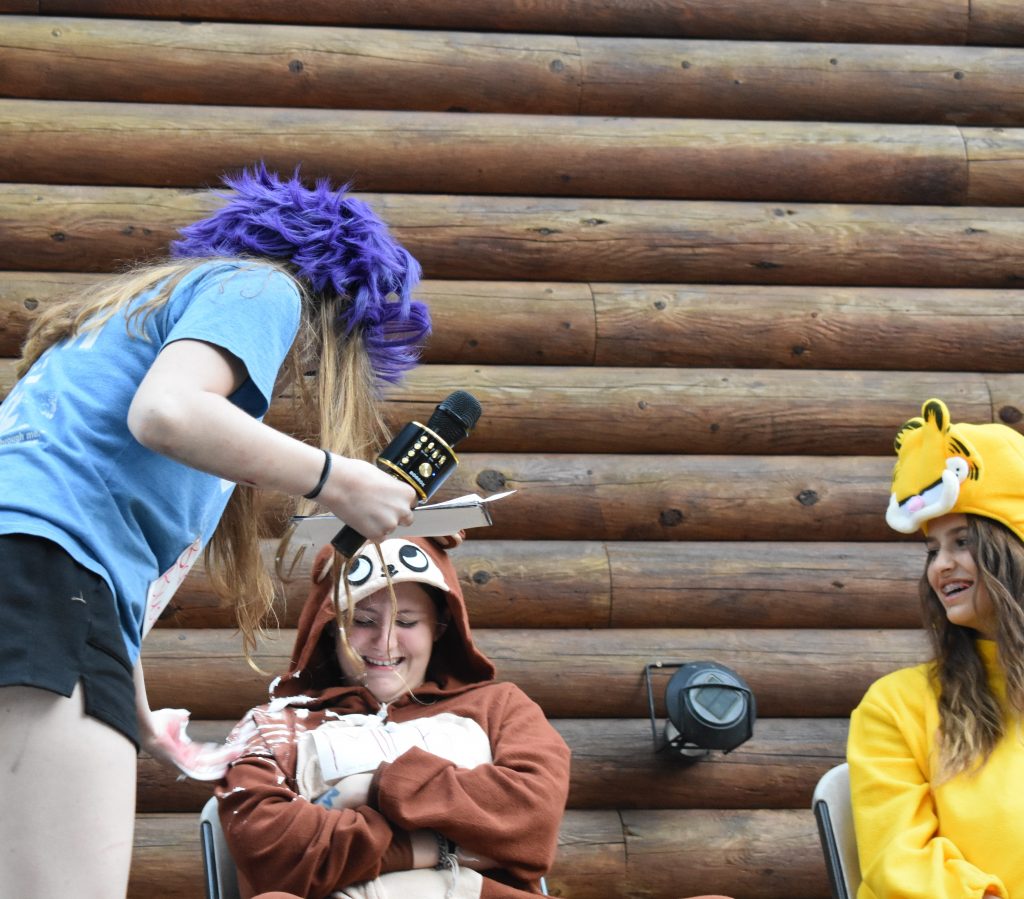 And she most certainly did not expect one of the staff members she had shushed and shooed and told what to do and what not to do more than once that summer to pull her into her arms and hold her while she wept.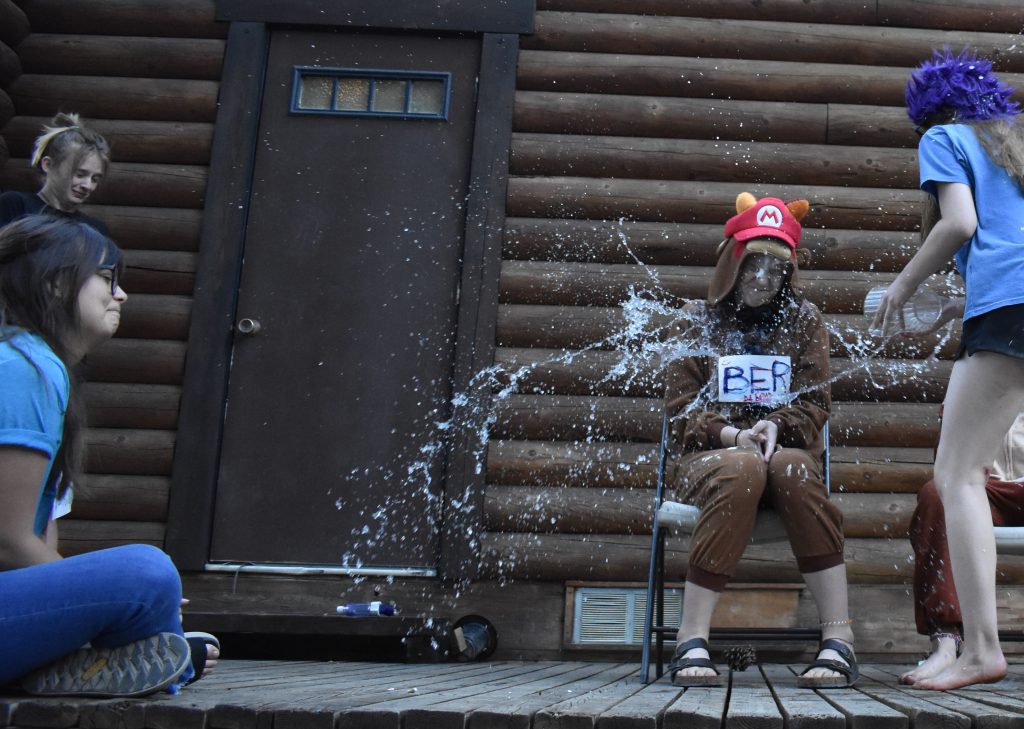 In fact, two other staff girls came up and held her toe in an encouraging fashion while she cried.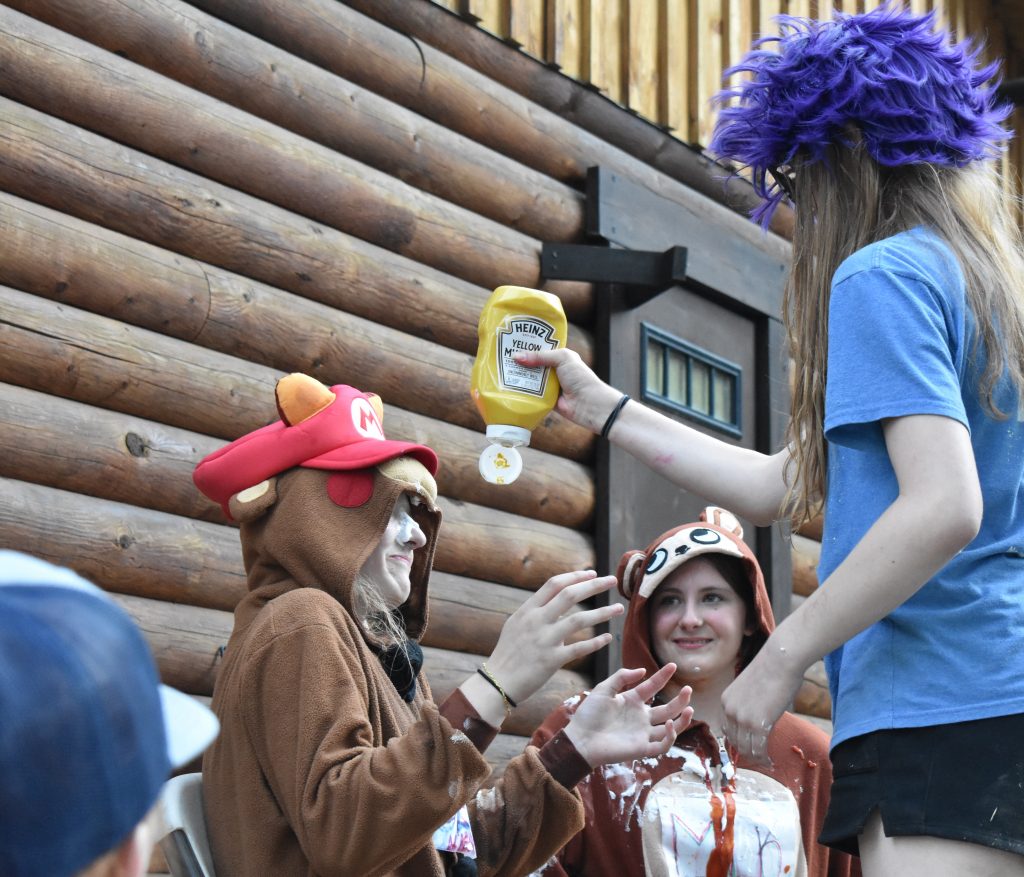 God can use you even if you are the one who has to tell people that duct tape is not allowed on the log buildings, girls are not allowed in the guy cabins, and hitting a wasp nest with a stick is foolish.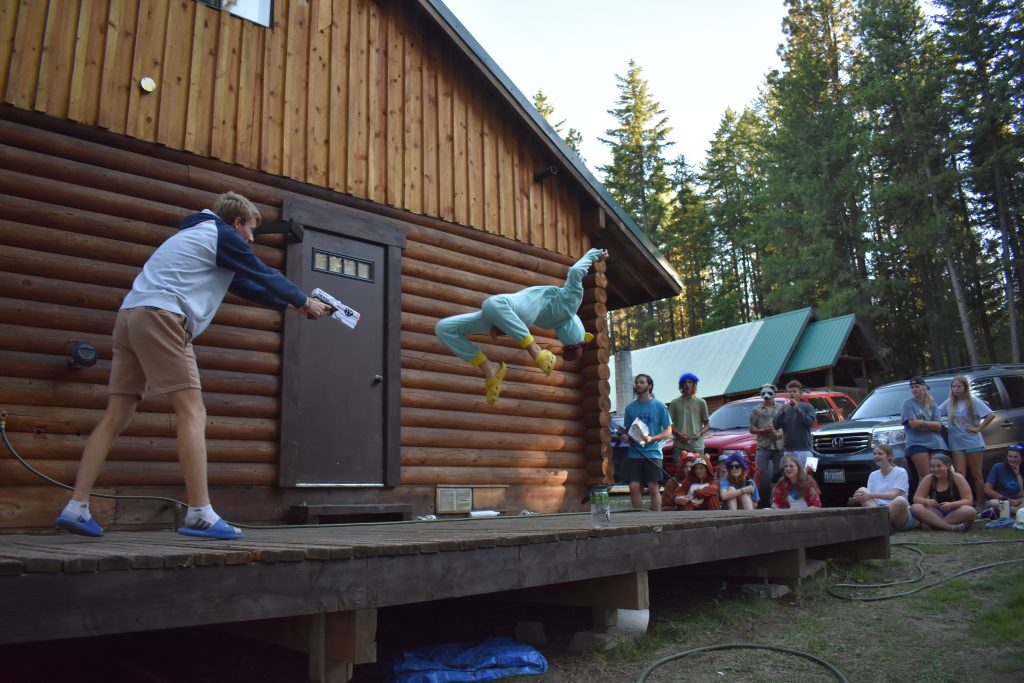 God can use you even if you are the one who needs to be shooed and shushed.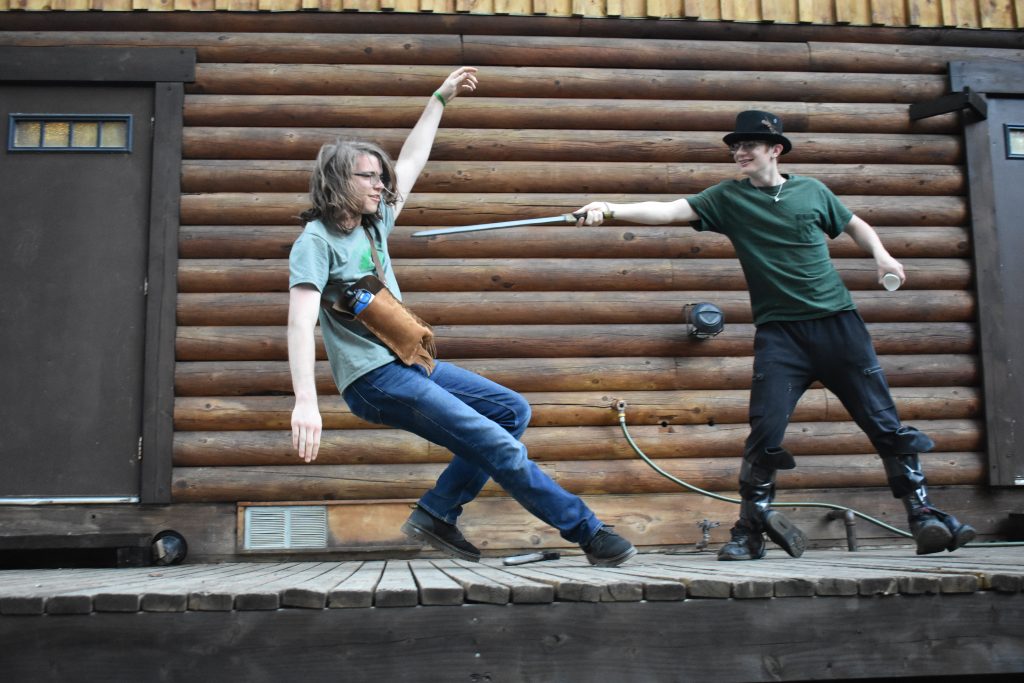 God can even use someone holding your big toe as you sit out under the stars and weep.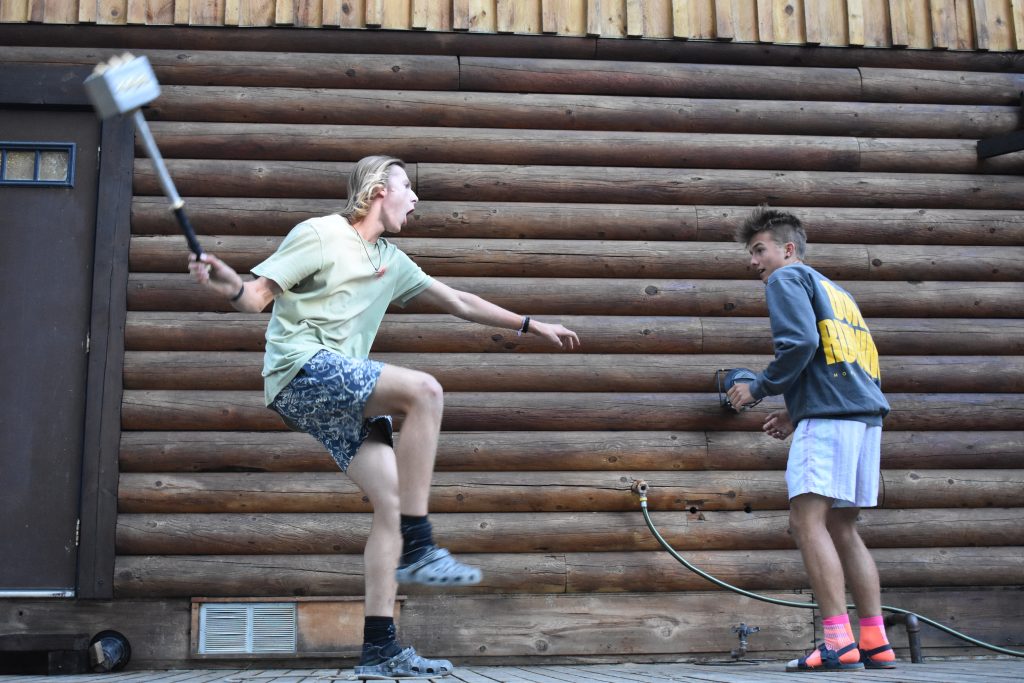 God even used Dauntless' crazy skit.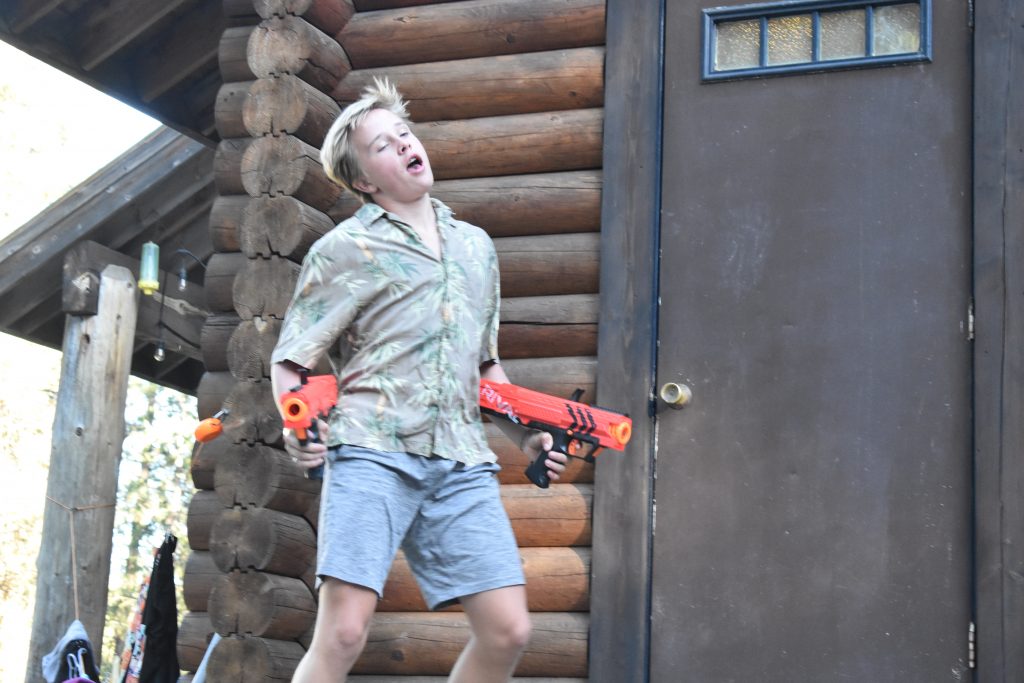 It didn't look good at first. They prepped for skit night. Had ideas, scrapped those ideas, came up with new ones but didn't know the theme.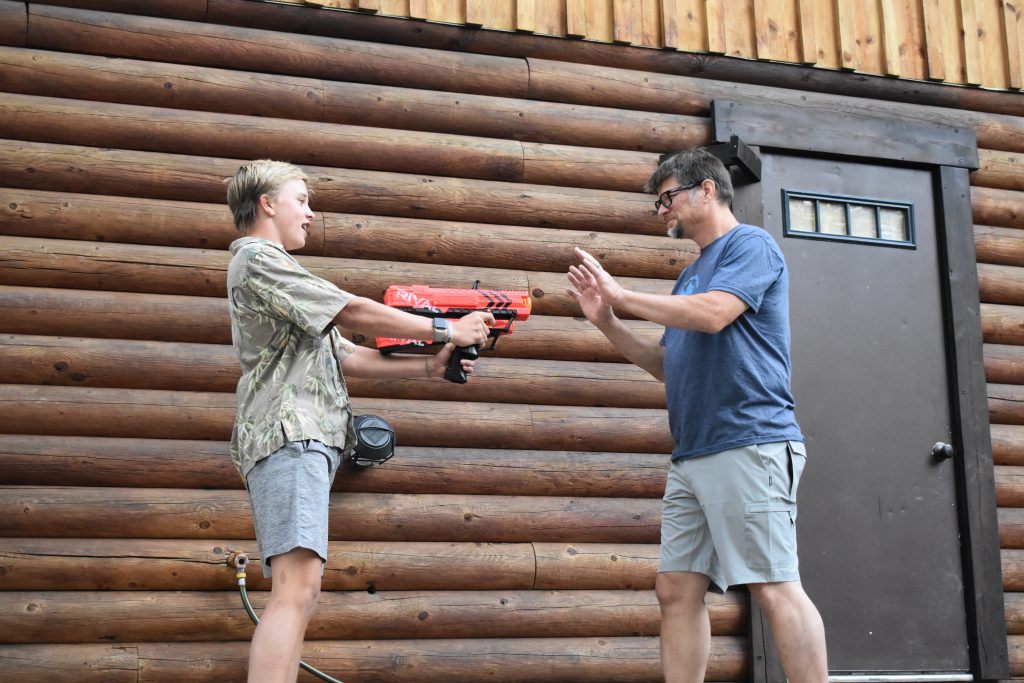 Finally, Dauntless asked Scruff to join the skit. Immediately the theme made itself known. The Chipmunk Cabin acted out every single one of the vs. verses battles. Yes, we got to see
Thor vs. Wonder Woman
Puss in Boots vs. Jack Sparrow
Perry the Platypus vs. James Bond
and finally …
Chuck Norris vs. Scruffy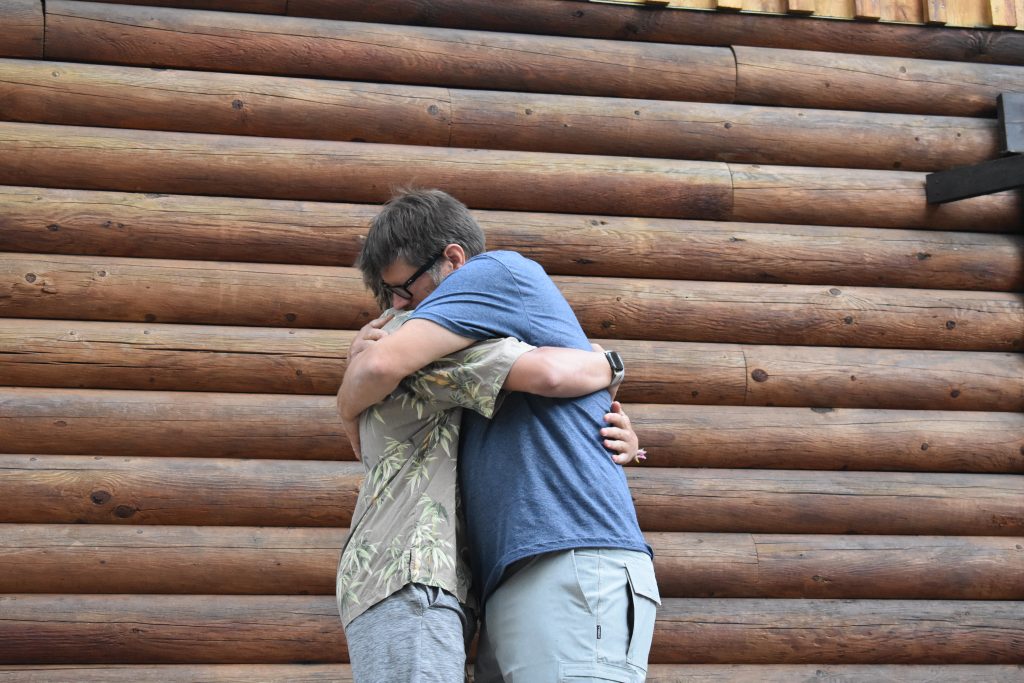 The Squirrel House won skits and they won the week-long cabin competition, as well.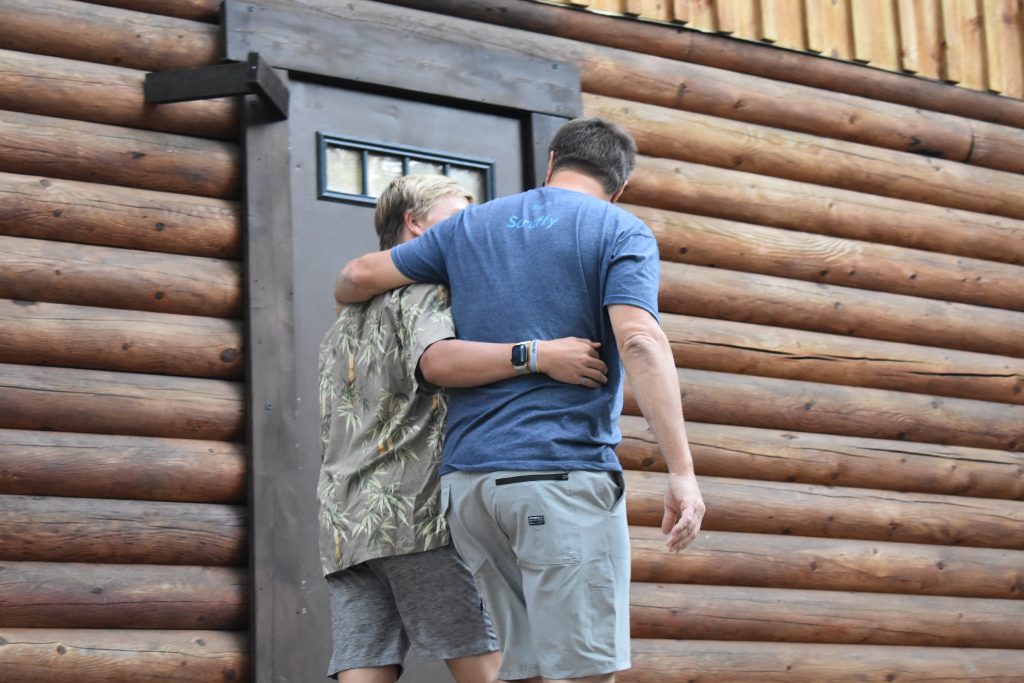 Everyone has a battle to fight. In the Old Testament, there were literal battles that God intervened in to save His children. But that doesn't mean our battles are less terrifying, less overwhelming. It doesn't mean that God will let us face them alone.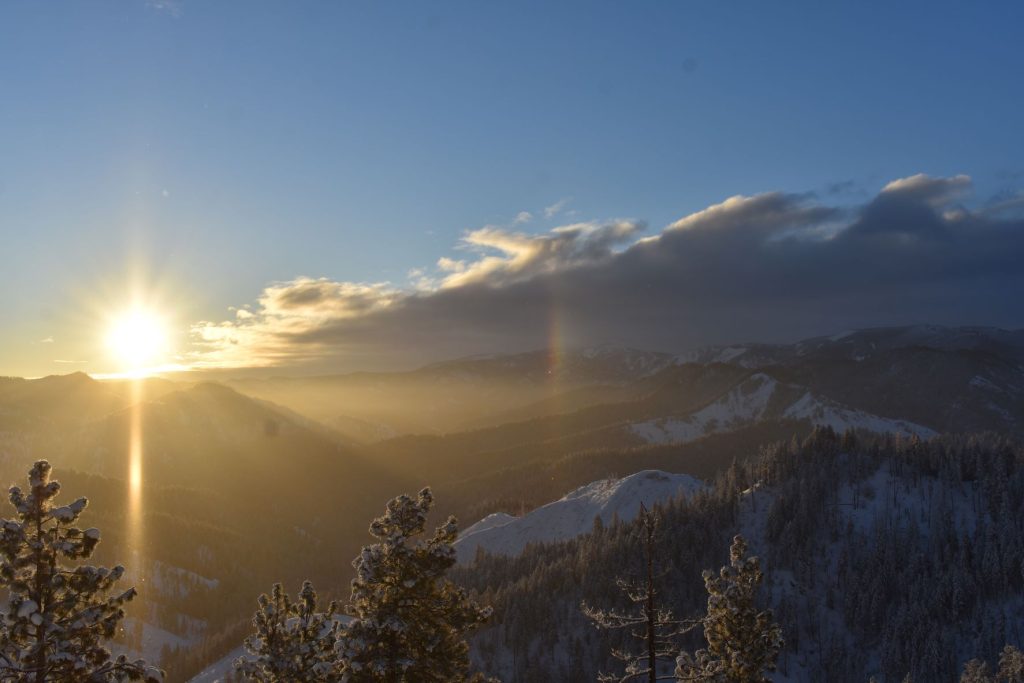 "But you are a chosen people, a royal priesthood, a holy nation, God's special possession, that you may declare the praises of him who called you out of darkness into his wonderful light." 1 Peter 2:9
"But the LORD says,
"The captives of warriors will be released, and the plunder of tyrants will be retrieved.
For I will fight those who fight you, and I will save your children." Isaiah 49:25