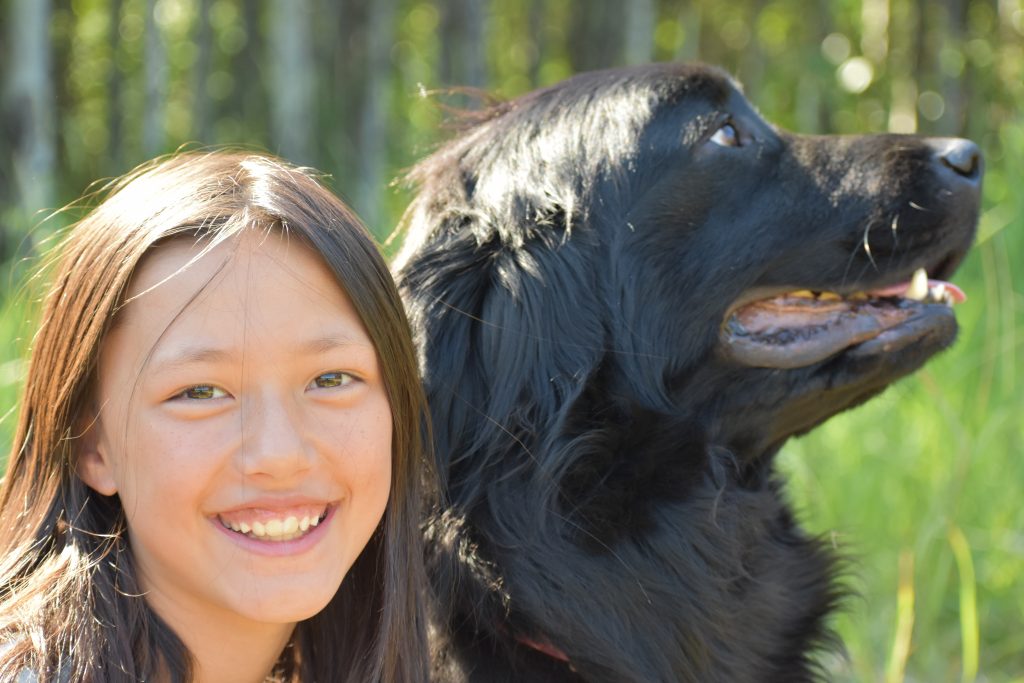 Jr. B Camp started out with hot July weather, bright blue skies, and the scent of fallen pine needles baking in the sun along the dirt paths that wind between the cabins. Of course there might also have been one or two dog hairs to be found, but Princess Leia Freyja's loving slurps and affectionate snuggles appear to make up for that in the eyes of the campers.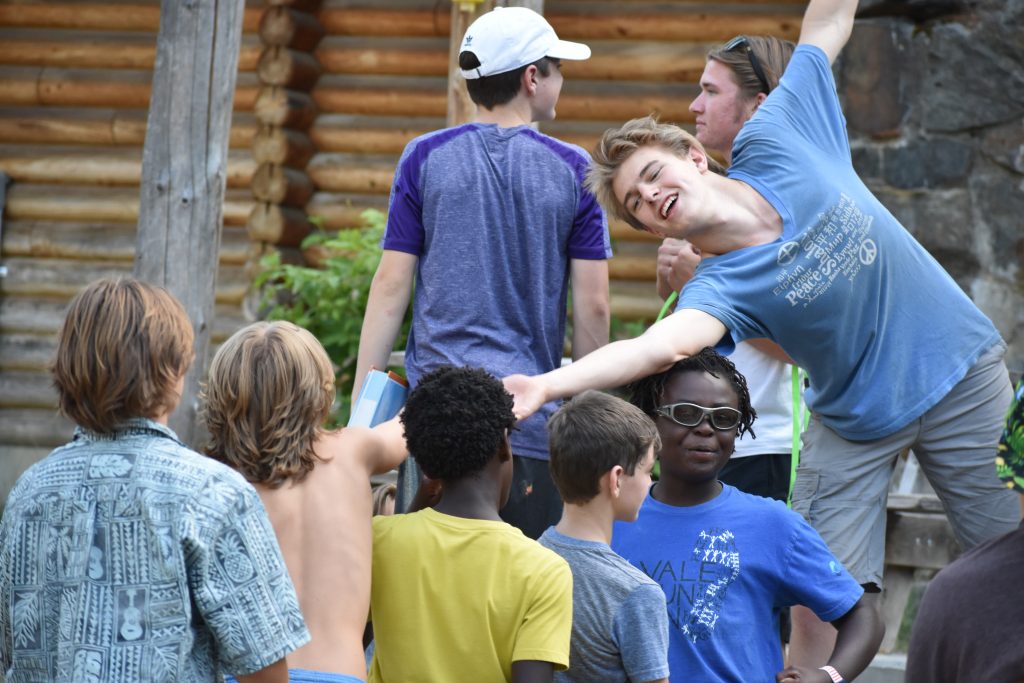 On Monday, everyone organized into cabins and then headed down to the meadow for kiddie pool kickball. This would be Robin's Roost, led by Braveheart, Specter, and Clank.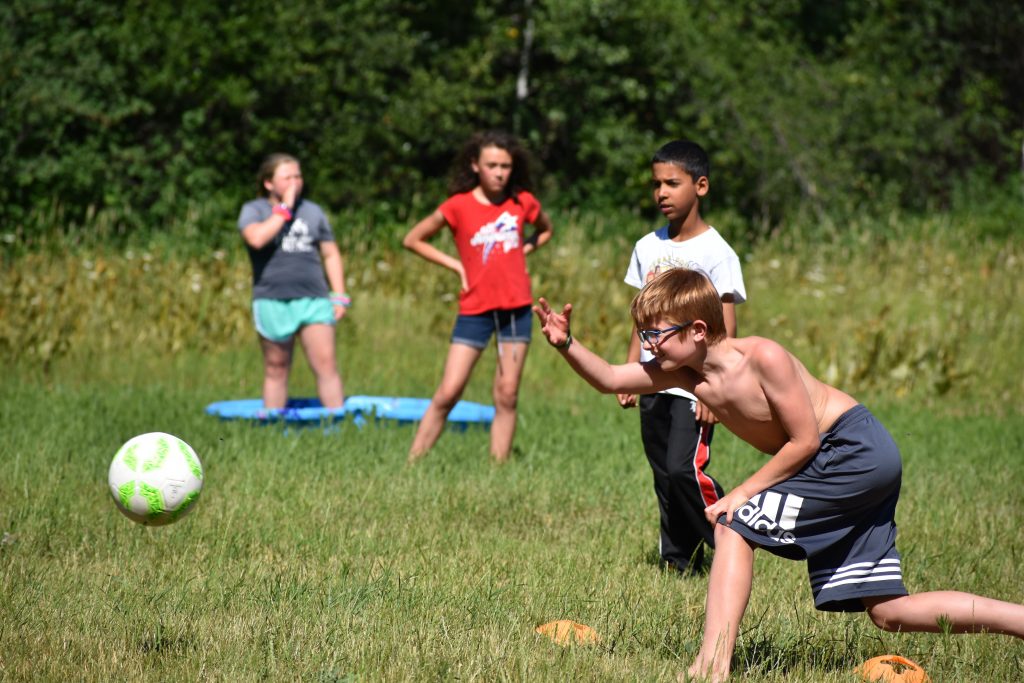 What is kiddie pool kickball? Well, it is very much like normal, everyday kickball except that each base is a full kiddie pool and home plate is a large horse trough wherein players must completely submerge themselves in order to make a home run. First, the pitcher tosses a soccer ball.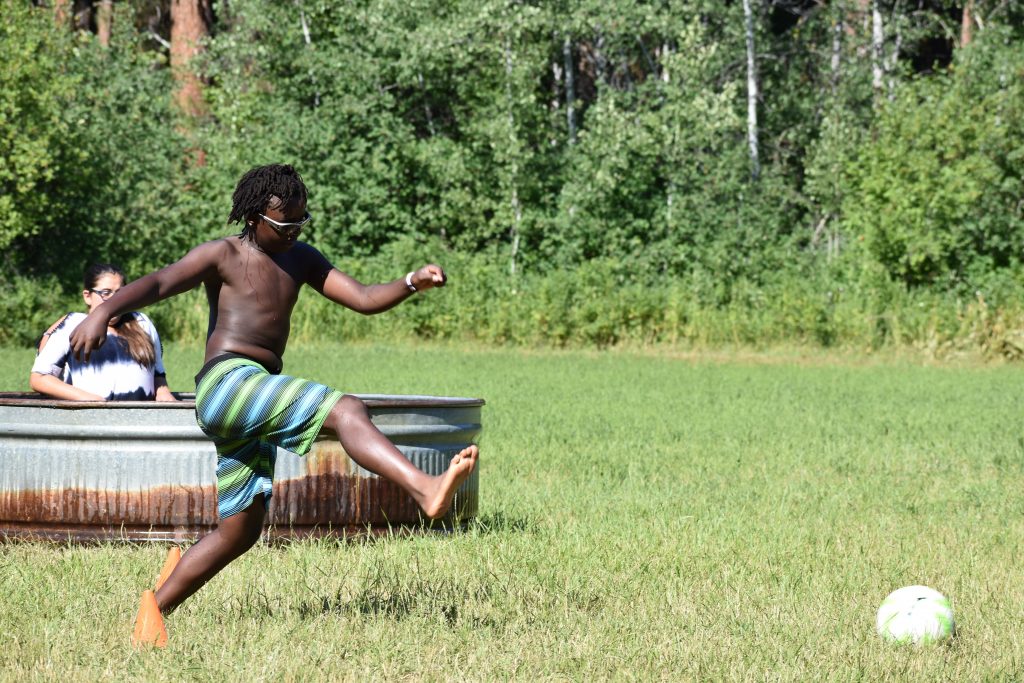 The a player from the opposing team kicks the ball.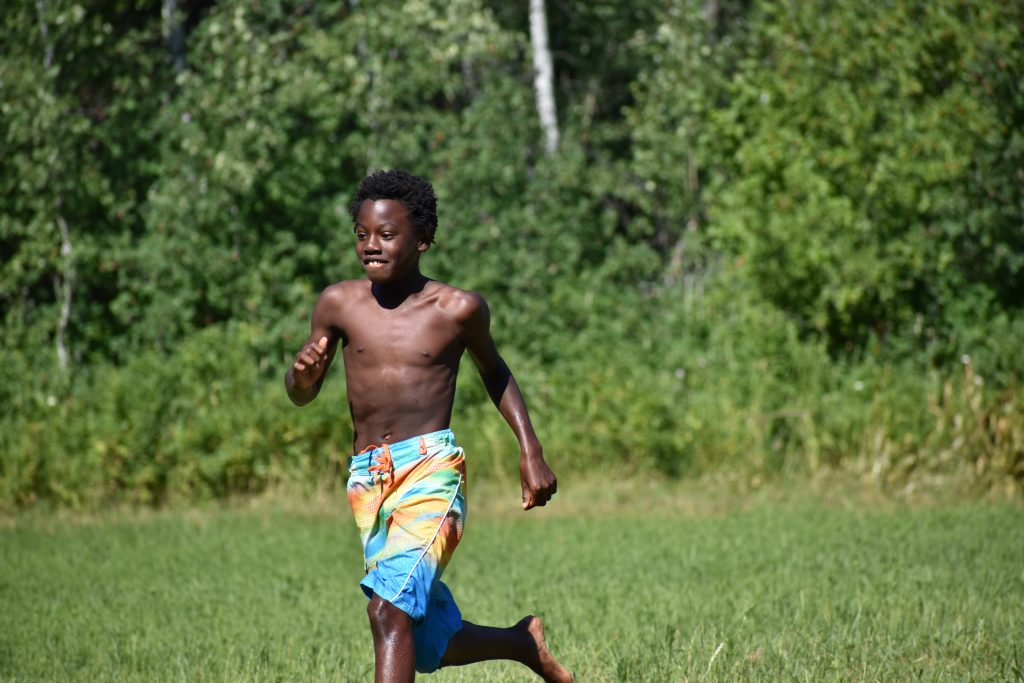 There is a great deal of running and chasing between the water-filled bases.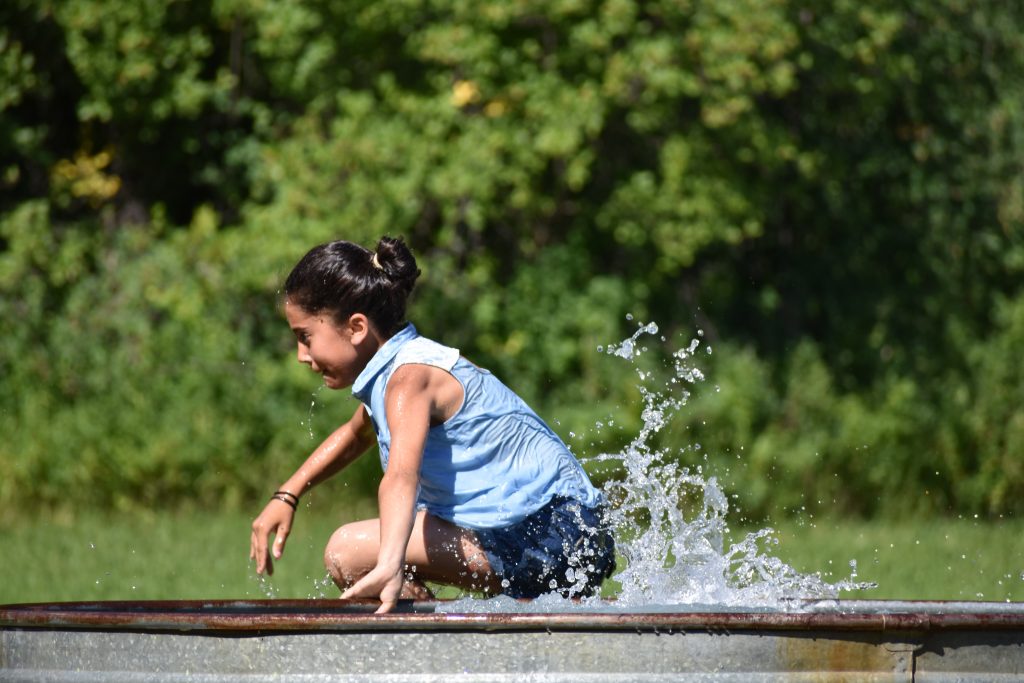 With a big splash at home plate.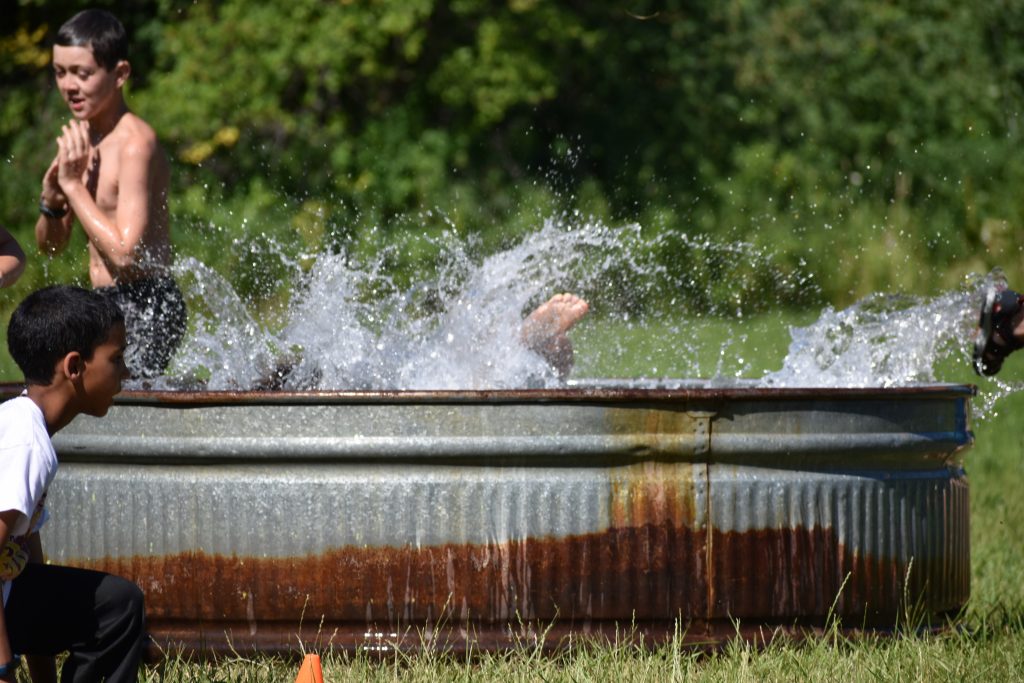 Although, occasionally the entire kicking team will plunge in before they take the outfield. It was quite hot after all.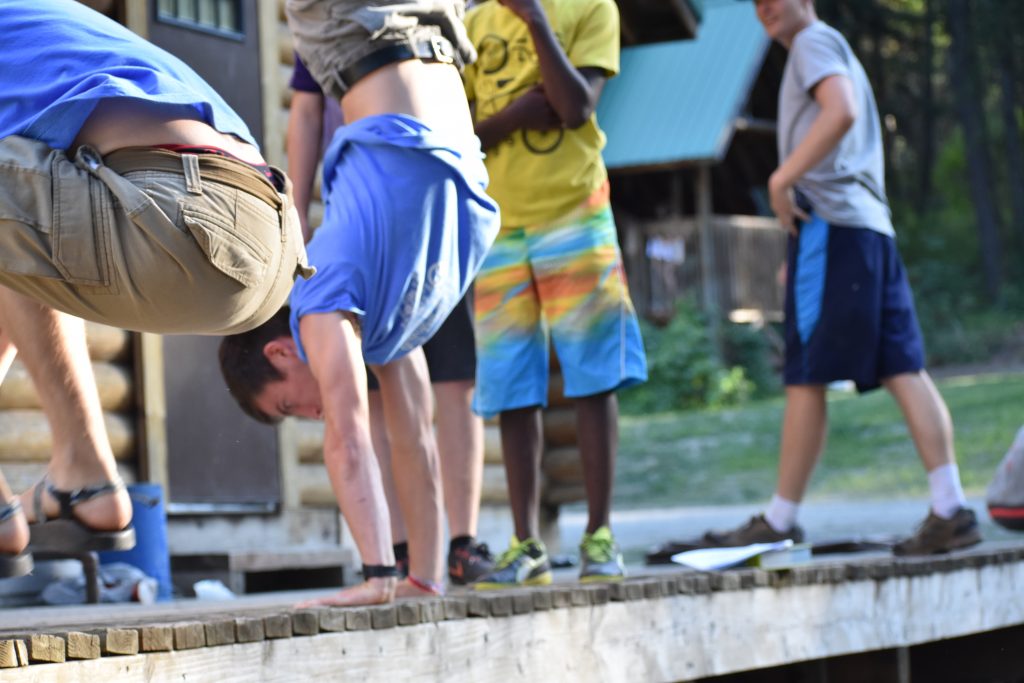 Next came Watchamabob. Yes, Daredevil and Falkor appear to be leaping for joy at the prospect of another Watchamabob.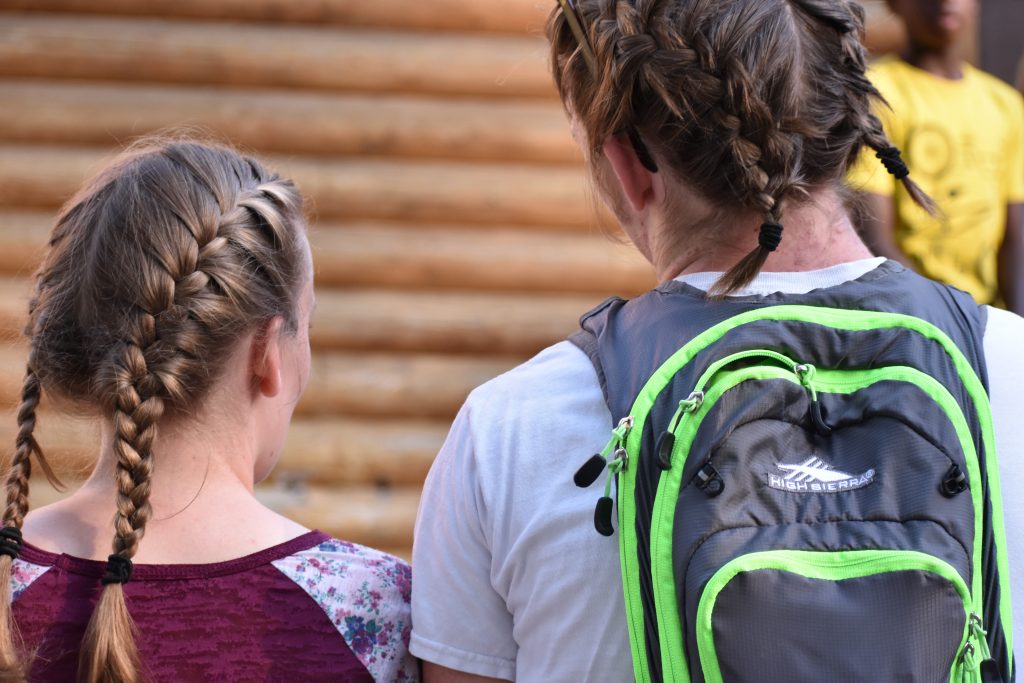 Instead of leaping for joy, Canada gave Braveheart a new hairdo and some schoolyard game skills.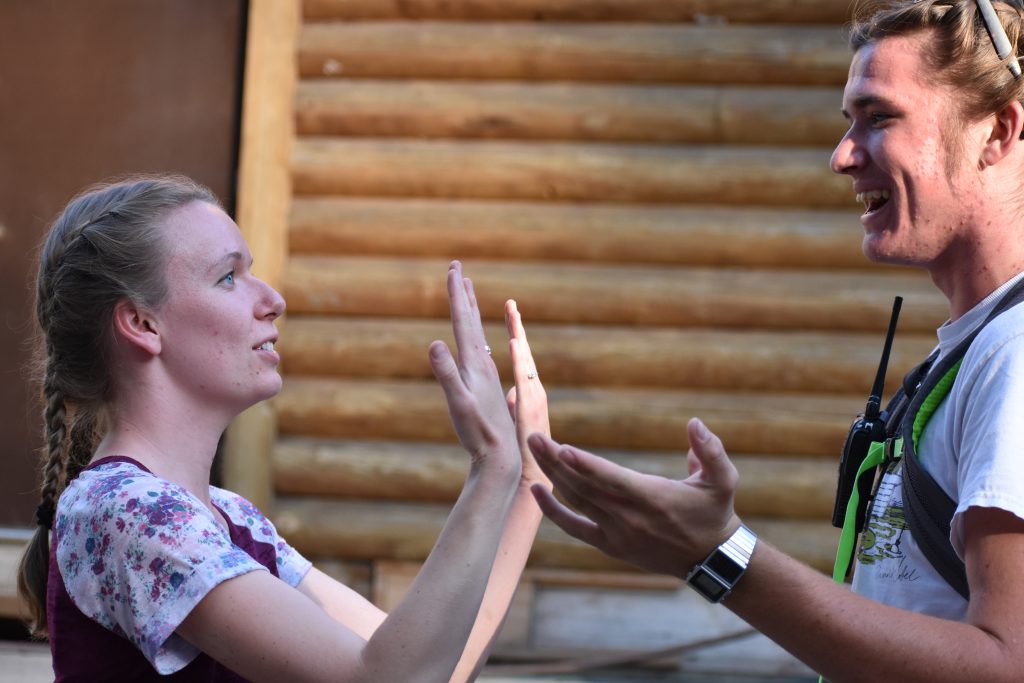 Hmmm … those simple looking games are more difficult than they appear. Is it slap front slap back or slap slap front then slap slap back?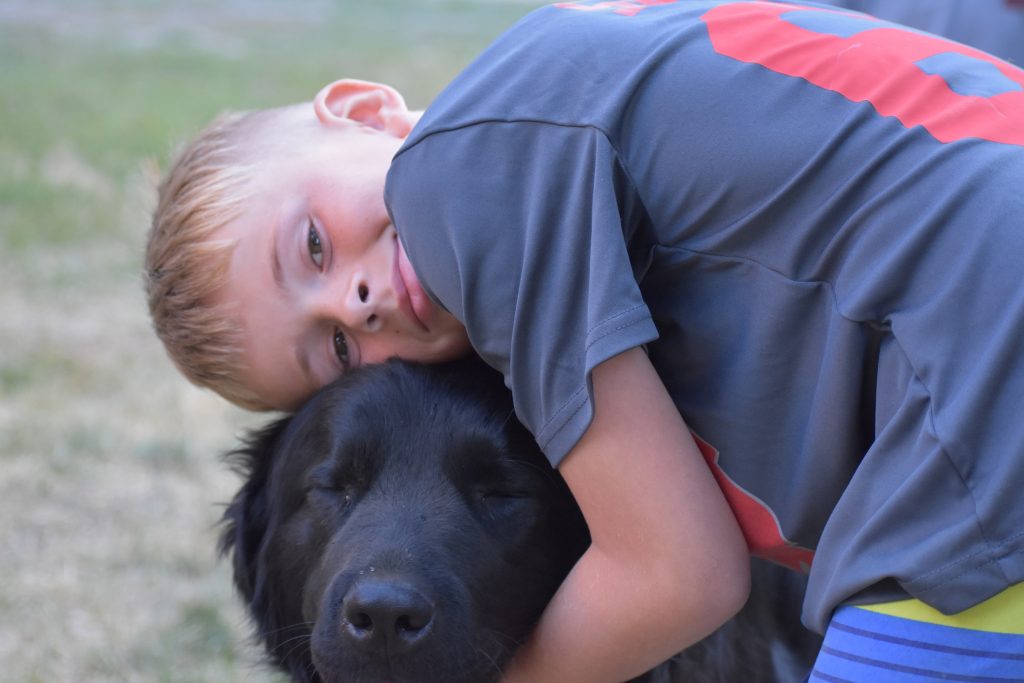 Princess Leia is always eager to assist. Especially with Watchamabobs that involve cookies.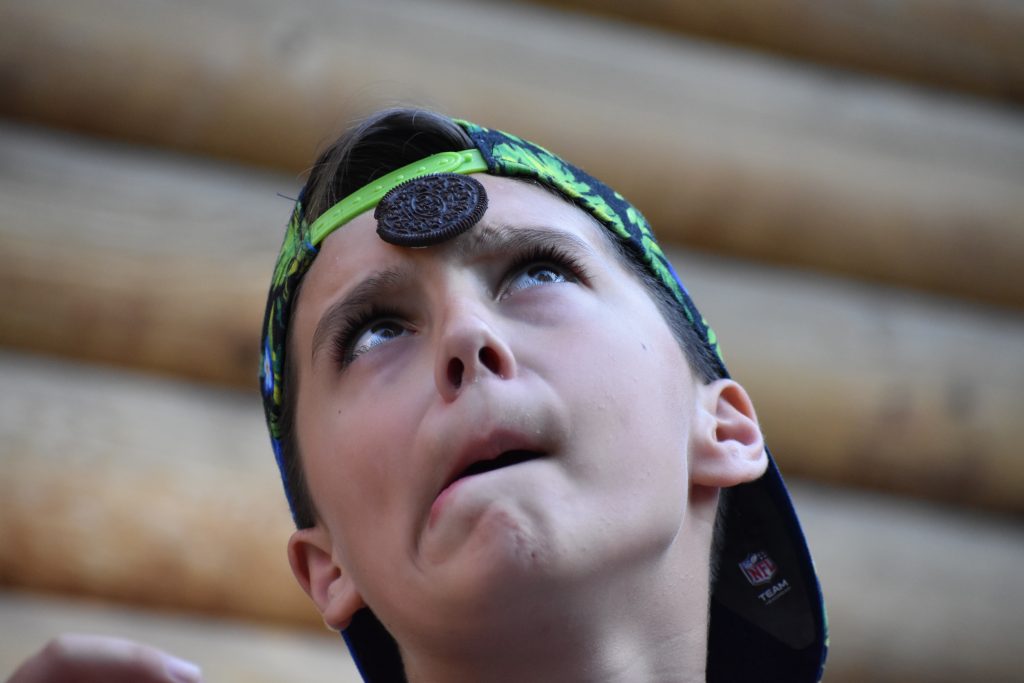 Oh, look! Cookies!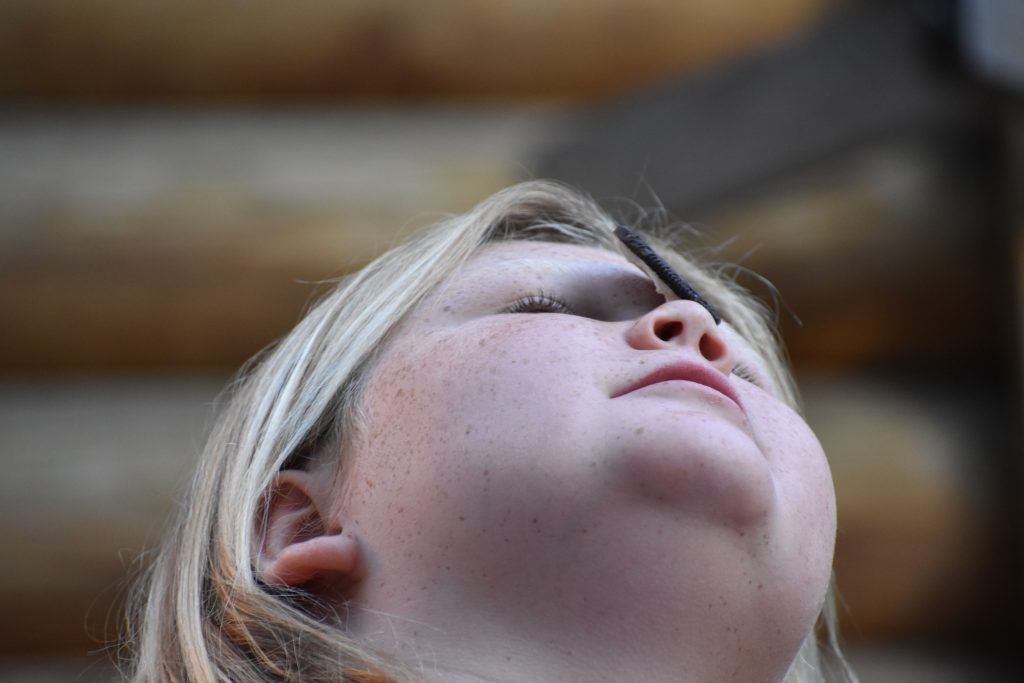 The goal is to move the cookie from where it is stuck on the forehead, down to the mouth where it can be eaten. No using hands and yes, it is a race!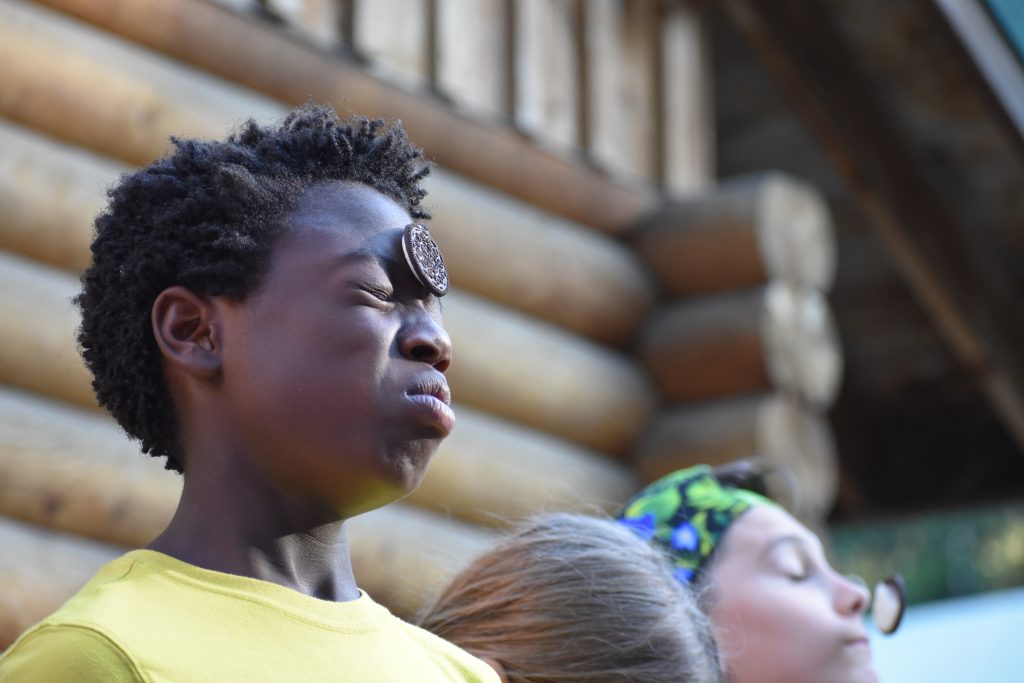 This requires a lot of eyebrow and nose scrunching.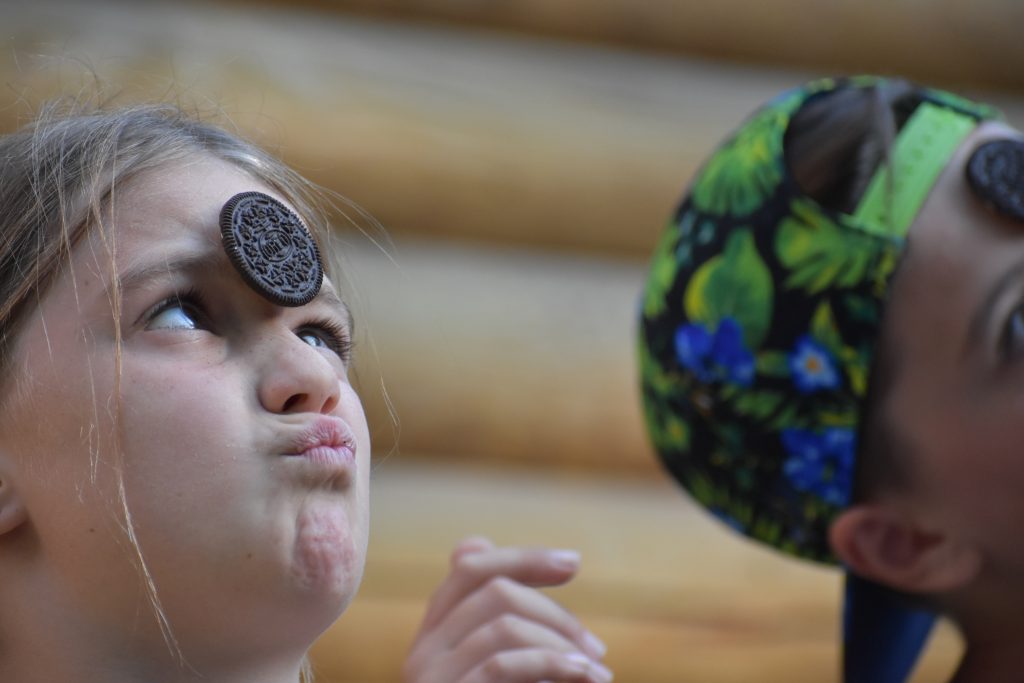 But is entirely possible as I watched a camper accomplish this amazing task right before my eyes. Yes, he did appear to enjoy his cookie and no, he did not share with Princess Leia Freyja.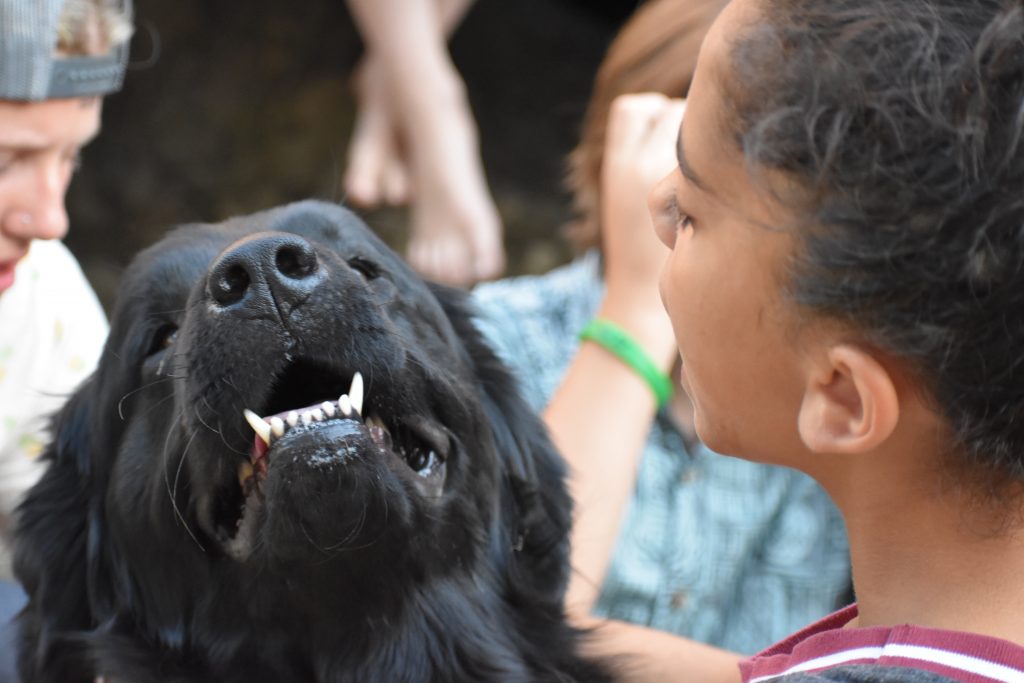 But there were plenty of loves and ear scratches to go around, so The Princess decided that the game wasn't a total bust.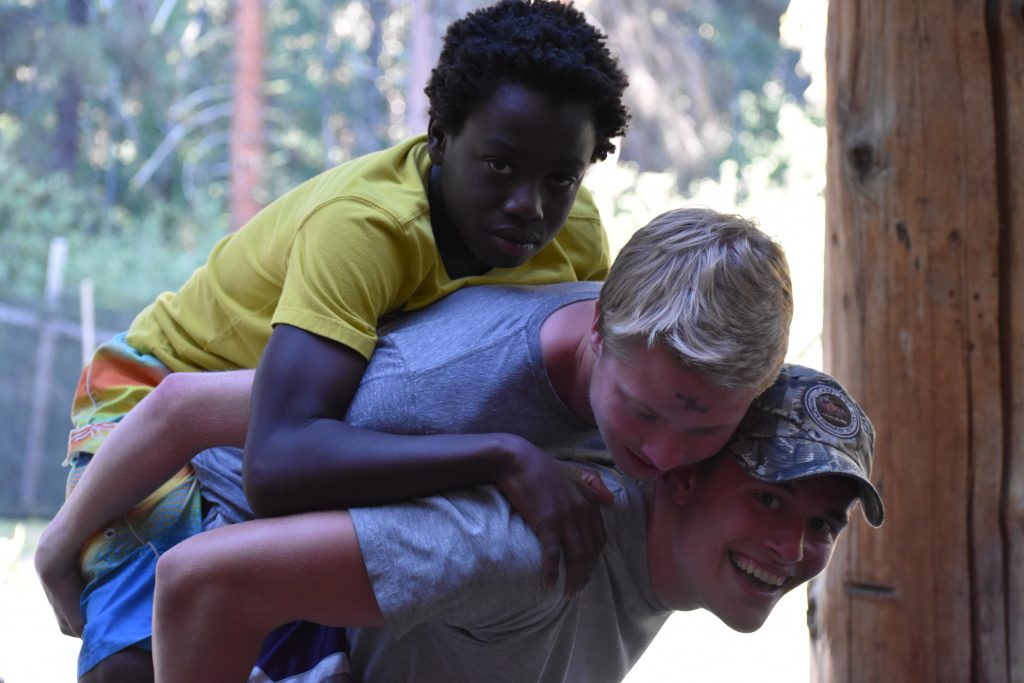 Next, it's time for chapel. Even those campers who are too weary to move their exhausted limbs and walk into the lodge weren't left out. Their counselor simply carried them!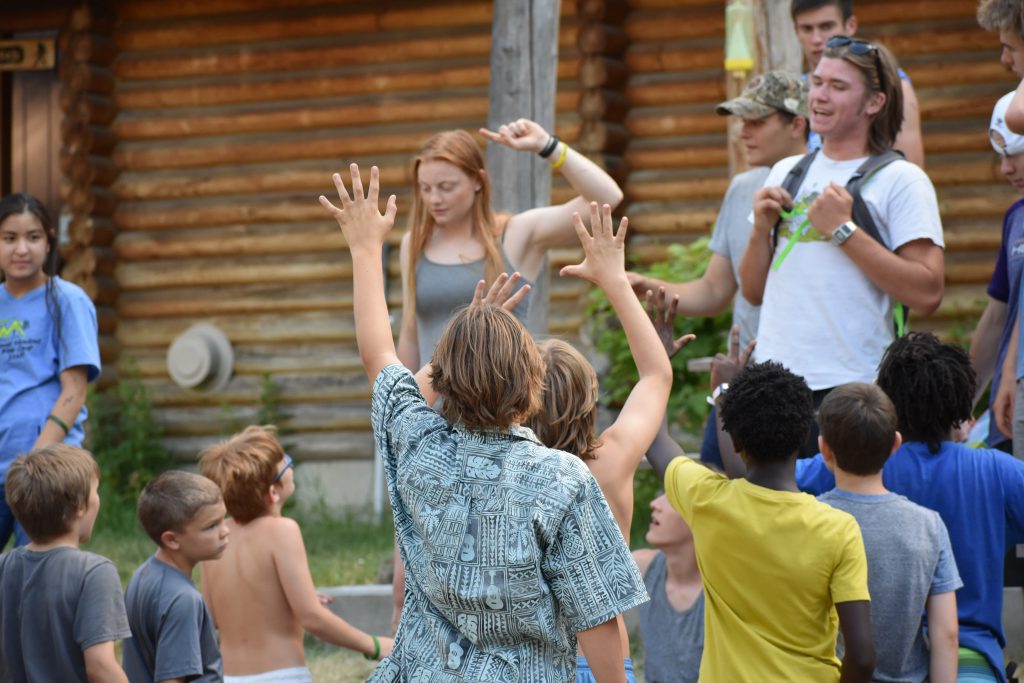 Uh, oh! It looks like more campers are hoping for a ride.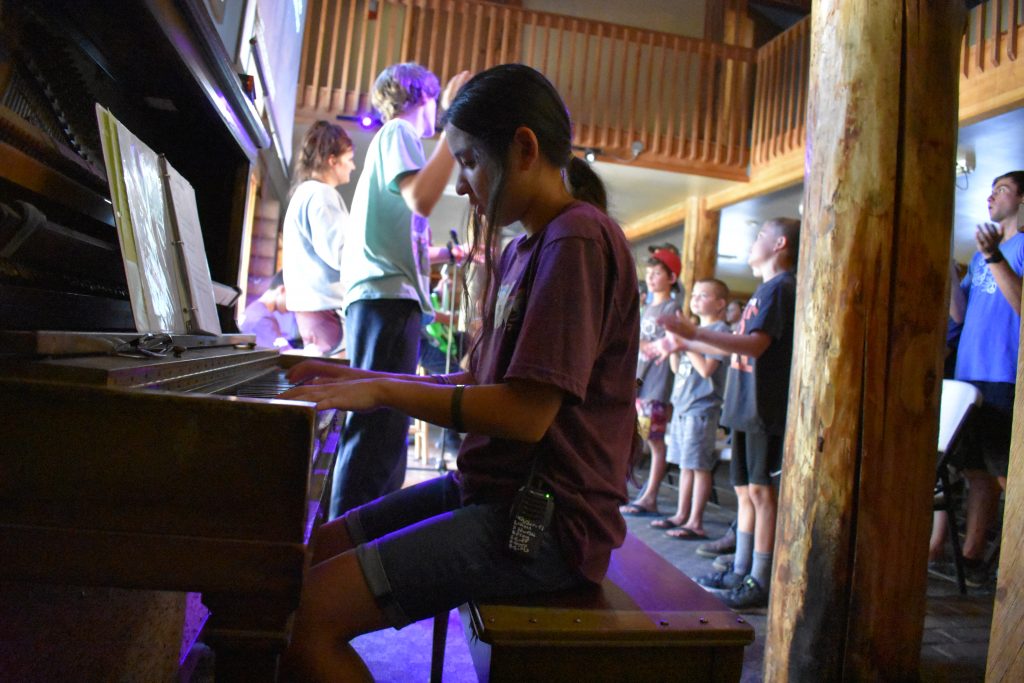 Bald Eagle, our speaker this week, taught from the book of Joshua. Be strong and courageous. Definitely a message kids need to hear. Their world is darker than the one that we grew up in and more complicated. But God's strength and love remain our hope, no matter what perils we face.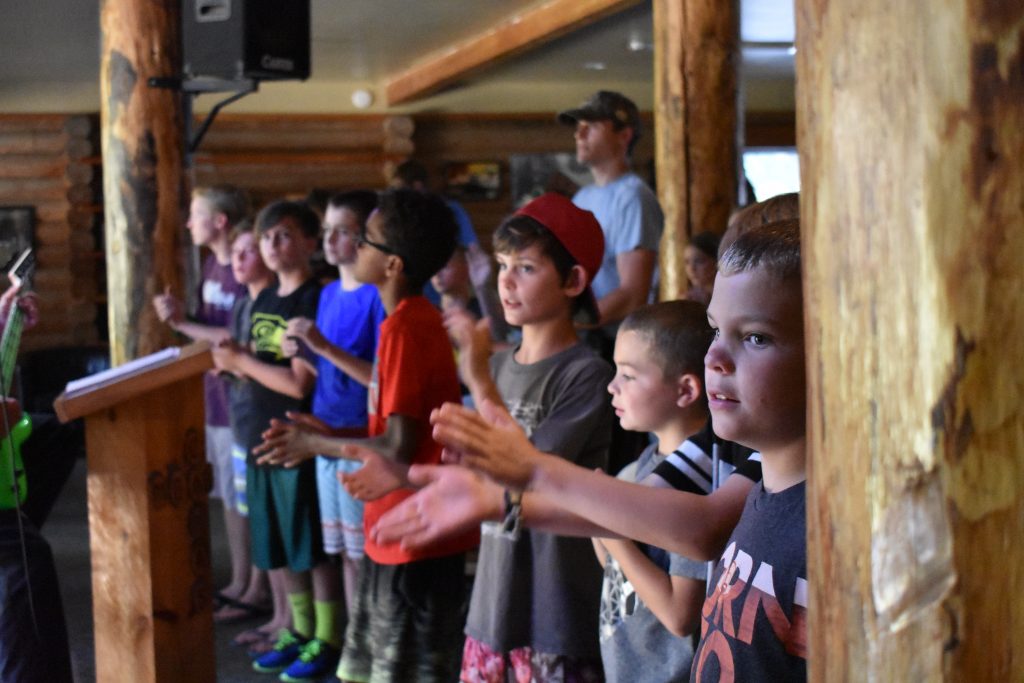 Along with fun and incredibly loud songs that have hand motions and all the exciting activities, some truly amazing moments happened this week.
There was one camper who had never prayed before. He asked his counselor to show him how and by the end of the week, this brave young man volunteered to close their cabin discussion in prayer.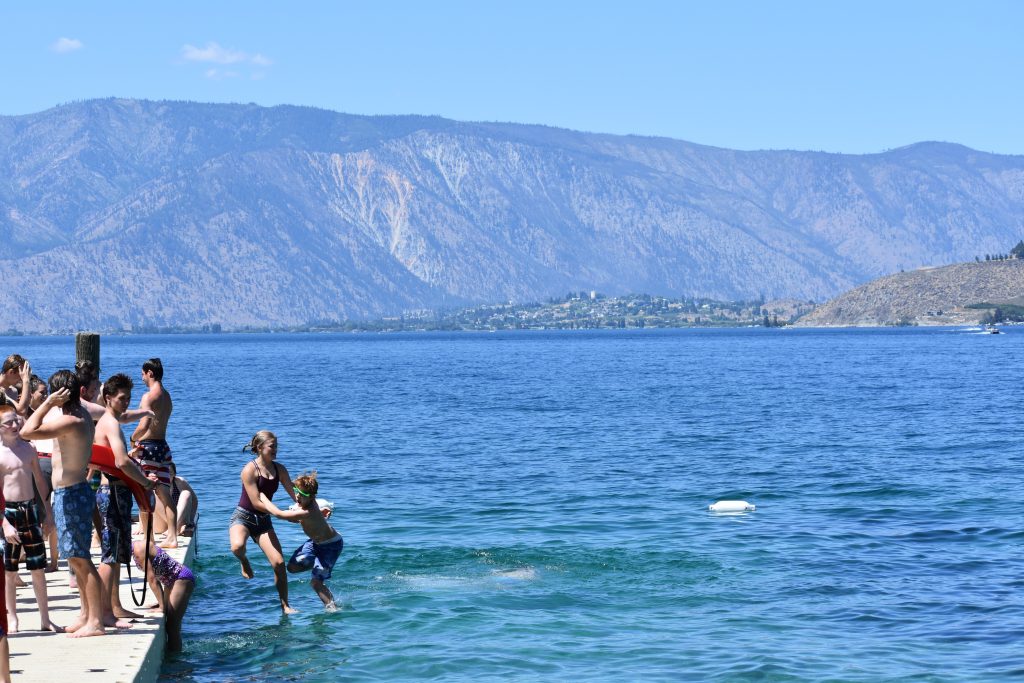 Yes, we experienced the beauty of "Lake Day." Enjoying bright blue skies, crystal clear waters, and baked potatoes at the Lakeside Park in Chelan. But we also saw a very patient Jr. Counselor who had one particular camper glom onto him as his very most favorite person in the entire world.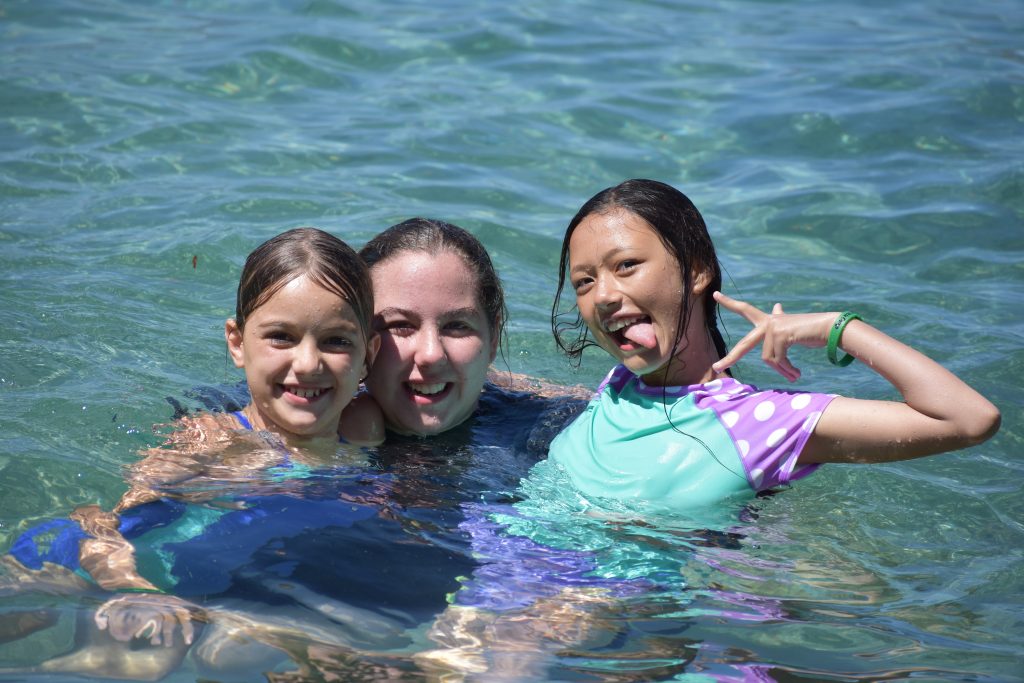 And so this camper was with his favorite counselor every single second of every single day. Despite having apparently grown an extra arm/leg/hump on his back (where the enthusiastic camper clung to him), this counselor was a delight to watch as he made the week memorable and fun for all of his campers, especially his new best buddy.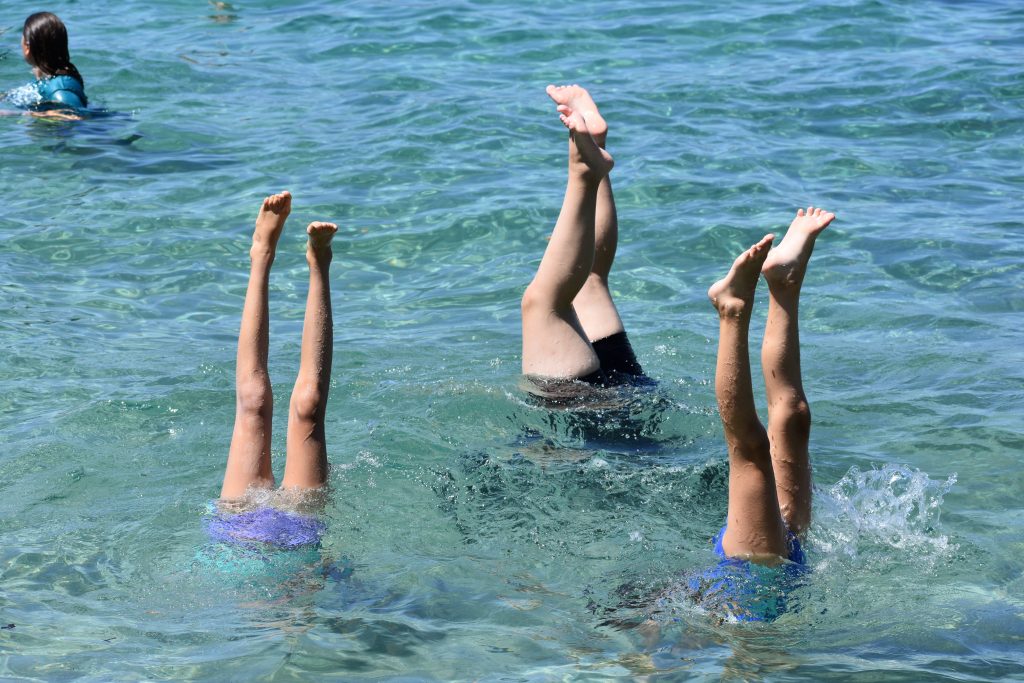 We had Warhammer and Uli (who is 9 months pregnant!) drive up to camp three times during the week so that they could minister to the staff. Once to drop off their oldest to be a camper. Once to do a devotional with the staff so that these amazing workers could have a moment to rest and gain refreshment from delving into God's word. Then once more to pick up their camper at the end of the week!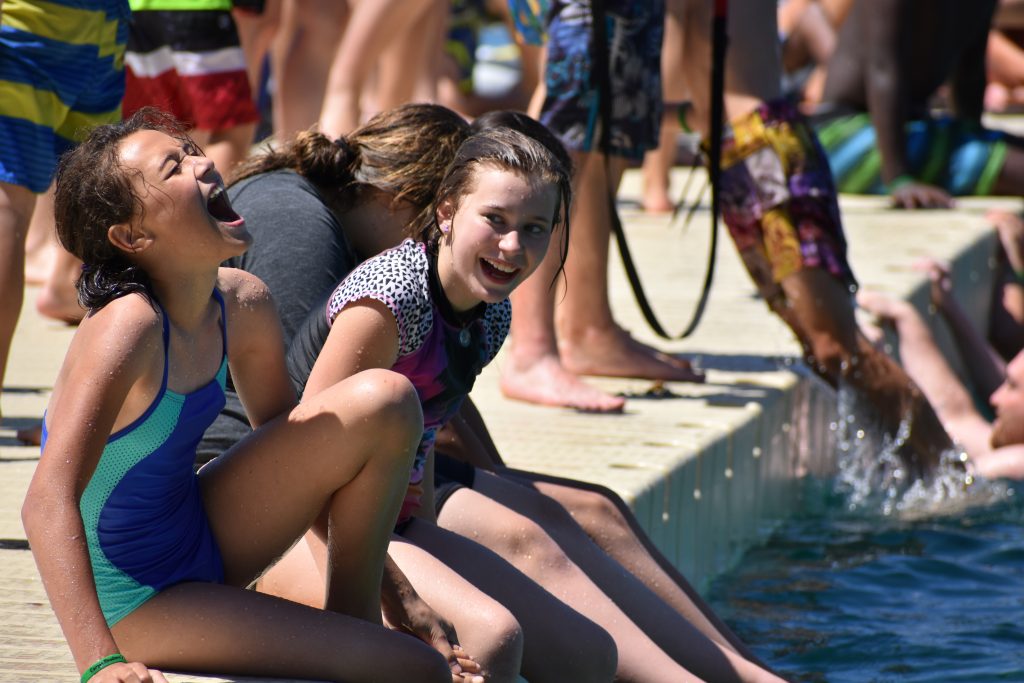 We had Howitzer, who owns his own business, nonetheless volunteer to run our support staff program. He kept everyone organized and working hard, even though that meant late night work on the computer for him and rising at 5:00 am to get a few hours of additional work done at the local coffee shop before staff meeting at 7:00 am.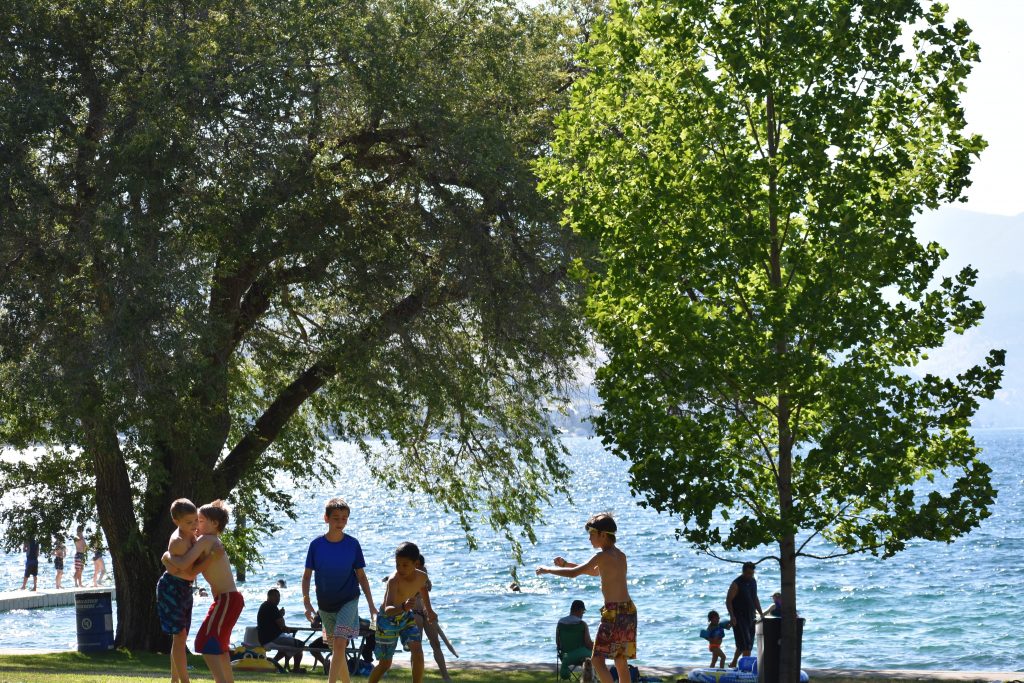 OK, full disclosure. These boys are not actually hugging. They are tossing the football around. But there were some epic hugs this week that were real. What immediately comes to mind is when Slappy leaped out of the circle during staff meeting on Saturday, springing over chairs and sending one flying, before she thundered out the door to hug one of her campers goodbye when mom arrived to take her home.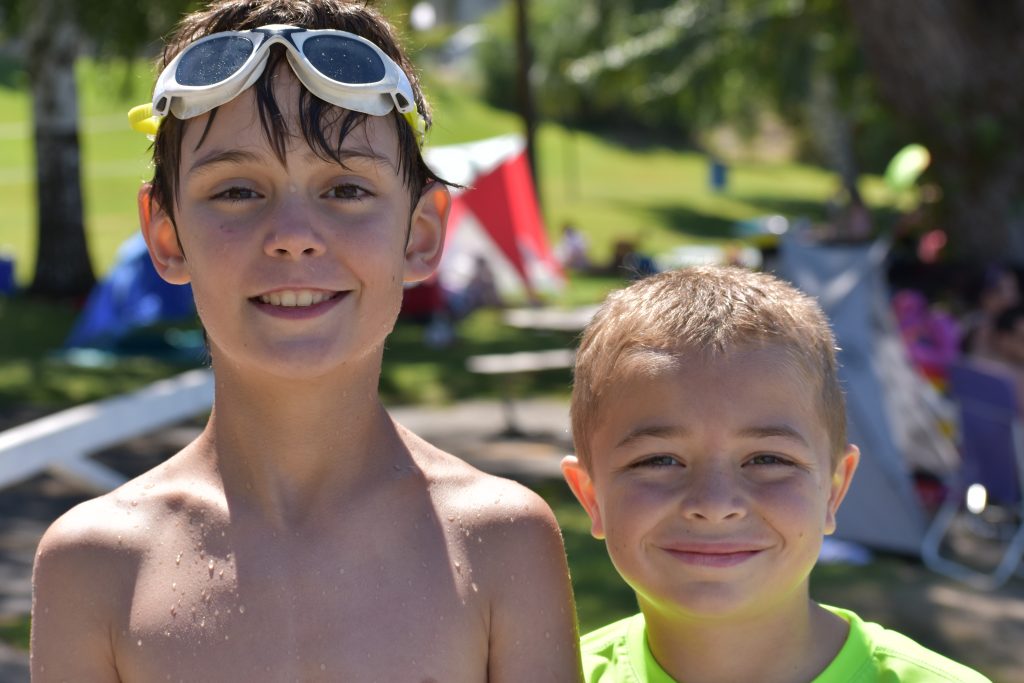 There was the day that Partake challenged one of the campers to a paintball battle. He was thrilled and his entire cabin greatly impressed with her mightiness on the paintball field. This was a bold move on her part, as it had been quite some time since she'd played. But the challenge made it super fun for the campers and so she plunged ahead.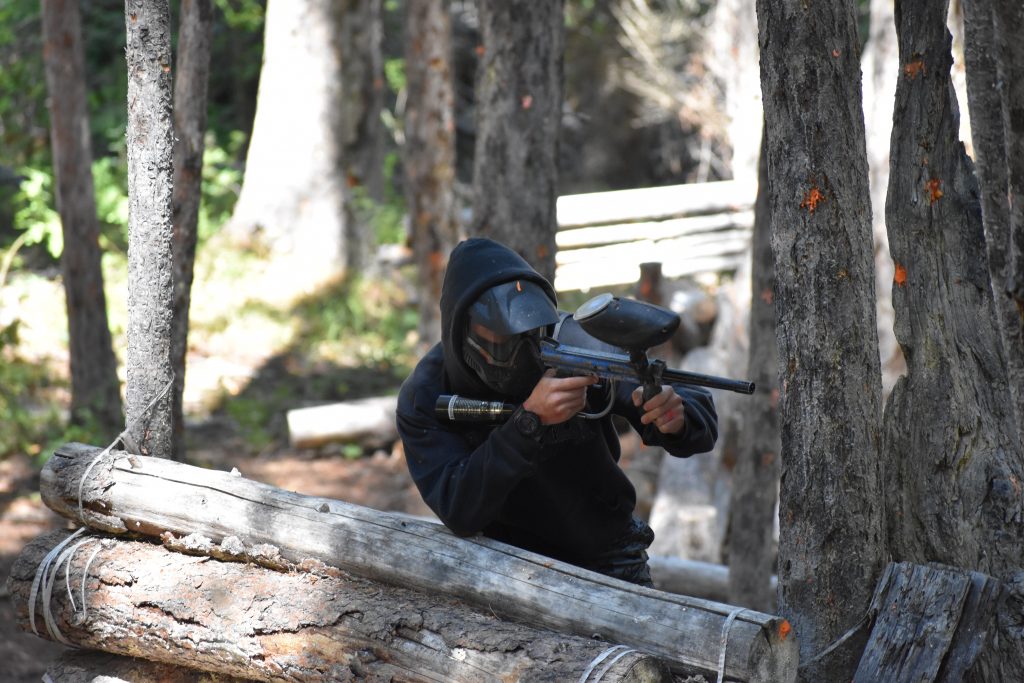 Even Leia Freyja was able to minister to campers this week. One little girl was hiding under her blanket crying and refused to be comforted. Later, she explained that she was sad about going home from camp the next day.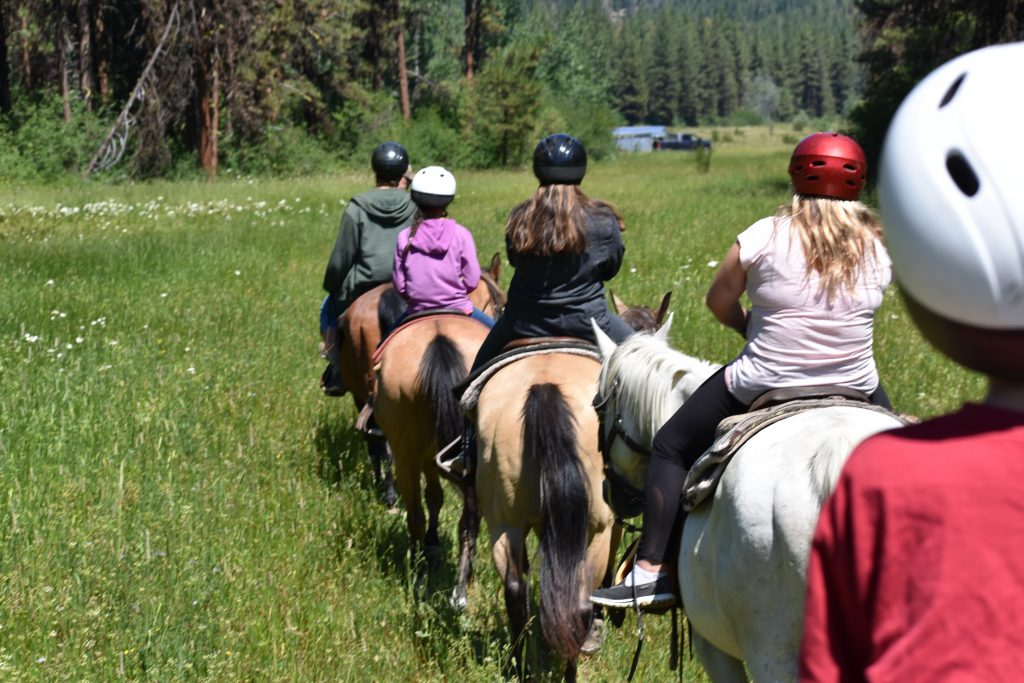 But when I asked if she would like Leia to come and sleep in their cabin, the camper perked right up. She led the way to her bunk and made just enough room for a 105 lb dog. Leia curled up on the foot … the foot and middle … well, pretty much all of her bed and settled in for the night. Leia raised her head, but didn't get up when I left. She appeared to realize that she was needed.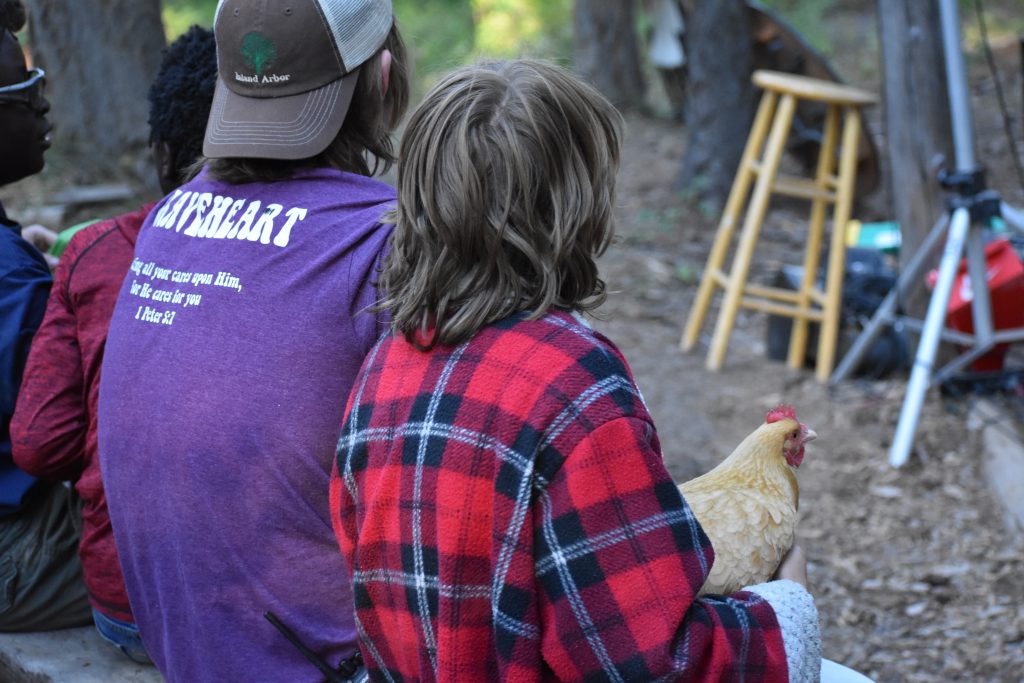 Of course Leia was not the only animal involved in camp this week. Bear's Abode requested the use of one of our chickens during their skit and Ewok rose to the occasion.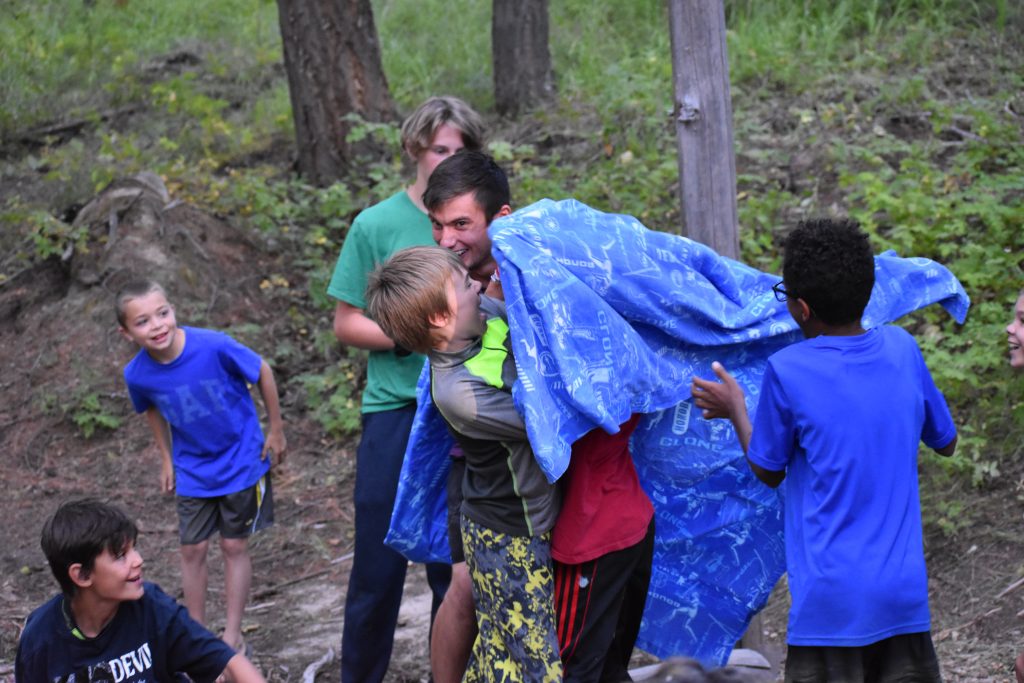 Besides the chicken, skit night held multiple whale attacks …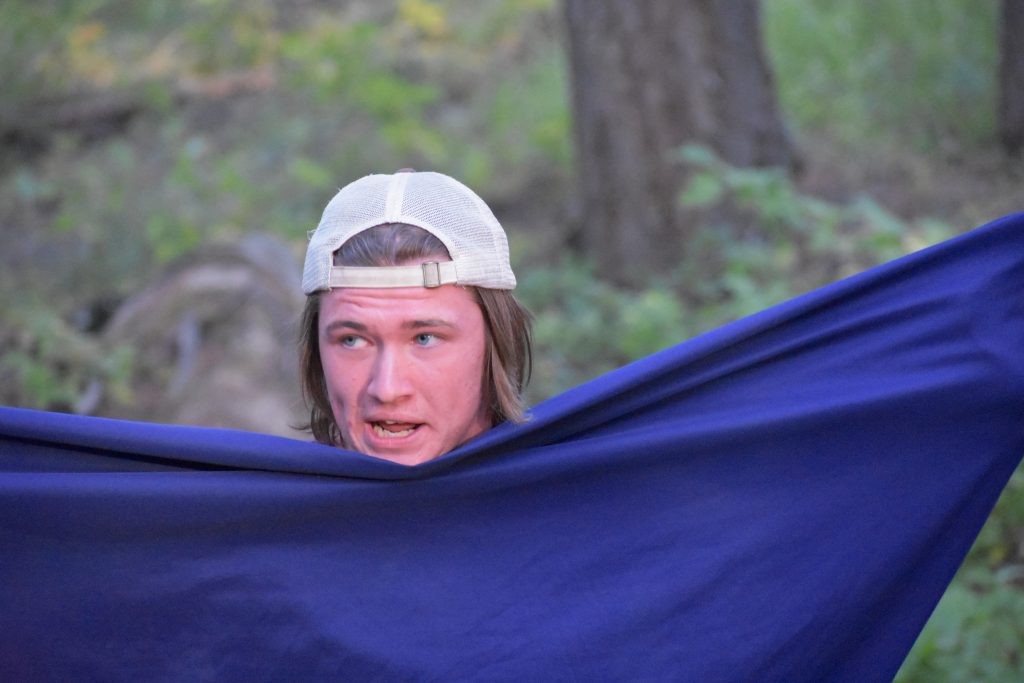 A bit of sword fighting …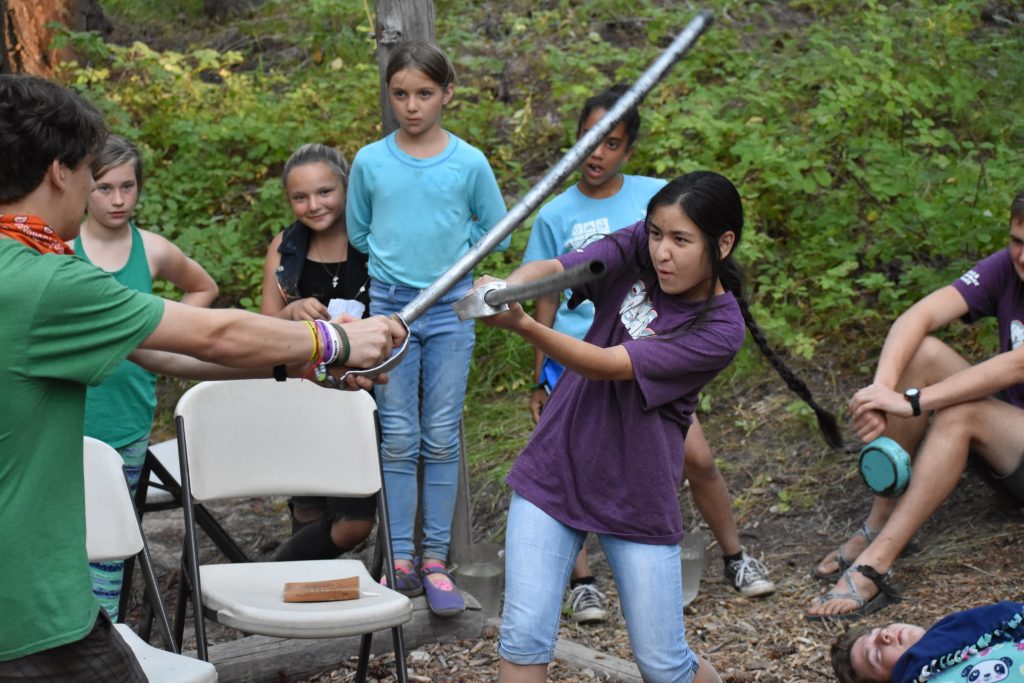 The plagues of Egypt …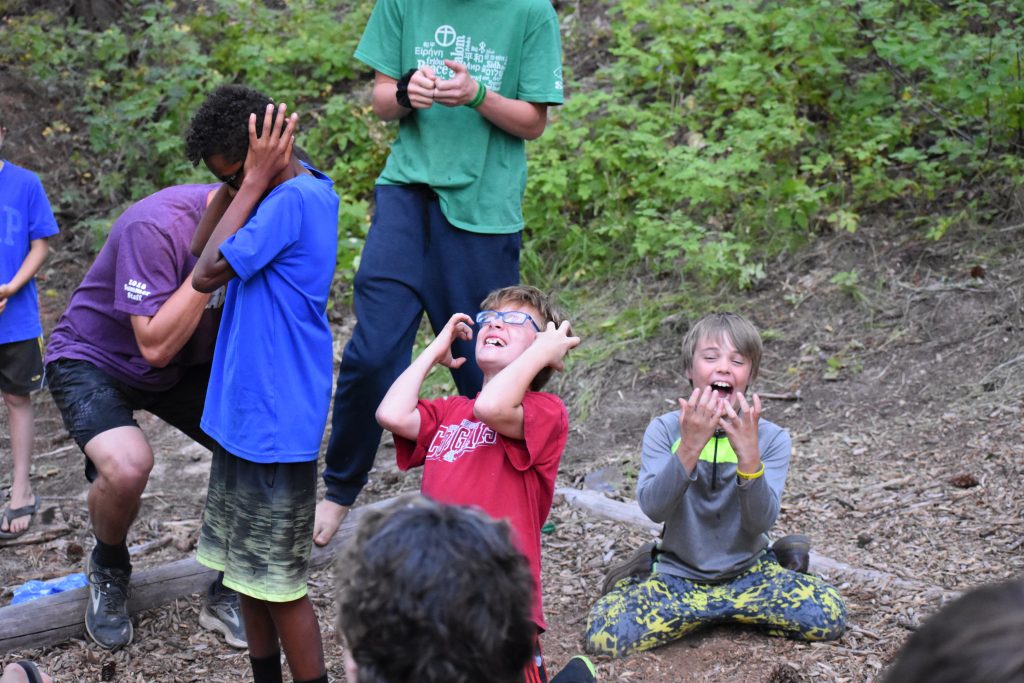 And an unfortunate death. Poor Cub! Wait a minute … is he smiling???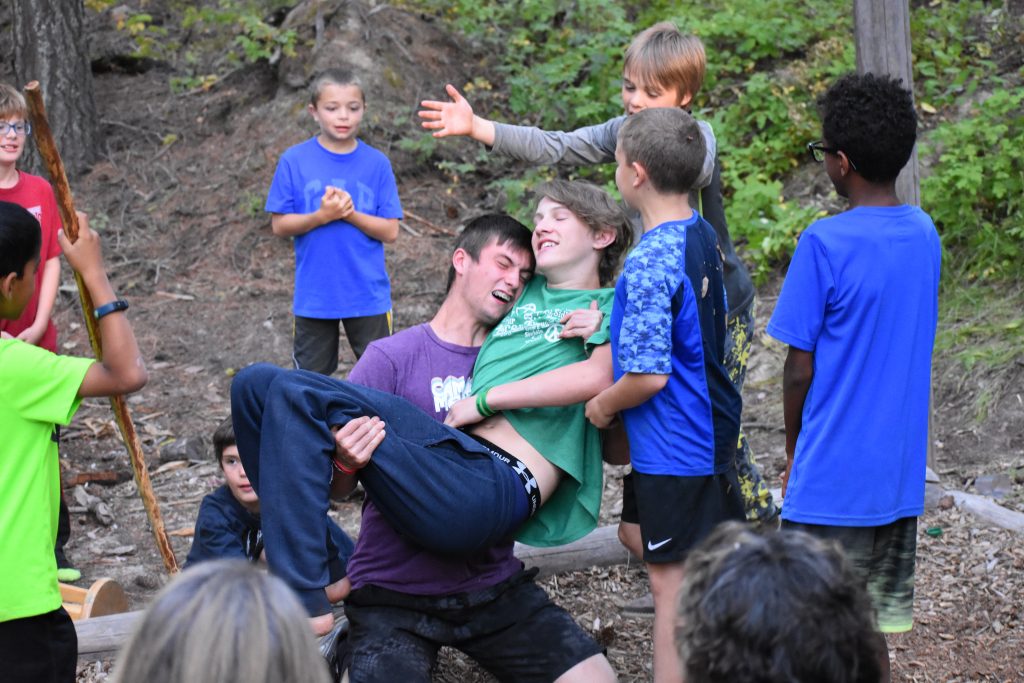 Um … better make that two deaths. Or is Clank just asleep?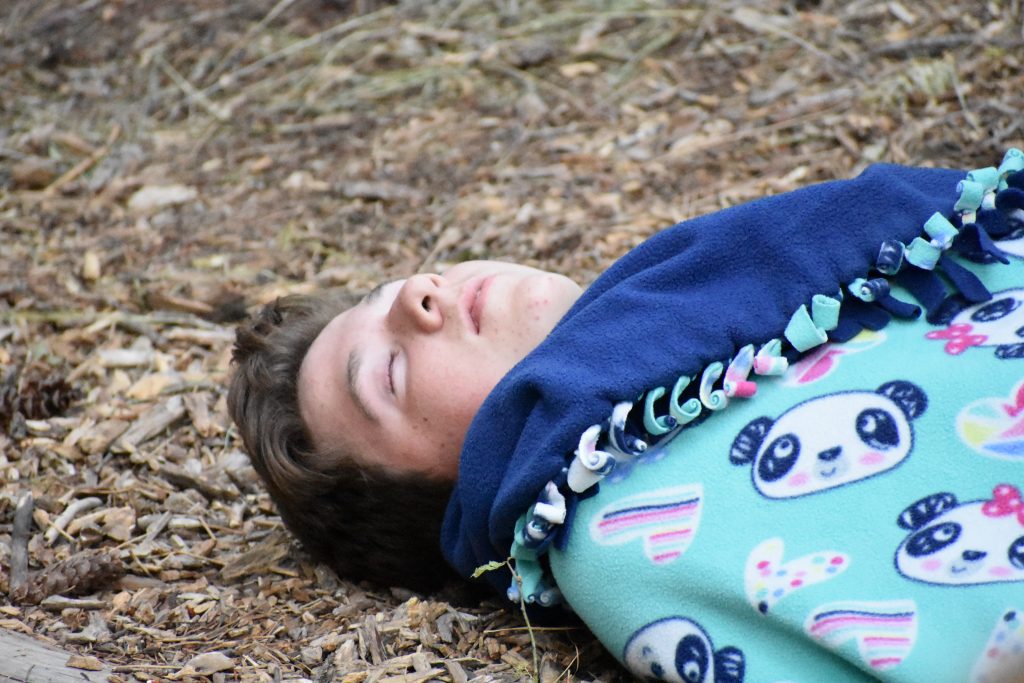 Of course the quote of the week was when Slappy left the cabin for three whole minutes and returned to a group of enthusiastic smiles. "See those rafters!" They then pointed at the rafters in their cabin. "We just swung on them!!!" Thankfully, they not only survived their acrobatic impulses, but were able to learn more about the Lord Jesus and His love for them as well. The counselors have such interesting dual jobs of fun and exciting activities sprinkled with spiritual shepherding at a Jr. Camper level.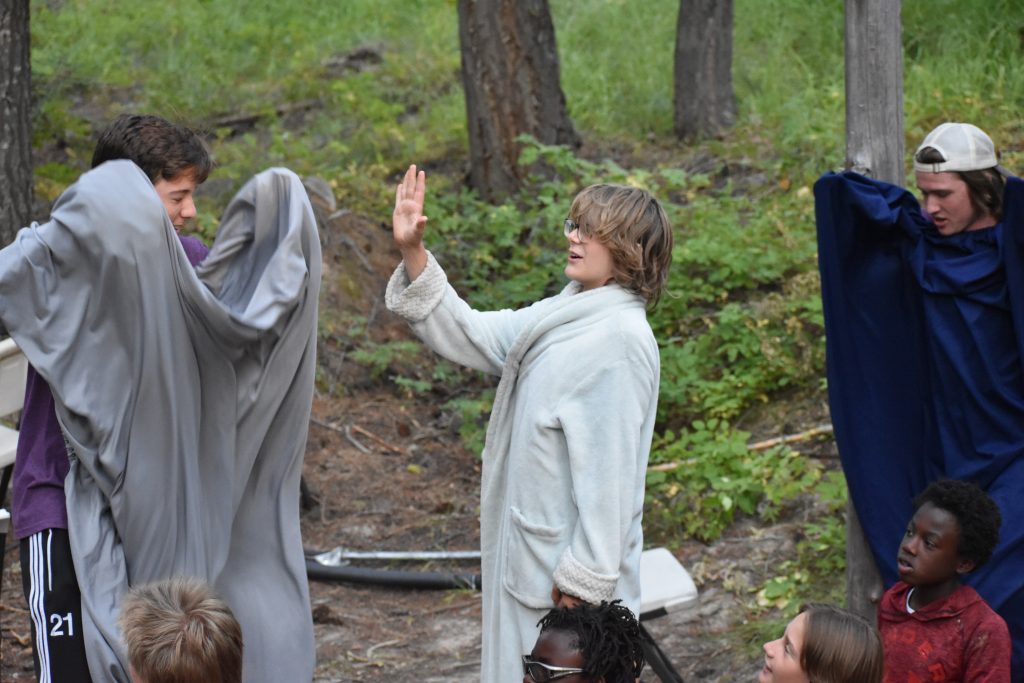 Dauntless was amazed as one of his campers furiously memorized Bible verses. Long after the other boys had fallen asleep, this camper kept piping up with "I've got another one!"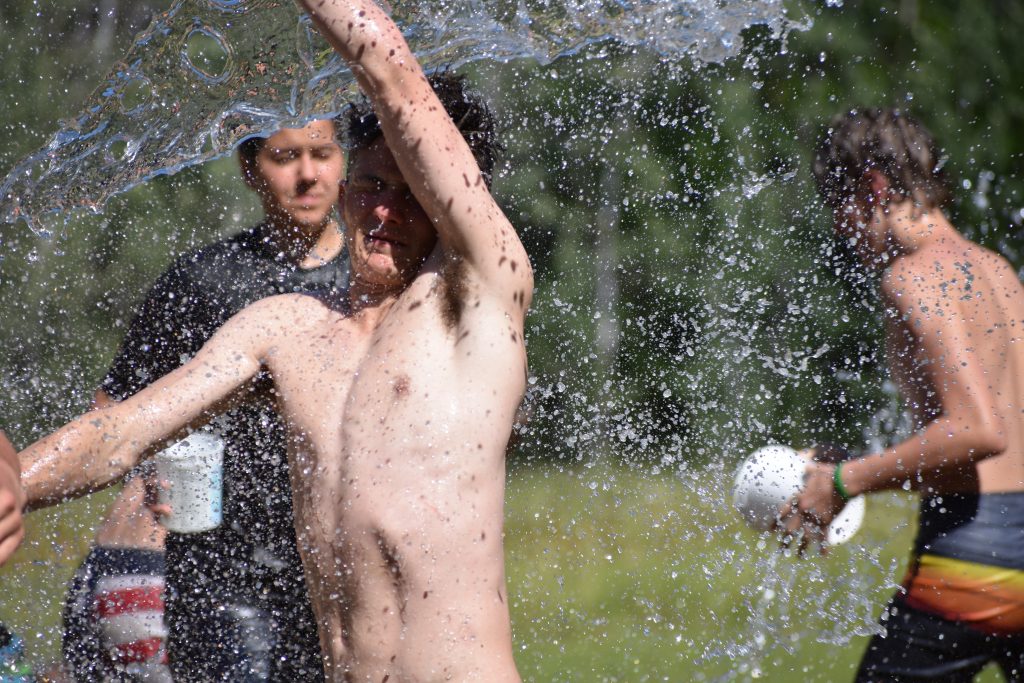 The staff show God's love to these kids in so many creative ways. Epona's campers were voracious melty bead creators. They designed craft after craft and were so sad when it was time to go to bed, that Epona promised them she would stay up that night ironing their artistic creations so that they were ready to go home with her girls the next day. She worked until 3:00 am, fulfilling that promise to her campers.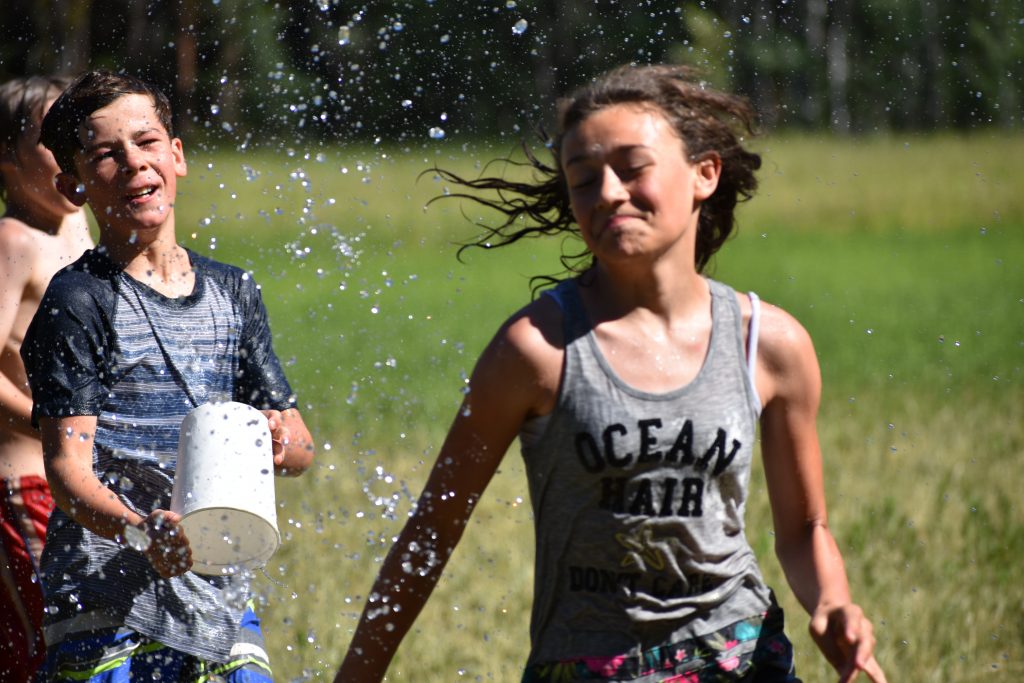 I myself was incredibly blessed as a mysterious staff member wrote a personal note of encouragement to every single worker at camp. These were not just general encouragements either. Whoever wrote my note, not only owned a very nice purple pen, but had been watching what I did during the week and gave me specific words to spur me on, that only an observant and caring person could have come up with. Each staff member received such a note and if their reactions were anything like mine, there were tears involved, and perhaps those notes might have been kept in a back pocket for a week to pull out and reread during low moments.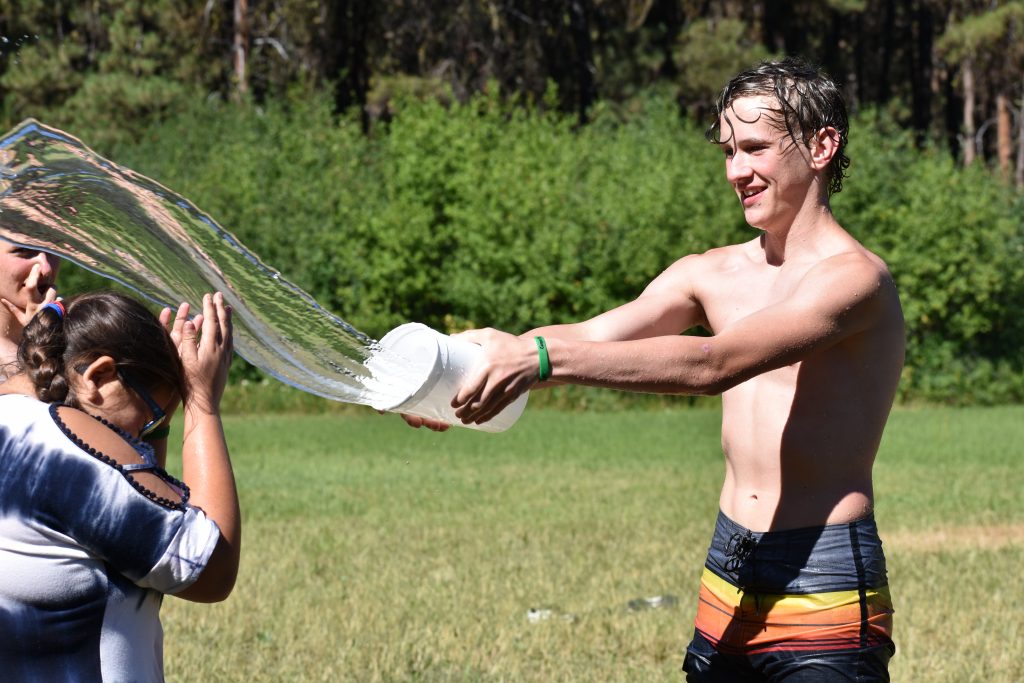 I watched 'Merica minister to the Support Staff as he spent an incredible amount of time leading cabin discussions just for them while the Counsel Staff were leading discussions with their campers. The highlight of the week for Bacta, our camp Dr., was being invited to join the discussion on the day that the Support Staff shared their testimonies. There is an incredible bond formed when believers pour themselves out, together, for an entire week of intense service to their Lord.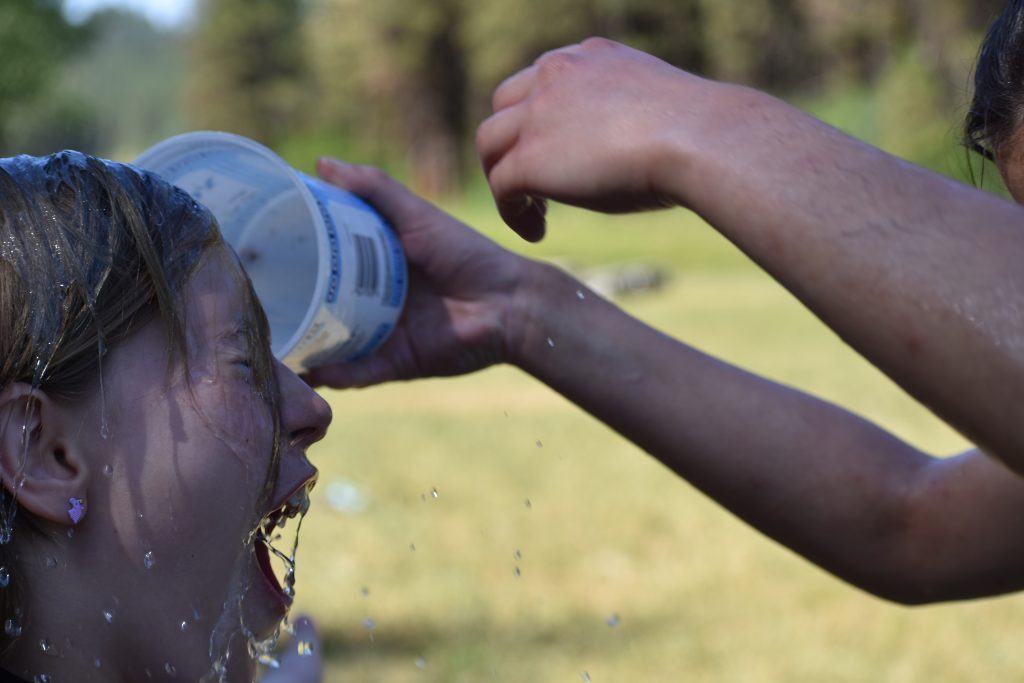 Of course, this close bond often involves being tossed into the horse trough by one's brothers or sisters in Christ.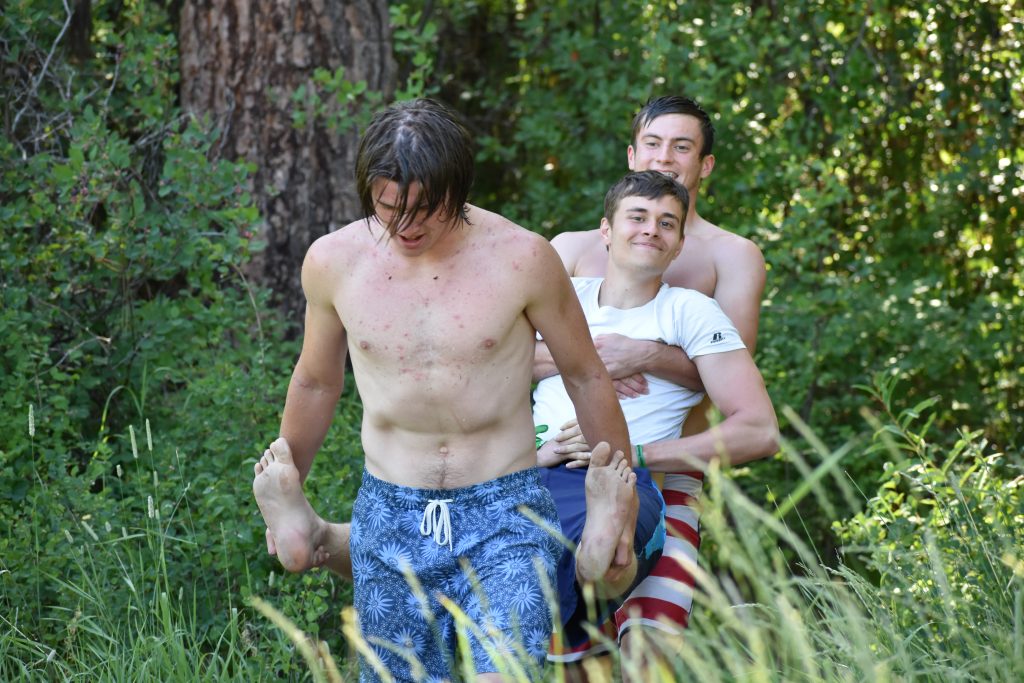 Even these ridiculous moments are a thrill and a delight to the campers.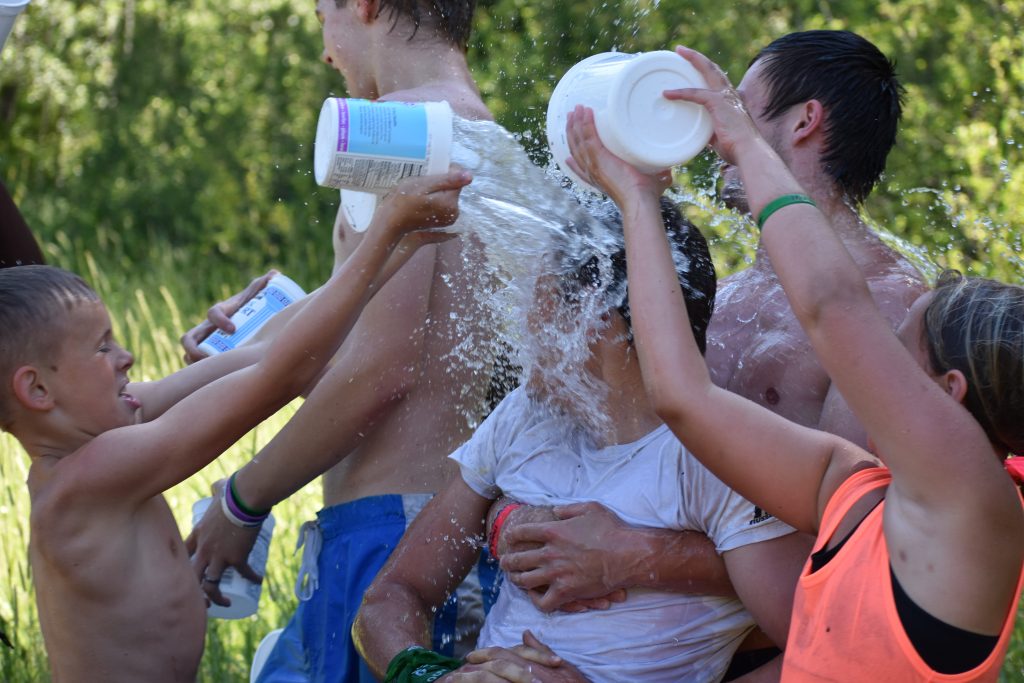 For Junior Campers, the very experience of being away from home for an entire week is incredible. They leave their media devices behind, breath in the crisp mountain air, witness God's starry host stretched across the night sky without the tainting effect of light pollution, and get to actually immerse themselves in the things God has made rather than what man has built up around himself.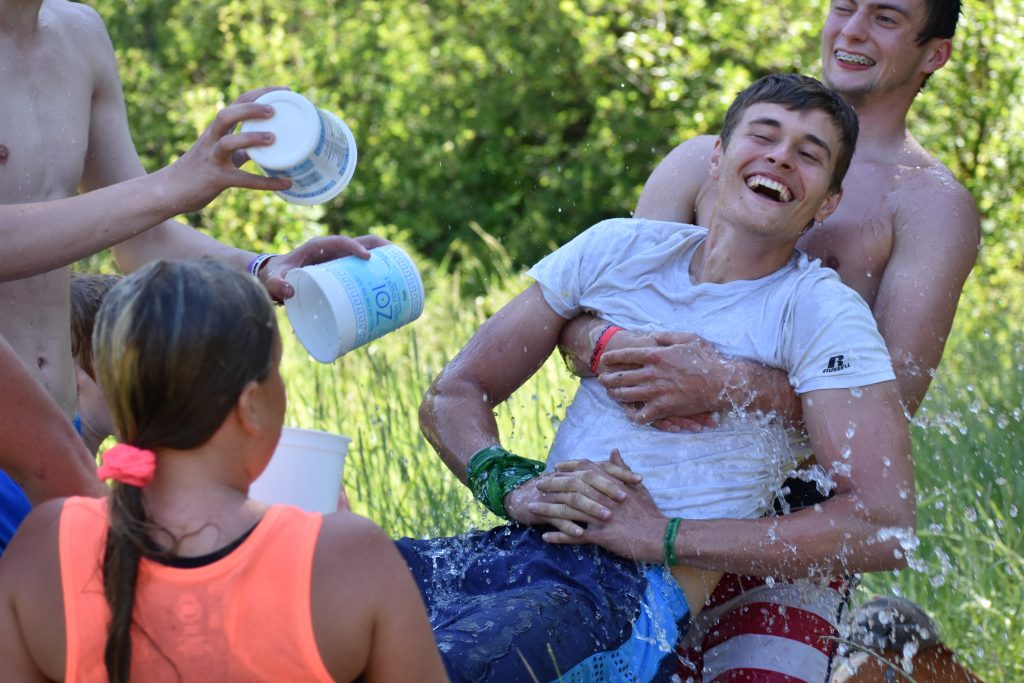 I was able to attend the campfire (don't worry, we had glow sticks instead of flames due to the fire danger) on the last night. Just standing up to share in front of their peers is an enormous event for kids this young. Yes, they might be sharing about how much they loved paintball and how archery tag was their favorite, but the bravery to do this is vast when one is nine years old. Some of these precious children were braver still and shared about what they learned from the speaker or mentioned that worship was their favorite thing of the week, even when everyone else said slip-n-slide.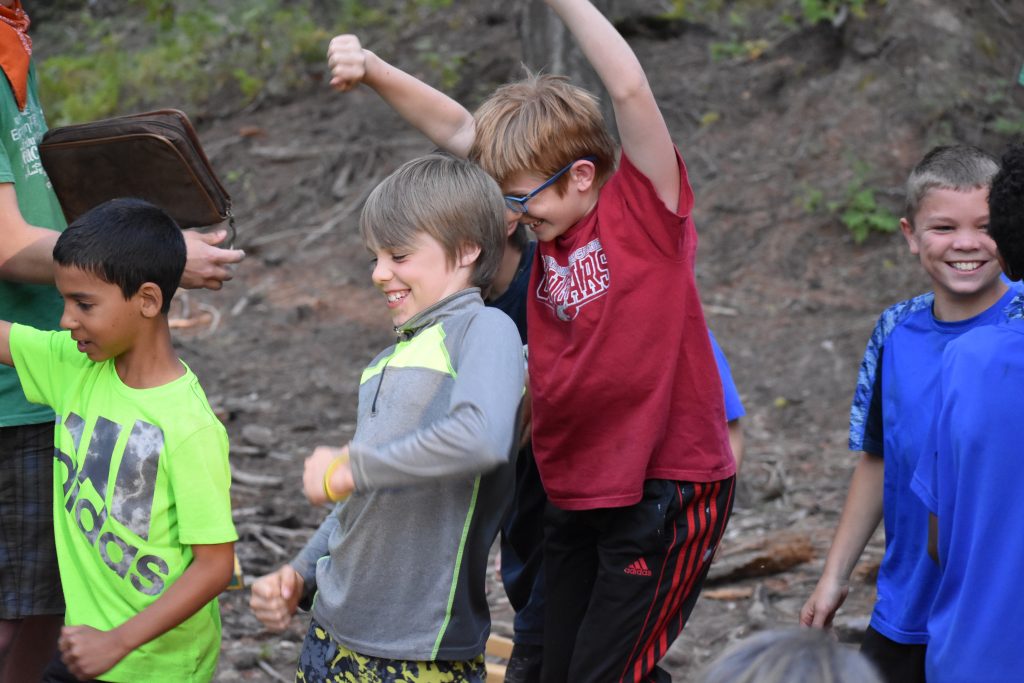 One of Braveheart's favorite moments was having a camper plop down beside him on one of the old wooden benches that surround the fireside during worship. The child flung one arm around Braveheart and held the other up to the sky, worshiping with all his heart. That is one of my favorite moments as well, because I know how difficult it is to stir up a hunger for God in the hearts of our kids. It is an epic task that is made just a bit easier by the vast sweep of forest around us, the friends, the fun, the crazy games, the carefully constructed messages by the camp speaker, the loving sacrifice of the counselors, and the pure delight of singing in the middle of a mountain meadow under a blanket of stars. I know this well, because that camper was my own son and to see him throw his heart into praise, breaks mine, in all the best ways possible.
Boo Boo