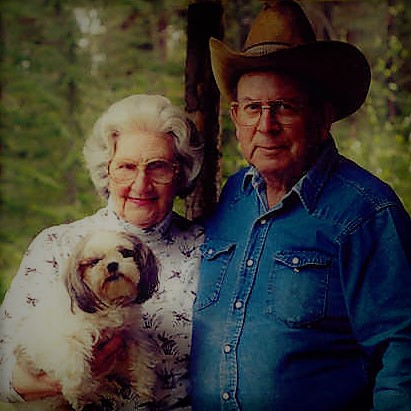 We had to say goodbye to our camp matriarch, Autumn Griffith, this week. On the morning of March 1, she left us to greet her Lord during the quiet of a spring snowstorm. As Del says, the camp would have never happened without Autumn.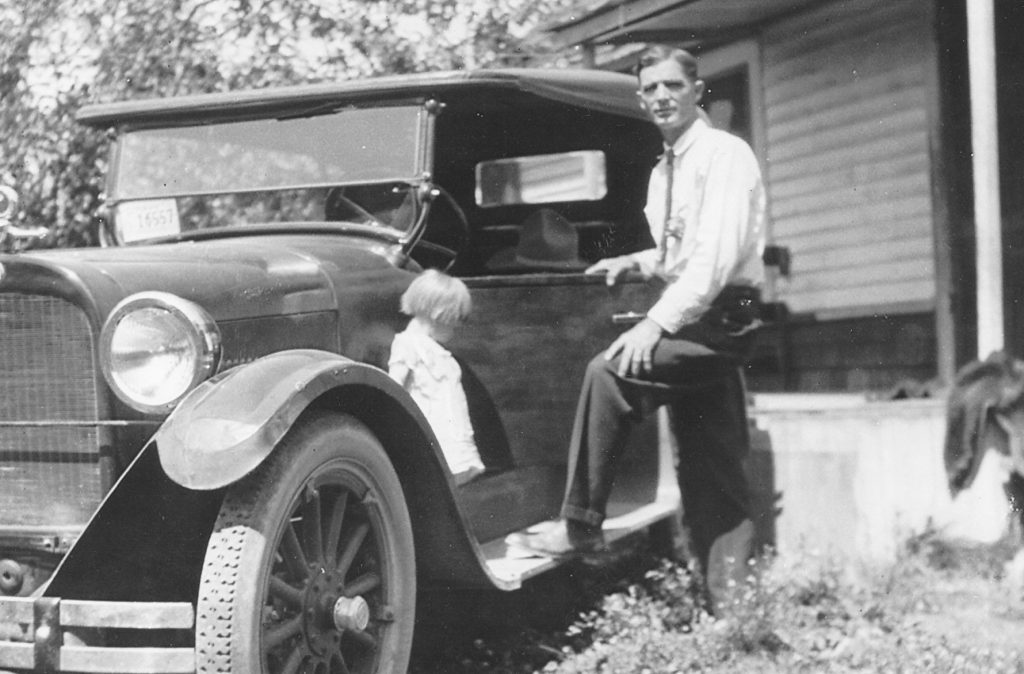 The daughter of a southern belle and a fast-shooting Jack-of-all-trades who was deputized to bring in criminals who fled into what was then Oklahoma territory, Autumn started keeping house at the age of ten when her young mother passed away. She is pictured here as a toddler with her father, Ben. I have never seen the gift of hospitality shine with a warmer light than it did in the talented and gracious hands of my grandmother, Autumn.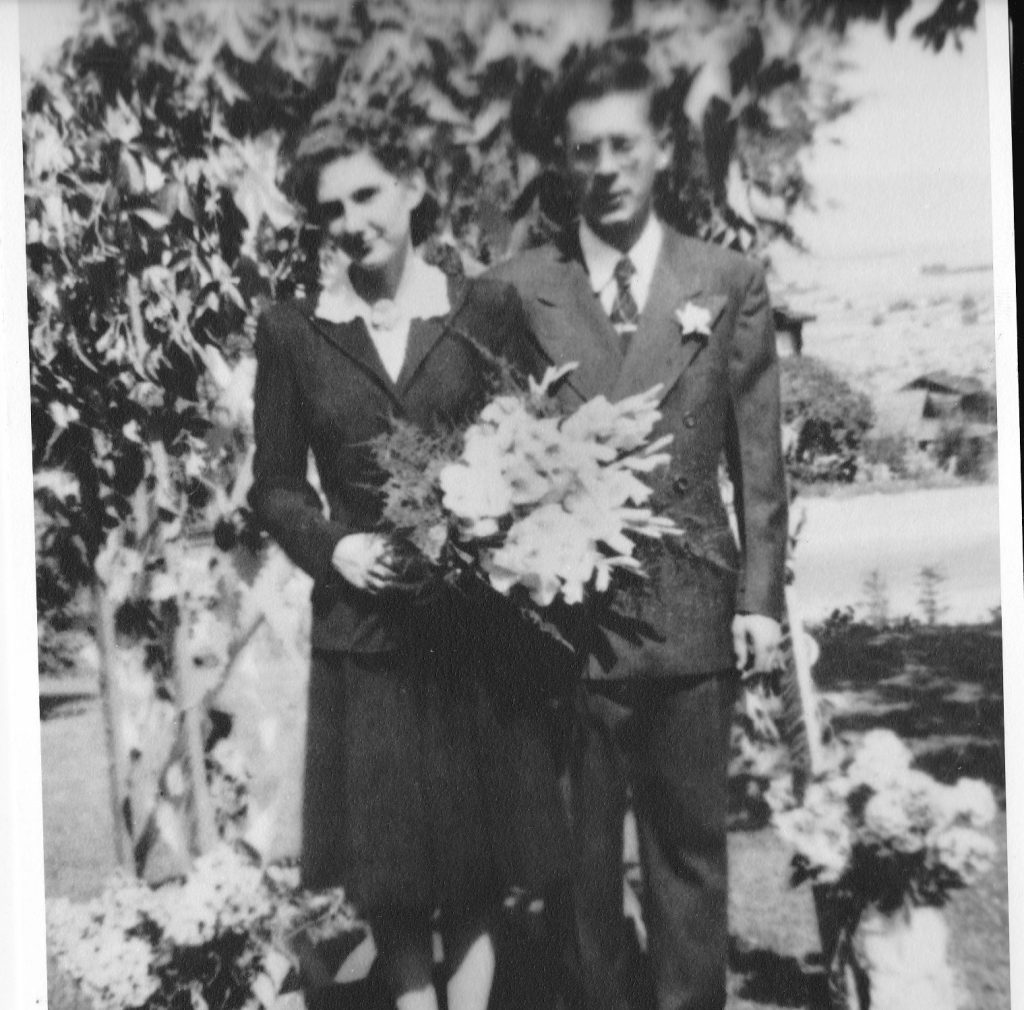 Autumn married Delbert Griffith on July 25, 1942 at the home of Clarence and Lily Snode in Wenatchee, WA. She loved horses and wildflowers, hunting and long walks in the forest, caring for her friends and family, and feeding anyone and everyone who walked through her door. Our camp founders settled down in Chelan where Del was a milkman and Autumn poured her heart into raising their four children, Terry, Sharon, Clint, and Greg.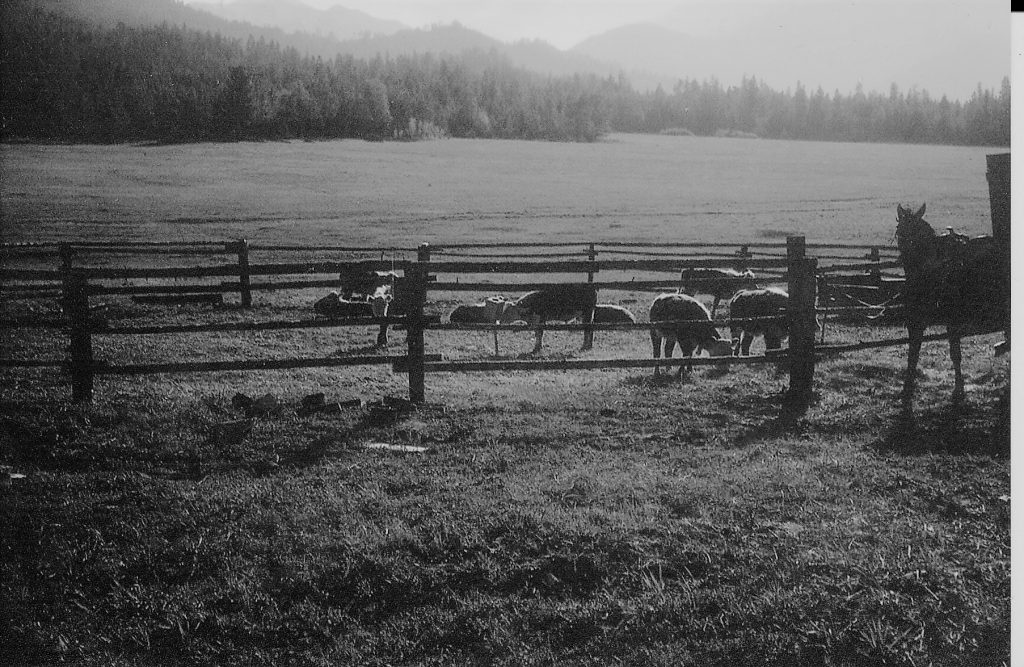 As their family grew and left home, Del and Autumn wondered how they could honor the Lord with their beautiful piece of property on the Camas land. Autumn and her youngest son Greg had been praying privately about the problem when Del came over to Autumn and said: "You know what I'd really like to do with that property?" He didn't know of their specific prayers, but Autumn once told me that at that moment she knew that what Del was about to say was God's answer. "I think we should start a Christian Youth Camp," he said and so they did. Camas Meadows Bible Camp was founded in 1973 and Autumn chose 1 Peter 5:7 as the camp verse. "Casting all your cares upon Him, for He cares for you."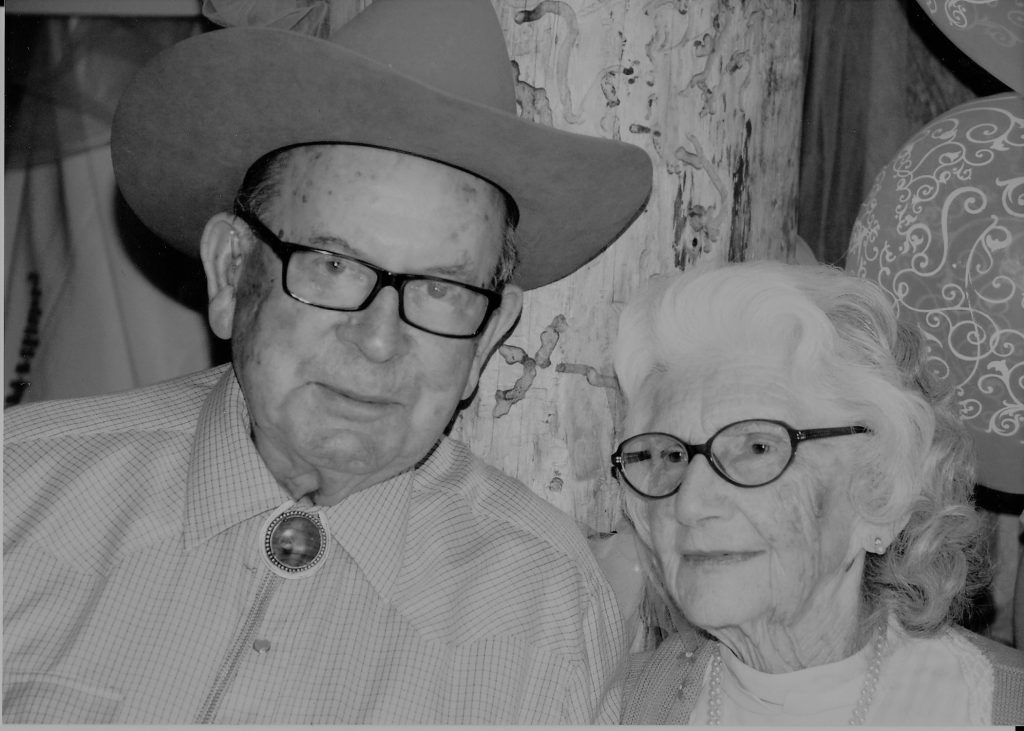 There was no electricity, indoor plumbing, or running water when the camp first began to minister to kids in 1973 but they managed all the same. Del worked the grill while Autumn did the baking and washed dishes with her sister Lily. I still remember the taste of the no-bake cherry cheesecakes she would make for the campers when I was a girl. Delicious! The picture above shows Del and Autumn celebrating their 70th wedding anniversary in the camp lodge.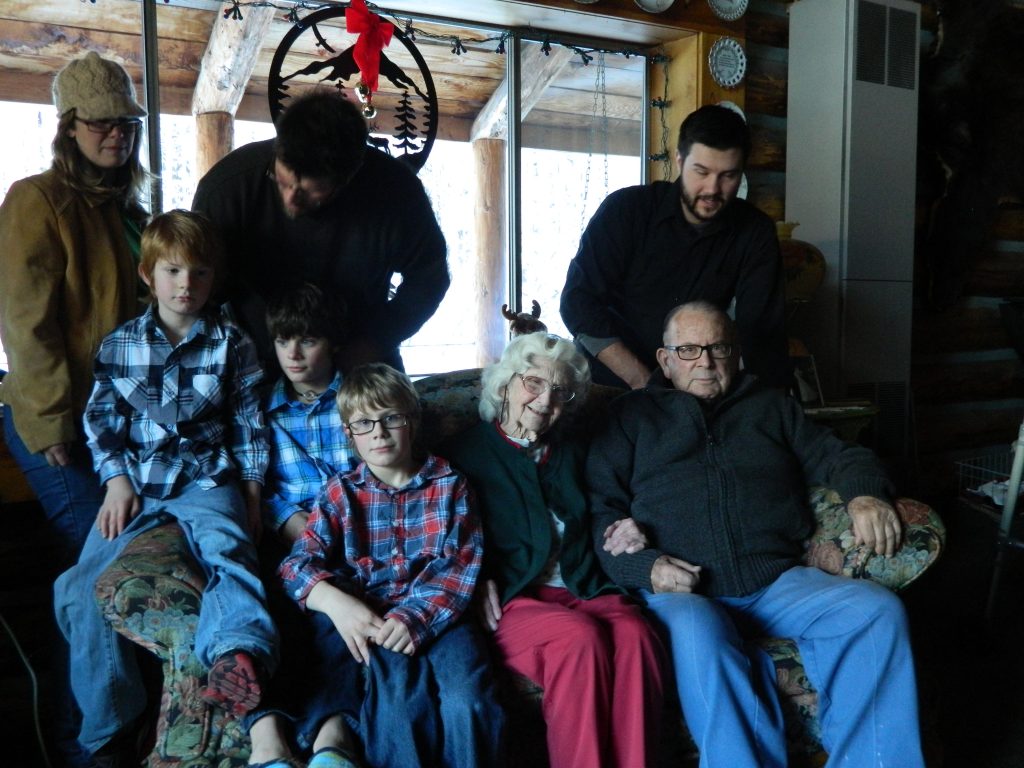 I have about ten different pictures of us trying to pose for the camp Christmas card here, but in this one, Autumn is laughing as Scruffy and I attempt to wrangle our rowdy boys. So many children called her "Grandma." Her own eleven grandchildren, twenty great grandchildren, and three great great grandchildren as well as the innumerable young people who felt the warmth of her love and care when they met her at camp or were invited into her home.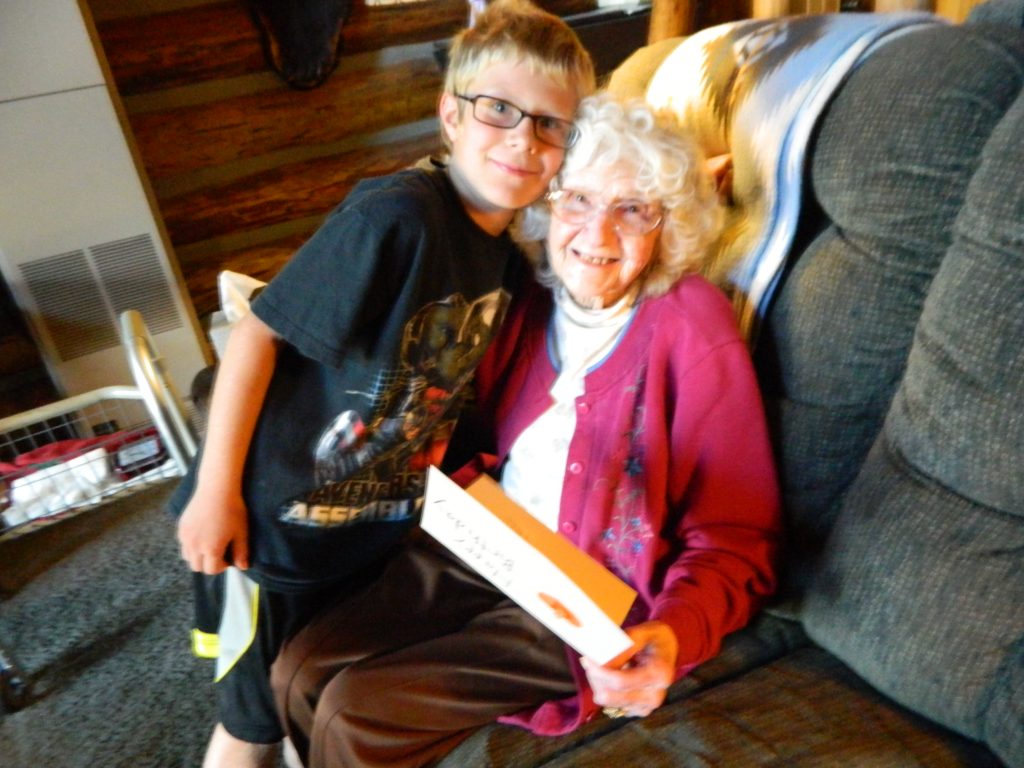 Autumn was known for serving amazing, home-cooked meals on blue willow china and urging passing children to take a candy from their special cut-glass dish, whether their mothers thought they needed a candy or not! Here she is on her 90th birthday, celebrating with family in their log home near the camp.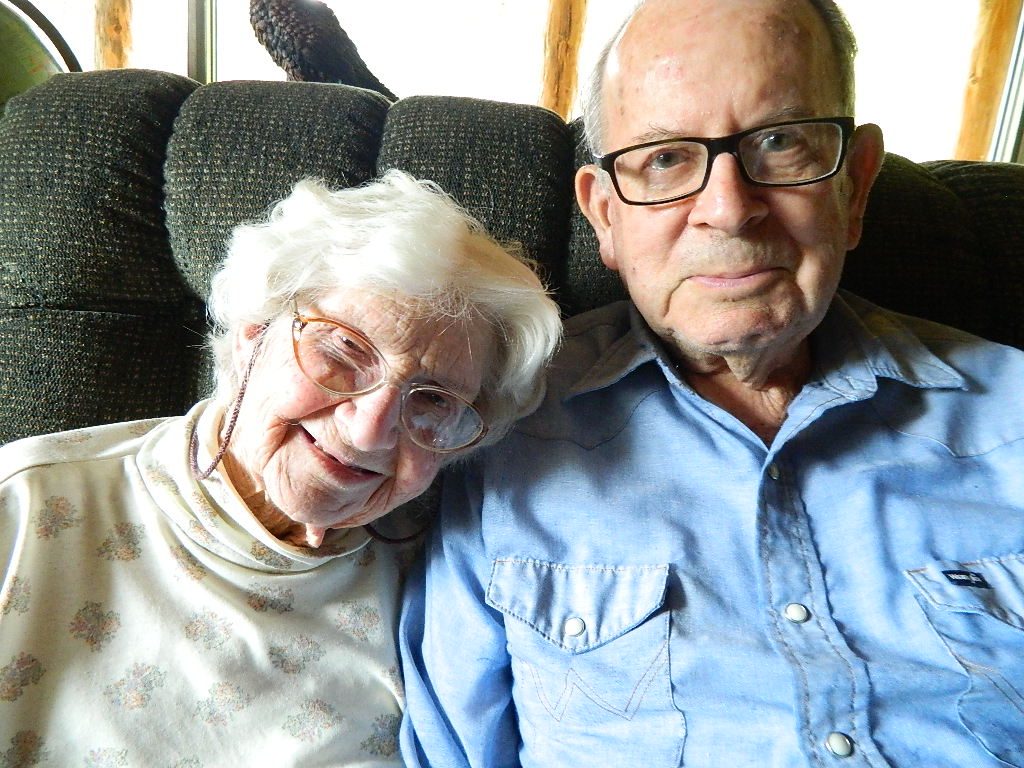 Autumn and Del celebrated 75 amazing years together in July. This photo was taken just a few days before the big day. An amazing group of friends and family made it possible for Autumn to stay in their beautiful log home until her very last day. It is fitting that she would depart to meet her Lord from the place where she spread His love for so many years. Whether it was a cup of tea and a story, homemade cinnamon toast baked in the oven for a cold child rushing in from outdoor play, or simply a smile and pat on the hand, Autumn brought the brightness of Heaven into whatever she set her hand to do. She is surely rejoicing with Jesus today and all of us who knew her, loved her dearly, and wish her well as she embarks on new adventures with her Lord.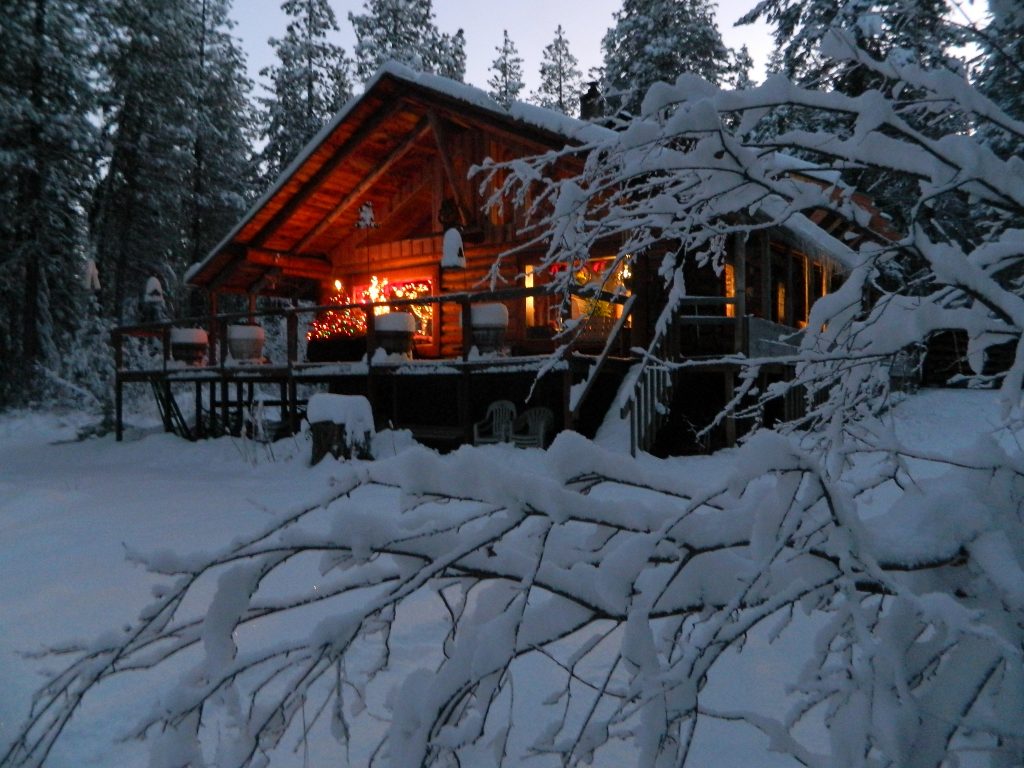 A funeral service will be held at Telfords Chapel of the Valley 302 9th St. Wenatchee, WA at 2:00 pm Thursday March 8th. The family will be greeting friends and relatives at Camas Meadows Bible Camp at 5:00 pm that evening for a potluck get-together. Burial will follow the funeral at Evergreen Cemetery in East Wenachee.
If attending the potluck, those whose last names begin with A–L please bring a main dish, M–S please bring a salad, and T–Z please bring a dessert. Thank you so much!
In lieu of flowers the family requests memorial donations be made to Camas Meadows Bible Camp, P.O. Box 304 Cashmere, WA 98815.