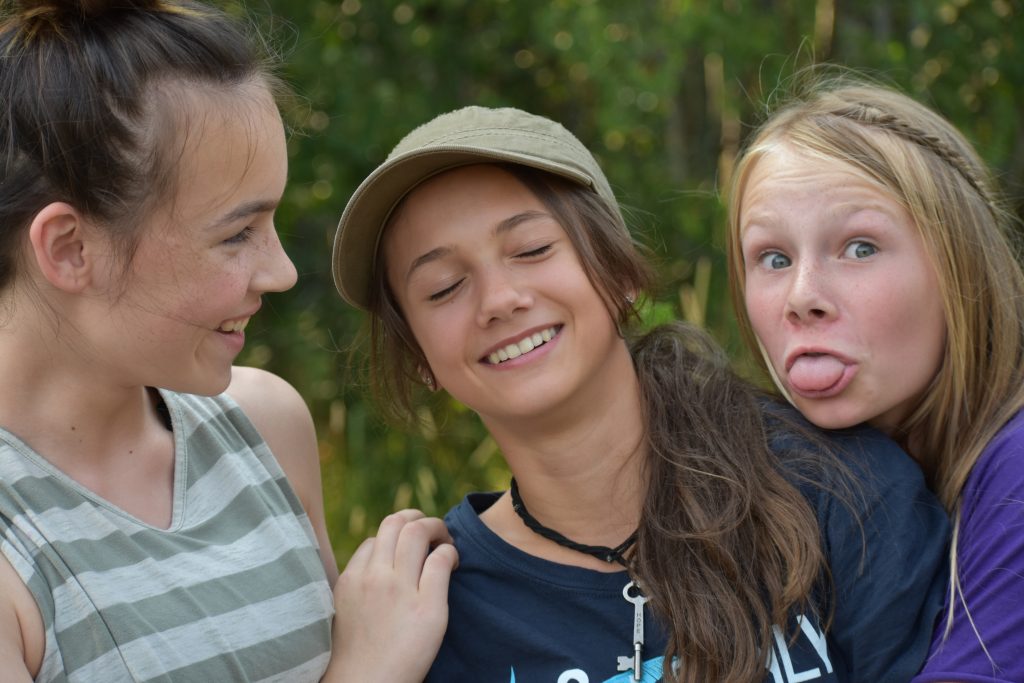 Much preparation and thought goes into a week of summer camp ministry.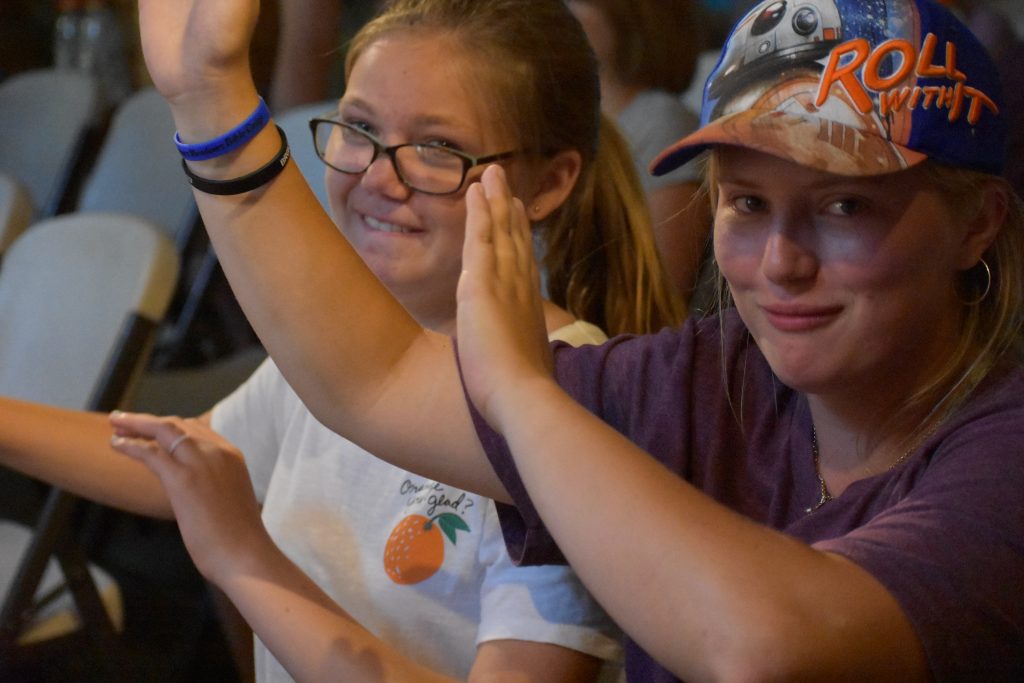 Whether it is learning how to do all those tricky hand motions for the fast songs.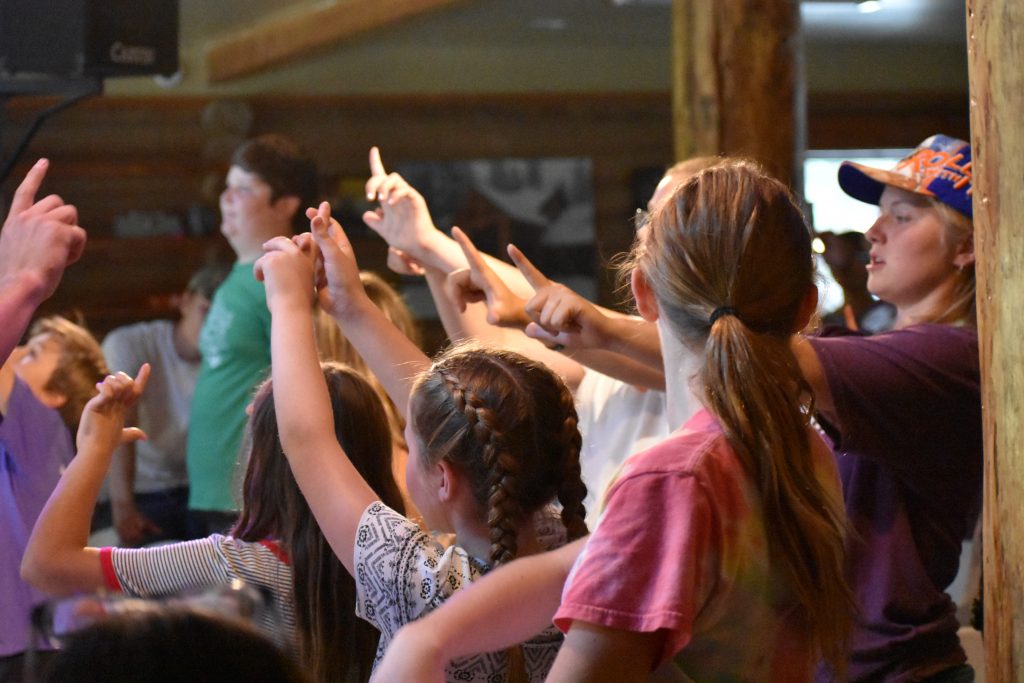 Yes, you have to be able to tell right from left.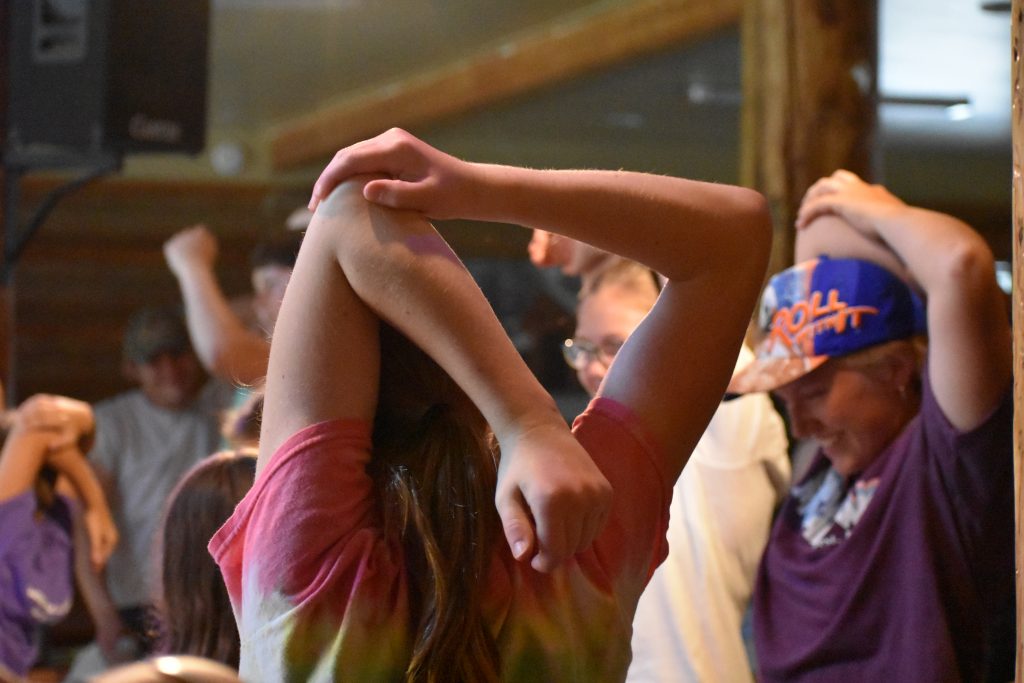 And you better stretch out before the songs start. A hand-motion-related-injury is the last thing one wants to begin a week of camp with.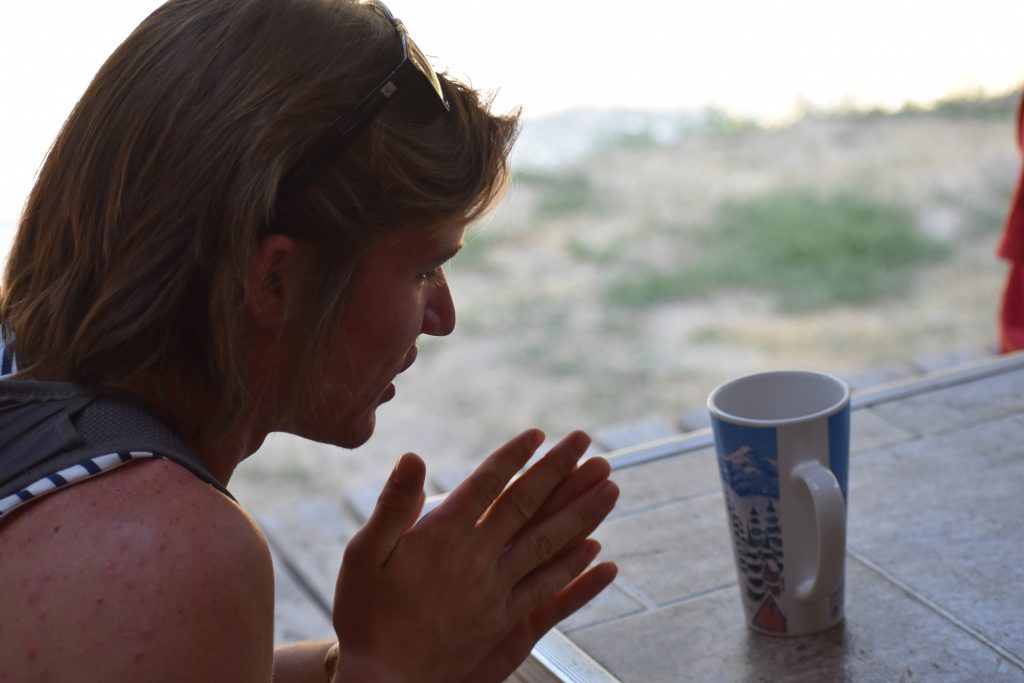 Or bravely leading your cabin of incredibly rowdy twelve-year-old boys in prayer on that first day, knowing that it will truly be an act of God if they sit long enough to discuss David and Goliath and the giants that we find in our lives.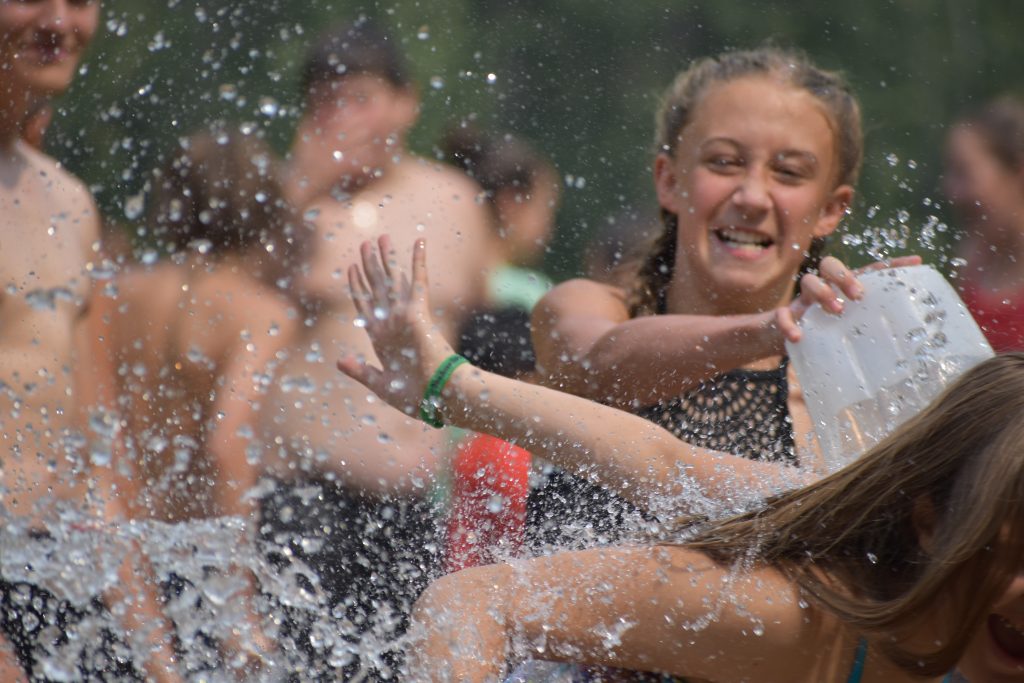 Thankfully, acts of God are not unheard of at camp.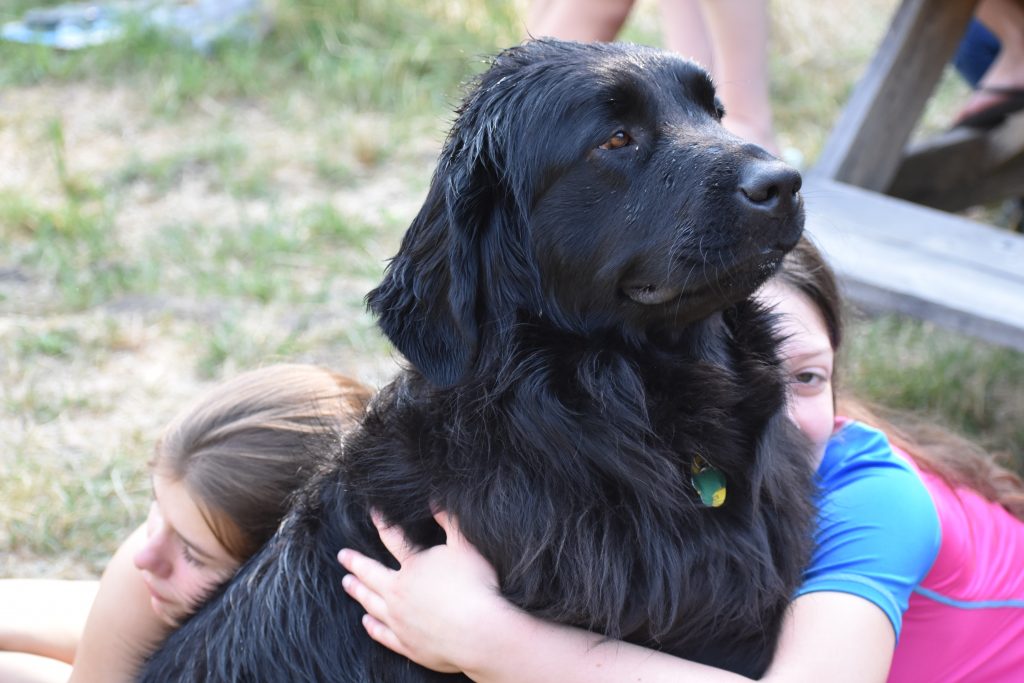 Even Leia had some preparatory work to accomplish. She practiced giving warm fuzzy hugs.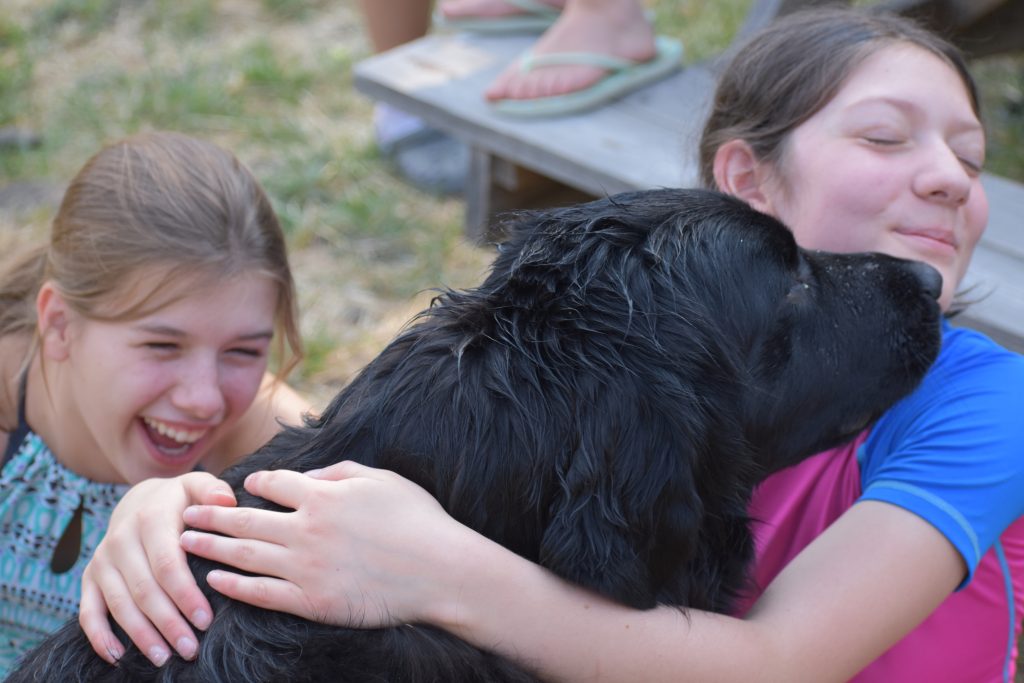 And even warmer, sloppy kisses!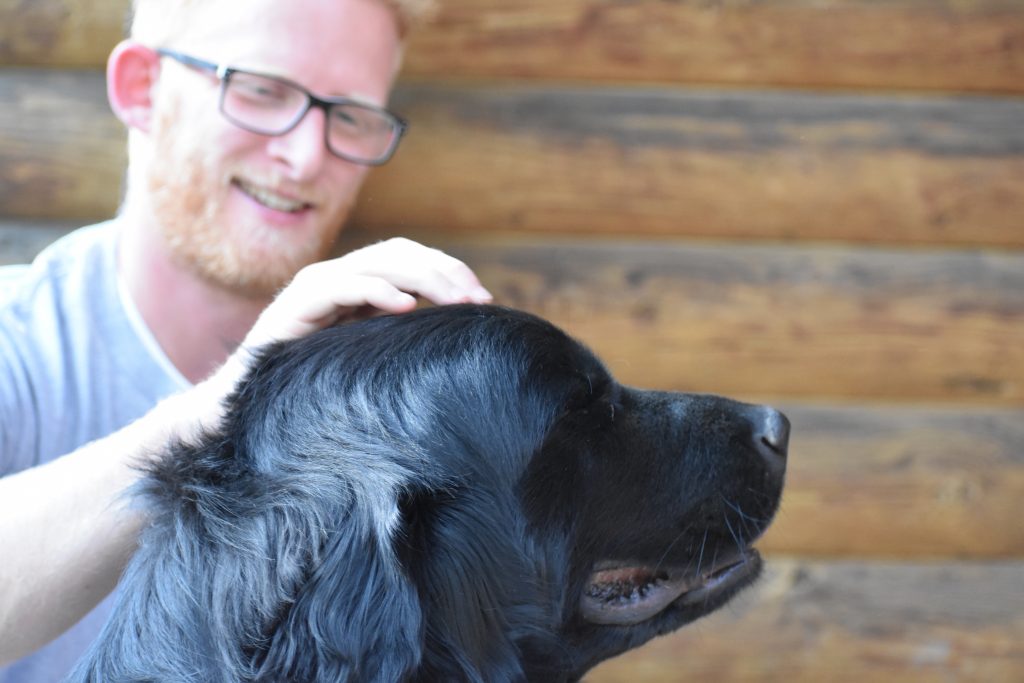 Our speaker this week was Ian "Faramir" Ross and yes, he spoke about giants.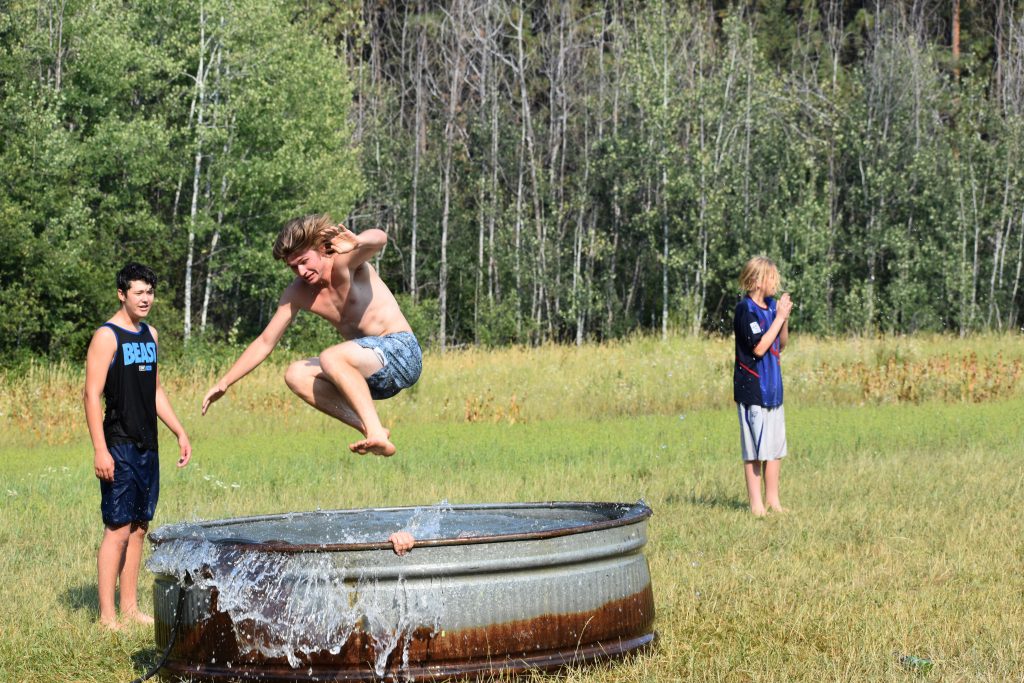 Spend a few minutes talking with a Jr. High kid and you will be struck anew concerning the many tall and treacherous difficulties that our children face today.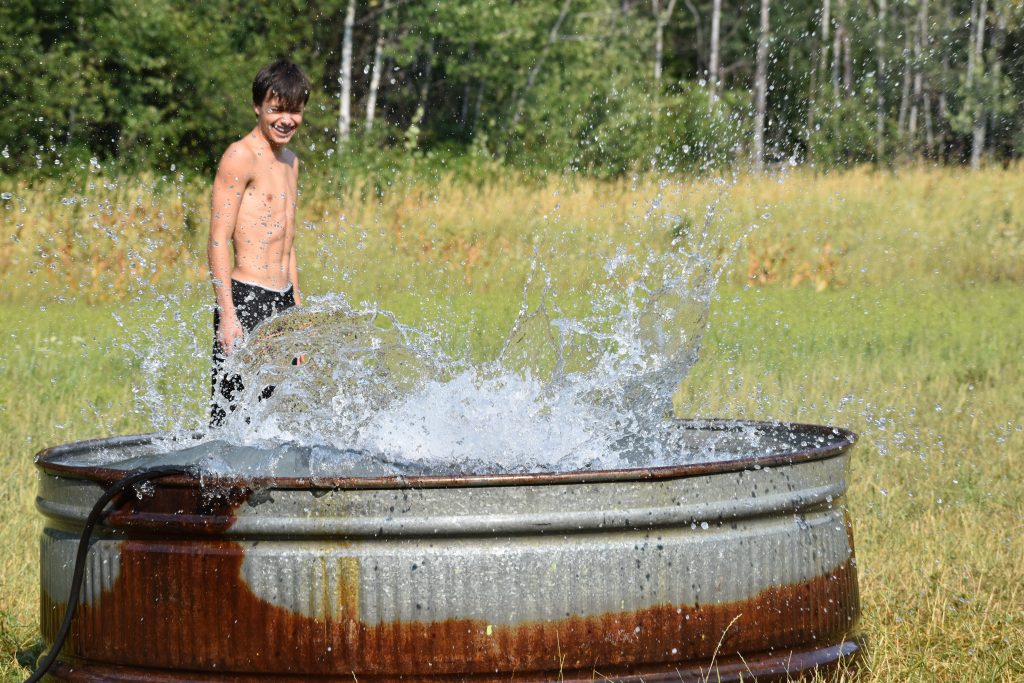 But just because we face giants, does not mean that we stand alone.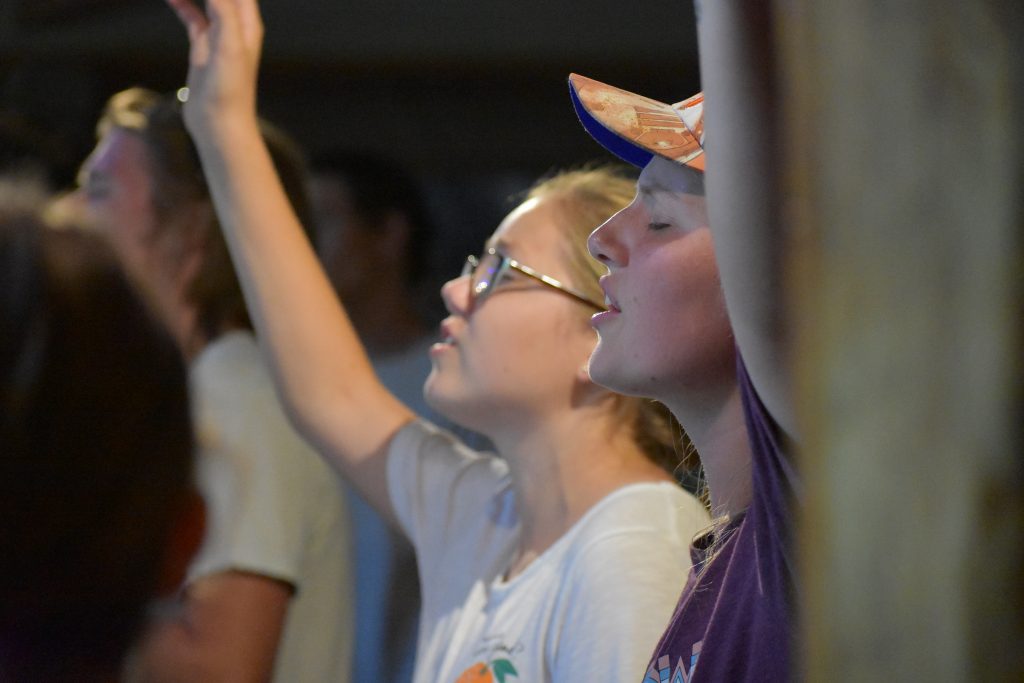 Yes, we made all kinds of preparations before the campers arrived. From fueling up the camp bus, doing laundry, prepping a delicious meal, and making cabin assignments, to pulling thistles in the camp lawn.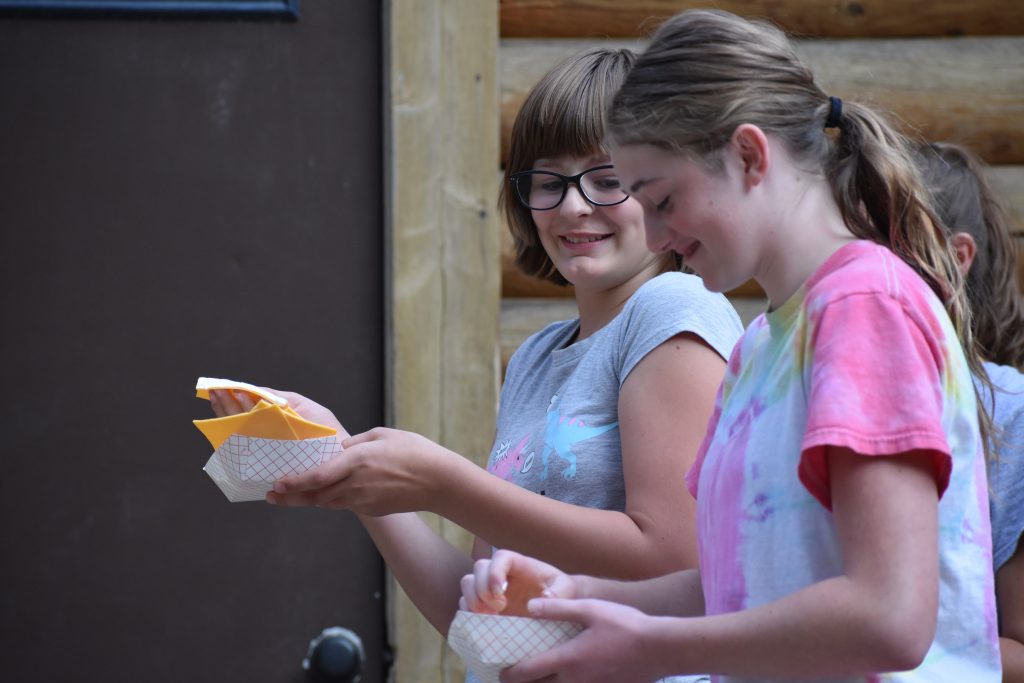 But in the end, we must simply do all that we can and then pray that the Lord will show up and do His work among us.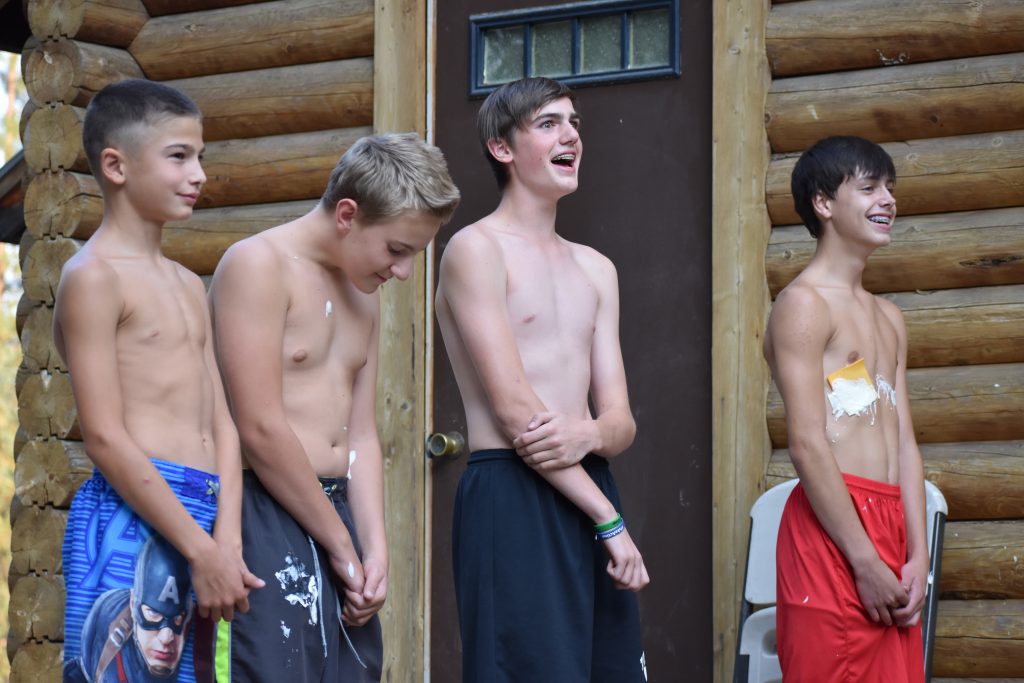 We are able to move mountains of gravel in order to fill potholes on the road and of course, train the counselors in the art of both leading cabin discussion and unplugging a toilet. But we are unable to choose whether or not another soul will follow God.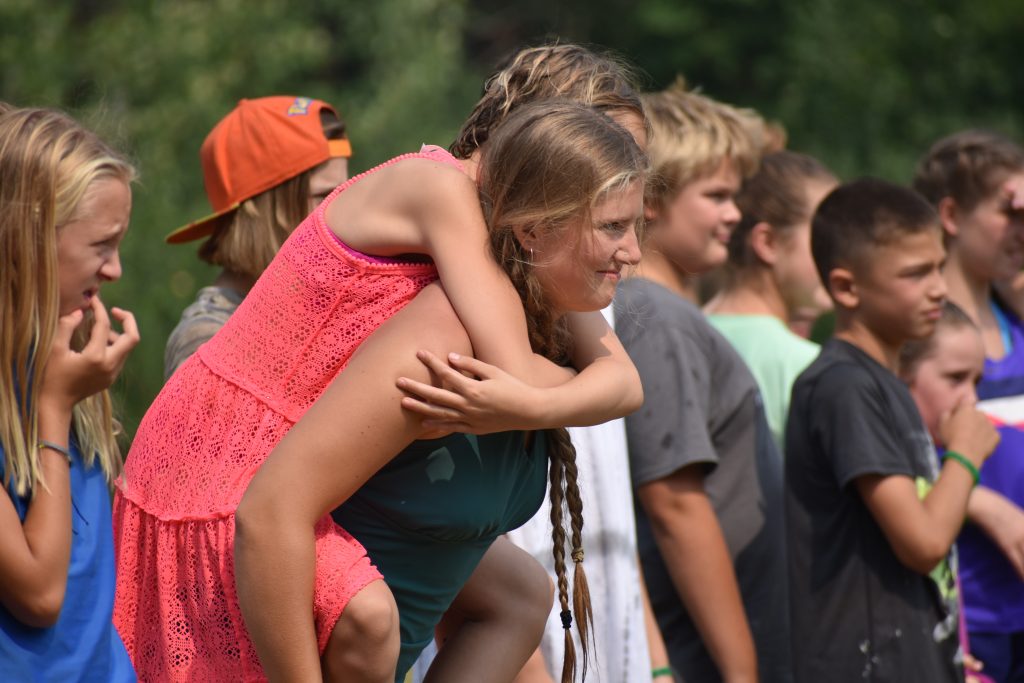 I saw a boy arrive at camp who kept his facial expression carefully guarded. Because I take the photos and am always waiting to capture those beautiful smiles, I notice their absence.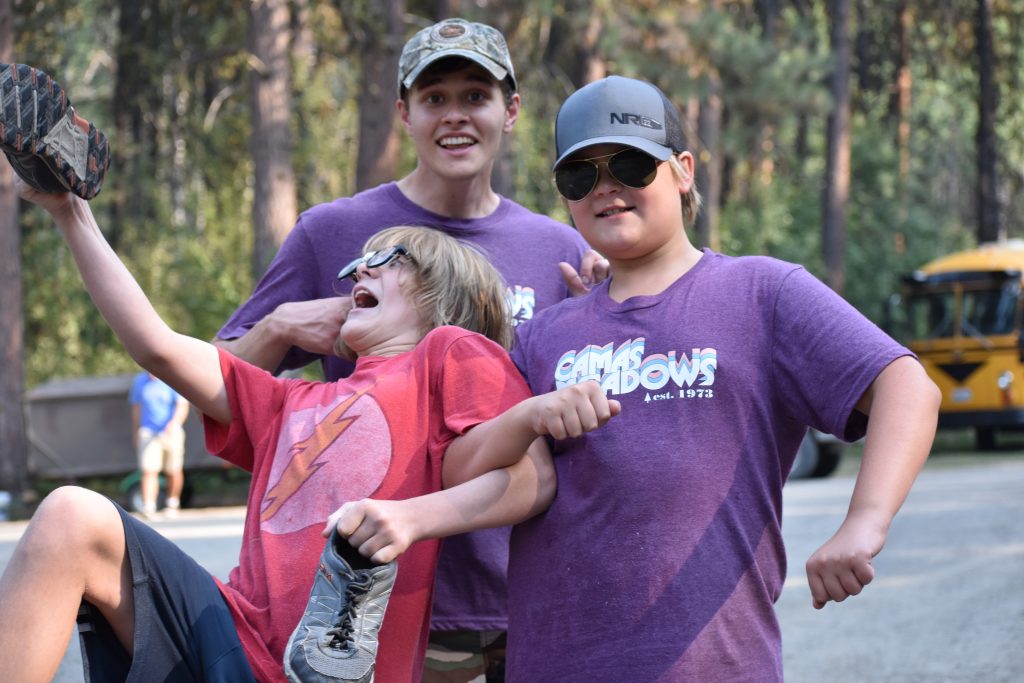 He played games, worshiped in chapel, participated in every activity, but he was careful to appear ever neutral. Not too happy. Not too sad. On the last day, he was as cautious as ever.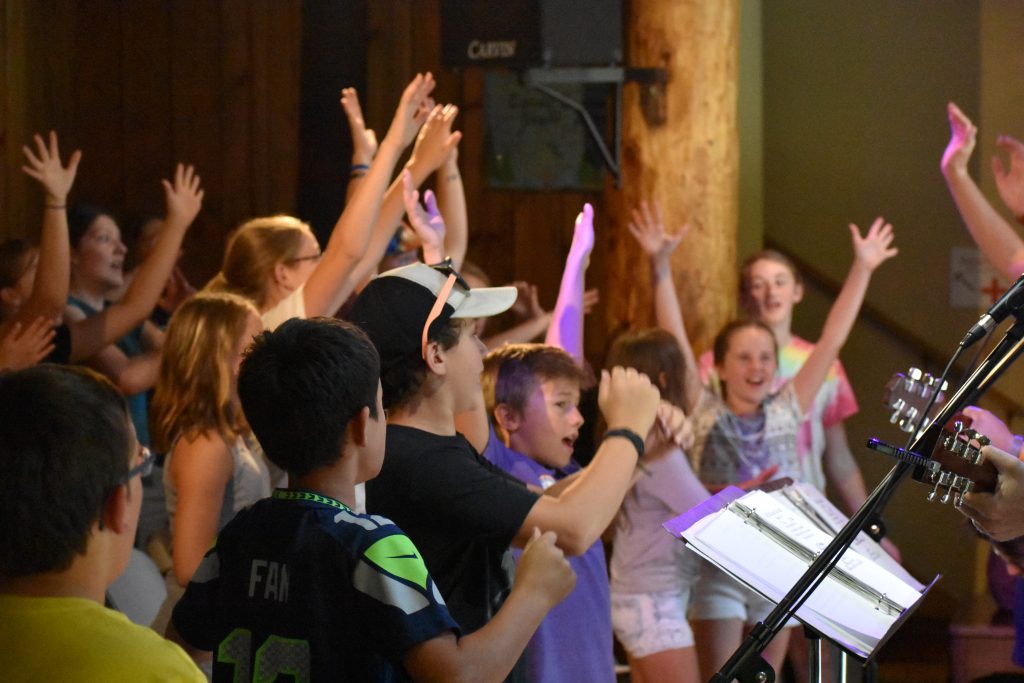 Then I watched him say goodbye to his cabin mates. They hugged and gave hi-fives and yes, finally I saw him smile. Not once, but each time he said farewell. He didn't know it at the time, but I knew that he was going to attend school with one of those same rowdy boys from his cabin. As I watched that rare and beautiful smile appear as they said goodbye, it reminded me that yes, God is aware of our hurts and needs and pleased to bless us in unexpected ways at unexpected times.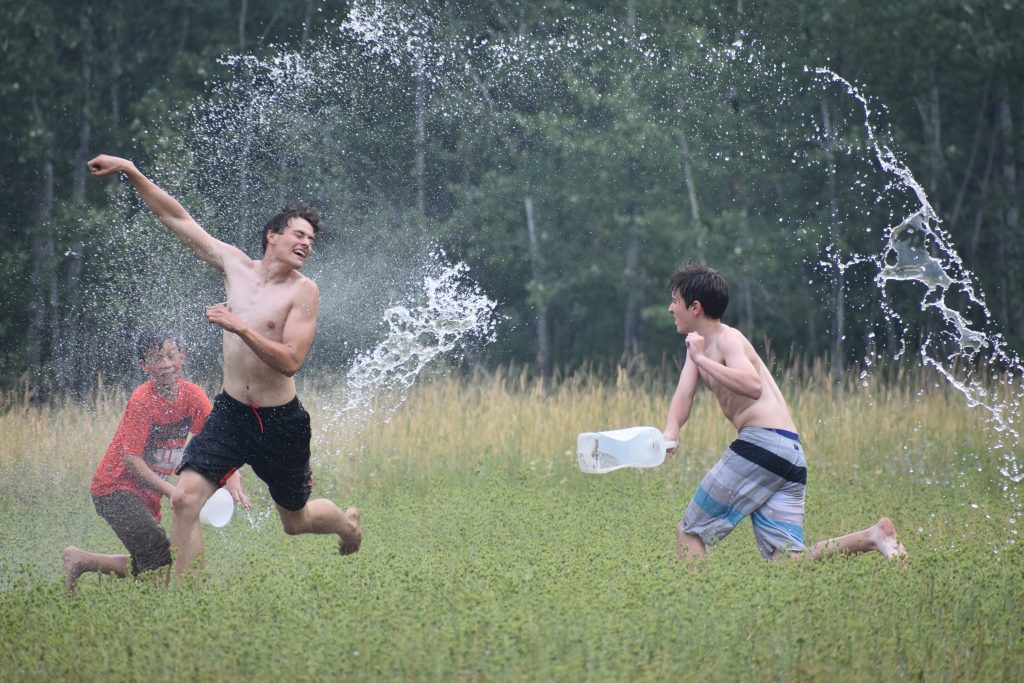 Daredevil became an unexpected blessing to Epona's cabin of girls when he inexplicably was dubbed "The Camp Grandpa." He is eighteen years old and not ailing in any way. Yet, this giggly flock of girls called him "Grandpa" and followed him everywhere.
They stole things from him and giggled, hid them and giggled, called him "Grandpa" a few more times and giggled. Much giggling occurred and Daredevil took it all in stride. In fact, becoming a grandfather at such a young age was one of the highlights of his week.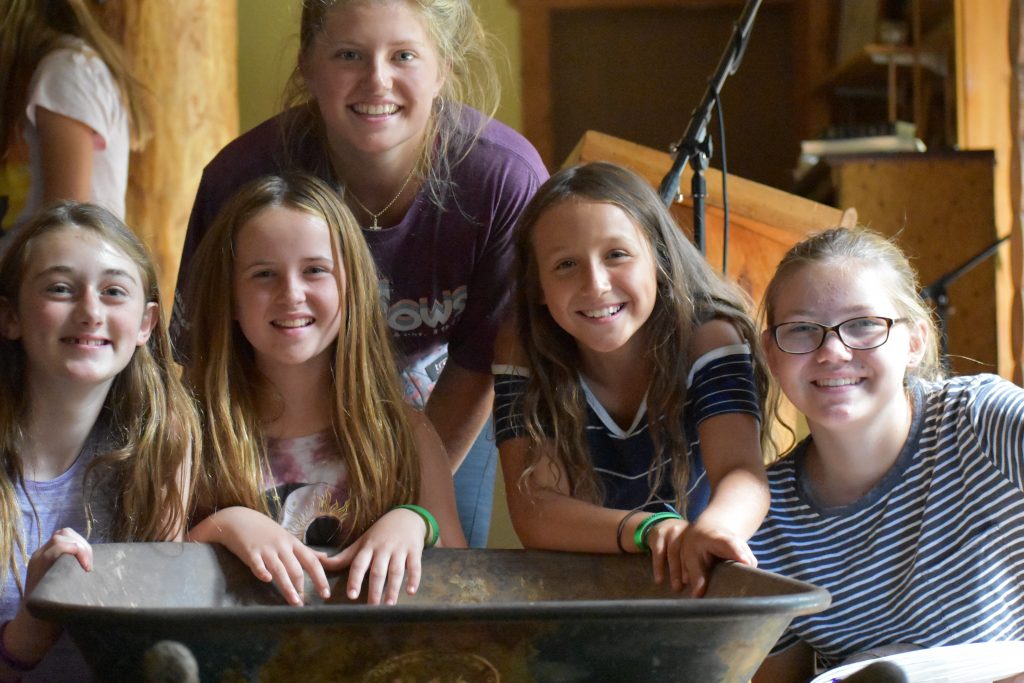 You never know what will touch a child's heart. One of the girl counselors darted into the pantry to get gluten-free food for one of her campers only to have the girl fling her arms around her and proclaim: "You're the best counselor ever!"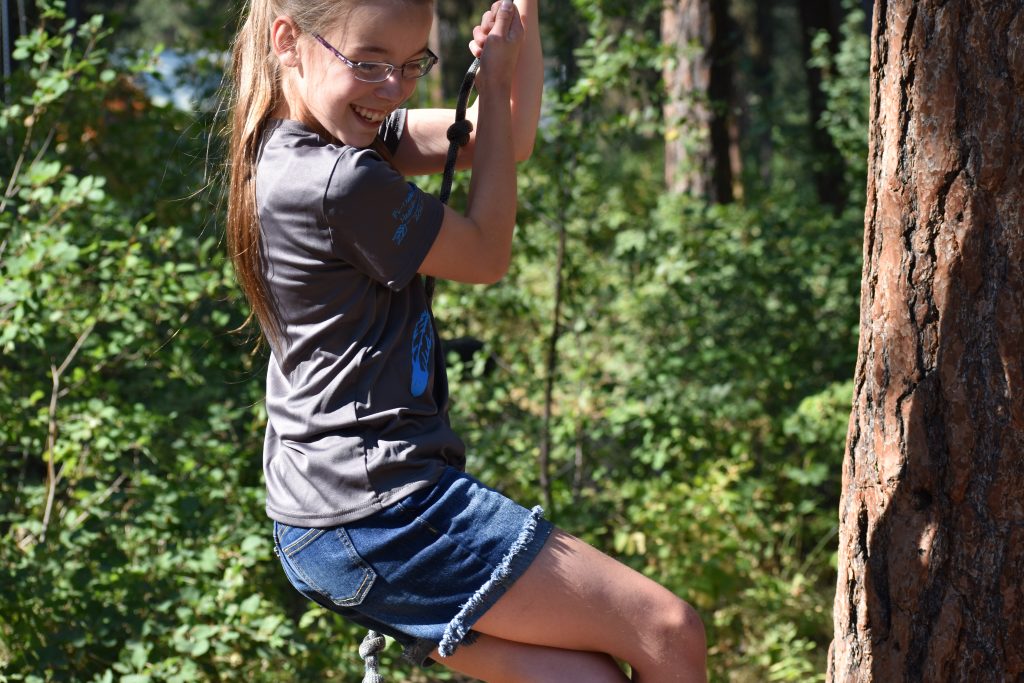 Another girl camper rode on 'Merica's shoulders during the night game since it was somewhat dark and the forest appeared daunting. He told her that he was the scariest thing in the woods and that all bears and grogs (the antagonists of that particular game) would flee his crashing approach (true info by the way). He toted her all over the place, at her beck and call for the entire game.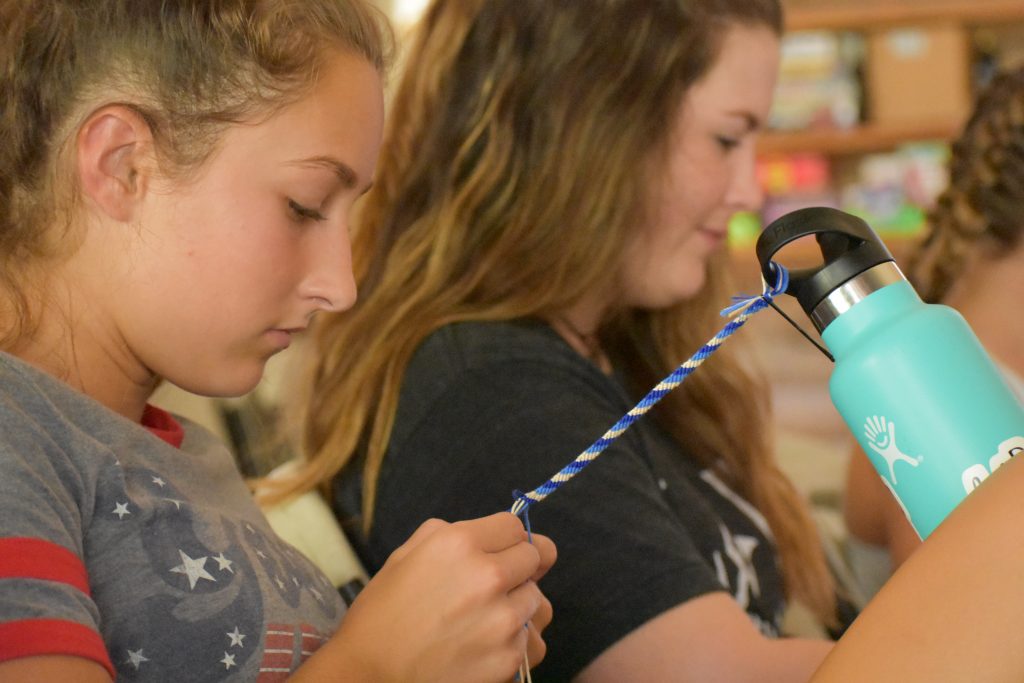 Whether leading deep and meaningful Bible studies with the support staff, Baptizing a younger sibling with the speaker, telling a personalized story at night that included every camper, or agreeing to sleep outside under the stars with the camp dog, I saw God at work using the faithful hands of a few teens and college age kids.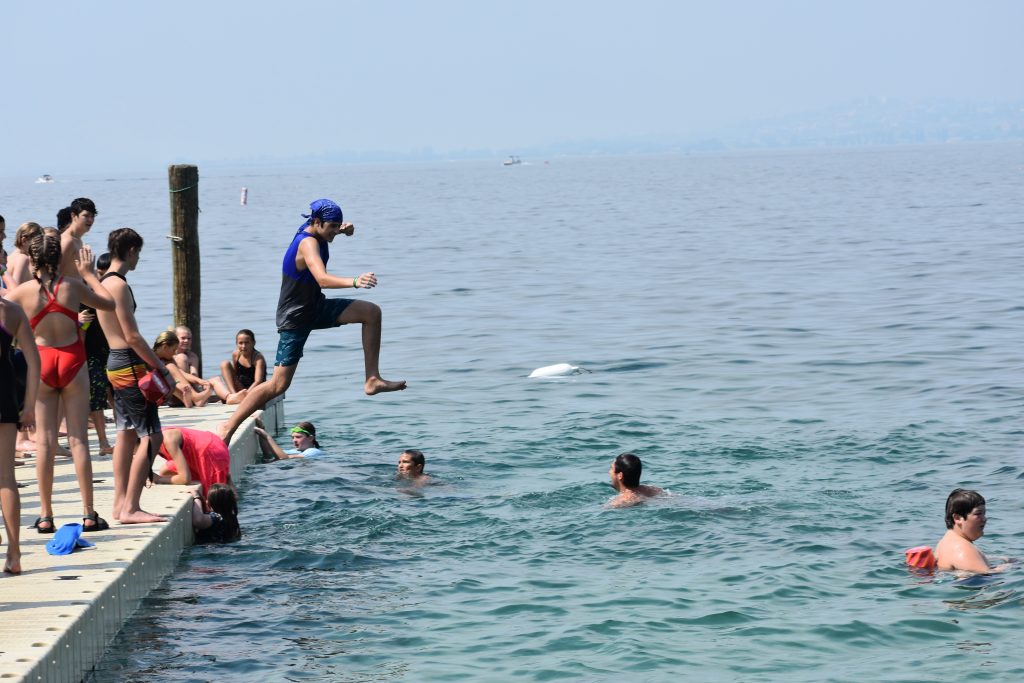 The Lord was beautiful to behold.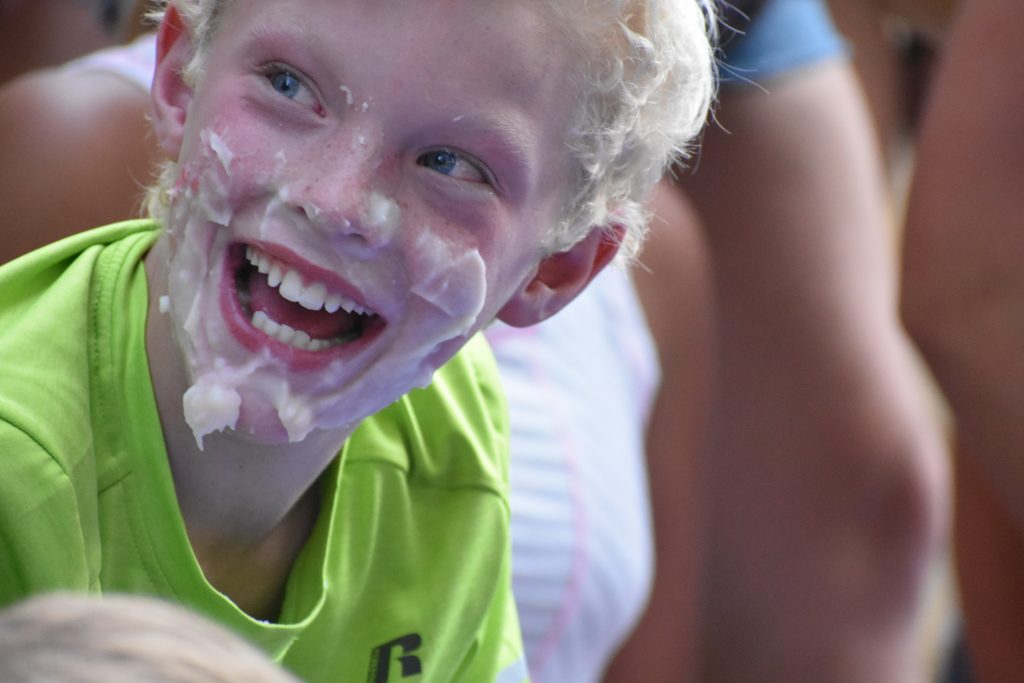 Sis, washed her campers' feet during one of their cabin discussions. Spontaneously, her girls demanded that they get the chance to wash her feet as well.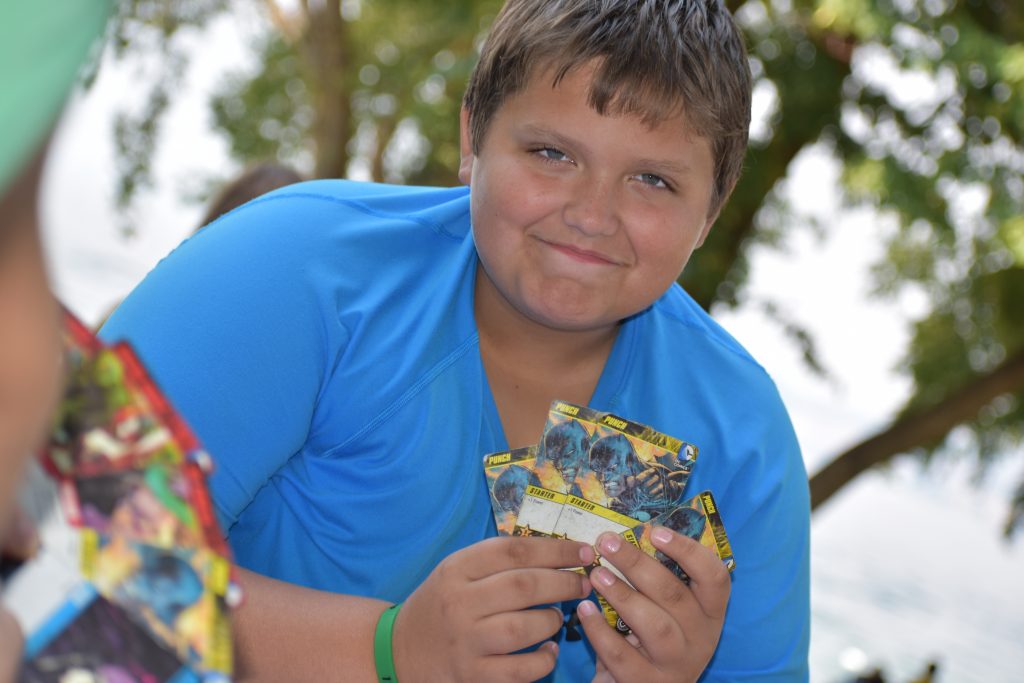 One of the girl cabins hiked to Inspiration Point to watch the sun rise. As their counselor watched them walking up the road, she realized that the cliques from Monday were gone. The girls were walking with new friends, including everyone in their group.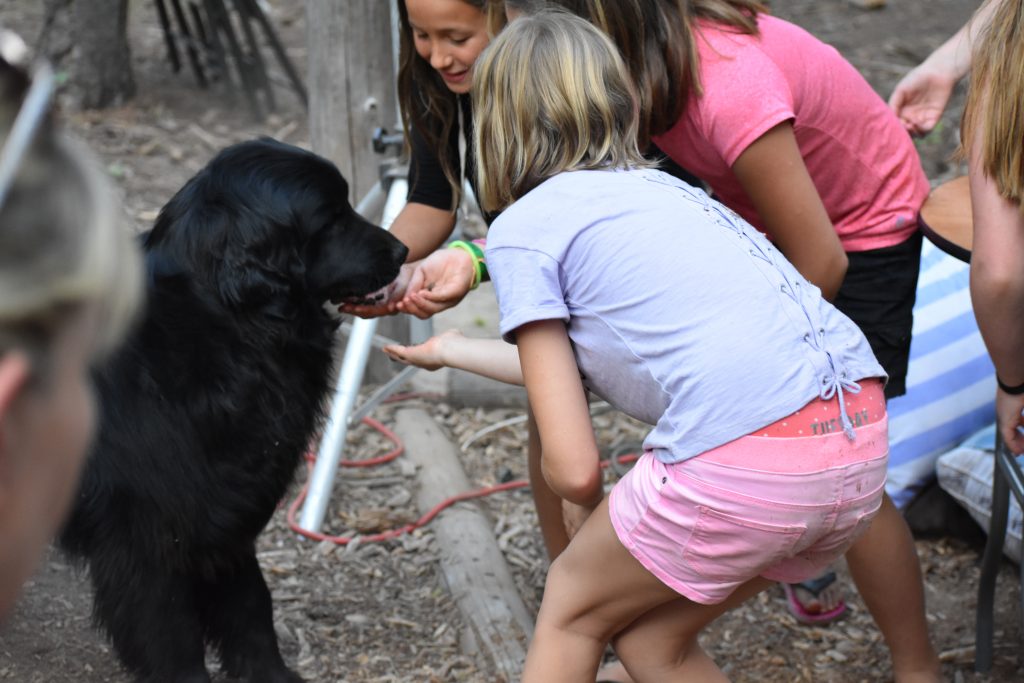 During the campfire (don't worry, we use glo-sticks when the fire danger is high) on the last night, I sat with my dog watching shooting stars fall from the sky. A little girl came and sat down beside me, patting the dog and taking in the expanse of the heavens above us. "My dream is to live up here, but I think it would be pretty expensive," she said.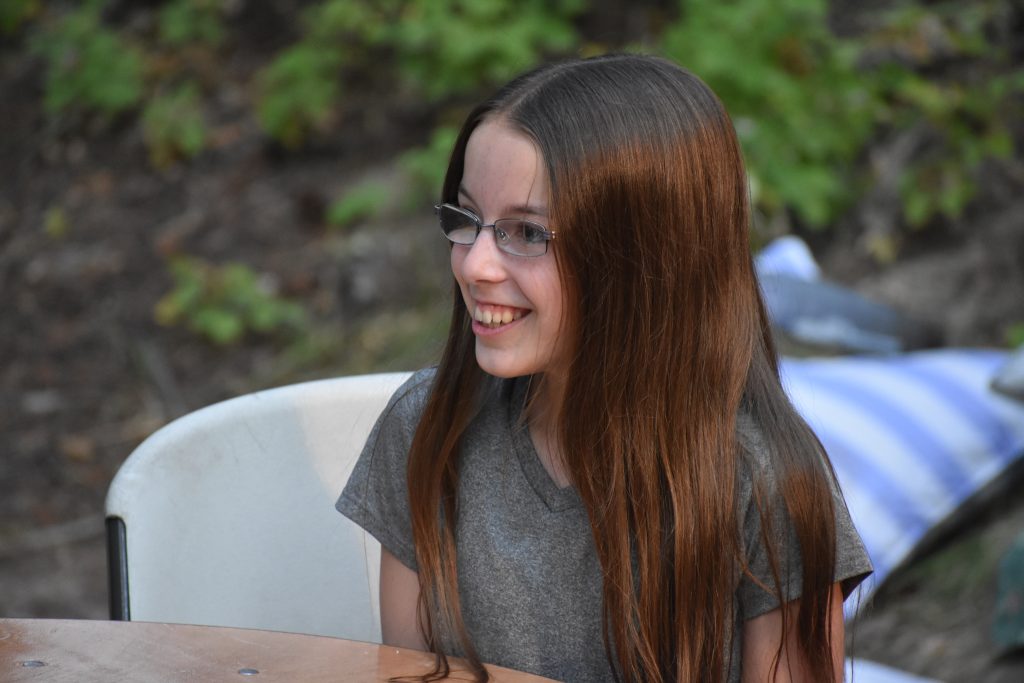 Sometimes it is expensive to live so far out in the forest. No one drives up to fix your power when the generator breaks, or the well, heaters, or toilets. Snow removal is a big part of every winter. Everything takes a thirty to forty-five minute drive reach.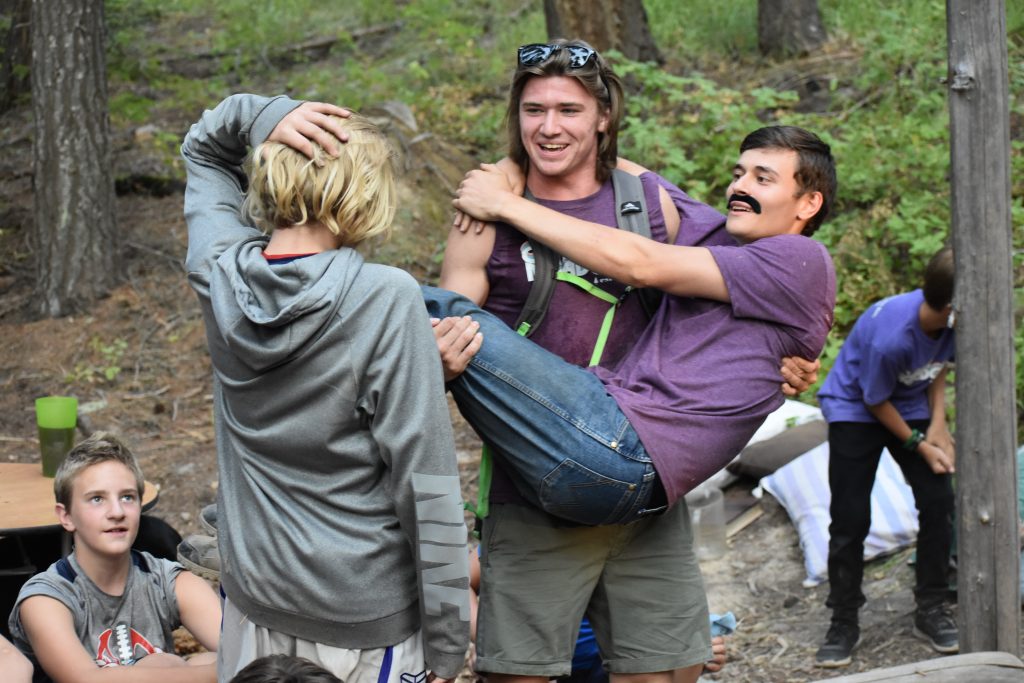 But Scruffy and I, Choco, and my grandparents would all have the same answer if you asked us about the cost. It is absolutely, without a doubt, worth every night spent without power, every long drive to get cough medicine, and every day shoveling snow.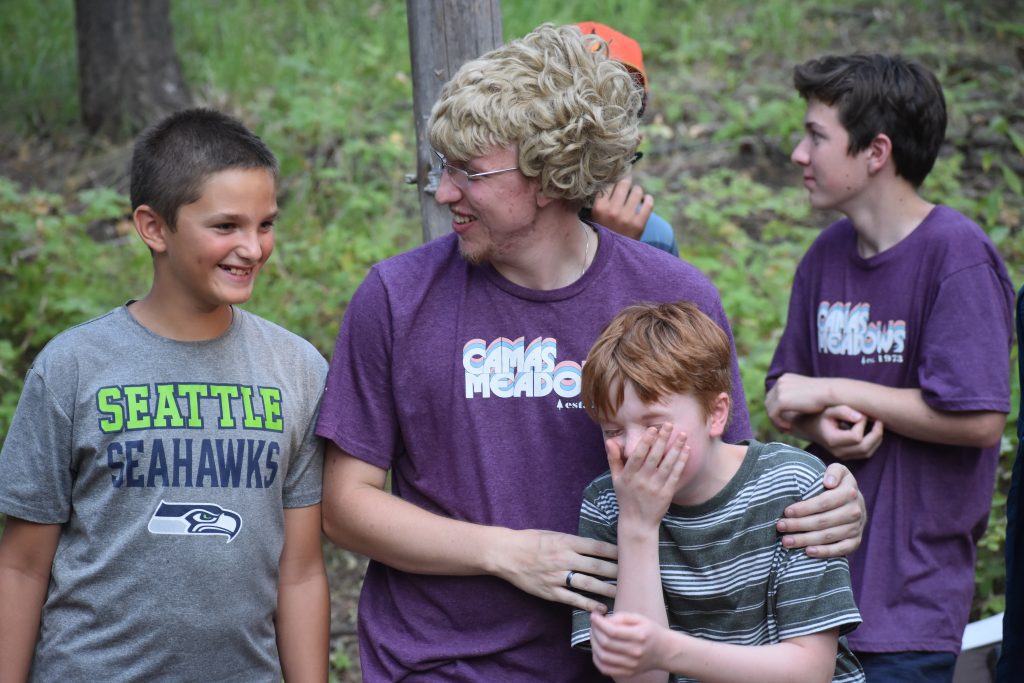 We have a front row seat to so many of the Lord's beautiful miracles.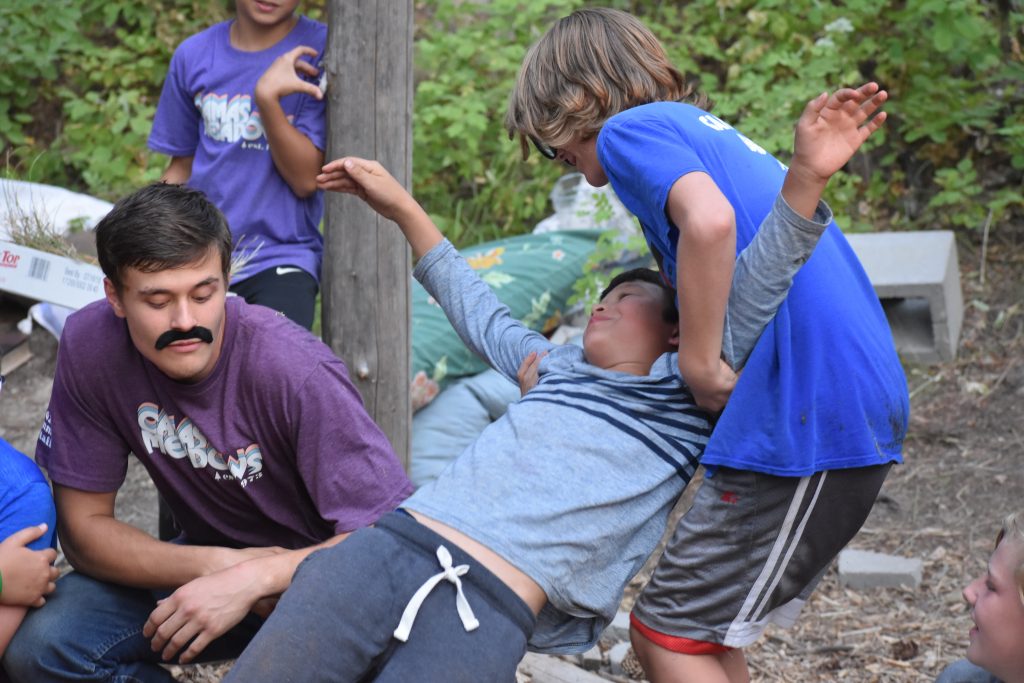 A couple of days into camp, one of our counselors began to get sick. Now, it is not uncommon to find oneself with a miserable cold after serving day and night among children. But this counselor had a sore throat that turned into a fever. Off to the Doctor he went, hastened there by Scruffy and the camp nurse.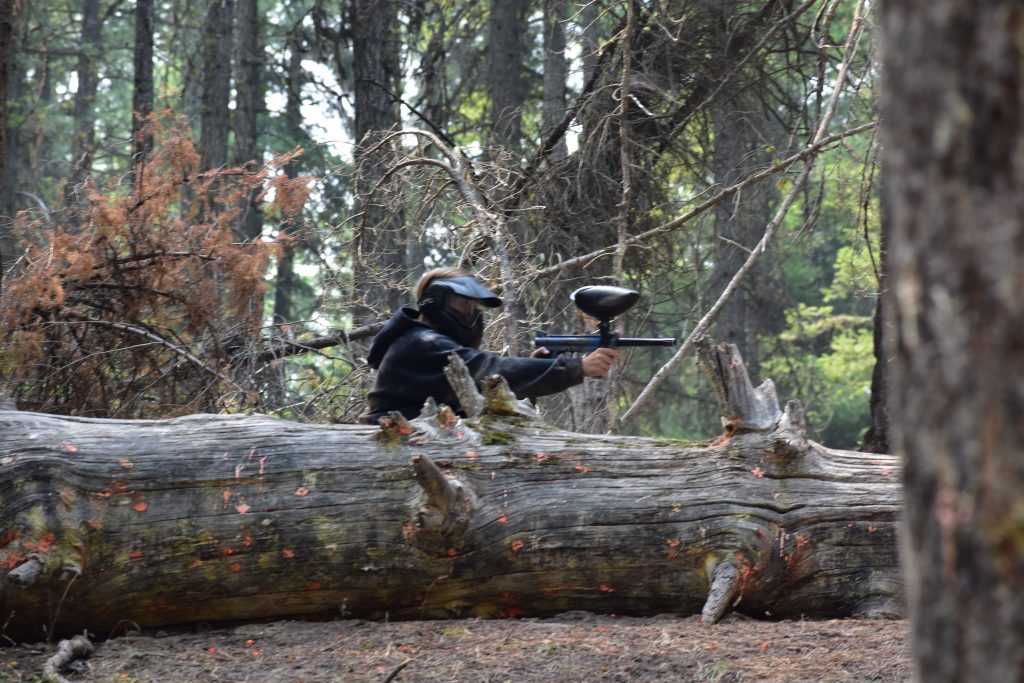 The counselor asked the Lord to heal him, so great was his wish to stay and finish out the week with his boys. The rest of the staff and I prayed for his healing as well, but so many times God asks us to struggle onward, as we are, plagues and pain and all. Yet, this counselor's symptoms went away. His strep throat test came back negative and he returned to his cabin, refreshed and able to lead.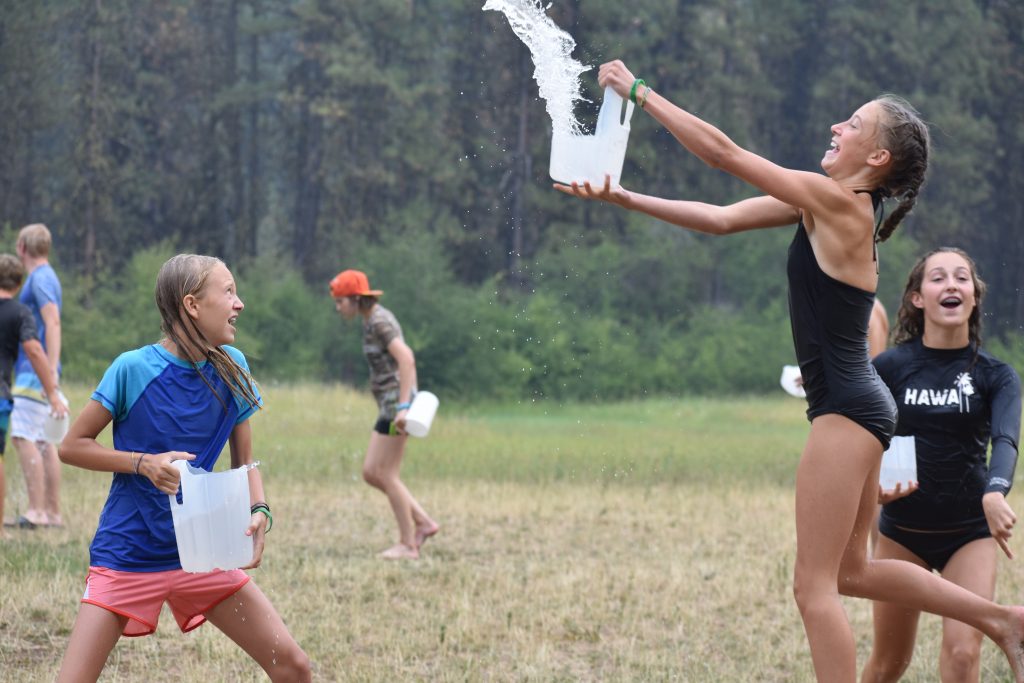 Three girls chose Jesus as their Lord this week. I gave away the last Bibles in the box that camp purchased to give out to new believers. Their counselors wrote notes inside the covers so that they would remember they are not alone in seeking after the Lord.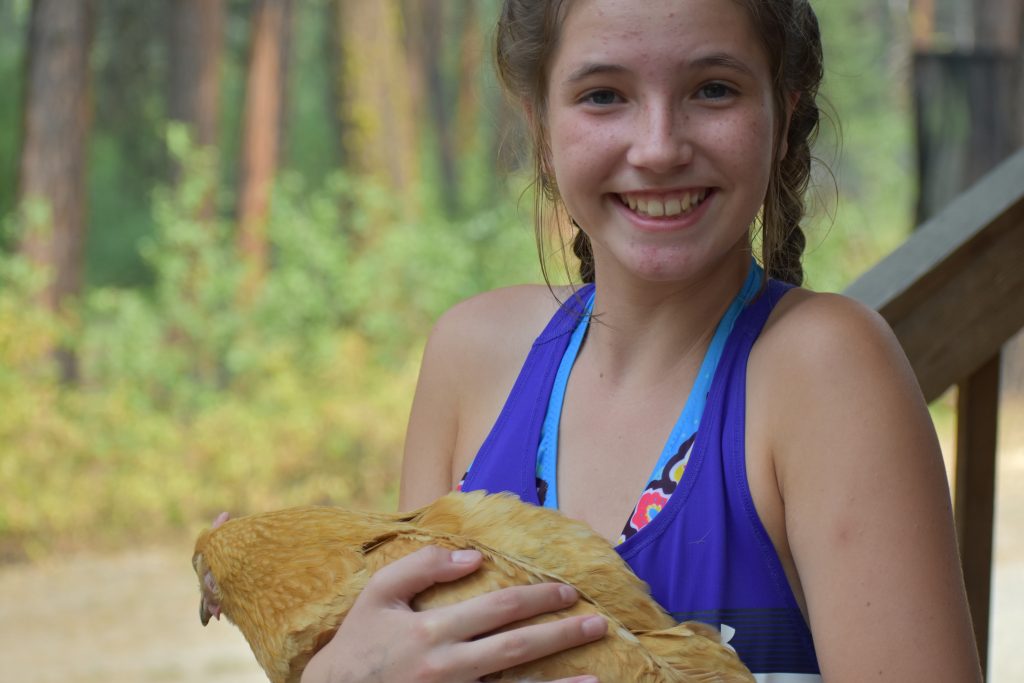 One of the counselors was there when his camper opened up a Bible for the very first time. He was able to teach another of his boys how to pray. These two young men both chose Jesus as their Lord. One of them went home early, with an action Bible of his own, but came back to be baptized. He told Scruffy that he'd read 100 pages in the short time that he was home!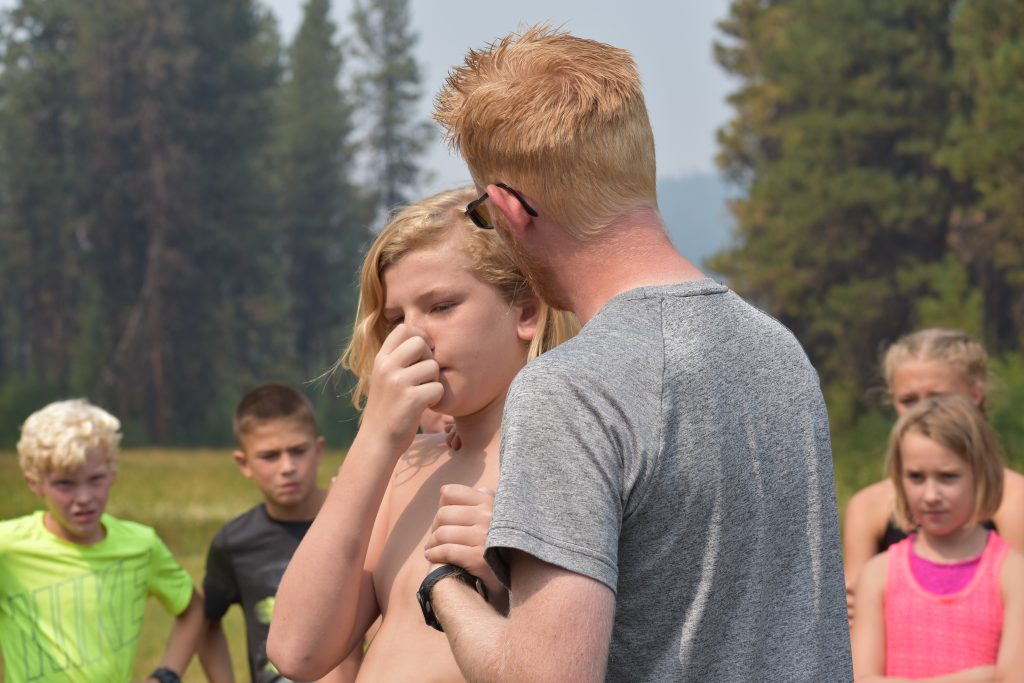 Let me finish with a few of the things that campers said during the campfire on Friday night.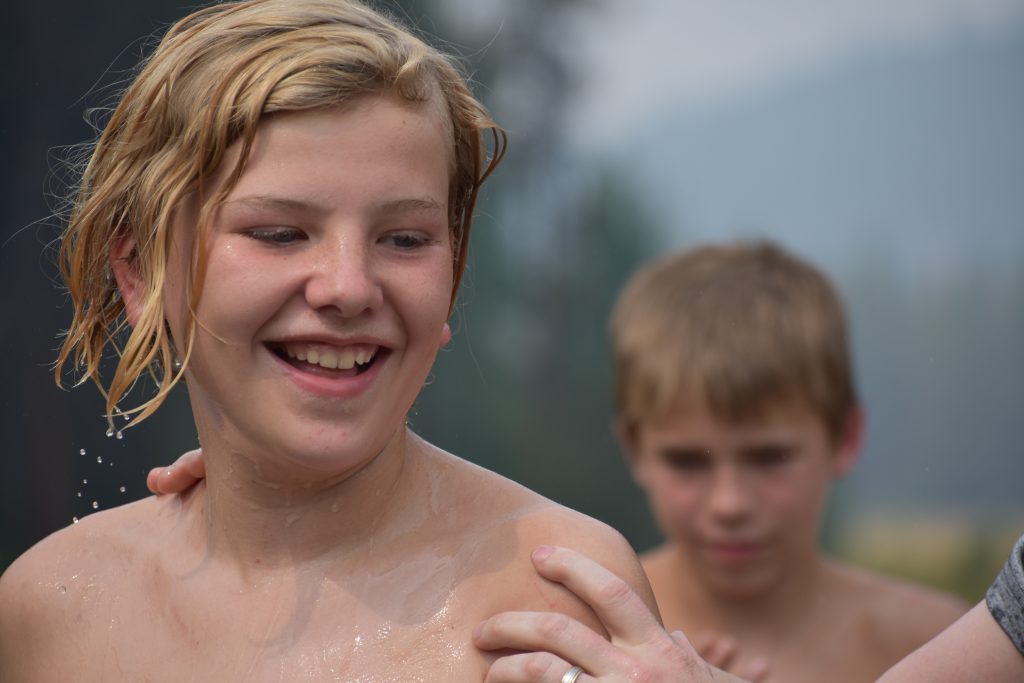 In between the beautiful sound of children singing worship songs, each one of these kids took a glo-stick from their counselor, stood before their peers to speak, cracked their glo-stick and then tossed it into the fire pit.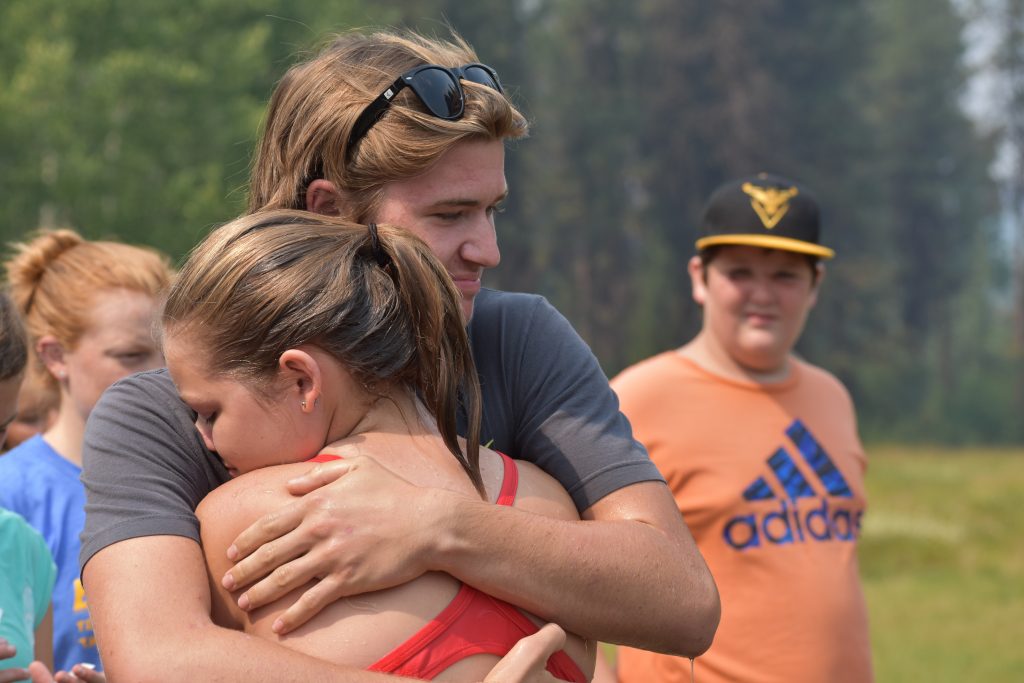 "This week I learned, you don't have to be perfect for God to love you."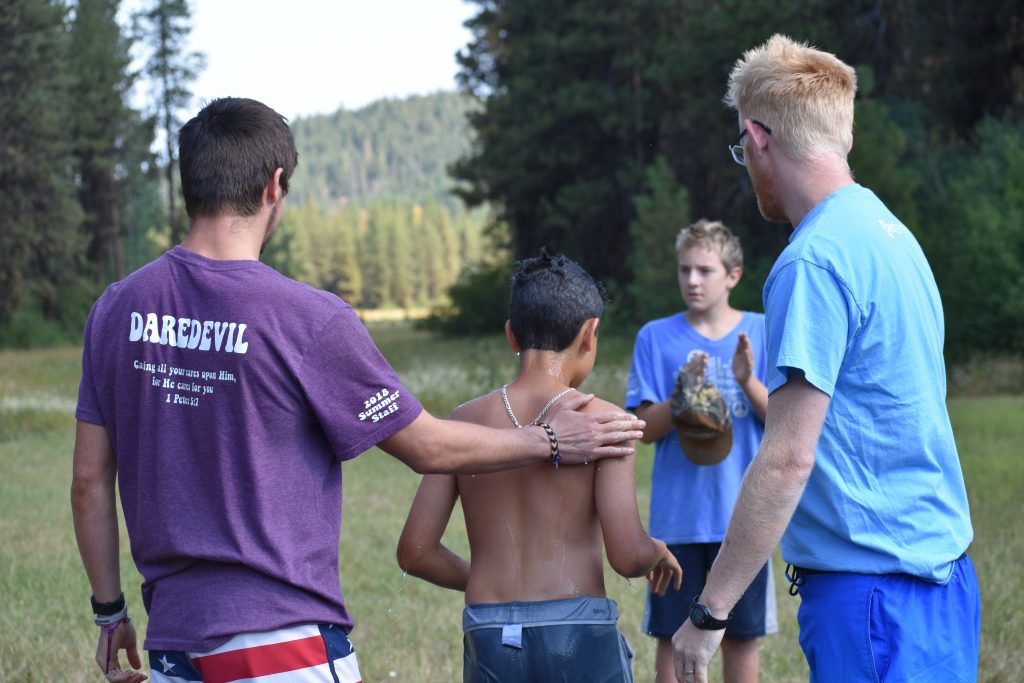 "This week I learned that getting to Heaven isn't about the good stuff or the bad stuff we've done. It's about knowing Jesus."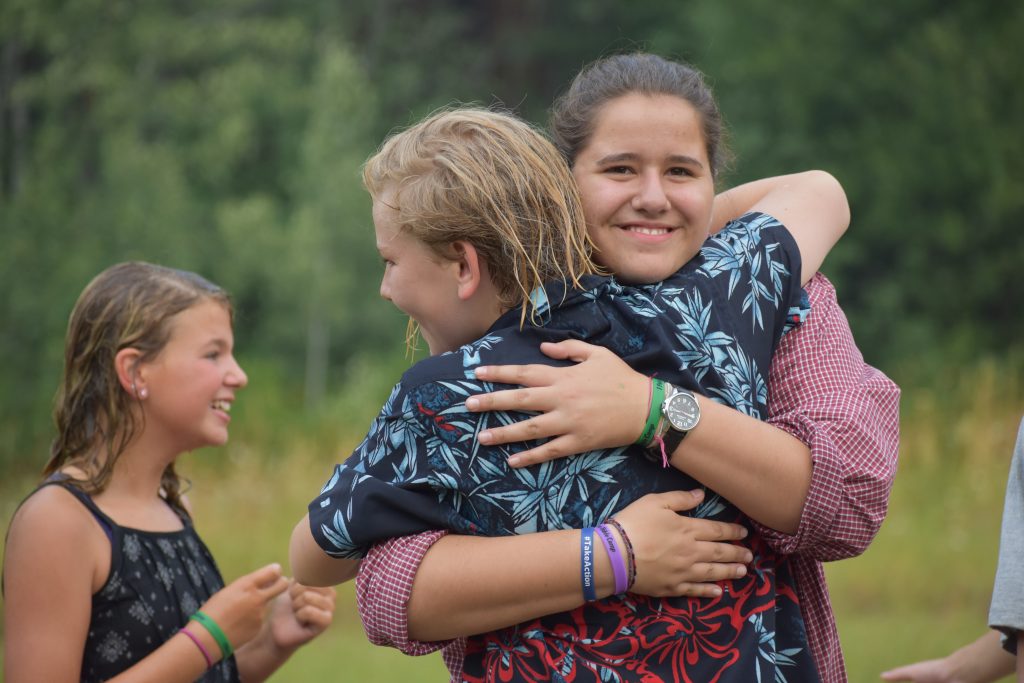 "I had this moment, talking with my friends on the way to Inspiration Point. Then it was silent and there were so many stars. I started to cry and just couldn't stop. It just struck me."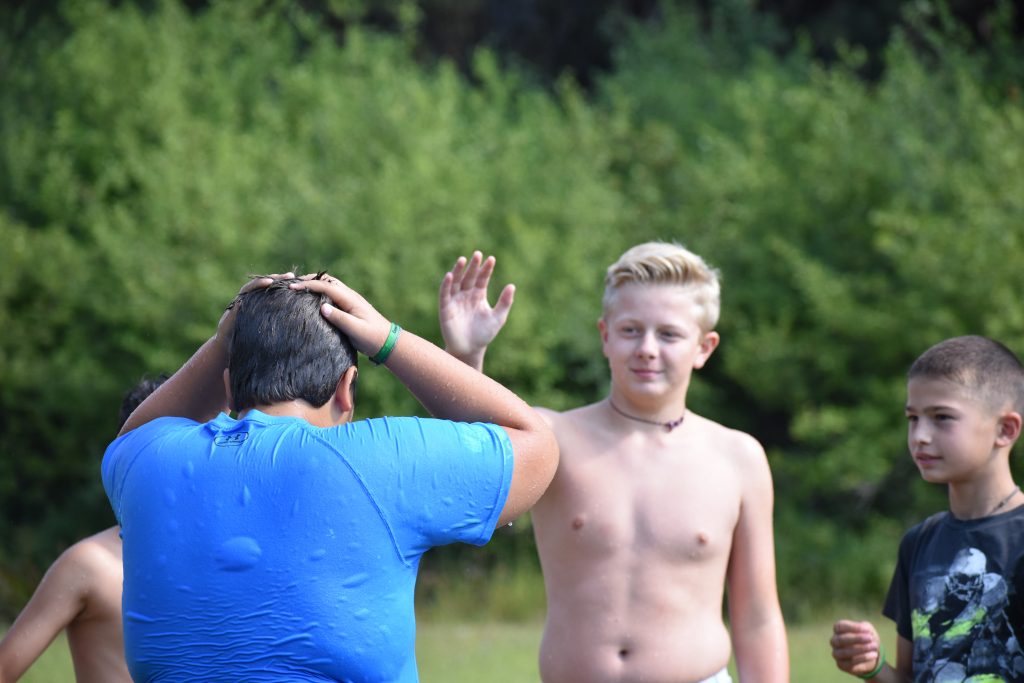 "I learned that God loves me."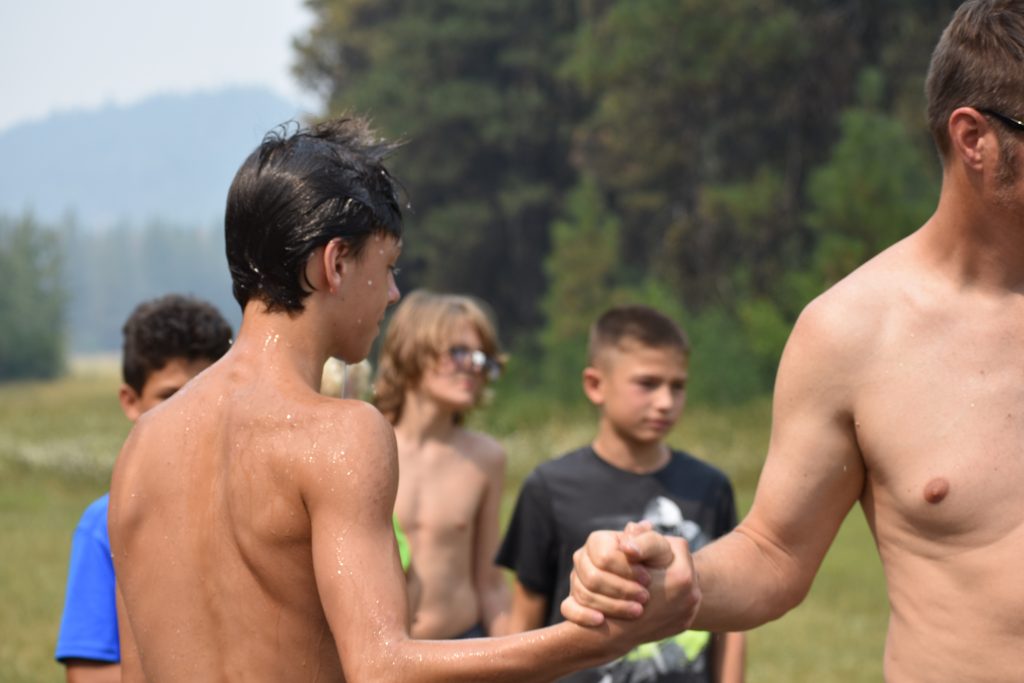 Matthew 25:40–"The King will reply, 'I tell you the truth, whatever you did for one of the least of these brothers of mine, you did for me."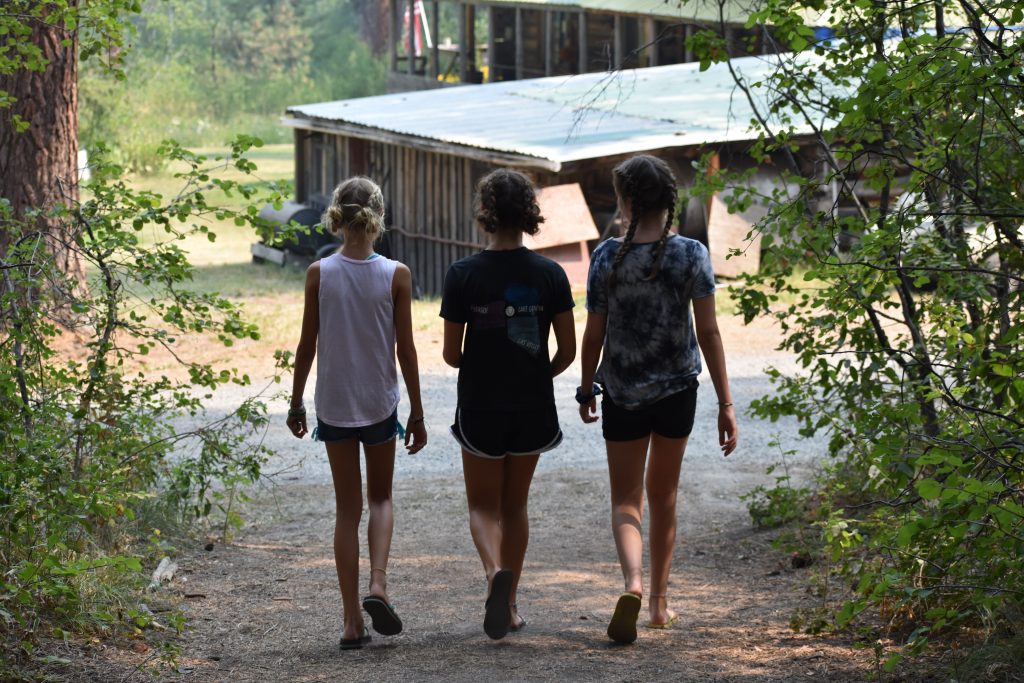 Boo Boo