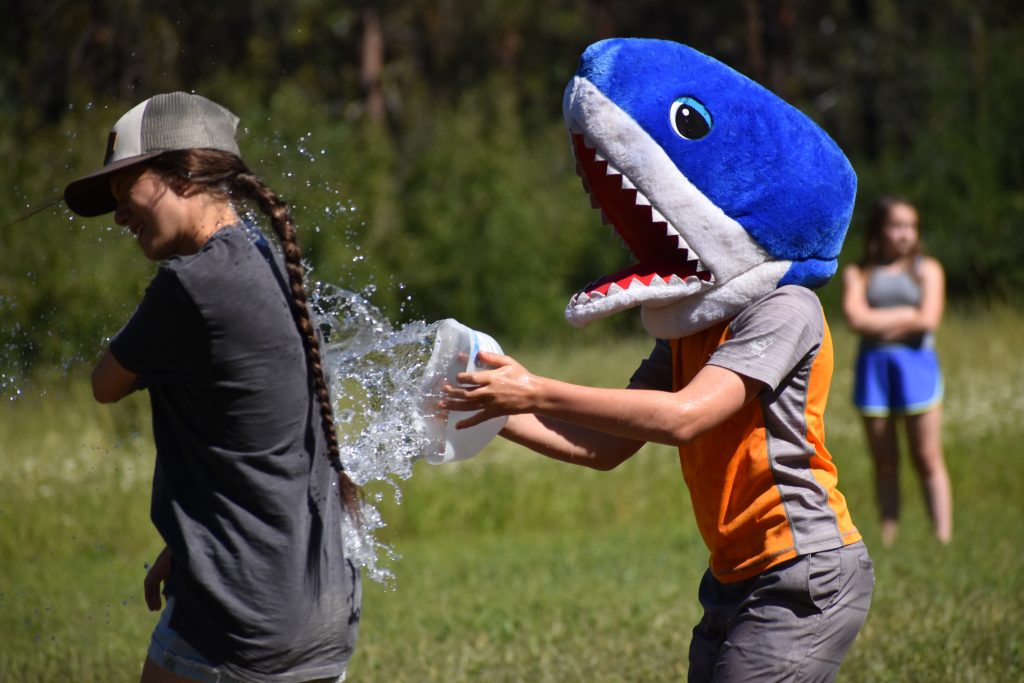 During Middle School Camp 2 our camp speaker, Faramir, talked about journeys.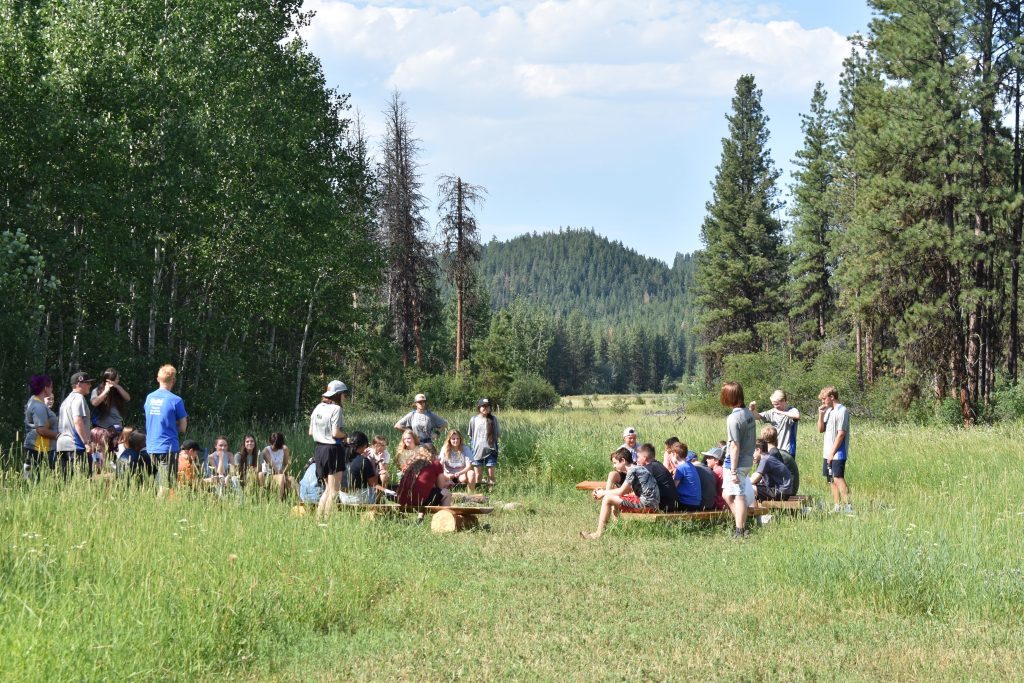 Before camp even began, I had the delight of hearing about two incredibly entertaining campers as they made the journey to camp itself. As their folks drove them up the camp road, they were chanting in the car. When they spotted any staff member that they knew from last year, they would chant their name. "Epona! Epona! Epona! Epona!"
"There's Hiccup!"
"Hiccup! Hiccup! Hiccup! Hiccup!"
They weren't excited for camp or anything, ha!
And thus, the shared journey that we call Middle School Camp 2 started with a bit of chanting and a whole lot of energy.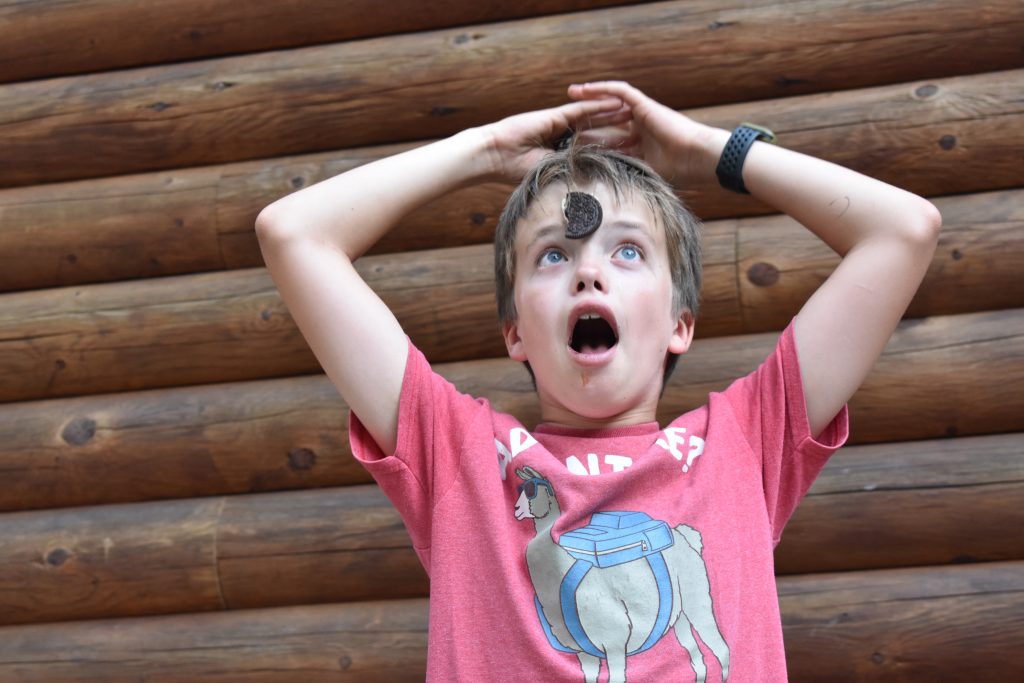 Faramir shared during chapel about his own journey to God and how campers can choose to abide in Christ themselves and find their strength in God as their strong tower. But unbeknownst to him, one of Scruffy's long-ago journeys came full circle in an amazing way this week.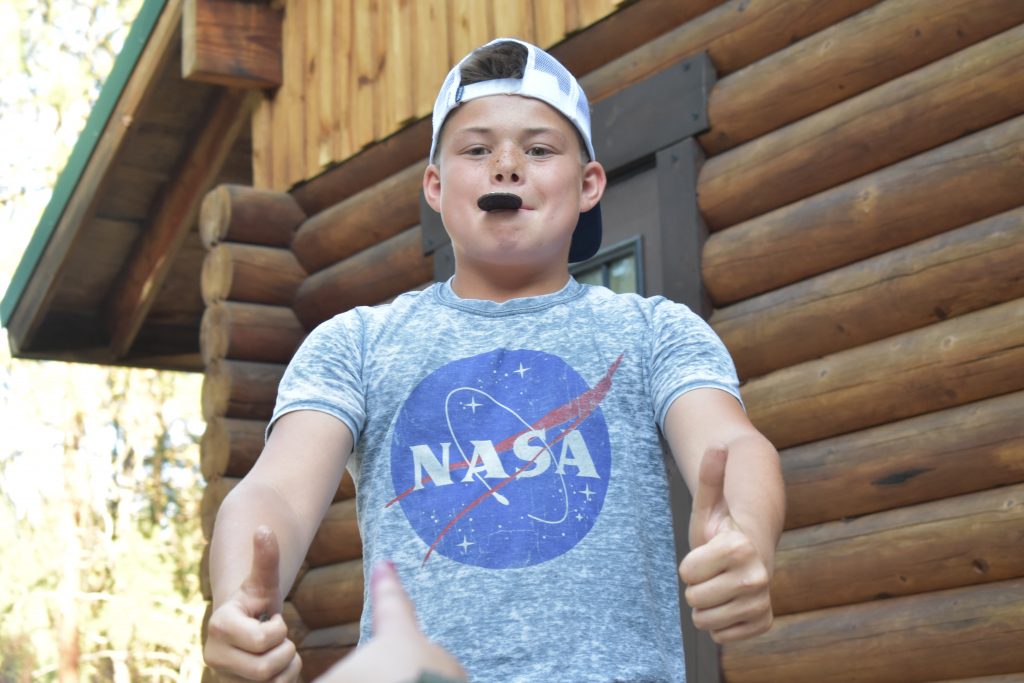 As many of you know, Scruffy didn't find Christ until he was twenty-one years old and in the beginning stages of alcoholism. A friend from his hometown had been his roommate several times and was shocked to discover that when Scruff decided to follow Jesus, he also decided to stop partying. That friend teased him a good deal about this decision, but Scruffy didn't let it ruffle him. They remained friends but over time, life happened and they lost track of each other.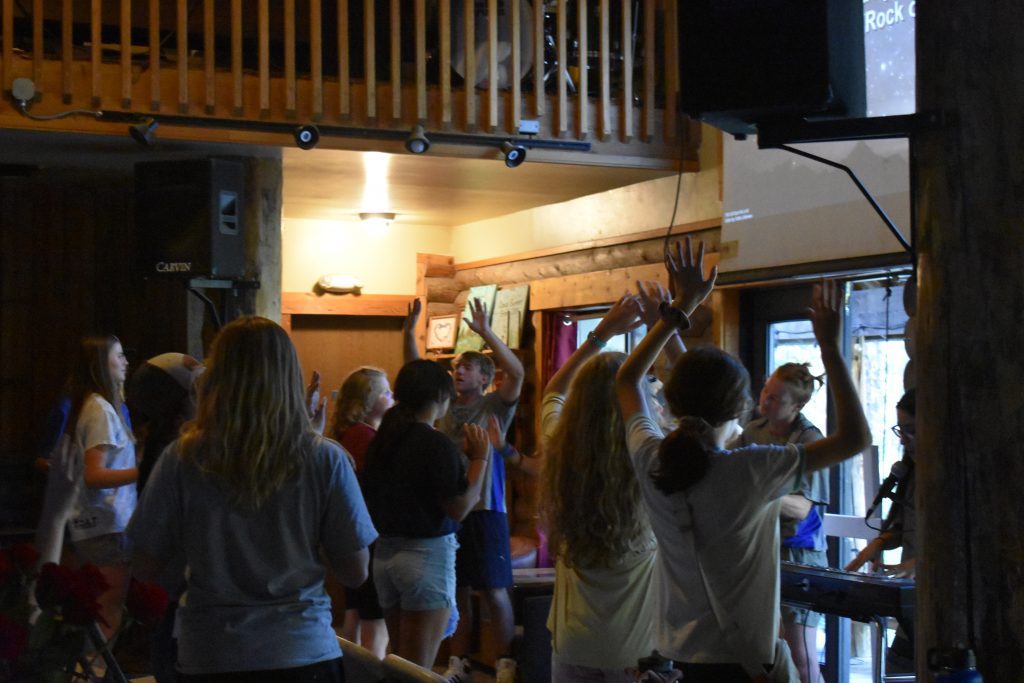 This week, that old friend brought his daughter up to Camas to be a camper. He laughed at how much he'd teased Scruff and took a quiet moment to say that even way back then, he'd respected him for making those tough choices.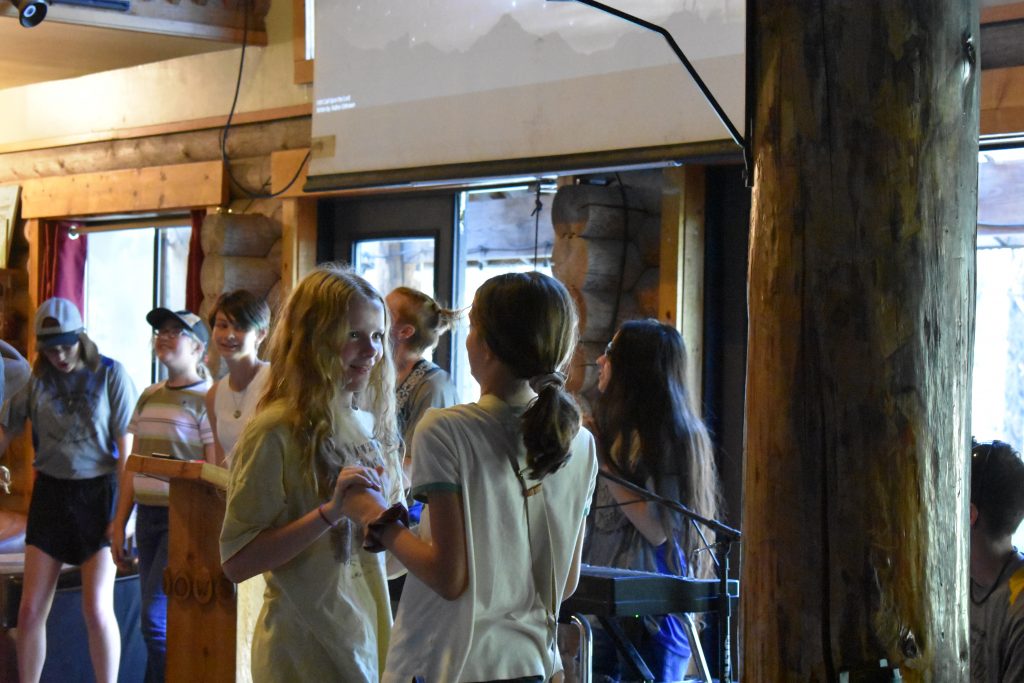 One person's journey with God absolutely can encourage another person to seek Him, even years and years later.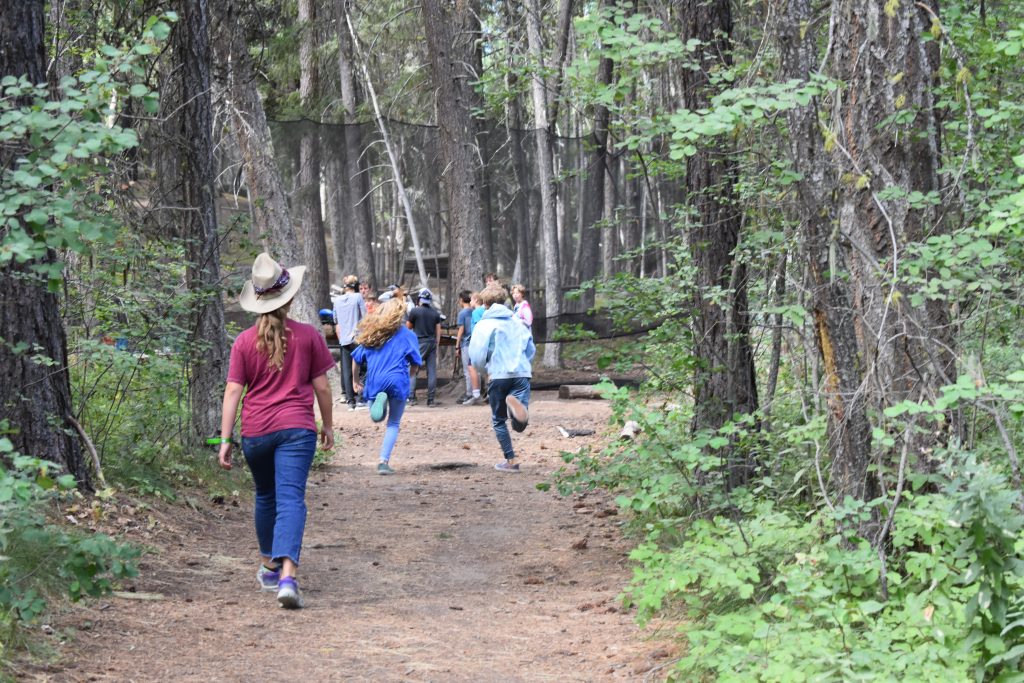 There are so many ways that the Lord uses our travels through this world. Many that we would never have chosen for ourselves, but that bring blessings all the same. Two of our girl counselors saw an unexpected twist in a journey that began last year during the 2021 summer camp season.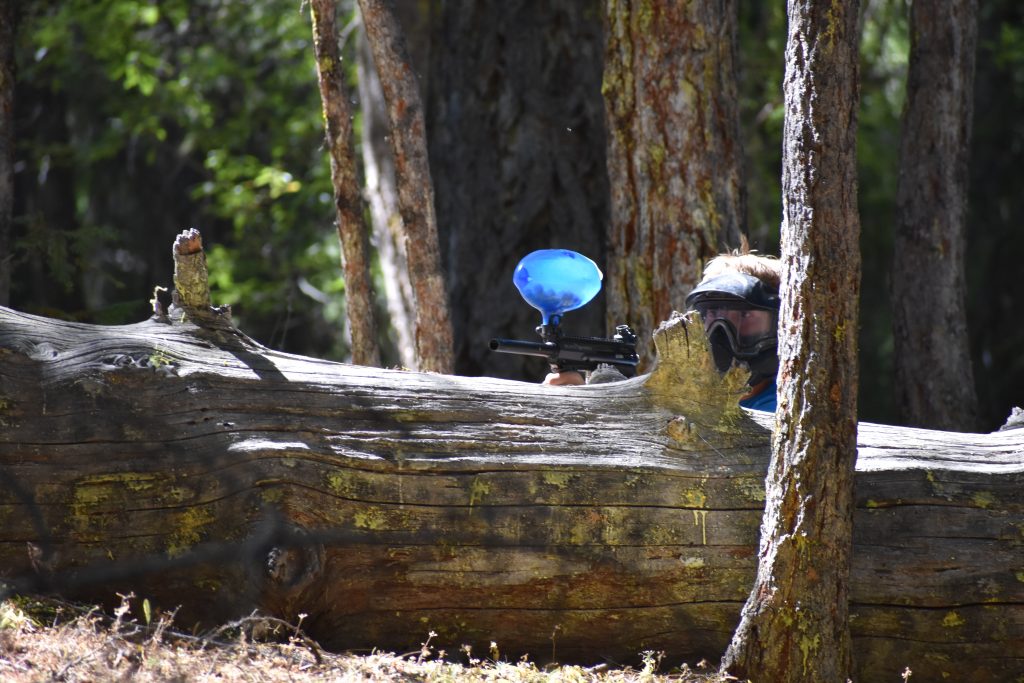 They had previously counseled a cabin together that had stretched their skills to the limit.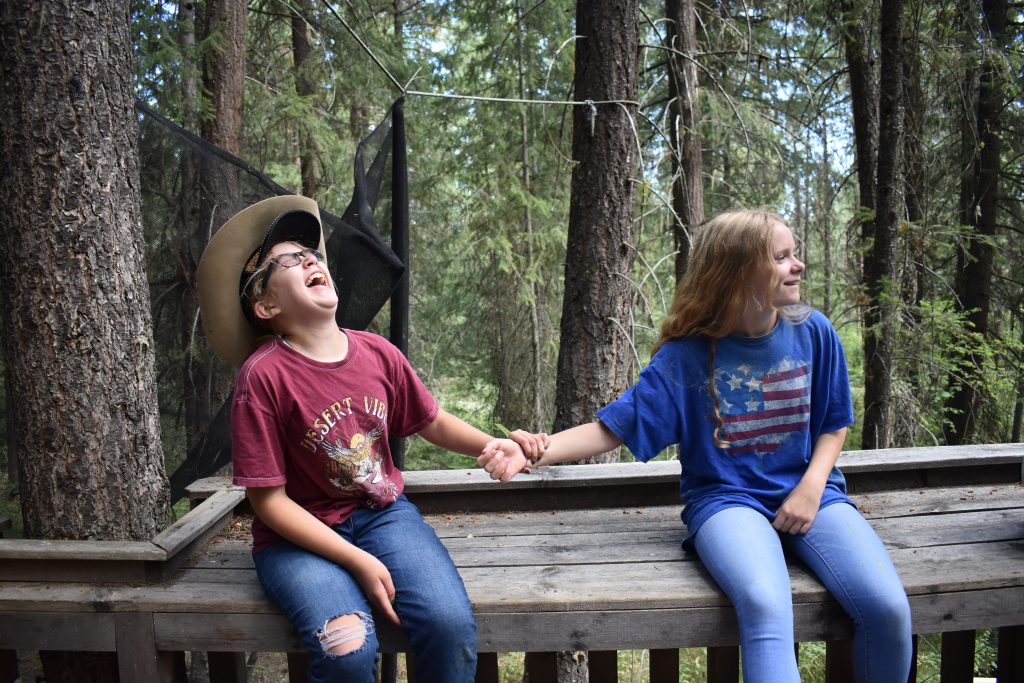 There were many things that made this cabin a challenge including some very tough questions that the campers had about God. So many hard questions! One of their campers had also struggled with being kind to others. Both to the other campers and to the staff. It takes a great deal of patience and sacrifice to live out love for someone who is struggling to be kind.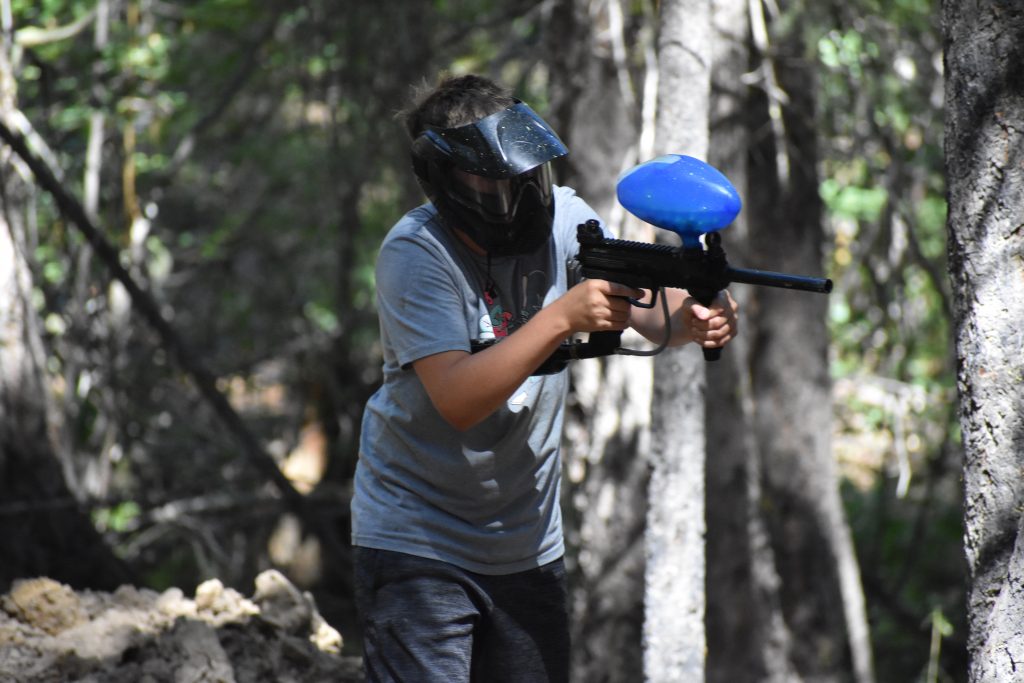 That camper came back this year! Her counselors were struck by God's powerful work in this young woman's life in the year that they were apart. She was having loads of fun, energetic, a joy to be with, and kind. She zoomed through the camp activities making new friends and delighting in each new experience.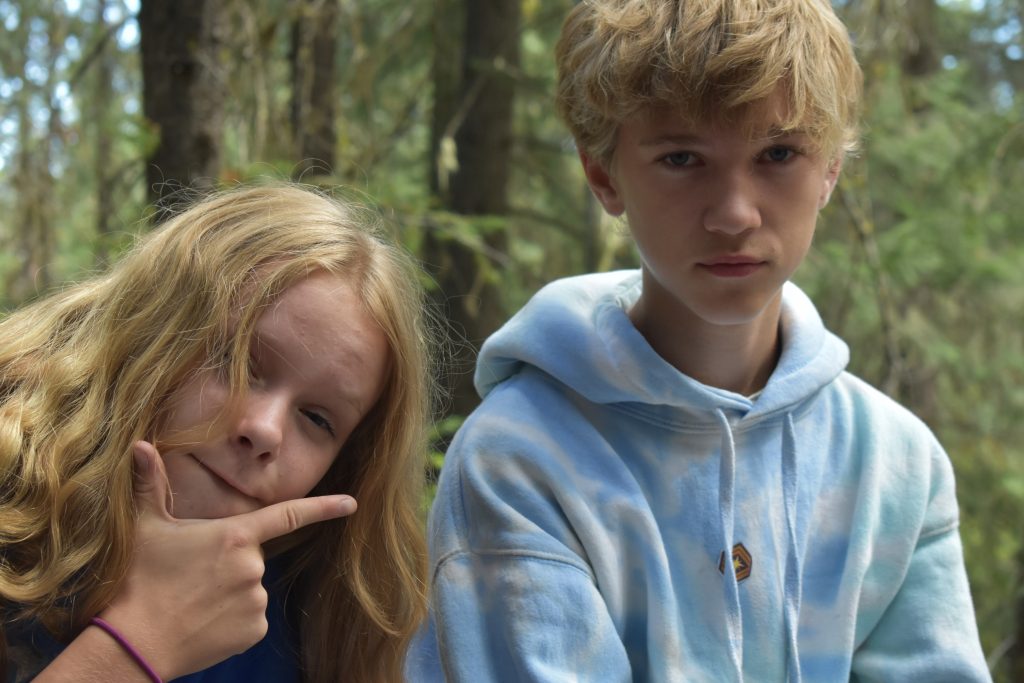 Oh how great are the commands of God upon our lives. He demands love just like His towards others and that can be hard. But look at the incredible blessings that can come. A struggling child might just need a week full of loving examples to find the strength and ability to walk into her own future with kindness and grace. May we give each precious one we see the honor of being treated in the same way that God has treated us.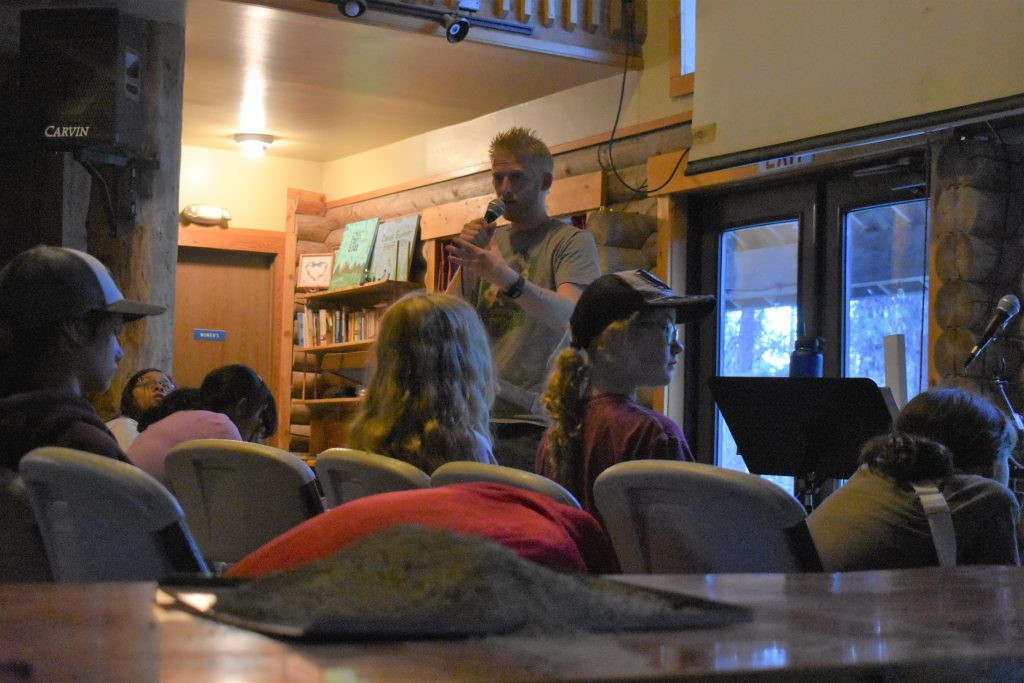 Faramir also talked about how God is our Strong Tower. He gave the example of when a doctor puts a cast on your broken arm. The cast does not remove the pain of your injury. Yet, without the cast, healing is uncertain. The cast stabilizes your injury so that the break can mend, grow strong again, and be useful to you once more. God is like that. Our strong tower in times of trouble.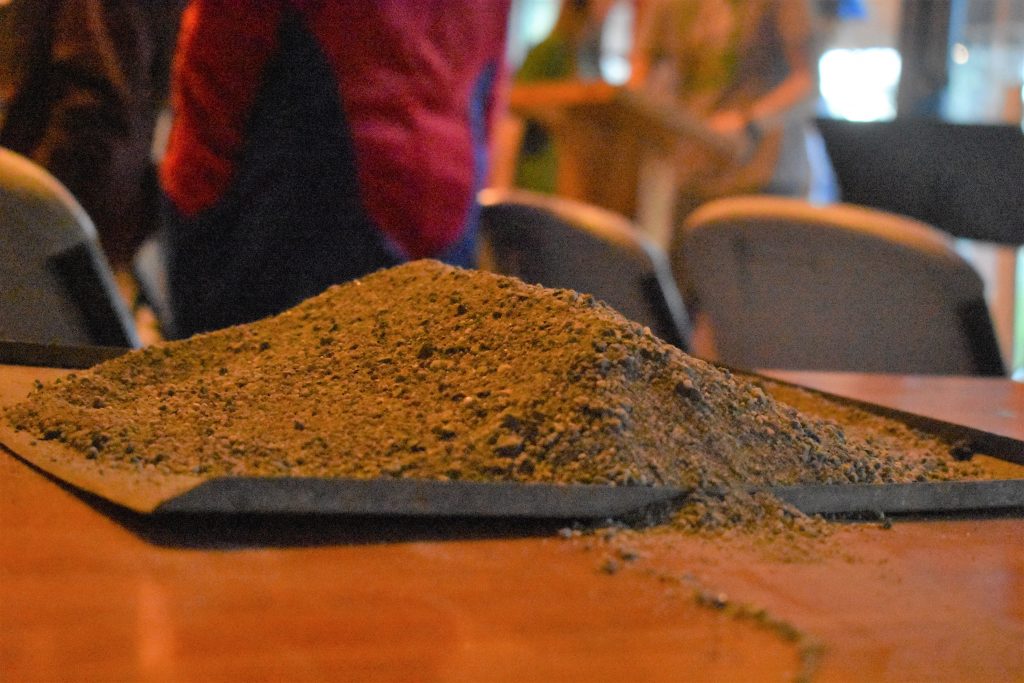 Another example Faramir spoke on was of trying to hold a pile of sand in your hands. On your own, it just keeps slipping through your fingers.
But put that overwhelming pile of sand into a bowl and suddenly you are strong enough to hold and carry it. The strong bowl holds the sand firm and now you can carry the entire load. God is our strong tower. It is in His strength that we find our own.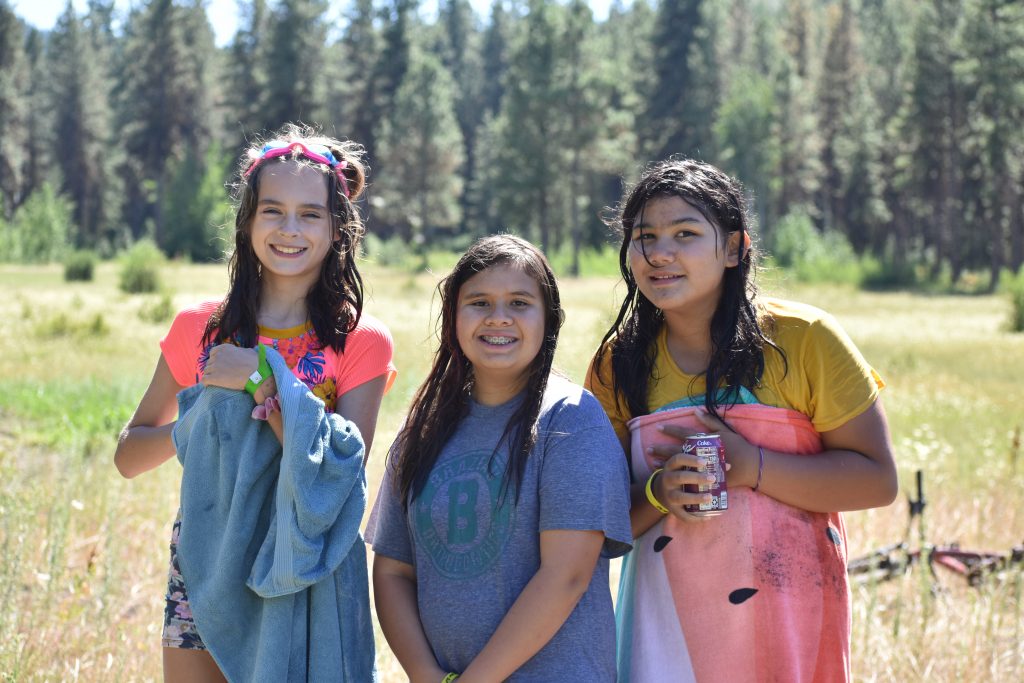 One of the camp counselors, Samurai, said that his favorite moment of camp was celebrating the birthday of one of his campers. Now, cake is always fun, but it was the campers reactions to his attempted surprise that really was the frosting on that cake.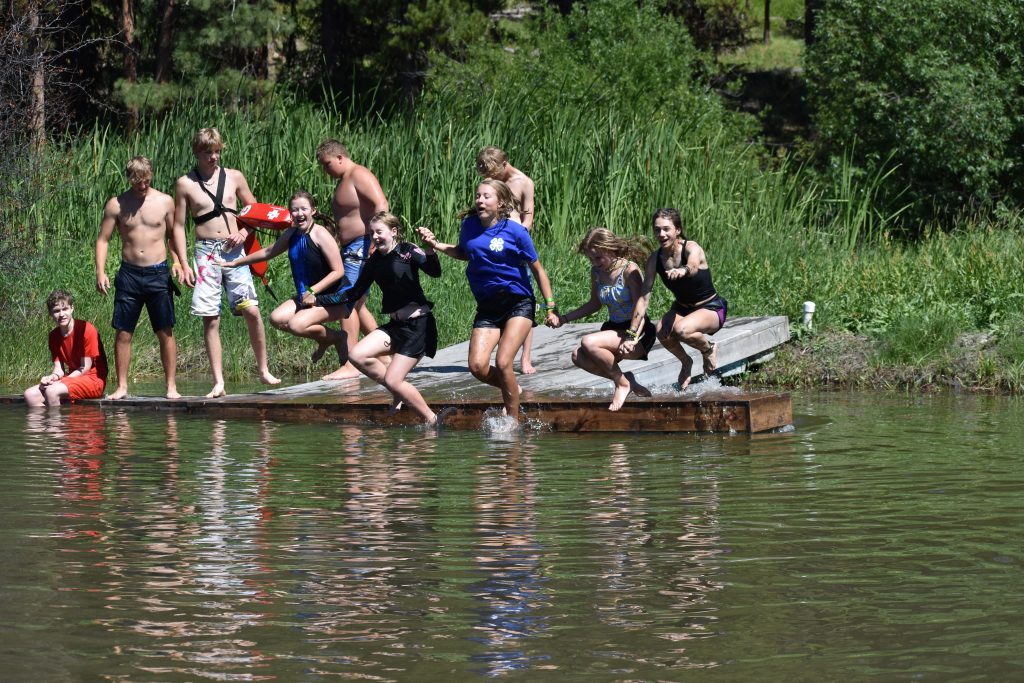 He had to run all over the camp to gather each one of his campers for their surprise cabin birthday party. But once he got them all into the small meeting area in Bobcat, he realized that they would see the cake when he brought it in.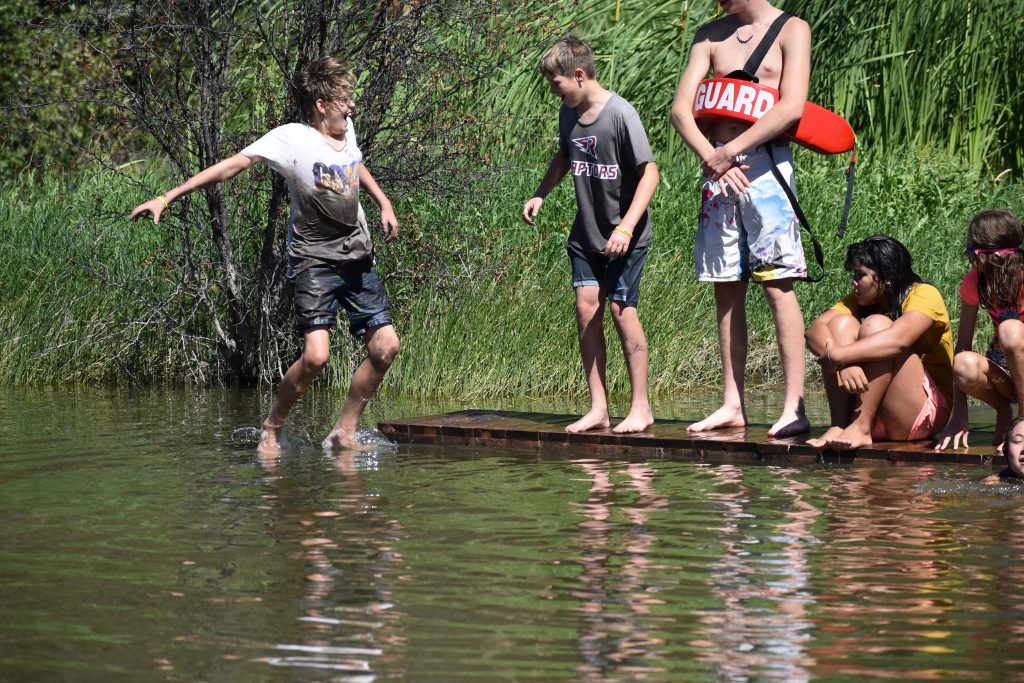 A "brilliant idea" came. He would make the campers wait in the bathrooms while he got the cake. He urged all of the campers and his CIT, Chat Noir, into the bathrooms. It was pretty cramped, but he told them to wait.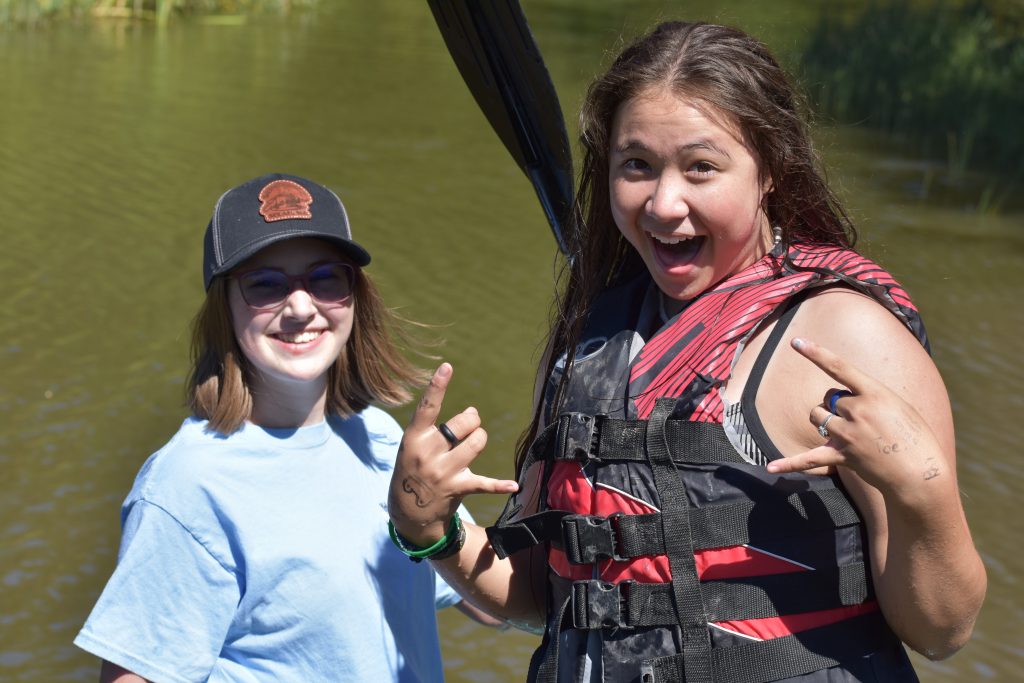 One of the campers shouted out through the closed door, "This is a hostage situation!"
Chat Noir corrected this alarming and untrue statement, "Don't say that."
Therefore, the camper again shouted through the bathroom door, "We are NOT allowed to say that this is a hostage situation!"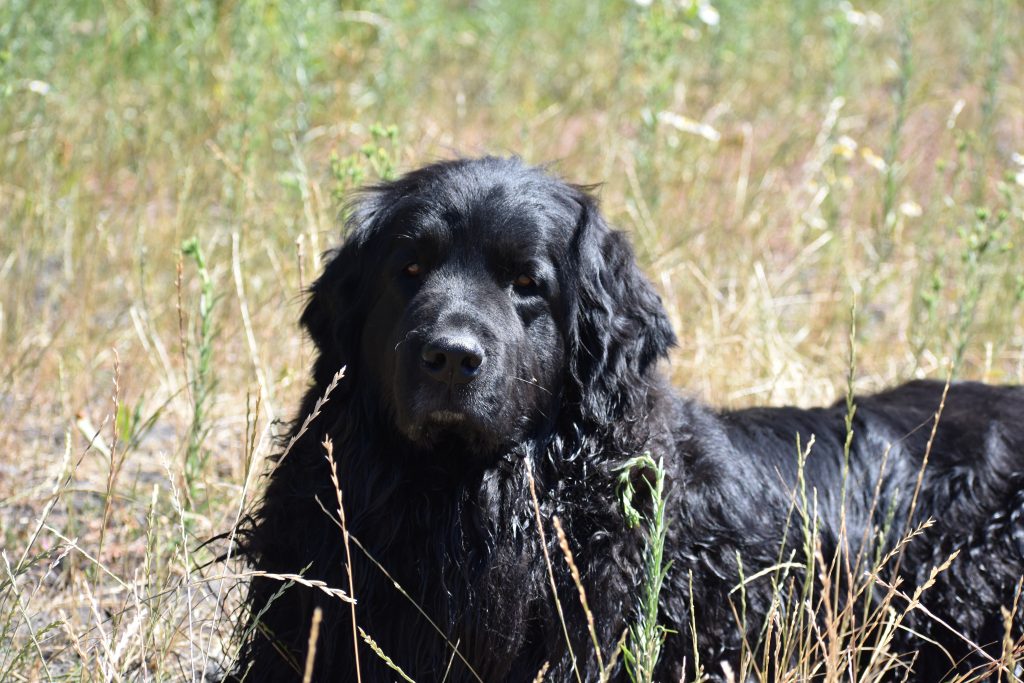 Following this, they accidentally put the wrong number of candles on the cake, ended up with trick candles that wouldn't go out, and an entire cabin of boys enthusiastically blew on those irrepressible candles about twenty times before they were extinguished. What you have there is quite the camp memory … although, not the most germ-free frosting situation.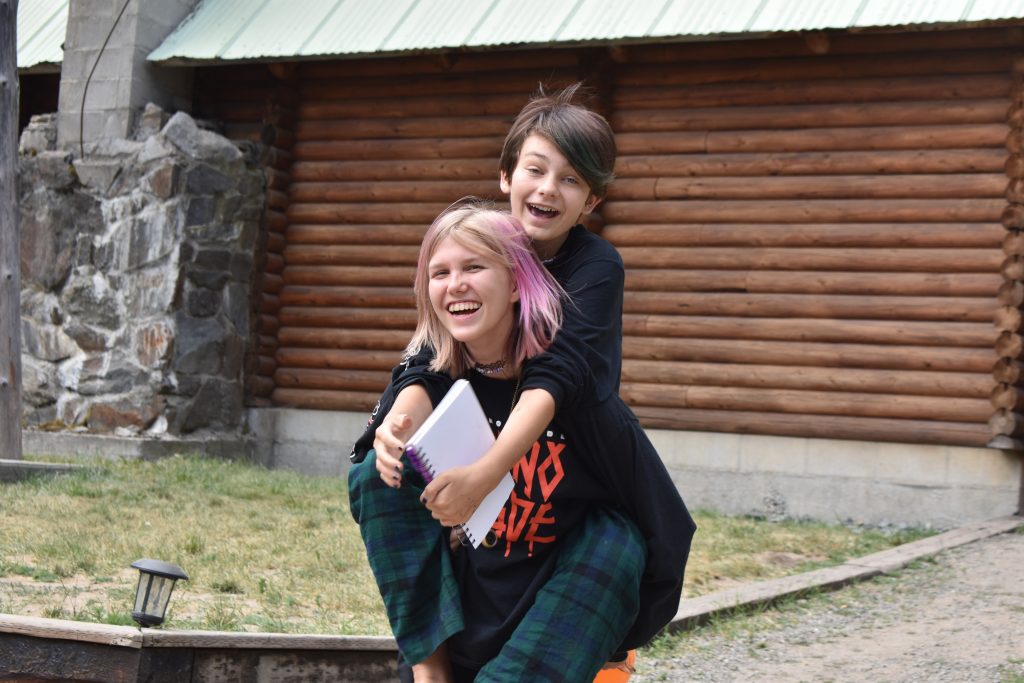 It is not an accident that incredible moments of spiritual growth often happen at camp. It is the very things that appear to be completely unrelated to the gospel and studying God's word that actually help build the groundwork for many mighty God moments.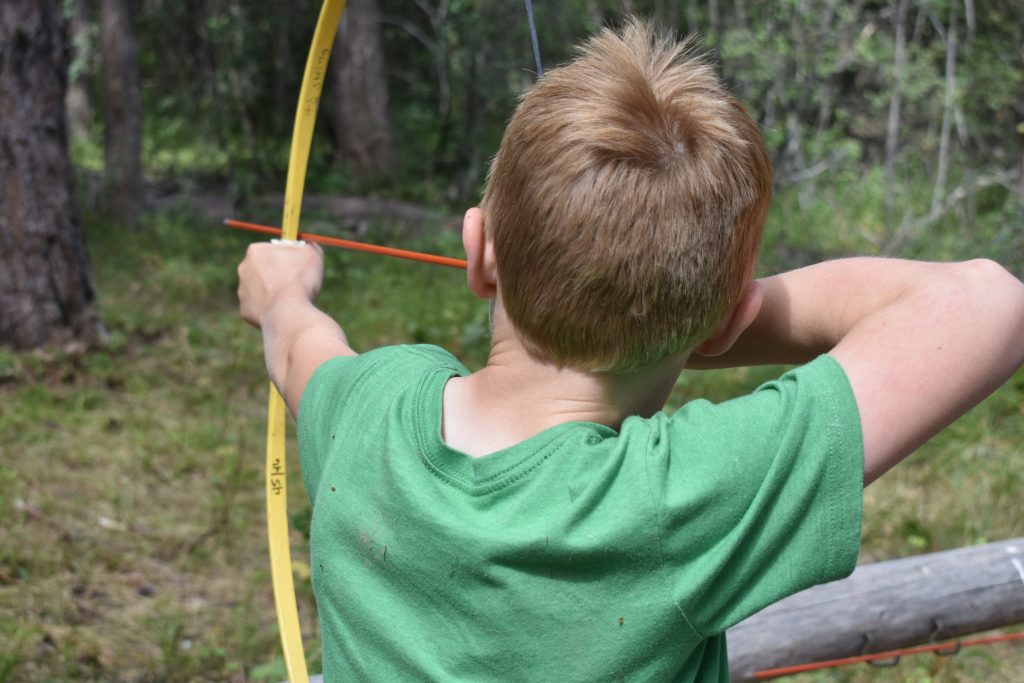 Leaping into the pond with your cabinmates looks like simple play at first glance. What it actually is, a powerful shared experience that creates a bond with new friends and builds trust between campers and the camp staff.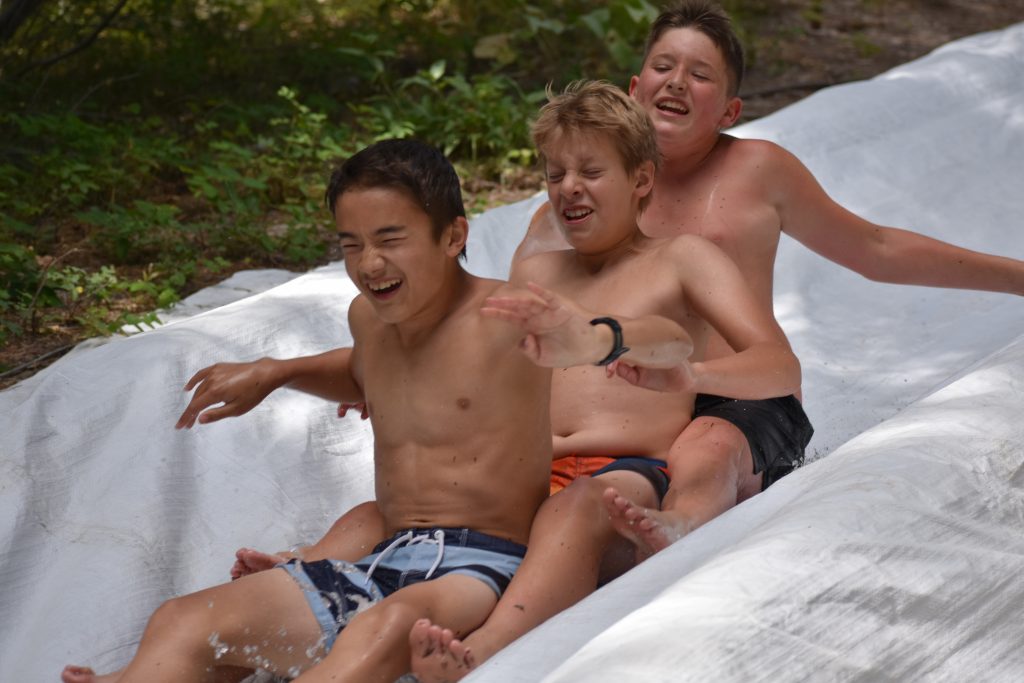 It is the same when they play night games, gaga ball, disc golf and zoom down the slip-n-slide.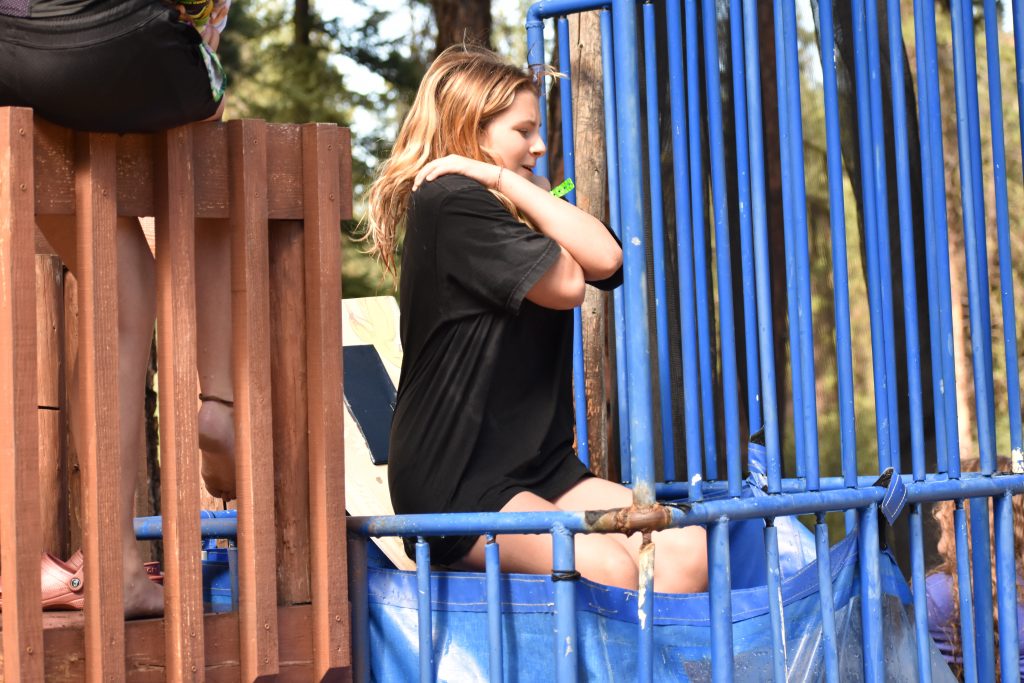 Christ didn't simply pull the golden rule out of a hat for laughs. Loving others with the same care and passion that you attend to your own interests is an incredibly powerful force. It heals hearts. It changes lives. Christ loved us through death itself and it changed everything. Even our small attempts to follow in His footsteps have the power to shake the world and bring life into dark places.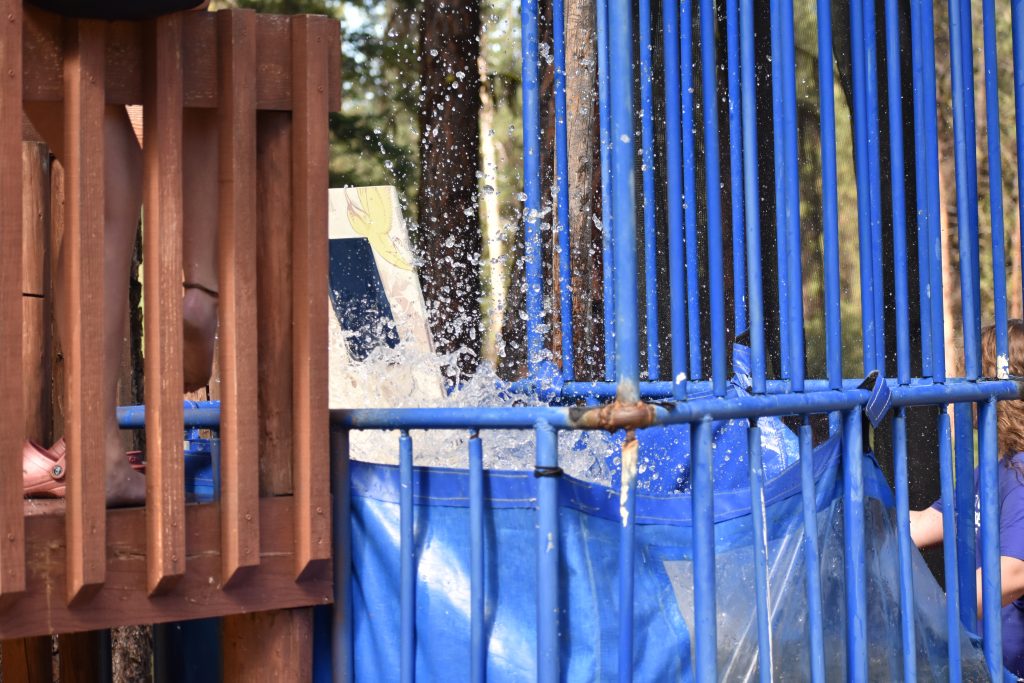 How do kids need love right now?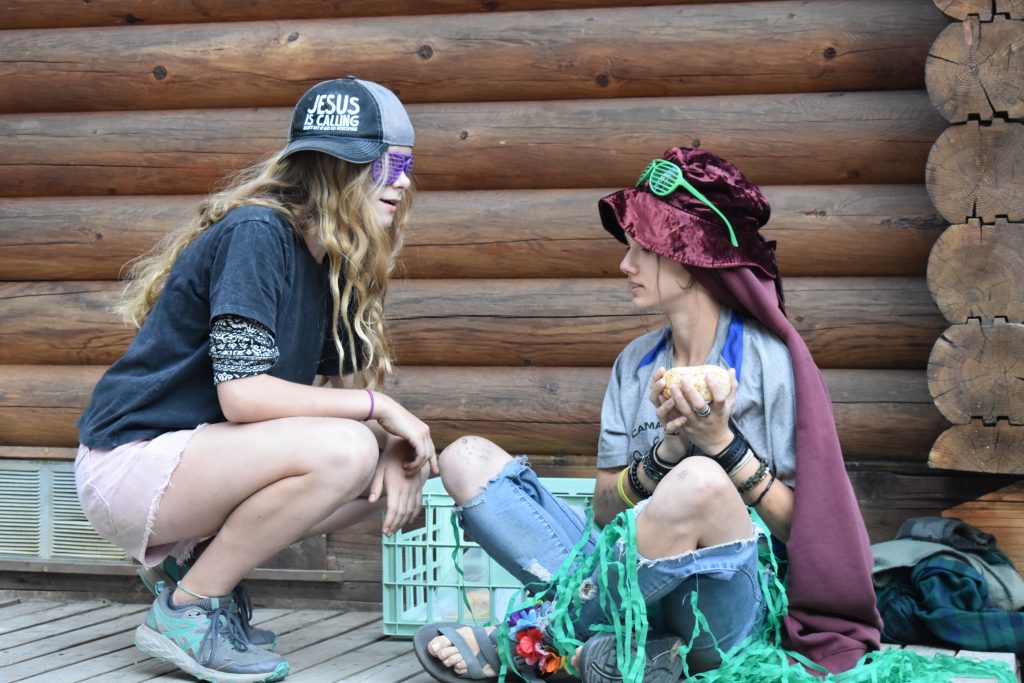 There are so many ways. Too many to name, but after listening to children share all summer, some of the ways are burned deeply into my memory.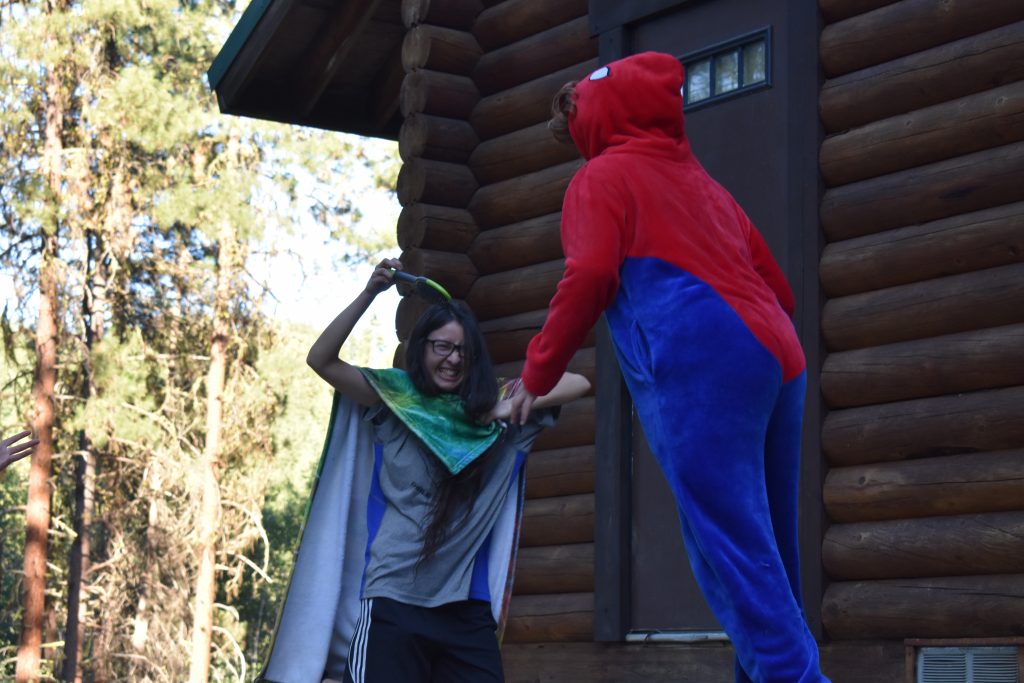 Children need friendship. Sitting around the campfire (LED due to fire danger) out in the meadow, I heard child after child share about their hurt. Voices cracking with emotion, tears filling their eyes, fearful to say anything but compelled by something deep inside to be honest, they stood and shared.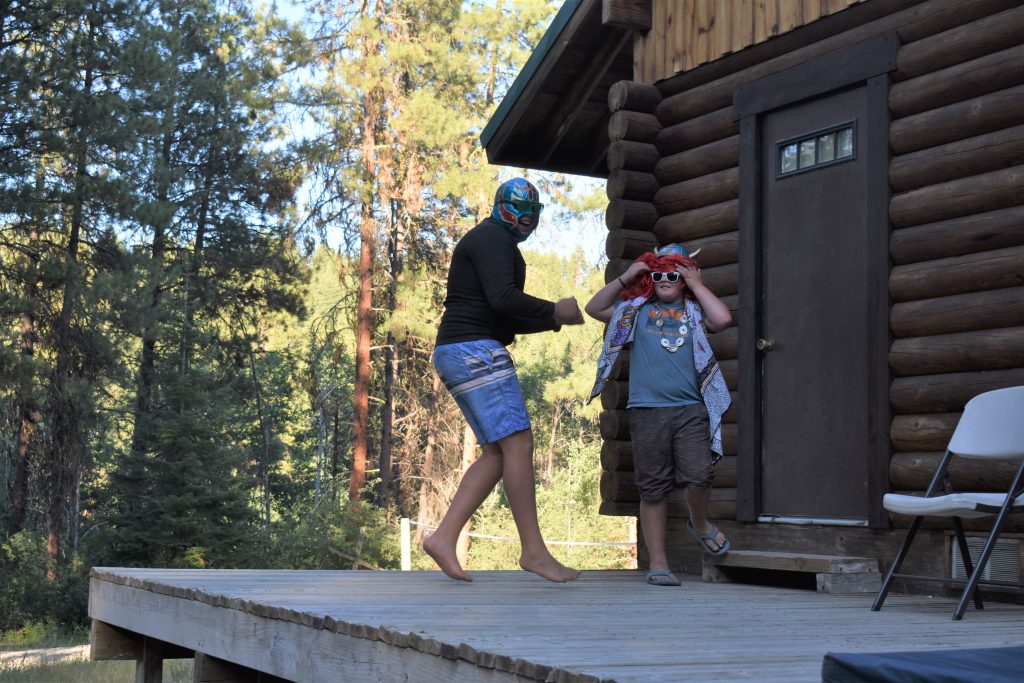 "I don't have any friends at home."
"The kids at school make fun of me."
"I didn't think this was going to be a good week because I didn't know anyone in my cabin."
"None of my friends believe in God and I feel so alone."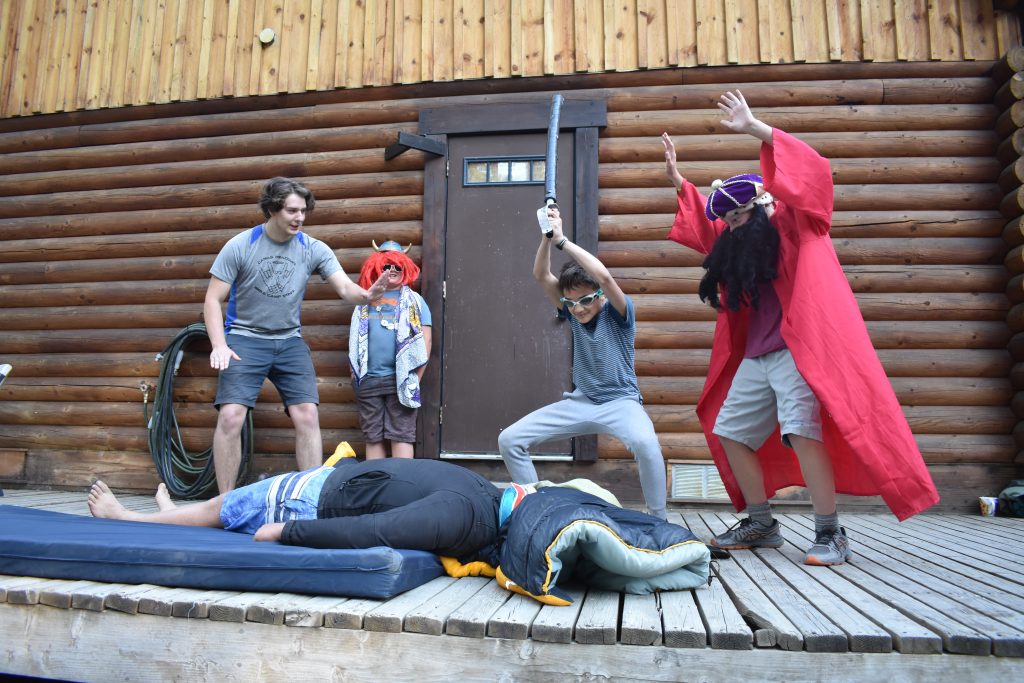 Do you remember the incredible joy of having just one good friend in junior high? Someone to talk with, to share funny moments and a laugh, to weep on, to hug, to listen to. There are children who have no one.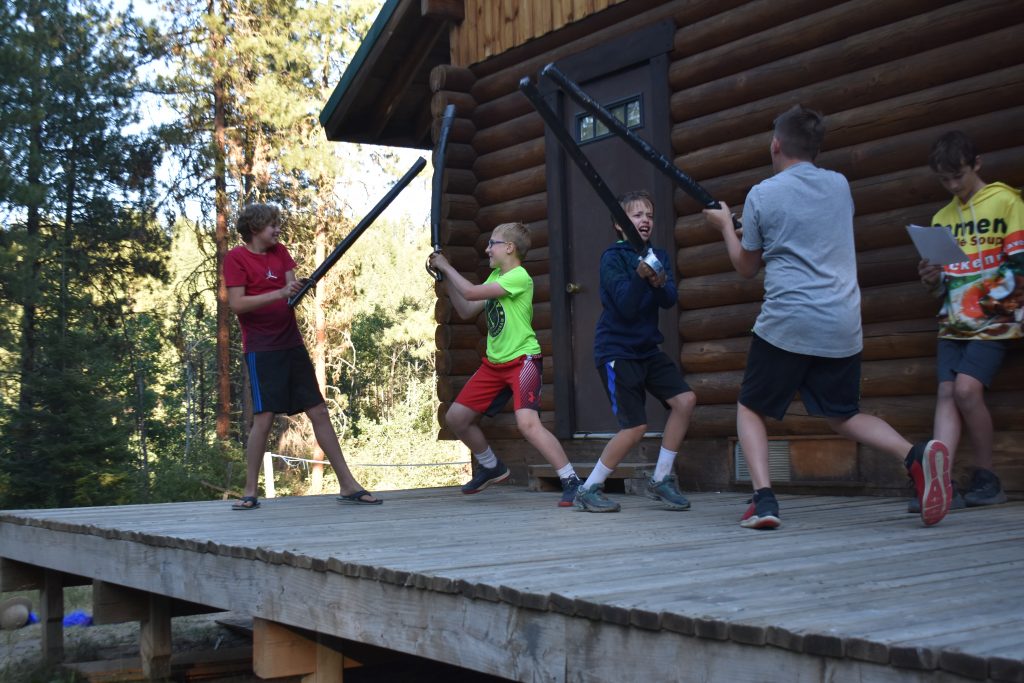 These children come to camp holding a fragile hope. Maybe here, in this place that says it belongs to God, they can make a friend.
Children need family. So many campers mourn their family losses at campfire. The parent who died when they were young, left them, divorced, or was never around in the first place. At the same time, so many campers speak about camp in terms of family.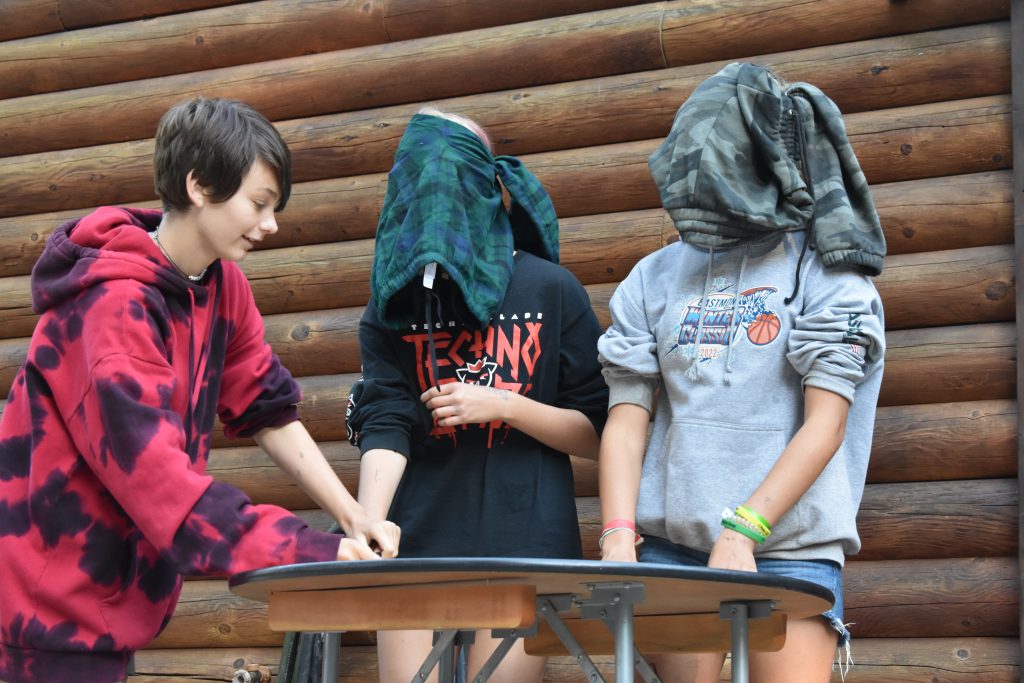 "Camp is my home."
"I feel loved here."
Or quite literally, "Camp is my family."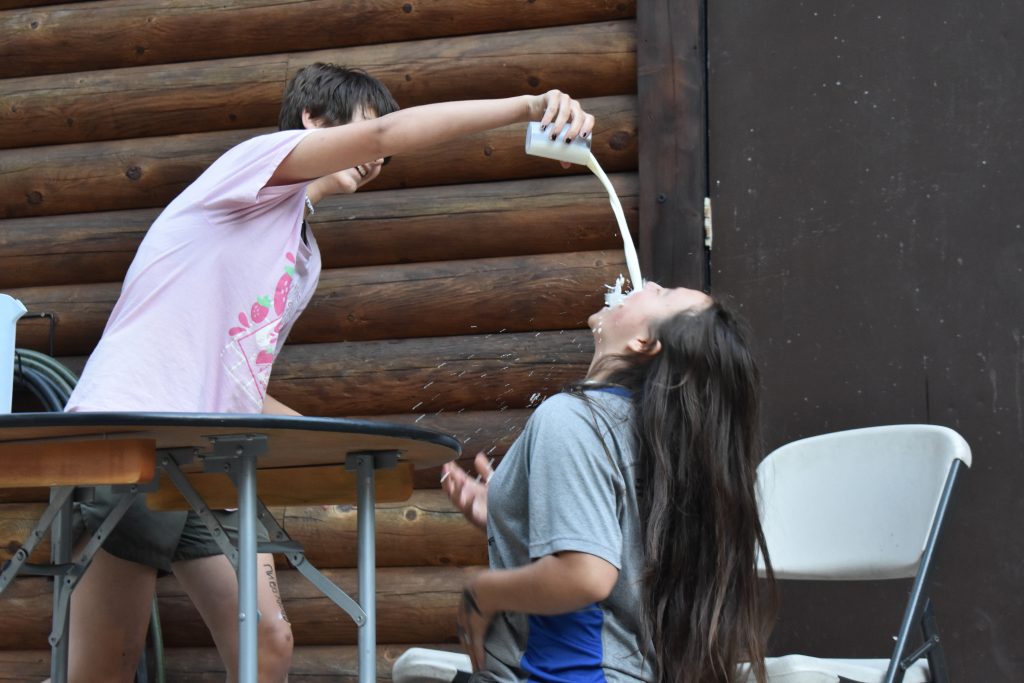 One camper who didn't have a mother figure said, "Orchid is like my mom, this week and the week before." Why did she come for two weeks of camp? She felt loved here and children need family.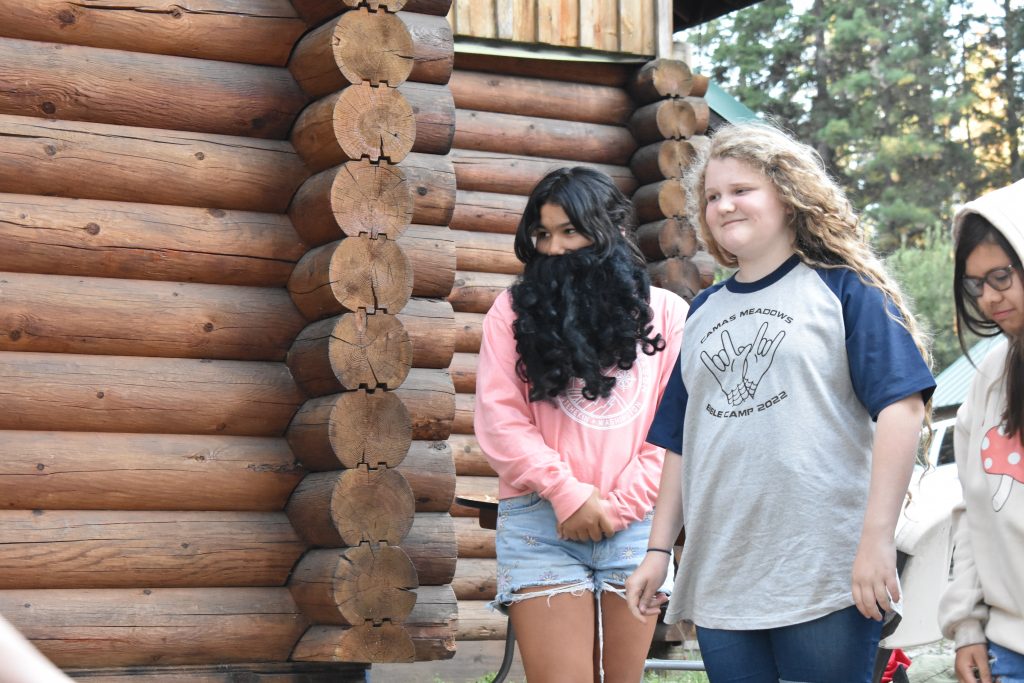 There was even a camper who said, "Camp is like my emotional support animal." Now, any of you who have gotten snuggles from Princess Leia Freyja the camp dog will know that this is a high compliment, indeed!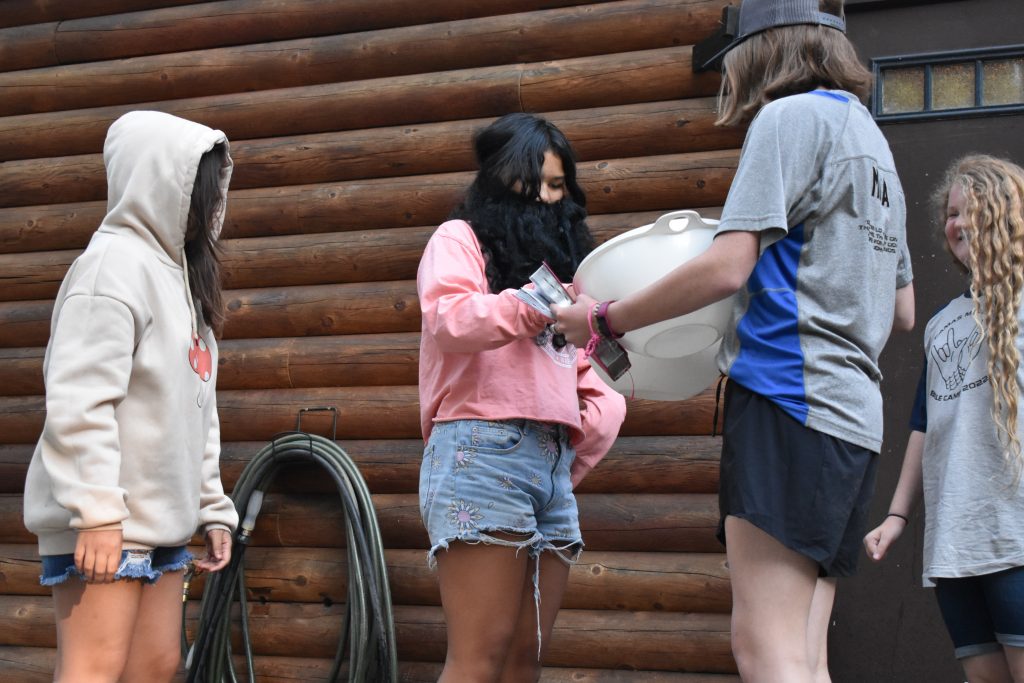 Children also need the outdoors. Screens and indoor things take up so much of our lives. Children need to be outside, seeing God's creation and running around doing real life activities. Children need to get the chance to really live.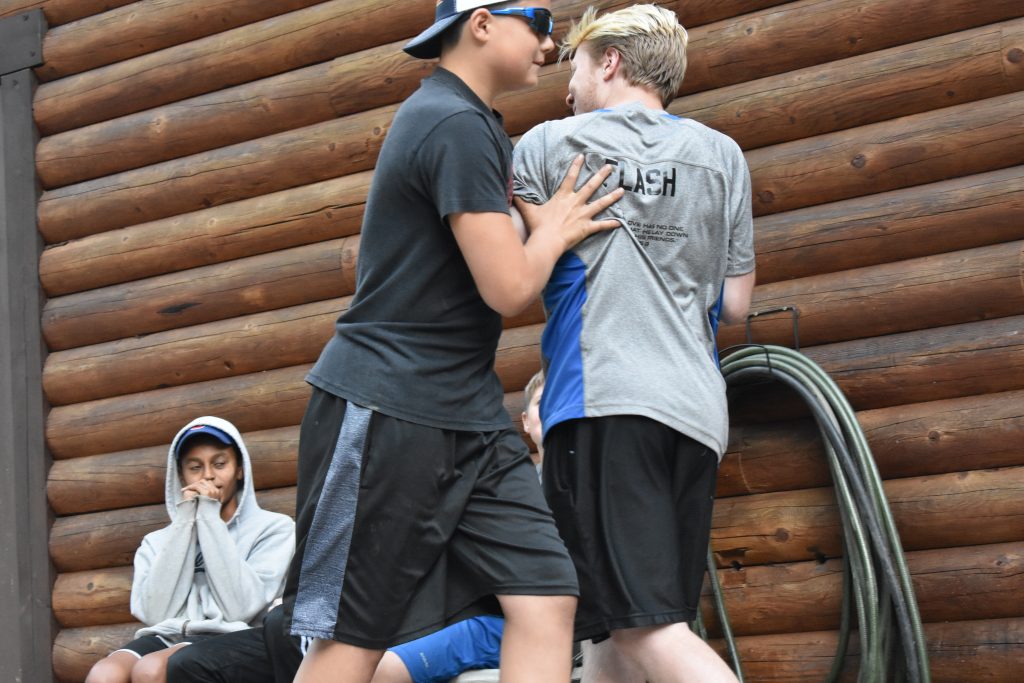 Do not discount the testimony of a child at campfire who talks about how much they loved playing capture the flag, hiking out to Inspiration Point to look at the stars, or dousing their counselor in the dunk tank. Children need a safe place where they can be kids. It is such an honor to sit around the campfire and realize that they had a wonderful time doing camp activities.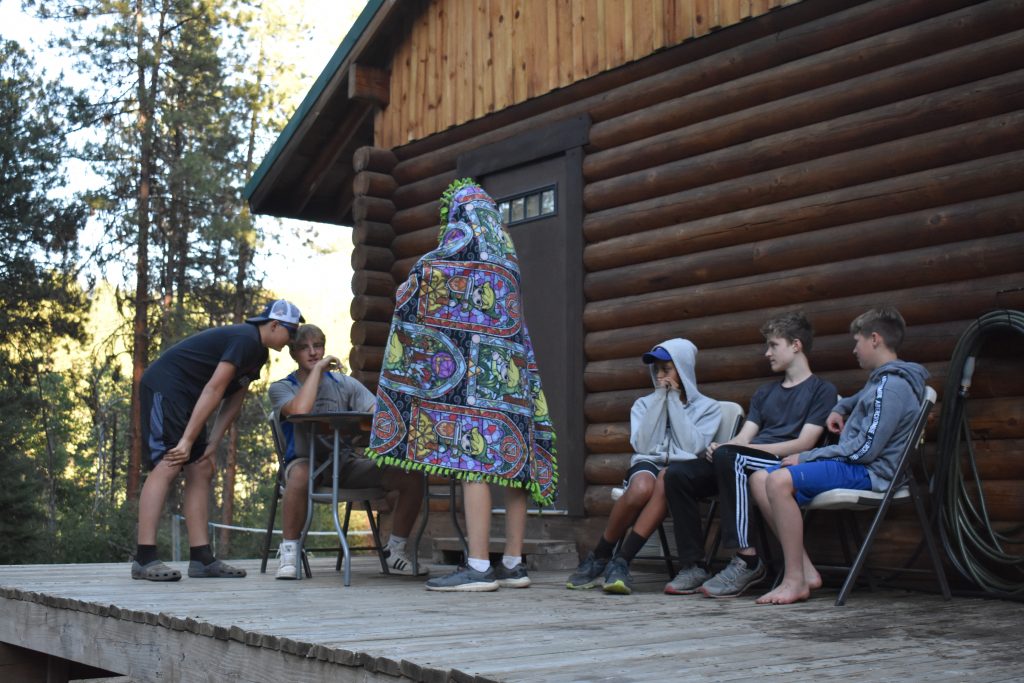 One staff member compared the camp program activities to salad.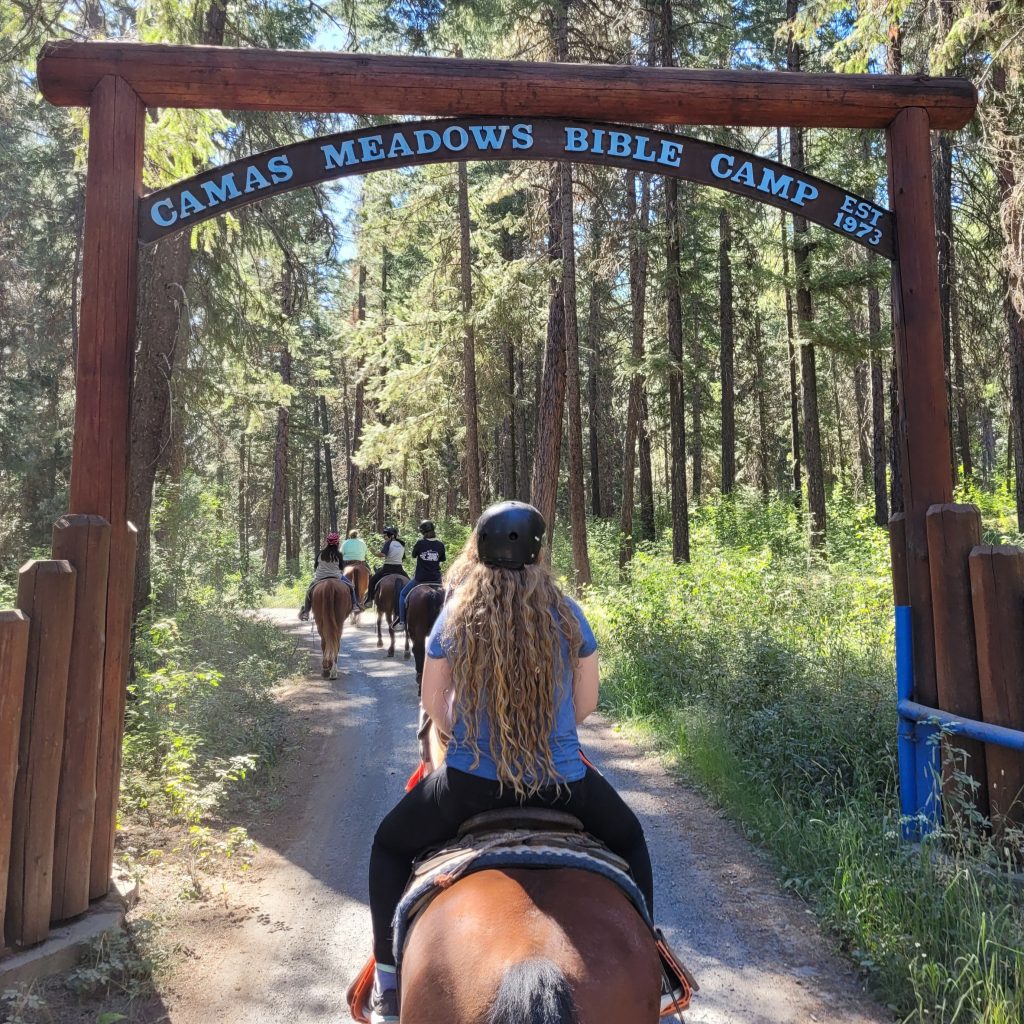 Partake calls salad, "A dressing delivery system." Program activities are like that. They are about relationship, loving God by loving one another. Program activities facilitate growth in our relationships and breaks down our walls and enables us to love better and to love well.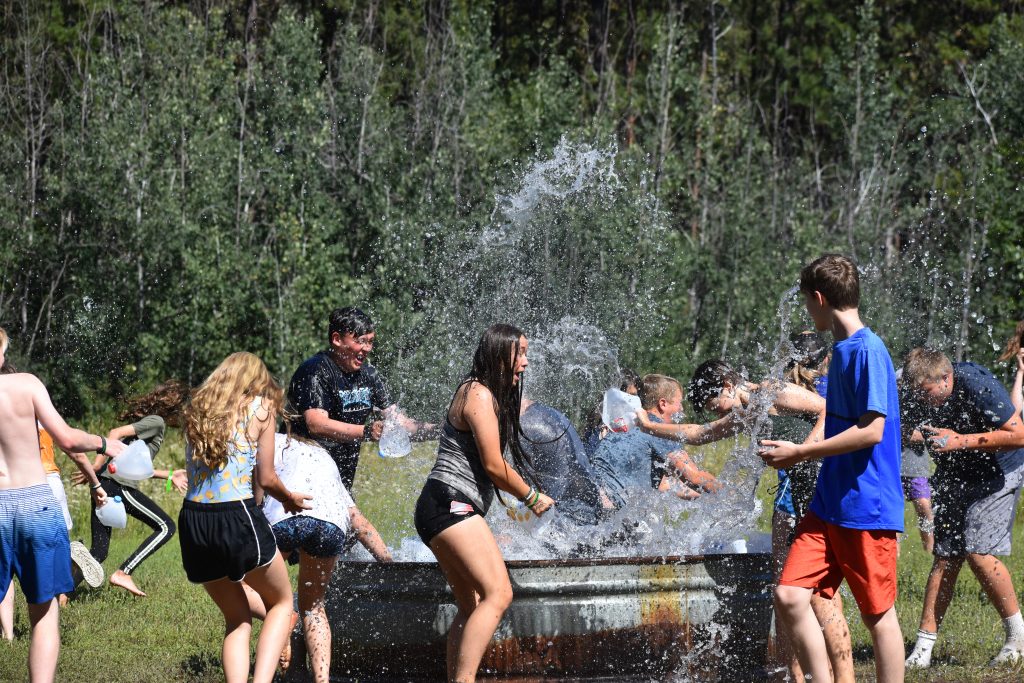 Our camp nurse this week was a bit baffled by all of the wild activities. After campfire she spoke with tears in her eyes, "Now I know why you do all these crazy things."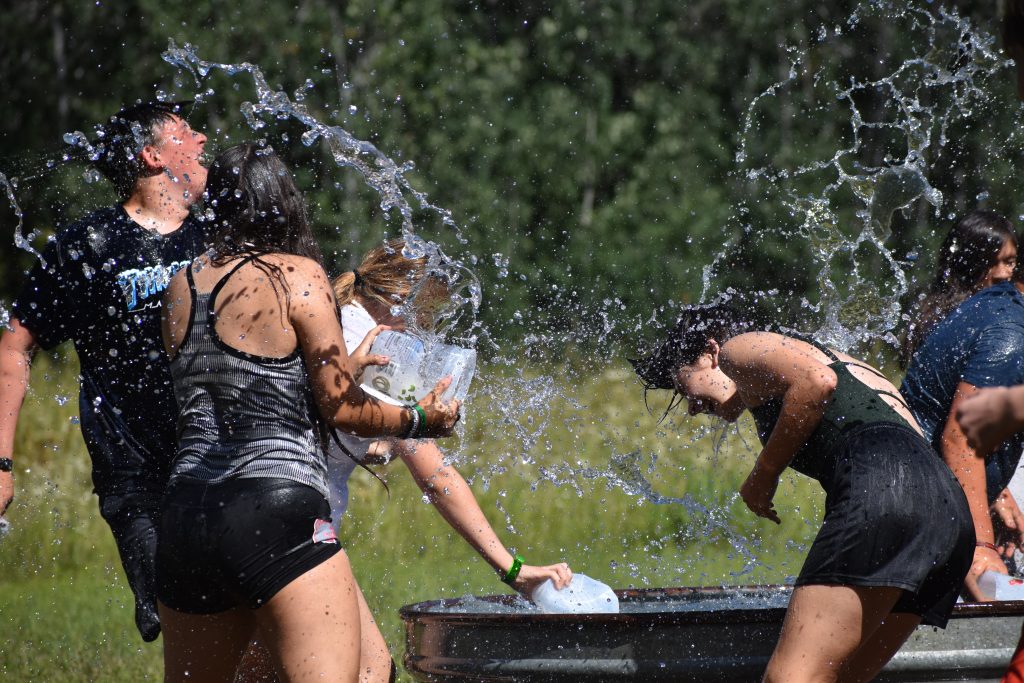 You see, so many children shared this week that Scruffy tried to wrap up campfire three different times. "OK, everyone. It's time to head back to the lodge …" but one more child would stand up to say that they had felt safe, loved, noticed. That they had made friends. That they had learned something new and amazing about God. That they had loved the camp food, "Dude! It just melts in your mouth. It was really good gravy!"
That they had simply had fun.
And yes, a bunch of children raised their hands during chapel wanting to follow Jesus. It is the fun of camp which makes this incredible ministry possible because children need love and they feel loved here at camp.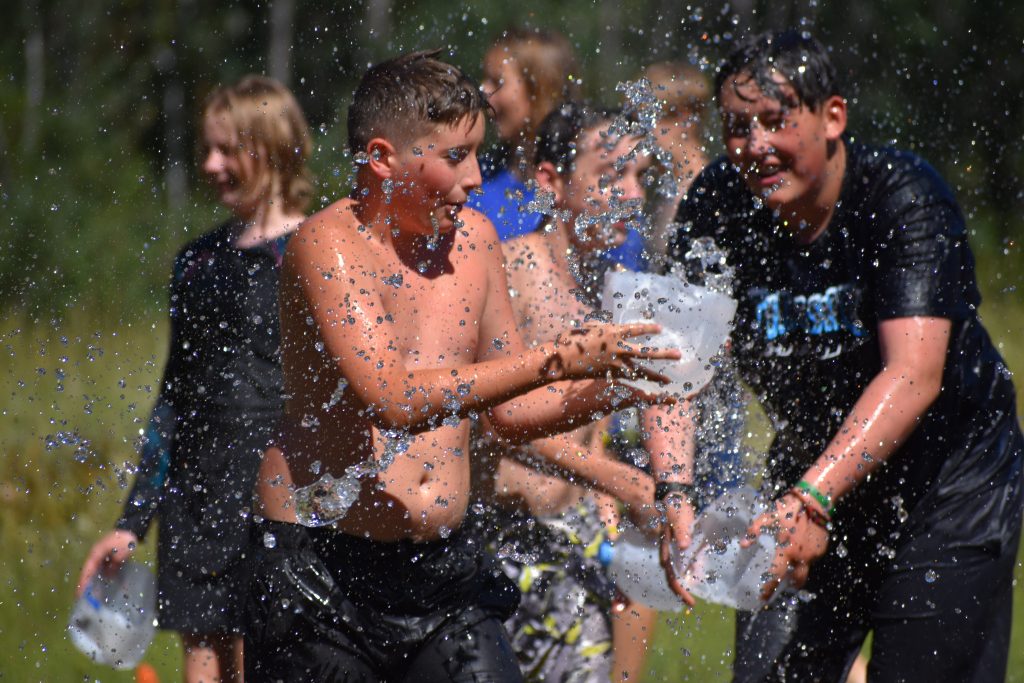 There was a fun moment at the beginning of campfire that I want to share. Some of the girl campers had flung their arms around each other's shoulders as they stood around the campfire singing. They stood together and swayed to the music. Epona arrived late and noticed that there was a camper who wasn't in the circle. She went up and put her arm around this camper's shoulder and they stood and sang together.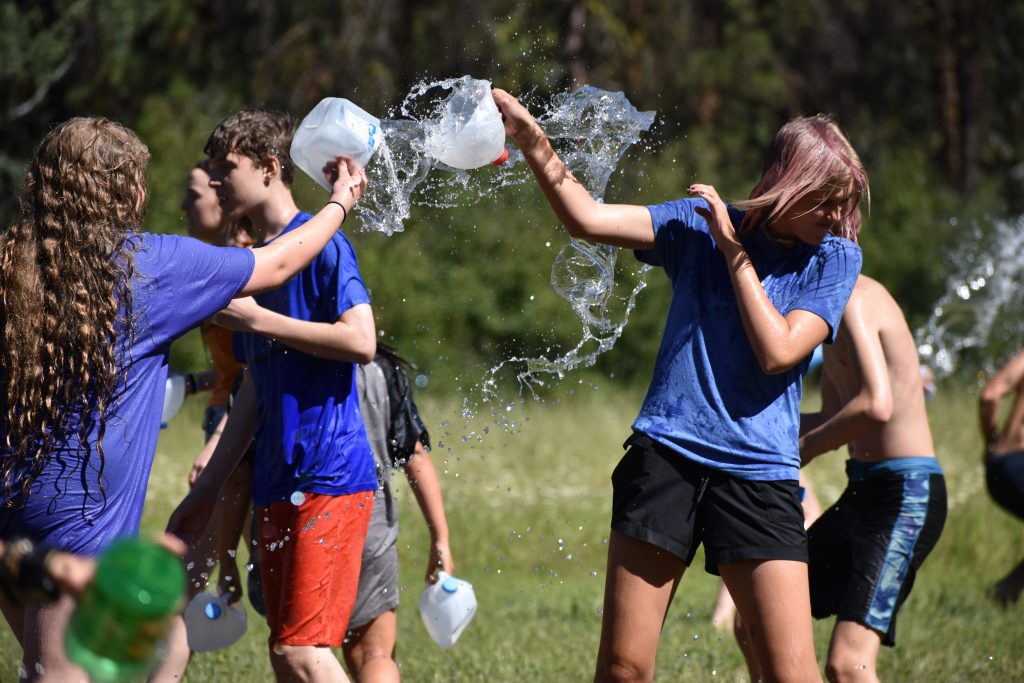 Once the song was over, the camper said: "We're outside the circle. That was really awkward."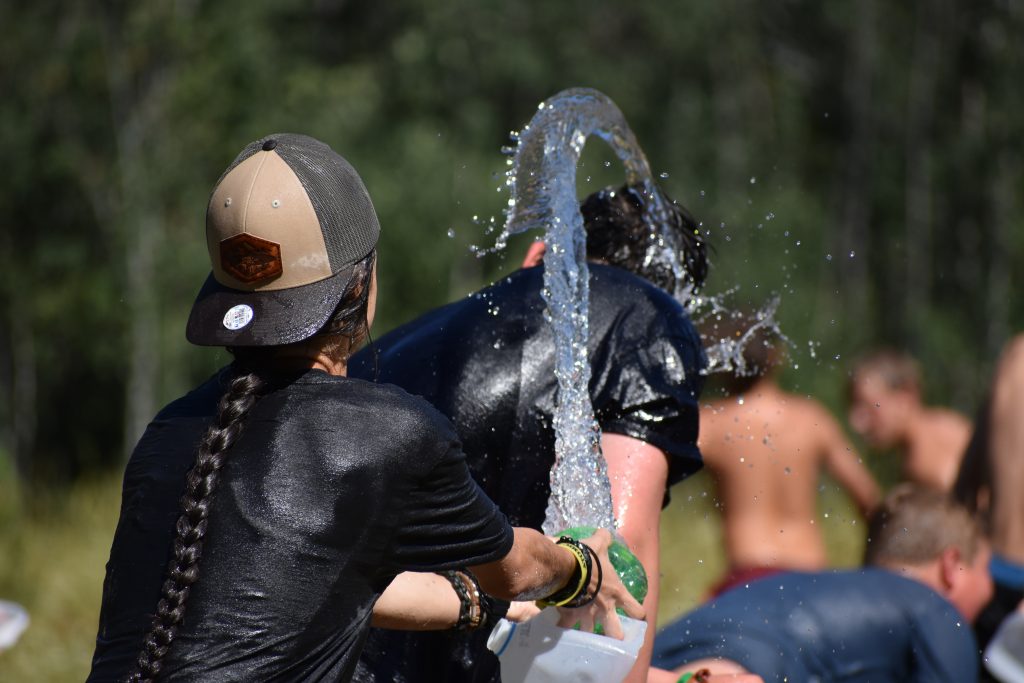 "Let's join the big circle," Epona said. She and the camper squeezed their way into the circle and flung their arms around the other girls. Epona helped this camper to march right up there and take her place with the other girls. She helped her to be brave.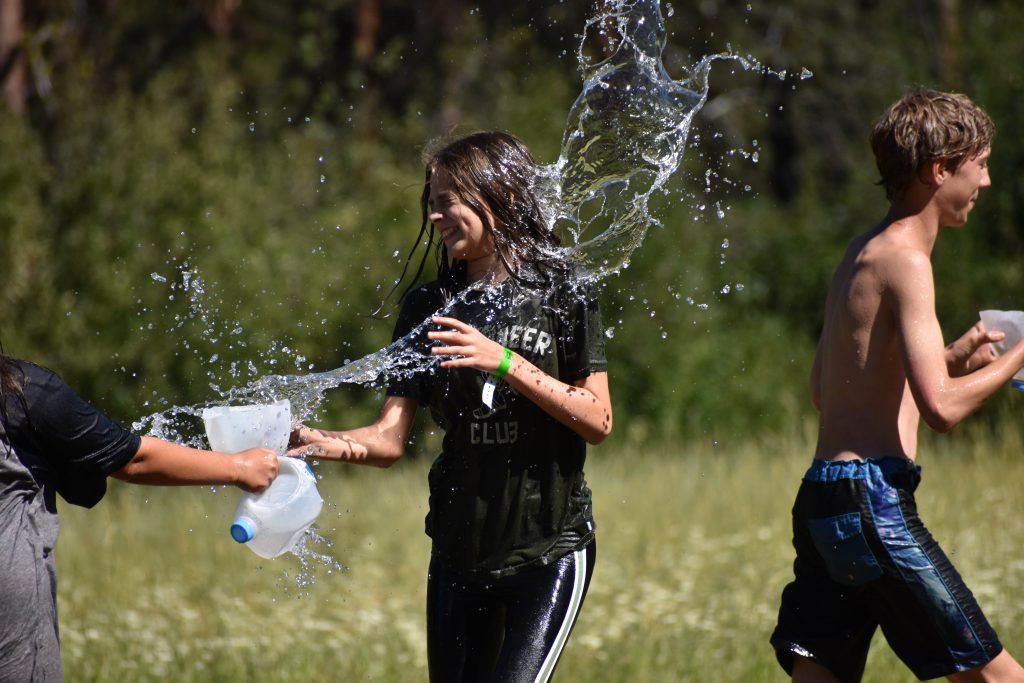 But something funny was also going on during the singing. Edelgard had her arms around the campers and was swaying as they sang. Across from her, a particularly pesky camper caught her eye. She gave Edelgard a mischievous grin and started swaying in the opposite direction. Everyone struggled for a time and then got straightened out … only to have this camper get them going in the wrong way all over again.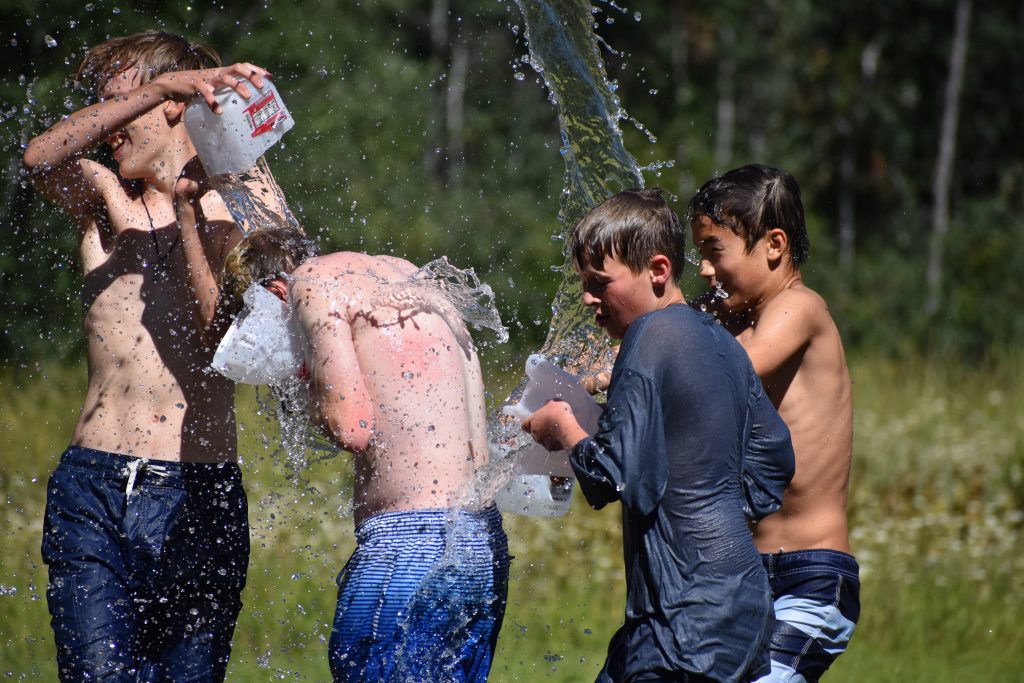 One camper stood up at campfire and said, "I like that Faramir told his story. Most pastors act like their lives are perfect, but I realized that he had troubles, too."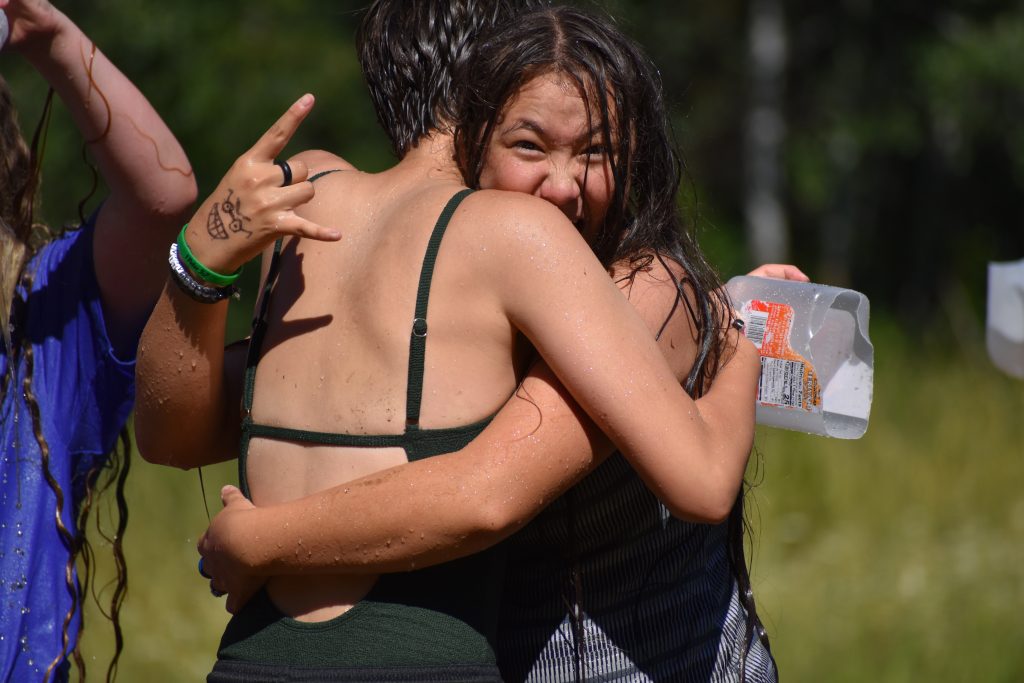 Another camper shared, "I've been afraid. I felt this fear following me but I feel like I can let it go. You guys can too, because God is God. We don't need to be ruled by fear."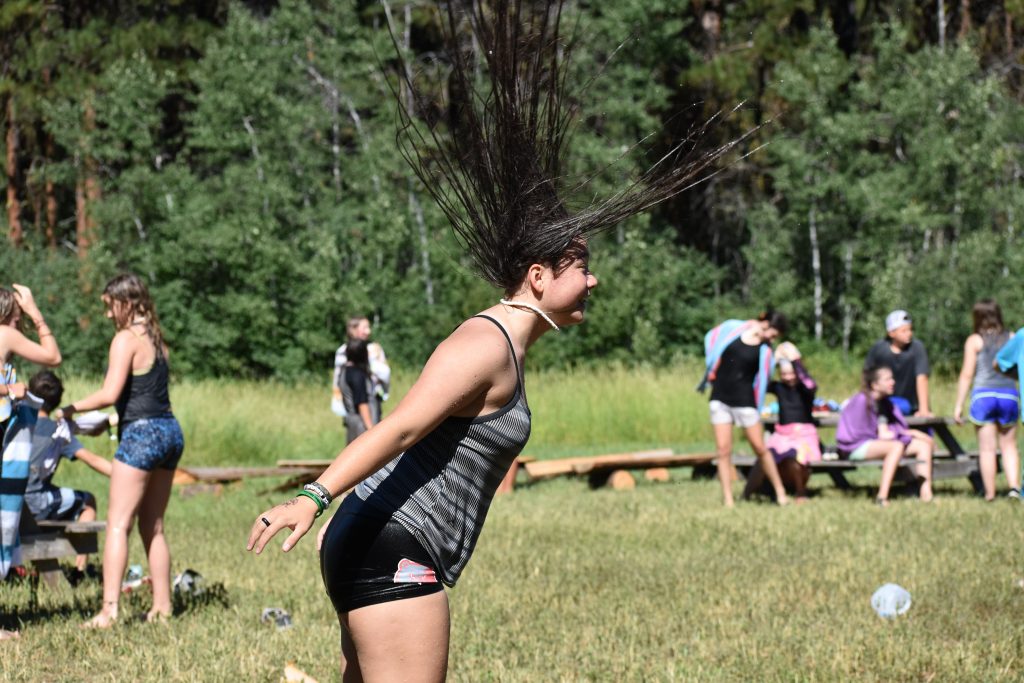 When talking about that beautiful, somewhat never ending campfire, Scruffy said: "Campfire was so powerful, the way kids shared about meaningful stuff was really really cool. It just emphasized how important what we're doing here is. We're spending time in the lives of kids. Every time we spend a week getting worn out and exhausted, your labor is not in vain. It is desperately needed. The fields are ripe for the harvest … but the workers are few. When we do ministry the way we do, it hurts. Eph. 2:10, we're living it out. We saw that in kids lives. Here felt like home. Here felt like they were accepted and loved when they didn't feel like that at home."
Yes, kids need camp because they need love. We are here to be that love to them, to show them Jesus, who is love come down just for them.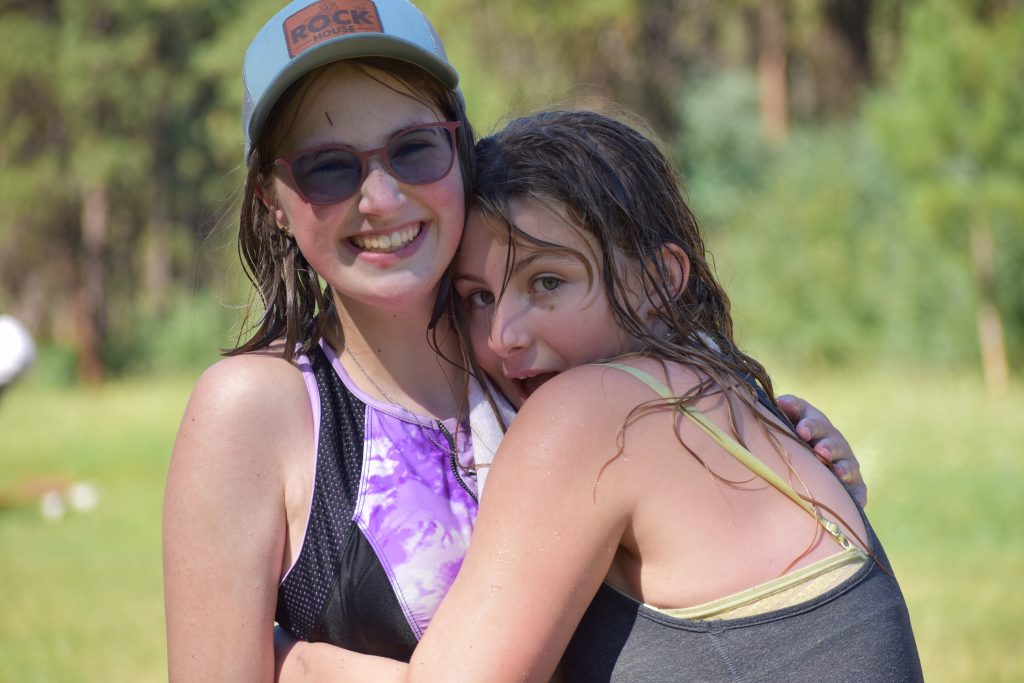 Ephesians 2:9 and10–"For it is by grace you have been saved, through faith–and this not from yourselves, it is the gift of God–not by works, so that no one can boast. For we are God's workmanship, created in Christ Jesus to do good works, which God prepared in advance for us to do."
John 13:34-35–"A new commandment I give to you, that you love one another, even as I have loved you, that you also love one another. By this all men will know that you are My disciples, if you have love one for another"
*To protect the anonymity of campers, I do not tell a camper's story beneath their photograph.